Founded in 2019 by three architectural designers, Monograph is a practice operations platform transforming the way AEC professionals oversee projects, timesheets, and forecasts in one, integrated and simple interface. Winner of the BLT Awards 2021 – Project Management of the Year, we seated with Robert Yuen while he shared with us the success story of Monograph.
Could you tell us a little about your professional journey?
I studied architecture at the University of Illinois at Chicago and eventually earned a dual master's degree in Architecture and Digital Technologies at the University of Michigan. After graduation, I worked with some of the industry's most renowned firms and designers including SOM, Holabird & Root, and Blu Homes. At this point, I had already begun building Section Cut, a digital collection of design references and resources for architects that was beginning to flourish into a new model of design education.
When I contracted software designers Dixon & Moe to enhance Section Cut's functionality, they invited me to join their firm and I started working on designing software solutions for architecture, engineering, manufacturers, and construction clients. I joined the team to begin working on Monograph, a suite of resources and tools designed specifically for architects and became a partner of the firm in 2016. Eventually, this led to myself and two close peers turning Monograph into a unique platform of its own to address issues we saw within our industry.
Together with Moe Amaya and Alex Dixon, you founded Monograph in 2019, why start a new company? What did you envision back then for Monograph?
While working as an architect in Chicago, I would regularly meet with other friends in the architecture field for happy hour. We always talked about the same problems and the lack of tools for running an effective business. In 2019, after hearing people talk about the same issues, myself, Alex Dixon, and Moe Amaya — all architects by trade that could build software — created Monograph. We created a practice operations platform tailored to the architecture, design, and engineering industries.
Back then, we envisioned Monograph as an answer to a problem many architects face, mainly working extra hours to keep up with a multitude of deadlines. We became committed to finding an answer. Today, the cloud-based system is intuitively designed for AEC professionals to oversee projects, timesheets, and forecasts in one simple and integrated interface to inform decisions about their business and projects in real-time.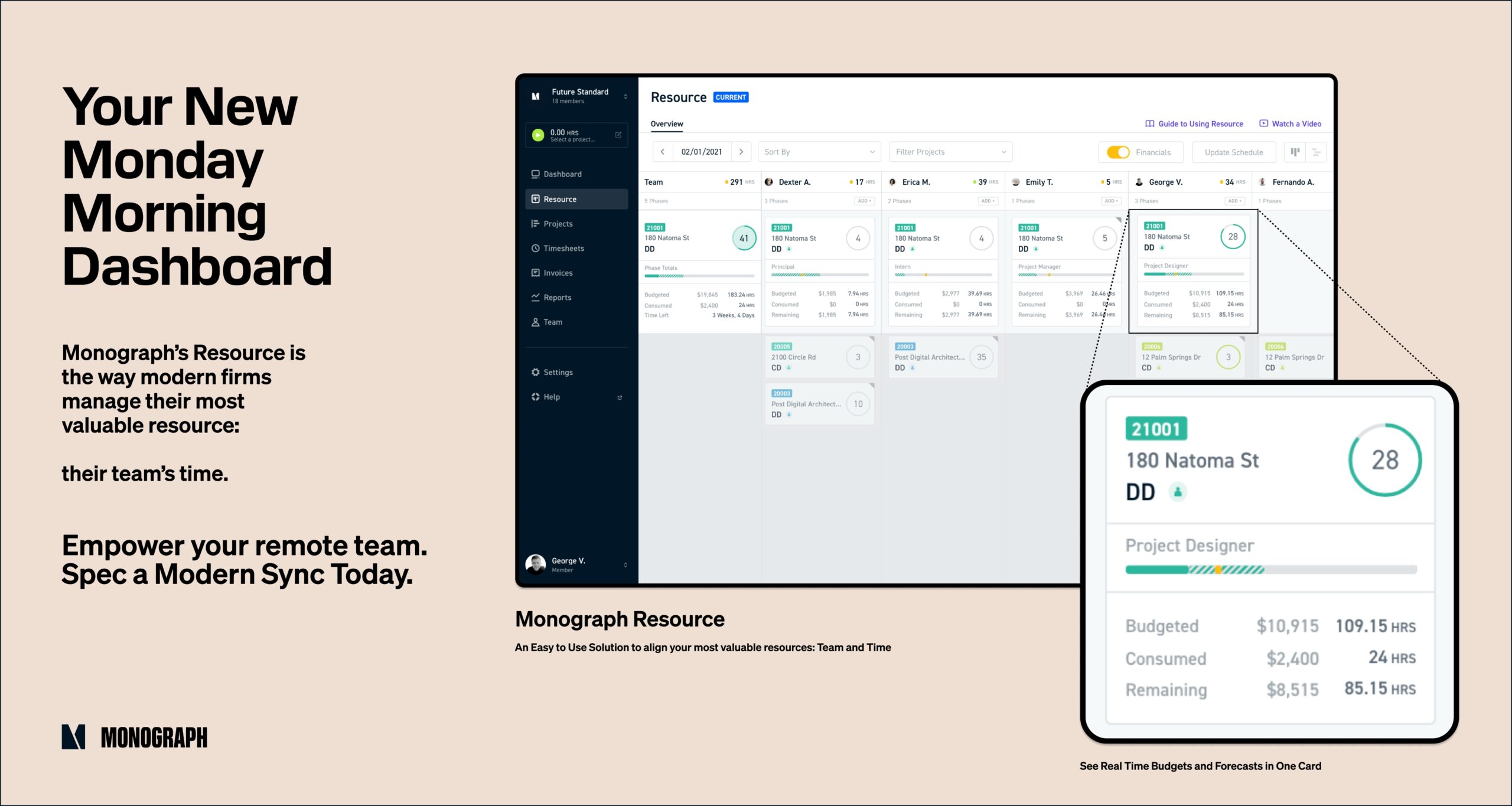 Can you summarize what is "Resource by Monograph"? How would it support Architects and make their life much easier?
"Resource is a tool by Monograph that allows users to see their firm's activity for the coming week on a single page. All of the projects they're working on, projected hours that team members plan to work, hours they've already worked, and all of the money that has been consumed, budgeted, and is remaining. But Resource isn't just a tool to look at—you can reallocate and adjust time for anyone on any project, ad-hoc. Firms can also add and remove people from projects, and are simultaneously able to see the impacts of that decision on current projections. It allows firms to focus less on meetings, saving both time and money and ultimately freeing up more time for designing."
What was the most important for you when developing this new software?
"The most important factor for us when developing Resource was streamlining the weekly kick-off meeting that is standard at many firms. The ability to more accurately track and plan for the days ahead at the start of the week allows firms to maximize efficiency and spend more time bringing their ideas to life."
In the company's recent news, you have raised $20 million in its Series B funding round, bringing a new investor Tiger Global. Congratulations! Today, what are your priorities for Monograph?
"Thank you so much! We're thrilled about the second round of funding and are excited for the coming year. Today, our priorities for Monograph include building on the strong foundation of the company culture that we've created over the last few years while keeping our ears to our customers. Remaining in constant dialogue with our users allows us to troubleshoot, ideate, and introduce features that better address problems at a much faster rate. We hope to continue providing our users with awesome solutions to assist them with their day-to-day operations."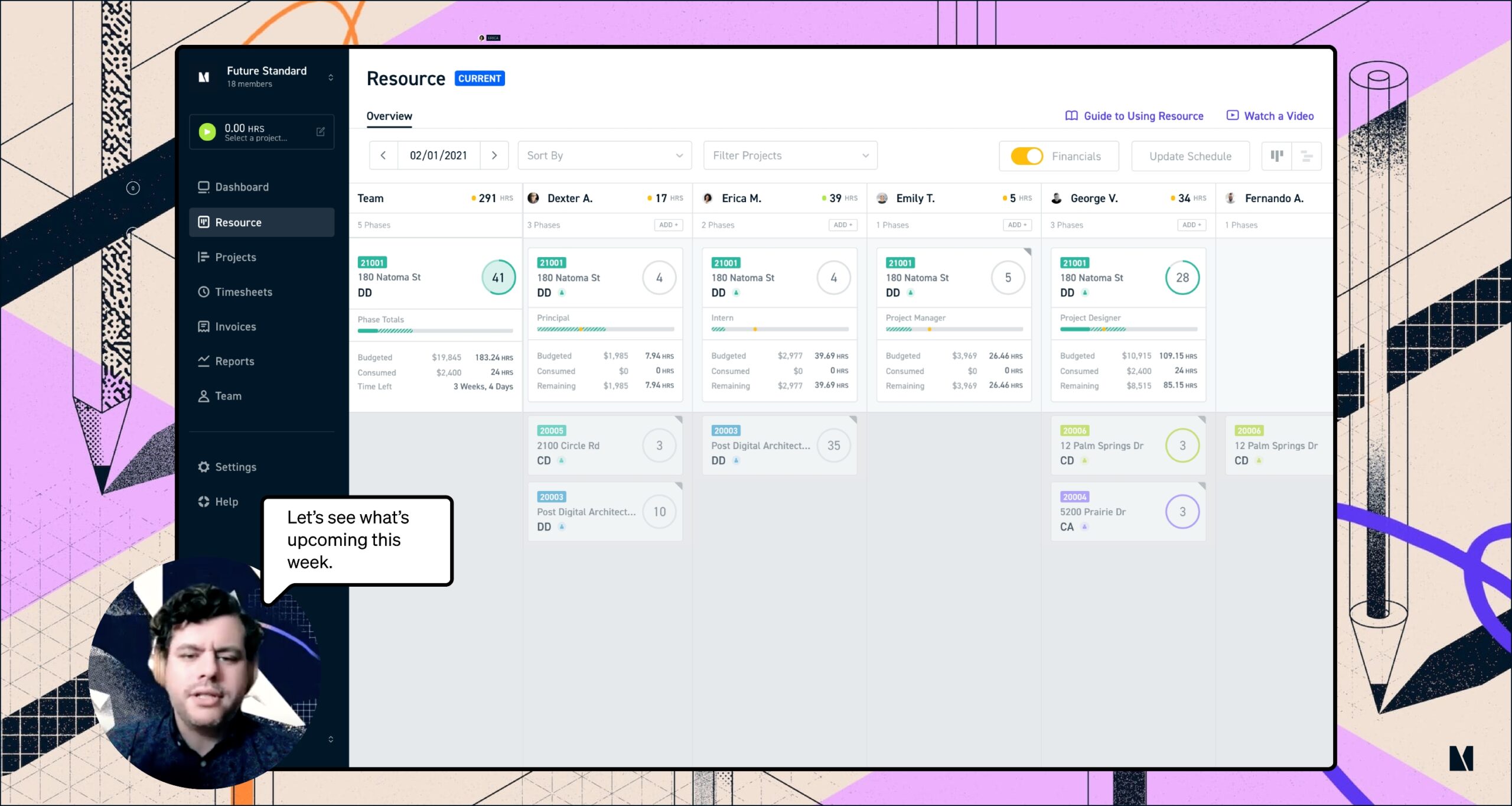 Do you have any upcoming projects or new features to be released that you're able to tell us about?
"Monograph has a lot in the pipeline for 2022. One of the upcoming events we're most excited for is Section Cut Two, our second annual virtual conference for firm owners, office operations, and project managers across architecture, landscape architecture, interior design, and engineering. Scheduled for March 8-10, the conference is dedicated to the stories of leaders who are innovating in the realm of practice operations. We are beyond excited for the second annual Section Cut, and hope to see you there!"
Lastly, what can we wish you for the future?
"The future is bright for Monograph. We hope to continue building our team and introducing innovative tools to further assist firms with their practice operations. Monograph has grown from eight to 40 team members in the past year, and we recently hired Ernie Miller as our new Head of Engineering. Additionally, we recently closed $20-million Series B funding, which will further assist our acceleration as the premier practice operations platform for the architecture community."