Remo Hämmerle is the Owner, Furniture Designer and Maker of Owner of Fasswerk Hämmerle. Based in Switzerland, he is giving a new life to old oak barrels. Winner of the SIT Furniture Design Award 2020 with the Maximus Dining table, Remo & his "partner in crime" Nadine Ledergerber shared their passion for wood & craftsmanship.
Can you share with us your professional journey? Where are you based?
When I was a little boy, my neighbour built a small wooden bicycle shed. This fascinated me so much that I decided to do a carpentry apprenticeship. At the age of 15, I started my apprenticeship as a cabinetmaker in a small family company.
The apprenticeship was hard, and I failed the final exam and had to add a year. After that, I worked in the assembly department of a large furniture company. I did not like this at all. My girlfriend Nadine Ledergerber gave me the idea to make furniture out of old wine barrels.
The first attempts failed miserably. But I did not want to give up. So I kept trying and slowly but surely it worked. We started selling our products and the feedback of our customers was so satisfying that we founded our own company named Fasswerk Hämmerle in 2013.
We took about 4 years to perfect our products. It wasn't until 2017 that we really hit the market with a small collection of barrel furniture. But then it really started. The difficult thing was getting up again and again and holding out when there was a lack of orders. But since we keep getting each other out of the deep, we are now where we are now. And that's cool. We are based in Goldach, Canton of St. Gallen, Switzerland.
What is "Fasswerk Hämmerle" company story? What are your guiding design principles?
Barrel Design & Woodwork: Each oak barrel tells its own story. It's handmade and refined in the best wineries to perfection. We continue to tell its story. We breathe new life into age-old oak barrels. In our expert hands, they are carefully prepared and processed into unique barrels, tables and wooden works. We also create new custom-made pieces of furniture from hand-picked wood.
Sustainable Switzerland: Sustainable forestry and Swiss retailers are very close to our hearts. That's why we work with regional companies and only process FSC-certified wood.
We combine Swiss craftsmanship with modern design and sustainable upcycling. Each piece of furniture gets its own personality and becomes a unique piece handcrafted to your wishes.
Partners in Crime – Remo Hämmerle & Nadine Ledergerber
In our opinion, old oak barrels have great potential for furniture design. Their shape and design radiate something venerable that should be preserved. For us, every barrel is full of possibilities and inspiration. It offers room forever new creations and ideas. Together with high-quality solid wood, the barrel becomes an innovative combination of classic craftsmanship and modern design. The results are works which we always develop in close collaboration with our customers.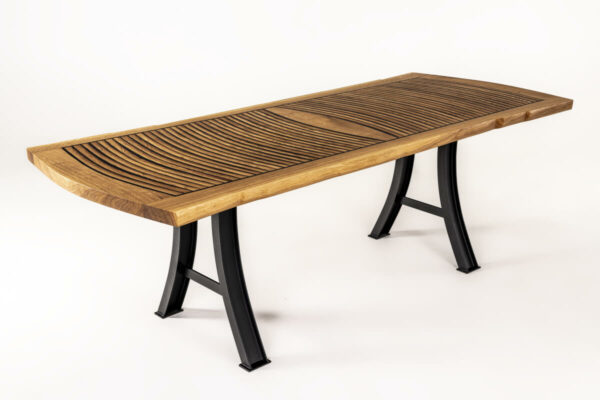 When have you started using old oak barrels as the prime material for your furniture design?
Since we founded our company in 2013. That was the first thought and is still the main material we use.
What makes the "Maximus" Dining table unique? How many hours of work does one table require?
Our dining table Maximus is sustainably upcycled from used wine barrels. It's made out of barrel staves from 3 used Burgundy barrels from the region, which contained red wine. They are framed in solid oak wood. The gaps are filled with epoxy resin in black and the solid steel table legs are modelled on the curvature of the barrel staves. Barrel Oak is still in very good condition after used wine storage and is perfect for the creation of new furniture. The goal is to create sustainable "new".
The complete table is made of materials from Switzerland and is handmade in our workshop in Goldach. The production is extremely complex. The barrel staves must first be dried, then they are cut to size and lined up so that the distances are approximately equal. When filling with epoxy, it is important to calculate the exact amount and to make sure that no bubbles form when pouring (sometimes I have to pour at 2 intervals). The drying time usually takes three days. After that, I can continue to work on the table. The whole process takes about 50-60 hours.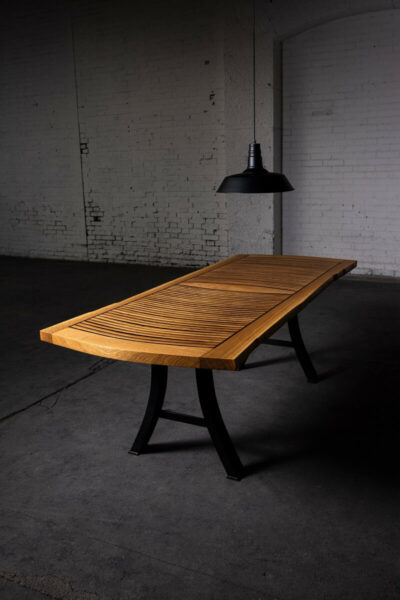 Where can we buy a "Maximus" dining table?
At the moment you can buy Maximus in our workshop or directly on our website. The cool thing is when you buy this table you get 6 bottles of the red wine that was stored in these barrels that were processed in the table.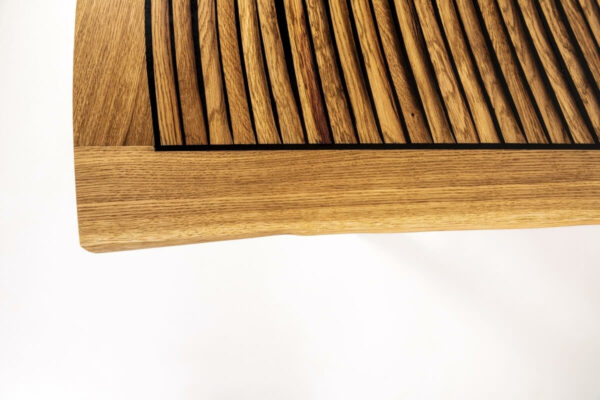 What are you working on at the moment, and do you have any upcoming Design projects or collaborations that you're able to share with us?
We have a partnership with a grill manufacturer in St. Gallen called Azado Grill. We are currently working on a limited-edition version, where we produce the wooden elements using the same process as the Maximus dining table.