Transforming Remnants into Custom Furniture and Lighting Solutions for a Sustainable Future
Creative reuse has shaped culture for centuries. From the rich heritage of antique collecting to recent innovations in recycling technology, reimagining what's possible with what's already there presents an exciting challenge to the design community. It is this shared passion that lies at the heart of Stackabl.
Stackabl is an innovative system for designing custom furniture – and lighting – without waste. Stackabl is the brainchild of Toronto-based multidisciplinary design studio, STACKLAB, and its New York-based showroom partner, Maison Gerard.
Developed closely with regional manufacturers, and aided by algorithms and robotics, Stacklab's system identifies remnant inventory in warehouses and factories (located within a 150-mile radius of its studio), puts it back through a manufacturer's own machines, and into the hands of its own experts. By leveraging existing regional resources, it empowers local economies, while curbing the carbon footprint.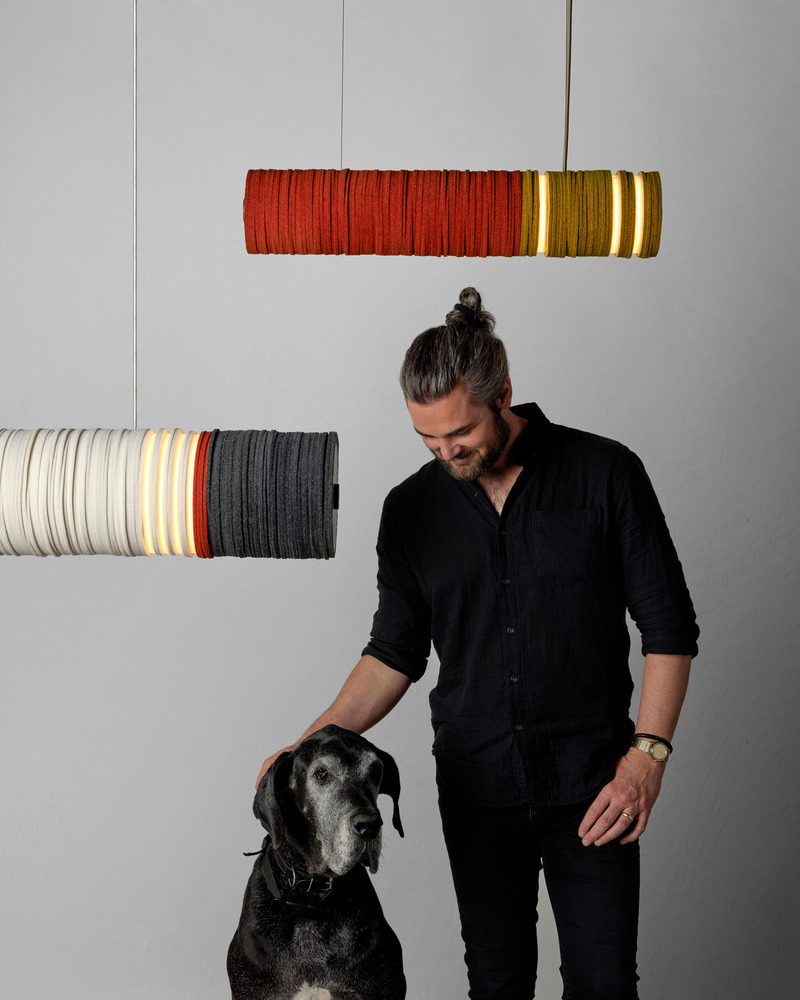 A simple online configurator seamlessly integrates the designer into this process. Proprietary and patent-pending, the Stackabl configurator, with its easy-to-use interface, allows users to turn high-quality Merino felt offcuts into custom furniture according to their choices, from colours and patterns to dimensions and densities. Real-time visualizations in 2D and 3D, as well as instant pricing feedback, make for an intuitive and transparent experience that frees the imagination and opens doors to a world of possibilities.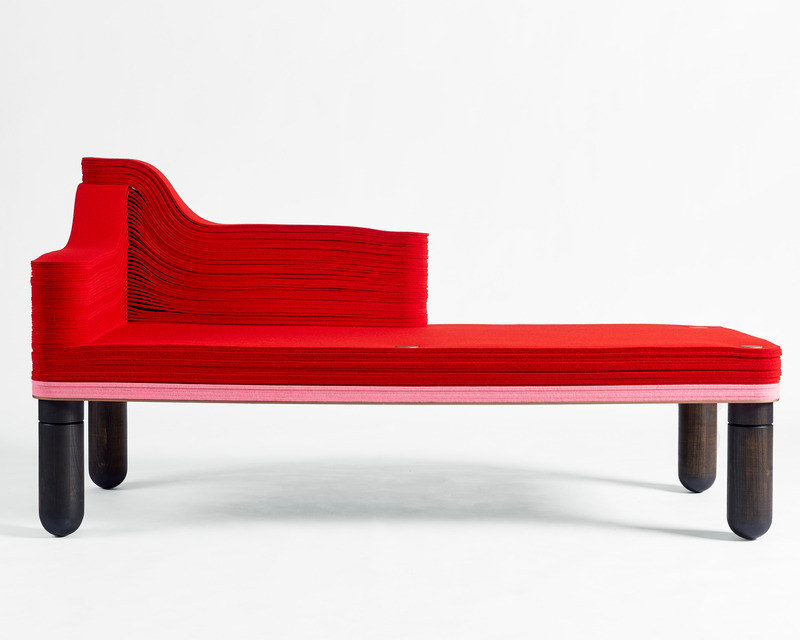 The inaugural Stackabl collection, launched in 2021, is a playful assembly of furniture. Created using the Stackabl configurator, each piece is constructed by regional specialists according to available resources. In response to the colours, dimensions, and finishes selected by the end user, layers of high-quality Merino felt remnants are identified by algorithms and are cut with the aid of robotics. With no brief to draw from, other than to work within the parameters set by the online configurator, six hand-selected New York designers – including Champalimaud Design, Frampton Co, Laura Kirar Design, Drake/Anderson, Georgis & Mirgorodsky, and Benoist F. Drut – were tasked with realizing their own visions. This resulted in a striking array of characterful works, from simple slipper chairs to extravagant chaise lounges, that belong to both the past and future. These were launched at Salon Art + Design in New York, in November 2021, and the collection won a Green Good Design Award, as well as an AZ Award.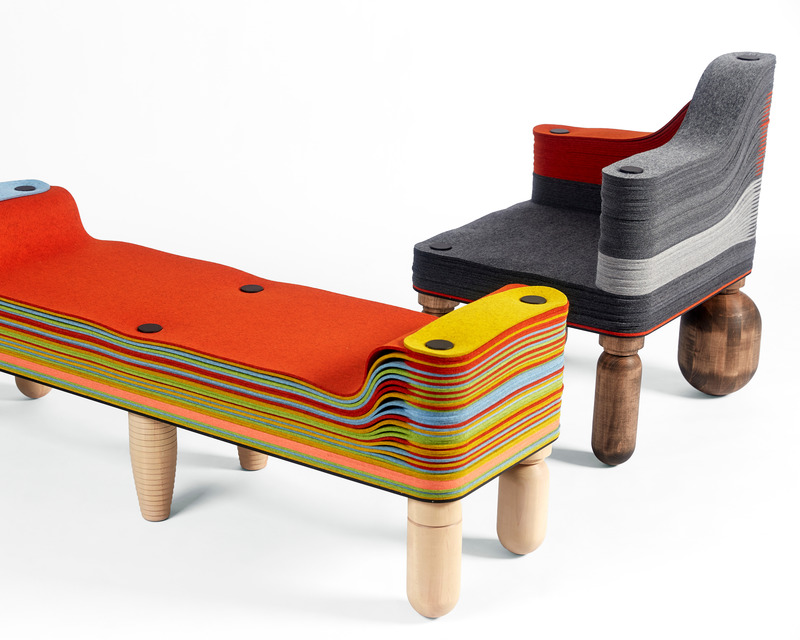 If Stackabl's 2021 furniture is its "haute couture" line, then its 2022 pendant collection can be considered its "ready-to-wear" offering. Also made of upcycled felt and aluminium, and using powerful, yet energy-saving LEDs, the lights are just as easy to configure, but users have significantly more control over price points, allowing for a broader audience to consume responsibly.

With the help of Anthony Frank Keeler, formerly of Rich Brilliant Willing and AvroKO, Stackabl took a holistic approach, designing both the lights' internal and external elements around the original system, reusing most of the same components found in the furniture collection, and using the very same network of regional suppliers and manufacturers.

The pendants are modular products: consumers can customize any of the configurator's five SKUs as they wish, choosing the length of the internal structure, as well as the diameter of the felt discs. Like track lighting, consumers dictate the location and frequency of the luminaires, in this case, a cast-acrylic diffuser with embedded LEDs. Lightweight, dimmable, sound-dampening, environmentally responsible, fully customizable, and competitively priced, the pendants are ideal for innumerable environments, from residential to contract to hospitality.

To illustrate just how easy the configurator is to use, and to demonstrate the possible looks that can be achieved, Stackabl tapped designers Sarah Coleman, Anthony Frank Keeler, and Wisse Trooster to each configure multiple lights. These fixtures (and their availability in the Stackabl configurator) debuted in June during Milan Design Week in the Isola Design District.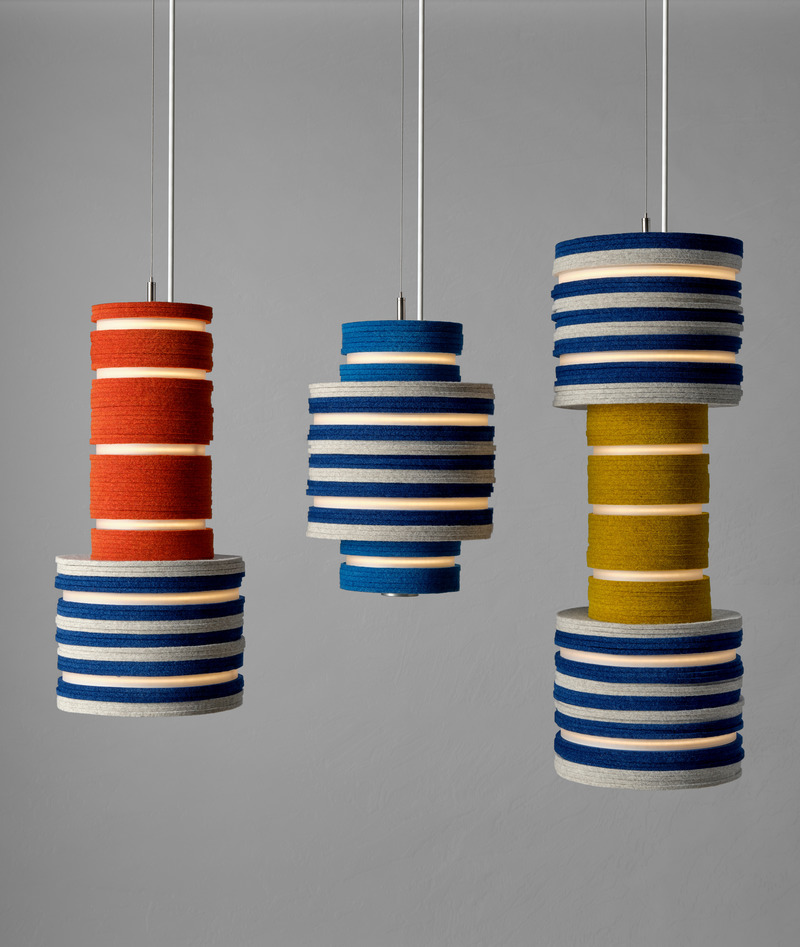 Coming up: Stackabl has just configured new pendants which will be shown in a group exhibition entitled "Composition and Layout: Contemporary Design and Objects" at Mindy Solomon in Miami, Florida from September 17 to October 22. The colourways of the pendants presented will pay homage to the locale, and they fit right into the gallery's playful landscape. We hope to see you there.