Students at the National United University in Taiwan, Yu-Chia Lin and Yu-Hao Chen have designed a new type of hospitality, where the geographical location brings a new sense to the property. These emerging designers of the "Feathery Snowflakes" were awarded a top prize at the first edition of the LIV Hospitality Design Awards.
Could you tell us a little about yourself? Where are you from?
We are a team from D&A Lab; the Digital Design of Art and Architecture Laboratory at the Department of Architecture from the National United University Taiwan. Our members are Lin Yu Chia and Chen Yu Hao, and our advisor at D&A Lab is Professor Wu Shi Yen. We joined D&A Lab in our senior year. It is a laboratory that combines digital and artistic research. In the laboratory, we have come into contact with different areas. Our teacher also spends a lot of time with the students, which allows us to grow and learn a lot.
How did you discover your passion for design and decide to study at National United University in Taiwan?
We found that we were interested in architecture in high school and, therefore, both of us chose the Department of Architecture. The reason we chose National Union University was that one of our relatives was an alumnus of the University. They recommended their alma mater to me, which became the main reason why we chose here. Furthermore, it has all kinds of equipment and good teachers, as well as courses for exchanges with foreign countries. It provides a great opportunity for the students here.
What was your design process when working on "Feathery snowflakes"? What was the brief?
The "Feathery Snowflakes" project was designed to reflect the natural, seasonal elements of the valley. The scenery changes along the pedestrians' paths, allowing travellers to experience different atmospheres and interact with the ever-changing environment. The hotel is well integrated into the landscape and offers panoramic mountain views.
Feathery snowflakes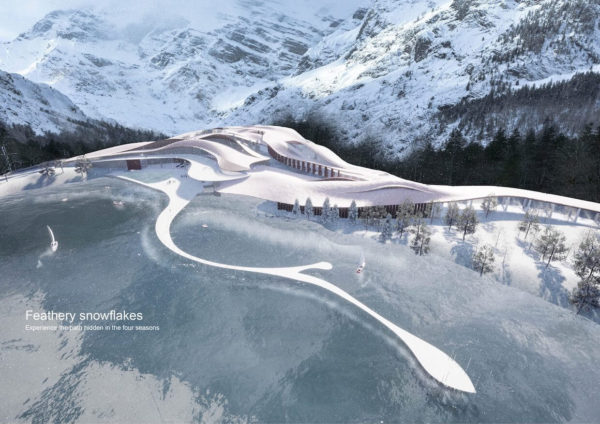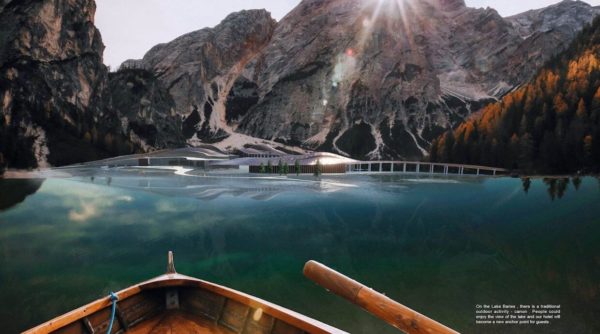 Can you please share with us what becoming the winner of the "Emerging Architect of the Year" prize means to you?
We believe this award will reflect how important this project is and the experience it brought us. There were a lot of struggles during the design process and later, from concept to reality: we made a lot of revisions and adjustments. We are very happy to have won the Emerging Architect of the Year award title. Although it is a pity that the award ceremony was online due to the epidemic this year, we were still very excited because it was the first time we participated in this type of international competition. We are very grateful to the LIV Hospitality Design Award and the jury for giving us this opportunity to have our work seen by the world, which means a lot to us.
What are you working on now? When will you finish your study?
We are now working on our graduation project; this is a one-year personal design plan. For this process, we need to look at our life experiences and develop different designs. Finally, we will showcase our five-year study projects with an exhibition. We are excited and look forward to seeing the results of our projects. We hope the epidemic will be under control, allowing us to celebrate and end our university year.
What can we wish to see from you in the future?
We are currently planning to pursue our master's degrees and one of our goals is to study in the UK and the US, in order to broaden our horizons and experiences. We also hope to enter the workforce as soon as possible and have the opportunity to study in a well-known architectural firm. We are passionate about architecture, we will continue to add energy to our design and showcase our work globally.