Art, design, and the human mind have been intertwined inevitably in all sorts of products. A great example of this is The Ego collection. It includes several different pieces which include a dramatic and thought-provoking black cabinet with a gold brass inlay, and a sumptuous human face chair available in a few colors.
This collection is a fantastical combination of art and design. It expresses the fact that art reflects life. Art is selfish, design is democratic, and what is more selfish than the ego? The face appears simultaneously generic, the human face has been used in art for thousands of years.
The designer is Karim Rashid, one of the most prolific designers of his generation. He has received over 400 awards and has operated in over 35 countries. His award-winning designs include democratic objects like the ubiquitous Garbo waste can and Oh! Chair for Umbra and interiors like the Morimoto restaurant, Philadelphia, and Nhow Hotel, Berlin. Moreover, the Eggo collection won an SIT Furniture Design award in the armchair category.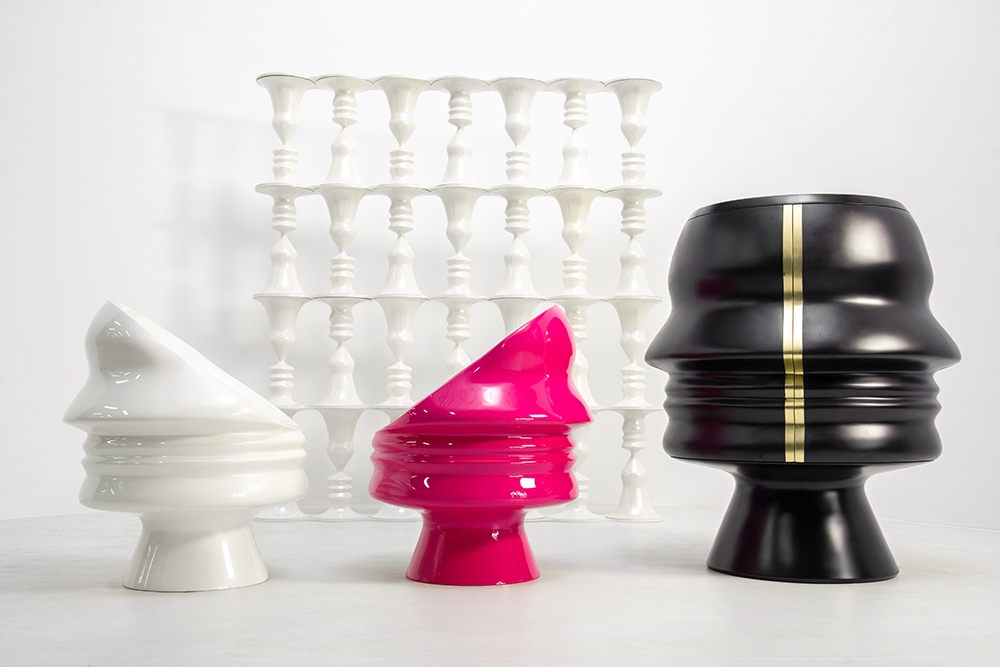 The five pieces of the collection exude sophistication and luxury. The chairs come in white, black, and pink. They have the profile of the human face designed cleverly around their back. Another item of the collection is the black Ego cabinet with gold trims that outline the human face. It opens up to reveal circular rotating shelves with brass details. And last but not least is the Ego Screen Pearl White looks like a maze pattern of the human face. It could be used as a divider or even a console to enhance your space.
Karim Rashid designed the collection for Scarlet Splendour Studio. Having studied under Gaetano Pesce near Naples in 1984, who assigned an unusual project of designing a drinking glass fashioned after a human head or face, the designer's fascinating new pieces are a reimagination of this concept.
Karim Rashid's ability to transcend typology continues to make him a force amongst designers of his generation.
Additionally, to the explanations above, the Ego collection has the ability to take over people's minds and space with its furniture forms. The illusion, the glamorous colors, and the final touches are combined with seamless functionality. As a consequence, Ego has become a brilliant artistic achievement.