In the heart of Berlin, a pioneering architectural marvel has risen to redefine the concept of sustainable urban development. The seven-story office complex, known as EDGE Suedkreuz Berlin, stands as a testament to innovation in construction, combining eco-conscious design with cutting-edge technology.
This modern oasis was meticulously crafted using a modular timber hybrid construction method, setting new standards for environmental responsibility in architecture. This landmark office space boasts an impressive 20,000 square meters of floor area, and its exceptional features include a light-filled atrium, tree-like structures connecting office floors, and a panoramic Sky Lounge with an outdoor terrace.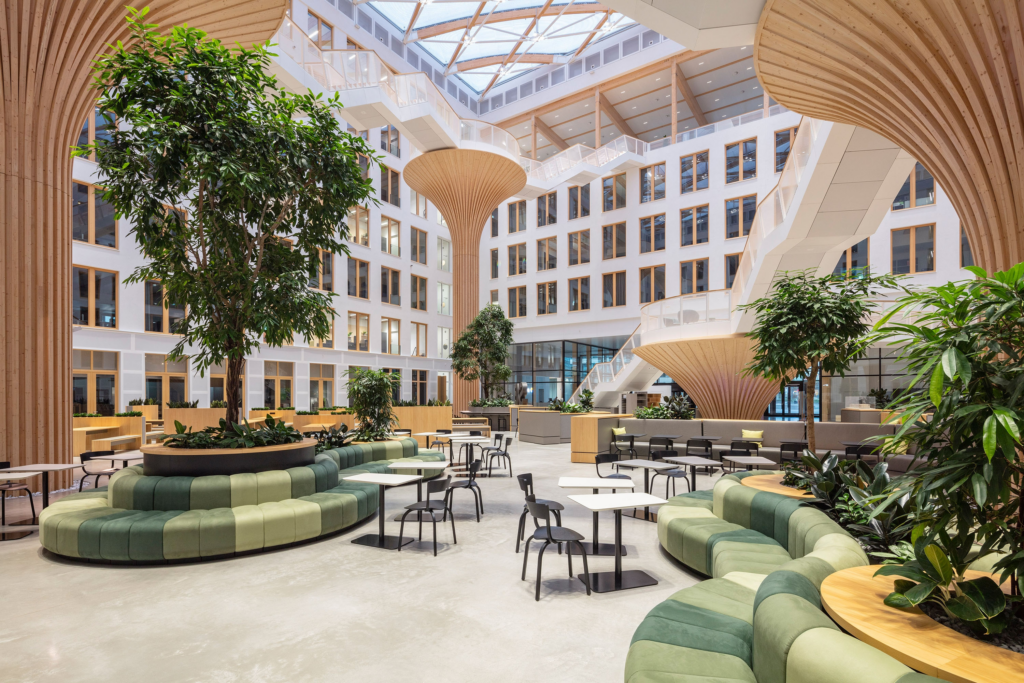 The facades of the building are constructed in a uniform grid of glass-fiber concrete panels. The elements weigh only weigh only 30 kg per m². Furthermore, they are recyclable and have a decarbonizing effect.
Sergei Tchoban, the lead designer of the team, focused on reducing the CO2 footprint, and the weight of the complex, and using sustainable materials. Due to an approximately 50% saving of reinforced concrete, the construction-related CO2 was relatively lower than usual.
This exceptional design and commitment to sustainability were brought to life by not only Sergei Tchoban but the whole team behind TCHOBAN VOSS Architekten GmbH. With a reputation for pushing the boundaries of architectural creativity and eco-consciousness, this renowned architectural firm has once again demonstrated its dedication to both aesthetics and environmental responsibility in the creation of this remarkable office complex.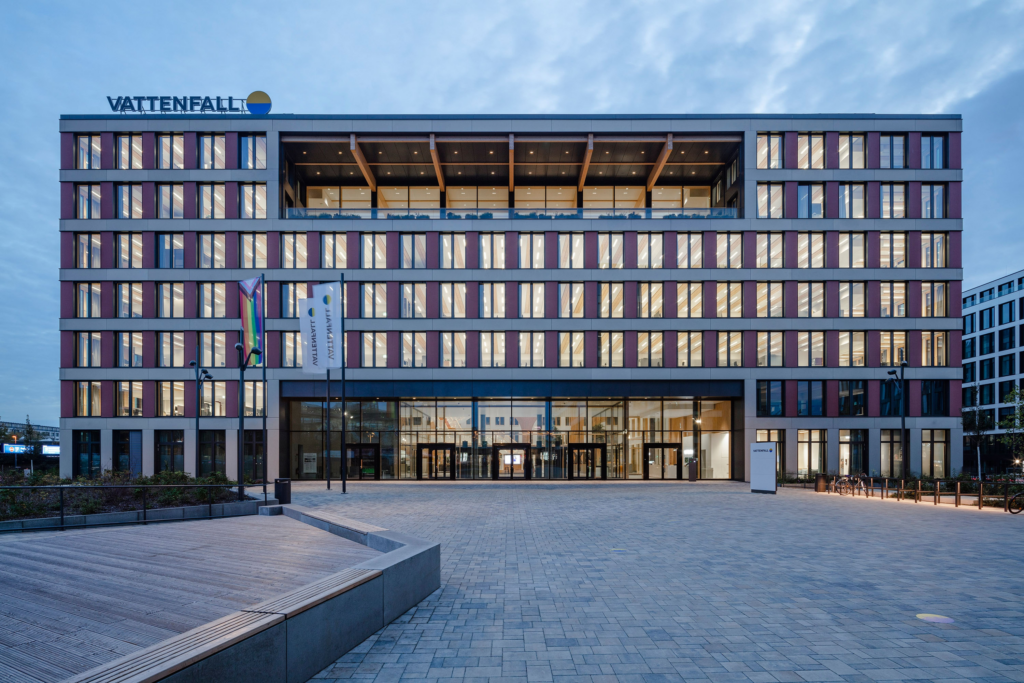 Beyond its aesthetic brilliance, EDGE Suedkreuz Berlin has earned accolades, including the DGNB Platinum certificate, the DGNB Diamond for architectural excellence, and a WELL v2 Platinum certification, underscoring its unwavering commitment to sustainability, eco-consciousness, and architectural innovation.
In conclusion, EDGE Suedkreu Berlin stands not only as a physical structure but as a beacon of hope in a world striving for a more sustainable and eco-friendly future. Its remarkable achievement in sustainability serves as an inspiration for architects, builders, and environmentalists worldwide. The triple green certification is a testament to the commitment to excellence in design, functionality, and environmental consciousness.
EDGE Suedkreuz Berlin is a model for future developments, an embodiment of the harmonious relationship between nature and urban living, and a shining example of what can be achieved when we dare to think boldly and build responsibly.
The German-located building has been awarded different prizes including the BLT Architectural Design Award in the category of Sustainability and Energy Saving.