Opened in the heart of New York City in 2017, Moxy Times Square showcases a unique combination of contemporary design and budget-friendly comfort. This hotel, designed by Stonehill & Taylor and featuring interiors by Yabu Pushelberg and Rockwell Group, has undergone a remarkable transformation that marries historical elements with modern aesthetics.
Moxy Times Square's design philosophy centers on craftsmanship, functionality, quality materials, and meticulous attention to detail. The hotel seamlessly blends original historic features like polished concrete floors, exposed concrete columns, distressed brick walls, and open ceilings with contemporary finishes. The public areas are designed to be flexible and versatile, with a diverse mix of custom-made furniture by Yabu Pushelberg, providing spaces for socializing, working, and relaxing.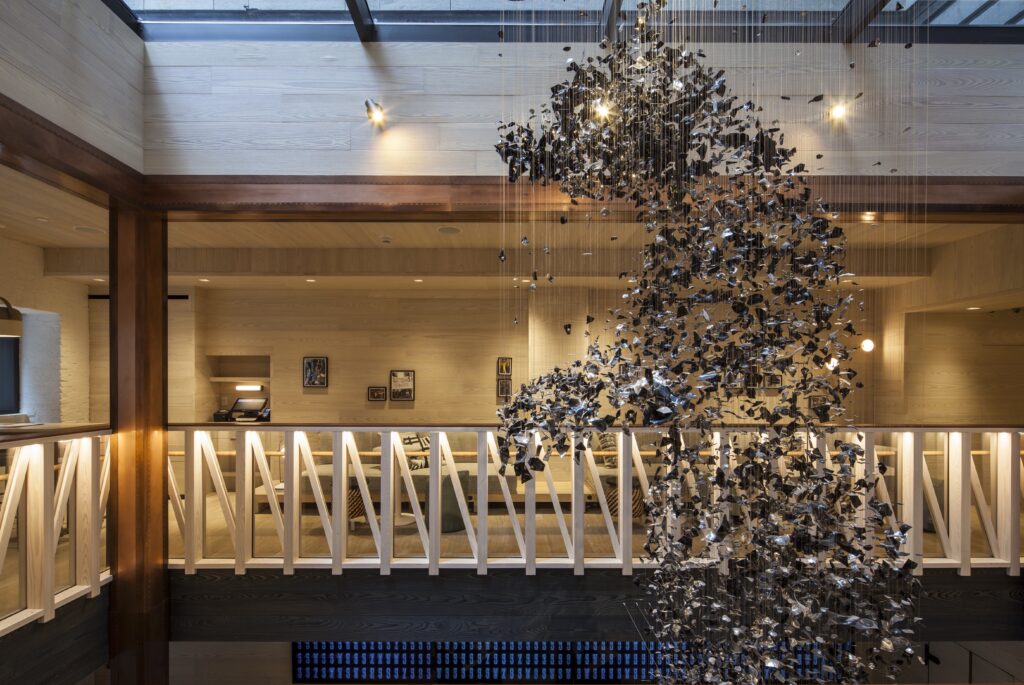 As guests arrive, they are welcomed by check-in kiosks on the entry level, leading to a double-height atrium on the second floor that exudes the hotel's vibrant energy. The atrium's terrazzo-tiled floor is inspired by city streets and complements the periwinkle-blue stained wood plank ceiling and penny-copper columns. An existing metal-framed peaked skylight connects the hotel's past with the present. The "Bear" installation by Japanese artist Sawada adds an unexpected artistic touch to the entry, bridging it with the 2nd-floor lobby lounge area.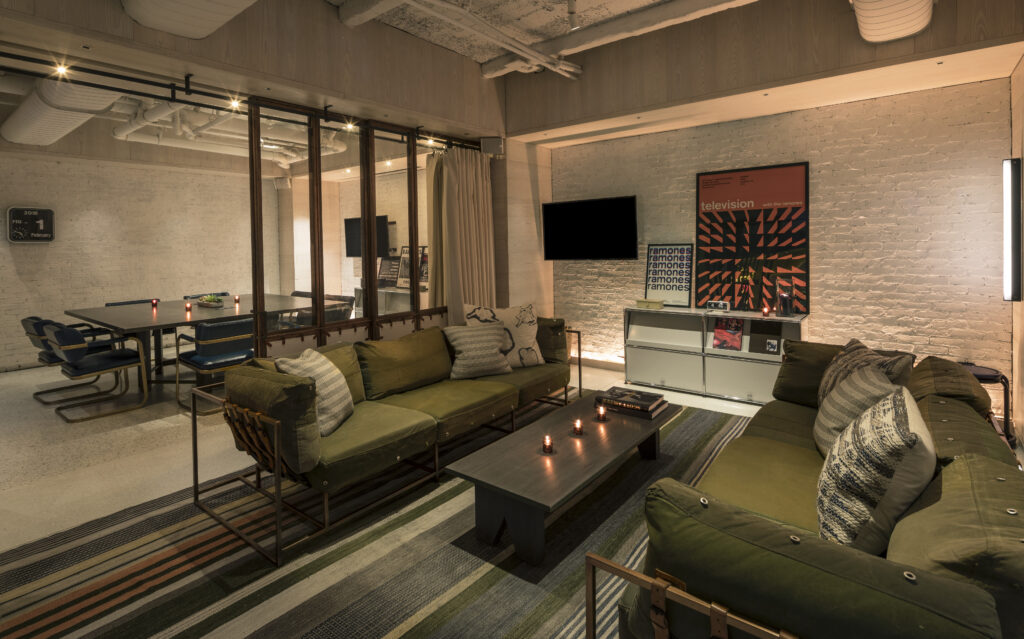 The second floor offers a versatile space for dining, work, and leisure. A central 'blank canvas' runs from the first-floor atrium to the rooftop, featuring artwork from competition winner Nicholas Lokasasmita. Furnished with leather and canvas furniture, seating areas are adaptable for socializing, working, or collaborating. Three studios, separated by sliding glass doors, provide multipurpose meeting rooms, while a DJ booth transforms the space from a daytime workspace to a lively lounge at night.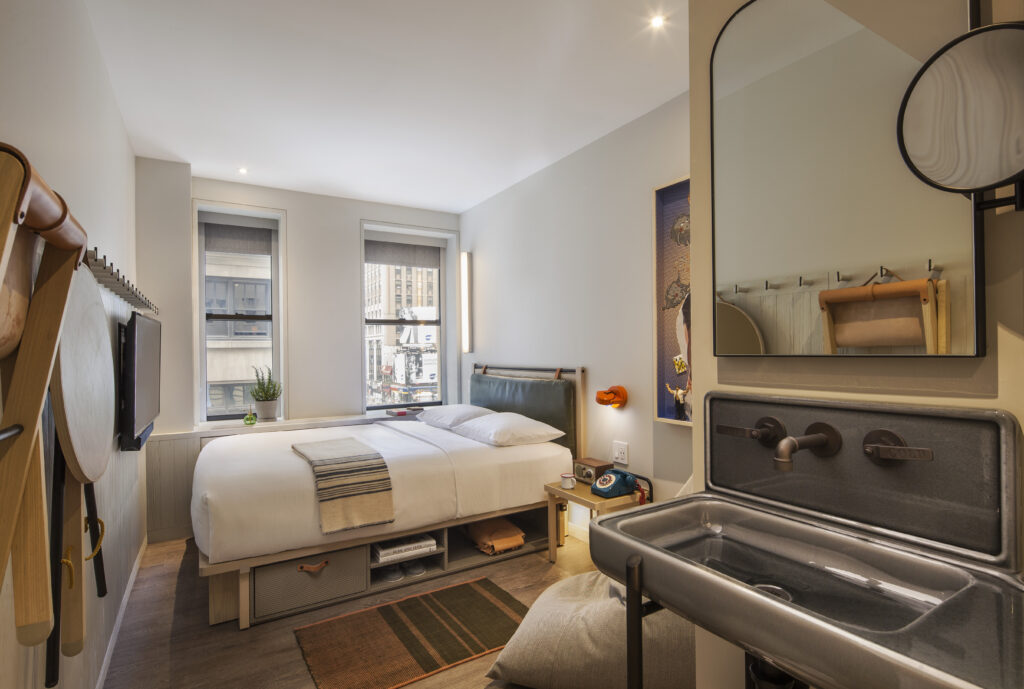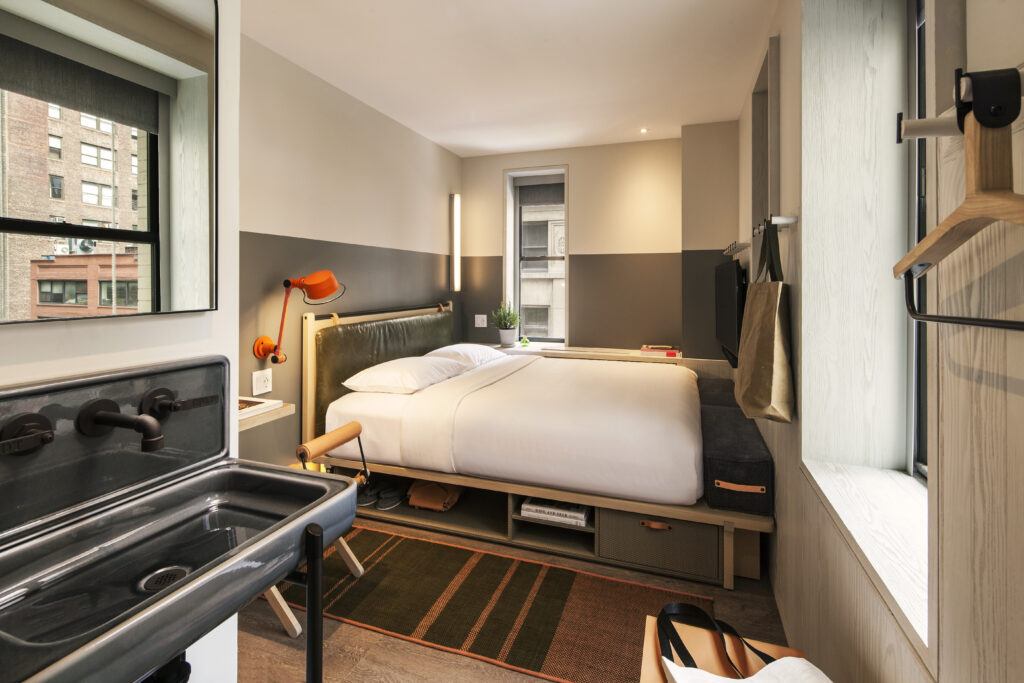 An energetic alternative to the typical hotel experience, Moxy Times
Square proves that affordability doesn't mean sacrificing style or comfort.
It's for those who want a hotel to be a fun and coherent experience, not
a sequence of formalized rituals. The hotel boasts 612 bedrooms, each featuring comfortable beds, oversized walk-in rain showers, and clever, built-in design features. Custom furniture includes desks, chairs, and luggage racks that can be folded and hung on a pegwall system. This multipurpose furniture allows guests to personalize their rooms for various activities, from work to entertainment.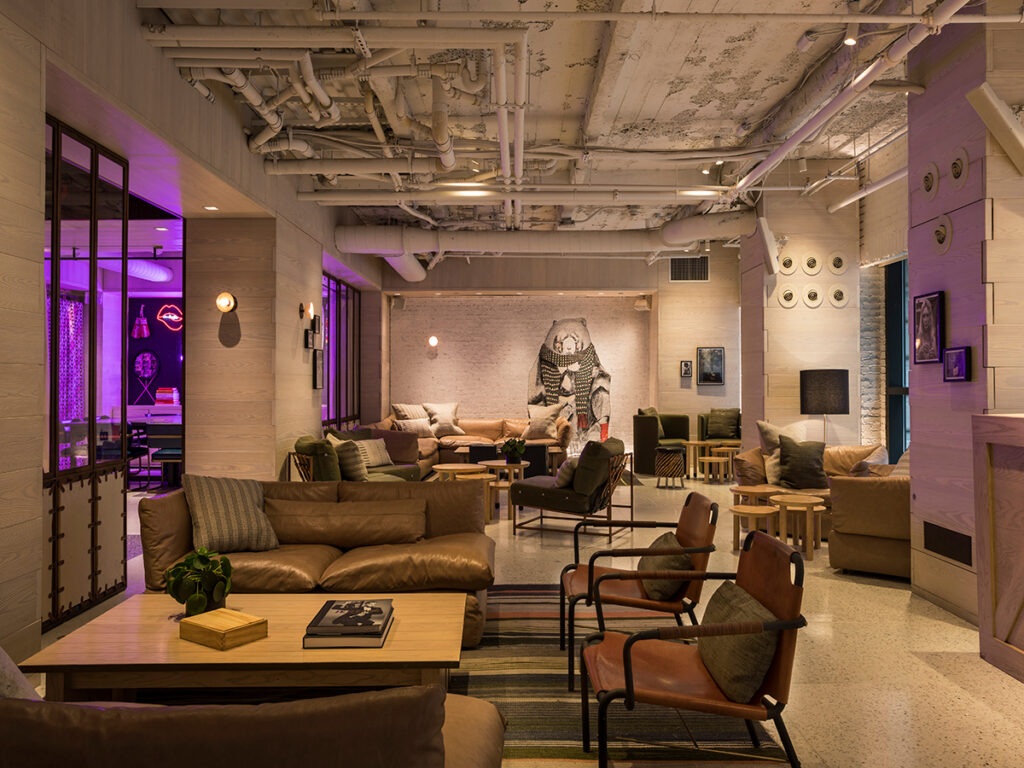 Bar Moxy, with its large copper-wrapped bar beneath a dramatic atrium skylight, serves as the social hub of the hotel. It offers flexible seating areas that transition from collaborative workspaces during the day to a lively lounge in the evening.
Moxy Times Square offers four F&B concepts by Tao Group Hospitality, including the Magic Hour Rooftop Bar & Lounge, Legasea, Bar Moxy and Café d'Avignon Popup at Bar Moxy. The Magic Hour rooftop bar provides breathtaking skyline views, an "urban amusement park" theme, and a menu of shareable light bites and unique cocktails. Legasea offers a fresh take on bar and grill classics.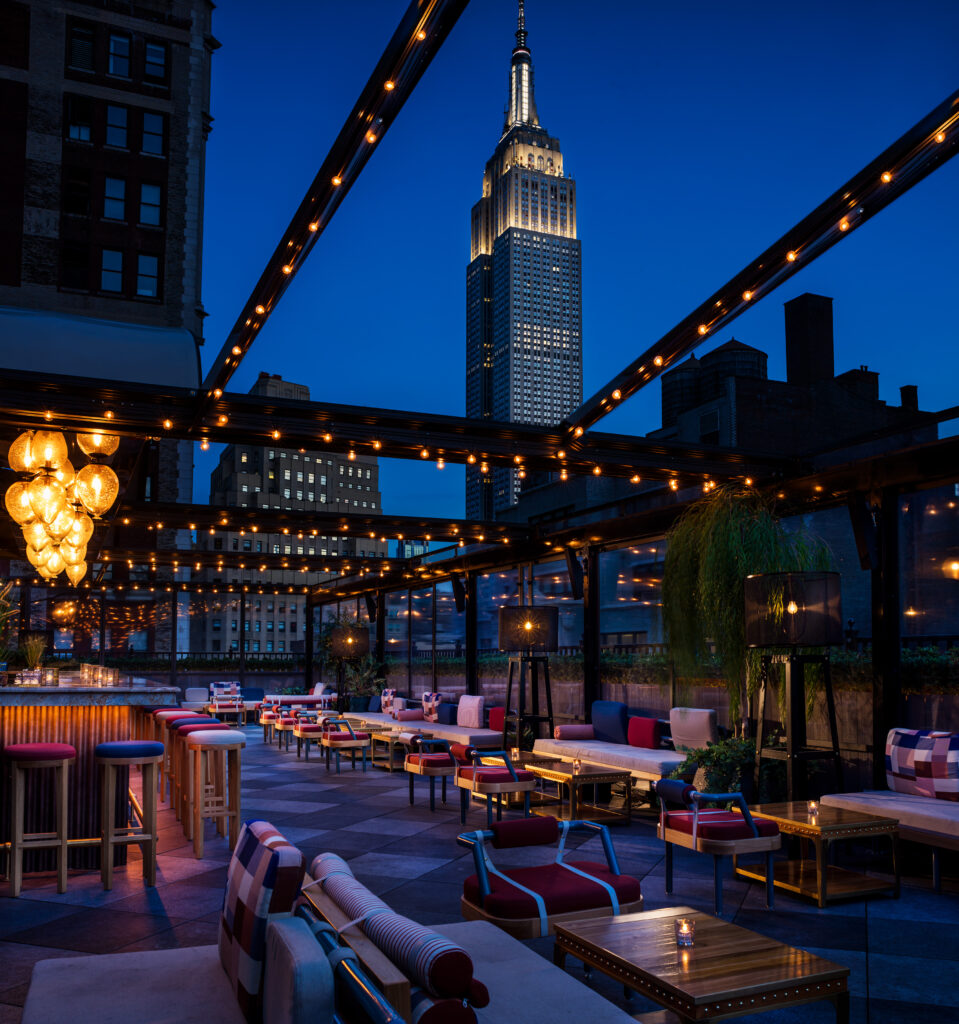 Moxy Times Square is an exceptional blend of innovative design and affordability, where history harmoniously merges with modernity. With its adaptable spaces, cleverly designed guestrooms, and diverse dining options, it offers a distinct design experience. Whether you're a traveler, a local, or an art enthusiast, it welcomes you with a unique and inviting atmosphere in the heart of New York City.
Credit: Moxy Times Square