Israel has reopened after two months of lockdown, and with it, a new exhibition at the Design Museum Holon that includes a site-specific installation by multidisciplinary designer Sarit Shani Hay, who specializes in child-centric design.
For the exhibit Black Box, Shani Hay has created an imaginary landscape with cushioned volumes that evoke the rocky coastlines that sea lions, seals, bears, and other creatures call home.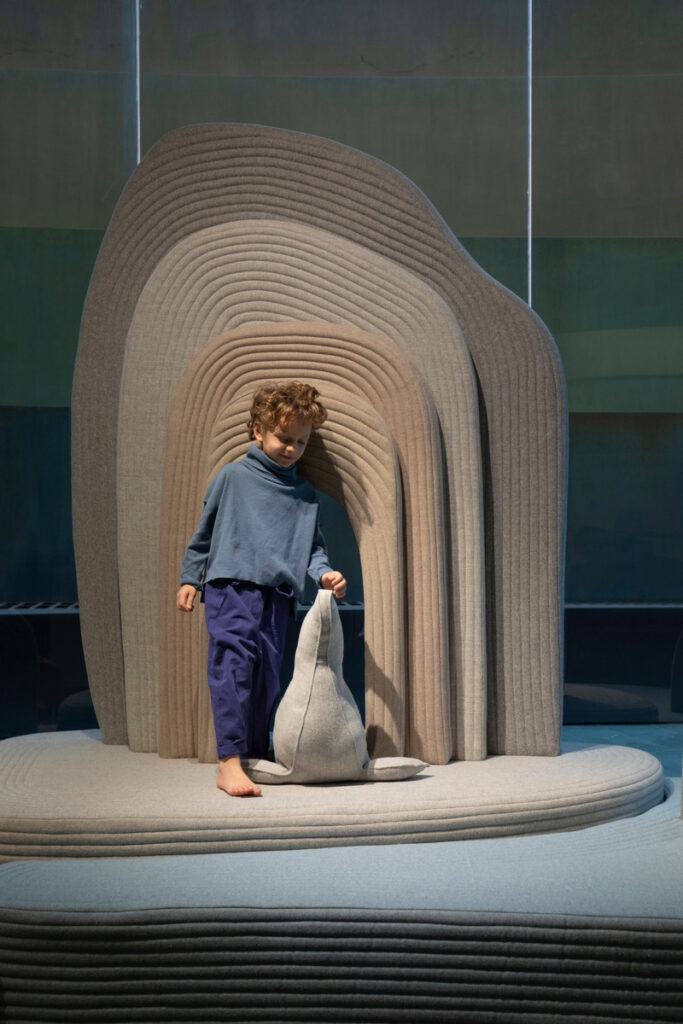 The pieces, with their blue and taupe tones, communicate the bold curves of the museum building itself that was completed in 2010 by architect Ron Arad and showcases a dramatic exterior in red and orange stripes, while its underside, as seen from a glass wall in the room of Shani Hay's installation, is painted in cooler shades.
When designing her creations, which are highly architectural while also playful and comforting, Shani Hay worked off these architectural elements. Arched forms resemble secluded bays and steep cliffs, and minimalistic wildlife creatures are nestled around them. The installation's atmosphere and the colours of the designs change, depending on the time of day, from bright morning light to darker tones as the sun begins to set.
In her work, Shani Hay explores the relationships between wild landscapes and animals. "Animals occupy a central place in Sarit Shani Hay's work," says Maya Dvash, curator at Design Museum Holon. "She uses them to construct a private, imaginary jungle motivated by an empathic human gaze and a desire to overcome archaic fears.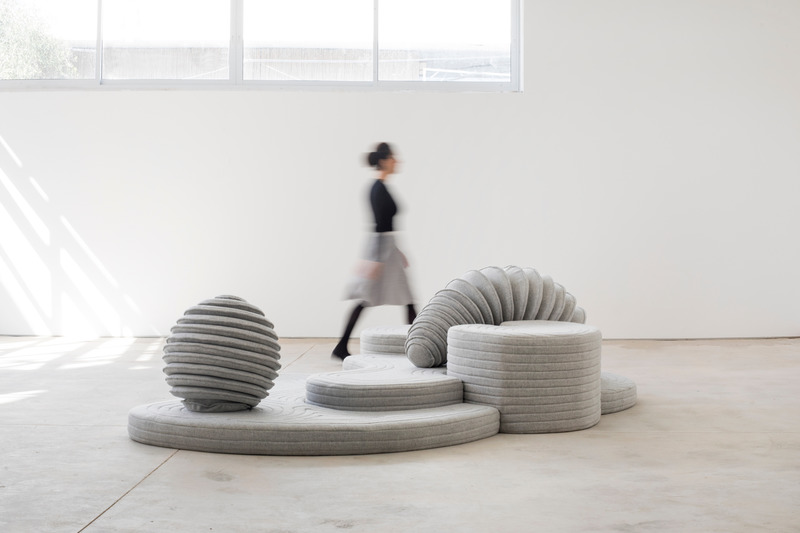 For many years she created soft dolls and objects using various techniques while dialoguing with ancient handicraft designs. Her specialization in design for children has led her to frequently engage with the reciprocal relations that soft objects create in their encounter with children and adults."
The installation is on the second floor of the museum, and the pieces are wood constructions filled with foam and acrylic and wrapped in New Zealand lambswool.
Almost as if drawing the gently-curved shapes with a pencil, the designer made dense stitches using a traditional craft technique to follow the curves and emphasize the sculptural shapes. Shani Hay chose lambswool for its organic quality which is warm and natural-looking but also durable and heavy-duty. She had planned for the pieces to be played and lounged upon, but due to COVID-19 regulations, it is not possible for children and adults to sit on them now.
The installation is also a commentary on home, nature, and refuge during the pandemic. "I started to work on the installation a year ago when the museum approached me," said Shani Hay. "It was the beginning of COVID-19 days and there was a great feeling of uncertainty and anxiety." "Recently I've become interested in the therapeutic effects of time spent in nature, particularly on children, a feeling that has enhanced due to our life under the pandemic," she added. "I've strived to create spaces that provide a sort of escape, a meditative feeling."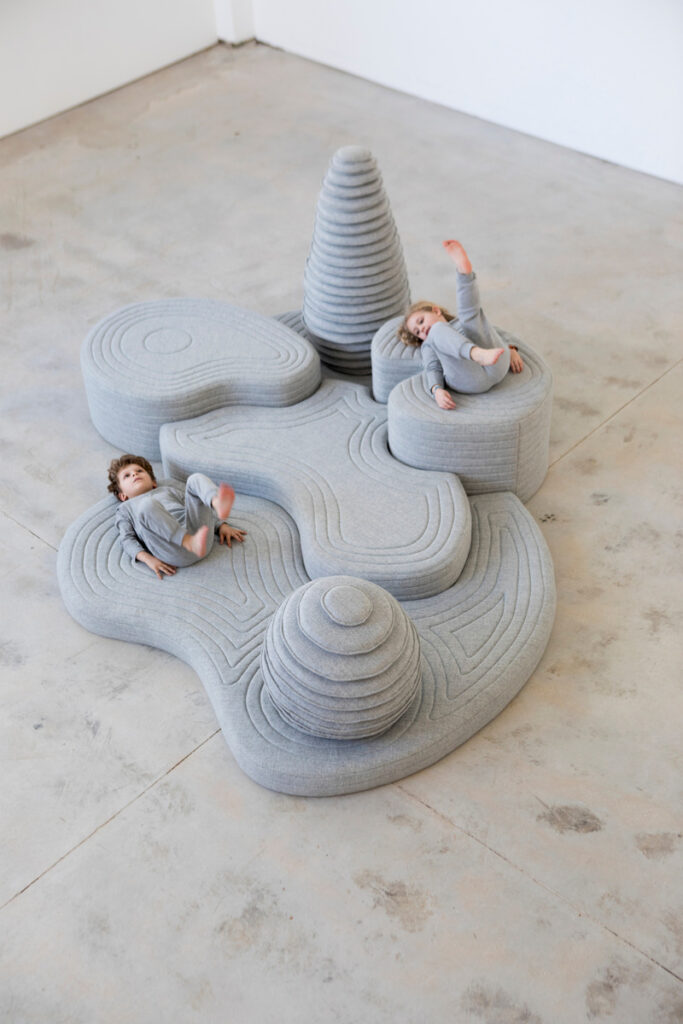 On 25 February 2021, Black Box opened and the exhibit also includes over 200 objects by designers from all over the world, such as Philip Stark, Konstantin Grcic, Jaime Hayun, Richard Hutten, and Stefan Sagmeister. It is the first time these pieces, which are part of the museum's own collection, are displayed to the public.
Shani Hay's installation is an evolution of her earlier work for the Tel Aviv Crafts and Design Biennale 2020 at the MUZA – Eretz Israel Museum, which also featured soft, rock-like shapes in grey tones. Nature and animals are central to Shani Hay's designs, and her other projects include bean bags and pouffes in animal shapes, as well as larger assignments for schools and private residences.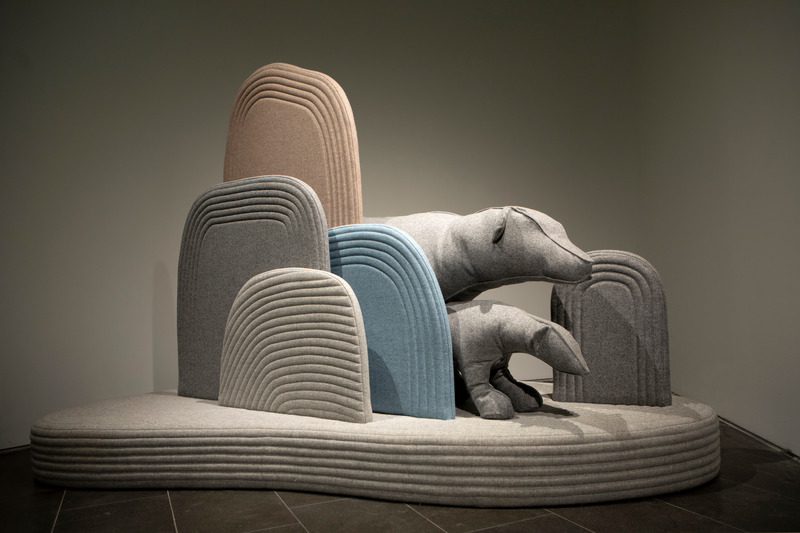 Source: V2com newswire