Today, modern-day office spaces often lack the privacy needed for co-workers to create zoner or implied boundaries in order to comfortably work and collaborate with others. This in fact could be achieved in many simple ways depending on your needs and the needs of your team.
Design opportunities can be discovered at every corner. The most important thing is to develop a product that would do the job. That's what Jaclyn Jamieson did. She developed a dynamic string divider that easily creates a division of space. Reverb creates implied boundaries by using non-traditional materials to develop a boundary that censors workers on the other side of it.
The use of strings brings an airy dimension to the divider. It creates division without pushing isolation. The design of the product is to be portable and flexible in its use. For instance, it could be used as a barrier or as a pin-up board. It also aims to reflect the hybrid format a modern office would rely on.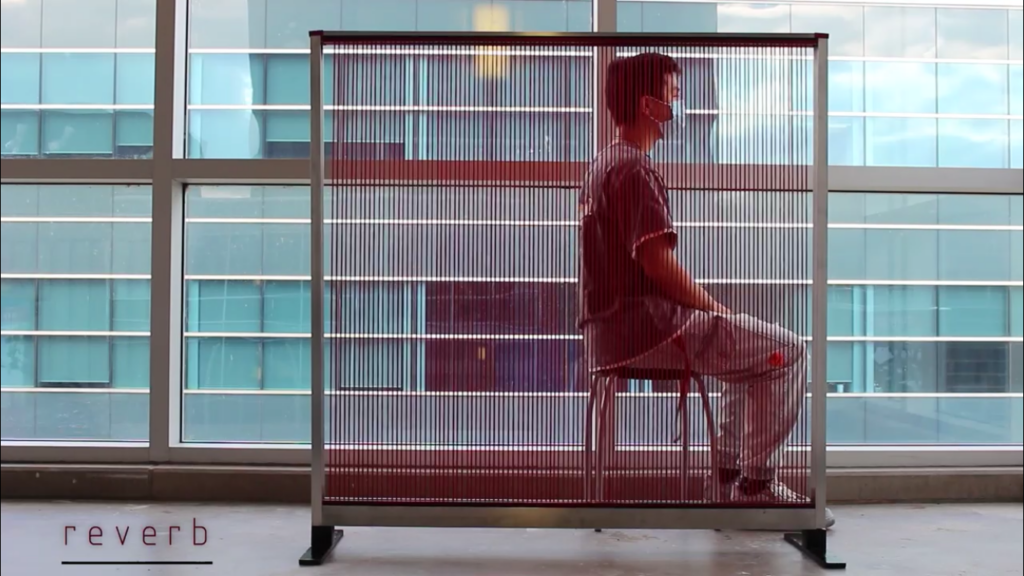 Jaclyn Jamieson is a recent graduate of the Industrial Design program at Carleton University. Fascinated by product design, she has always looked for new challenges that would enrich her knowledge and skills. In her work, she aims to create designs that improve day-to-day life and have a positive impact on the world.
Reverb is highly mobile and easy to construct. In order to achieve this, the frame is made out of entirely 100% recyclable aluminum. As a result of the great prominent work of young designers, her work has received an honorable mention in IHA Student Design Competition. Additionally, the space divider was the winner of the Office furniture award by the SIT Furniture Design Awards.
This solution has the potential to give co-workers more control of their privacy needs in an environment that changes day to day. As a result, this could make employees feel more satisfied and encouraged in their workspace.