Perron, an interior design studio known for creating immersive experiences, proudly presents its latest project: the design of Garoy Construction's new office space on Saint-Anne Boulevard in Quebec City. With a focus on showcasing the construction firm's expertise, the new environment stands out for its colorful and friendly aesthetic, offering a refreshing experience for both employees and customers.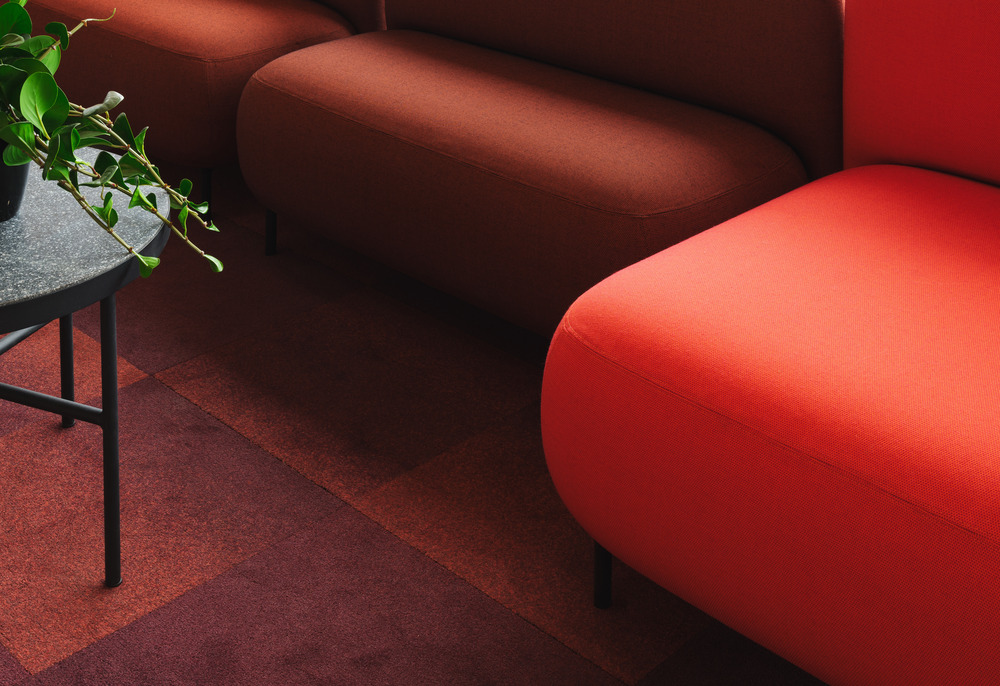 Innovative Spaces for Collaborative Work
The three-storey building was carefully crafted to accommodate approximately 100 employees, providing various spaces for administrative, estimation, and on-site teams. Depending on the nature of their tasks, employees occupy dedicated closed offices, open-plan workrooms, meeting rooms, or conference rooms, fostering collaboration and productivity.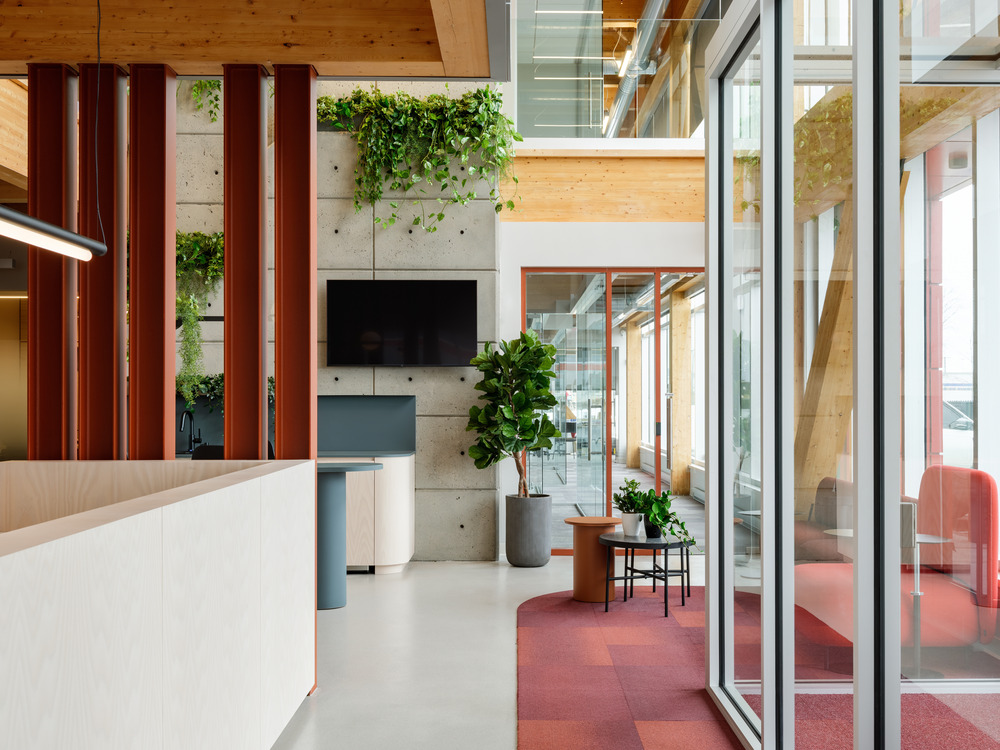 Upon entering the building, the double-height ceilings create a majestic and welcoming atmosphere. The cantilevered volume above the reception desk creates a floating, light sensation, while paying tribute to Garoy Construction's expertise with its focus on the building's mechanics, custom concrete formwork design, imposing exposed wood structure, and colored steel beams.
An Energetic and Inspiring Environment
Perron's design incorporates the desire to create spaces that surpass the appeal of remote work options in the post-pandemic era. Abundant natural light floods the offices through light, glazed surfaces, while soft, rounded shapes break up the orthogonal nature of the plan, and vibrant colors energize the various spaces.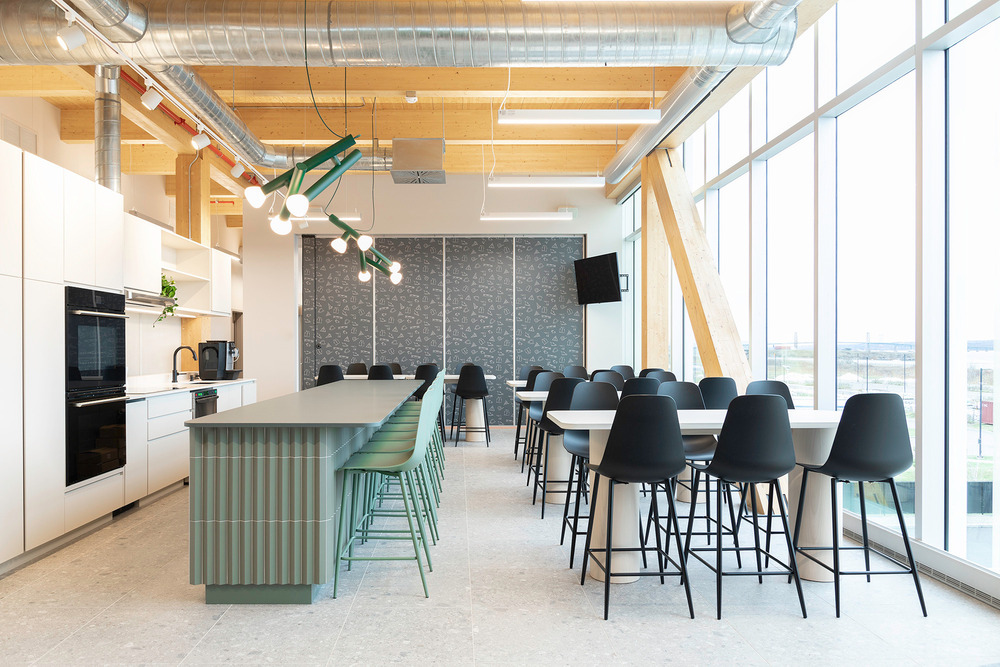 The new offices offer breathtaking views of the St. Lawrence River, with common spaces and open-plan divisions designed to maximize light penetration. The kitchen and outdoor terrace face the river, providing a stunning panorama. Careful attention to detail during the two-year design process ensures a harmonious integration of distinct personalities in the spaces, complemented by an abundance of glass walls.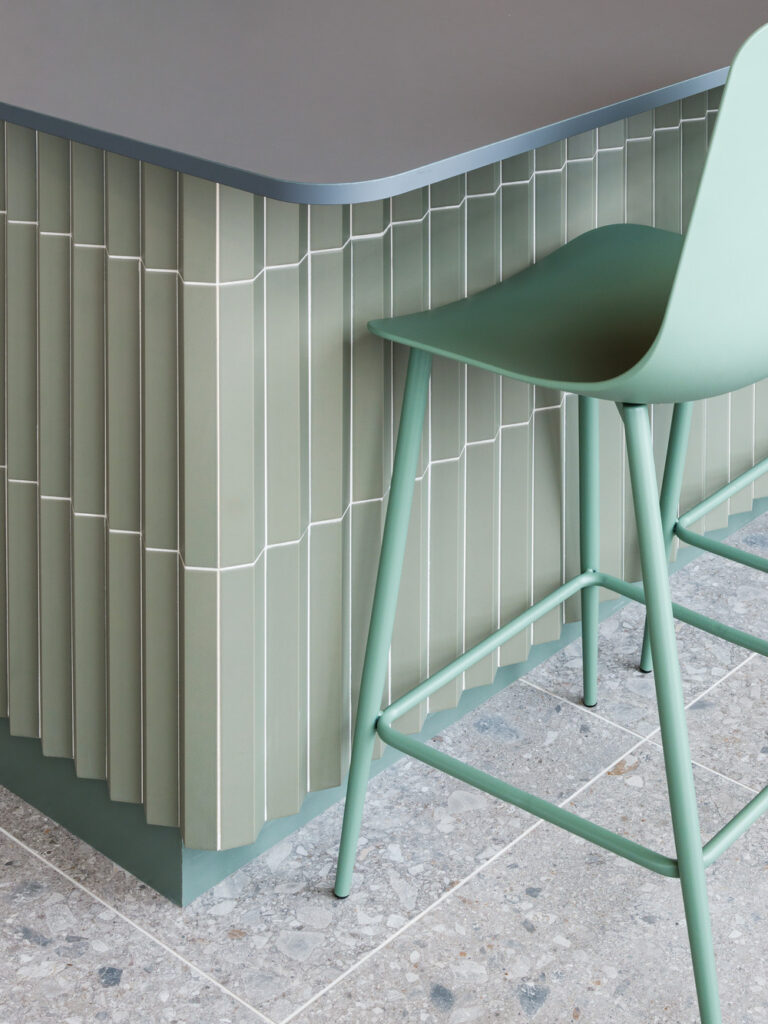 From triangular ceramics in the kitchen to square grids in the café area, and emerald green glass cube windows, each detail enriches the experience. Elements referring to the general contractor's daily life, such as a mural of construction helmets and custom wallpaper displaying Garoy's world through illustrated icons, are thoughtfully integrated.
Perron's selection of furniture, including Quebec companies like Rouillard for office furniture and Lambert et Fils for lighting, along with international additions from MUUTO, brings elegance and conviviality to the office. The design promotes interaction, featuring a golf simulator, a training room, a kitchen island that encourages gathering, and a multi-purpose room connected to the kitchen for 5 à 7s and events.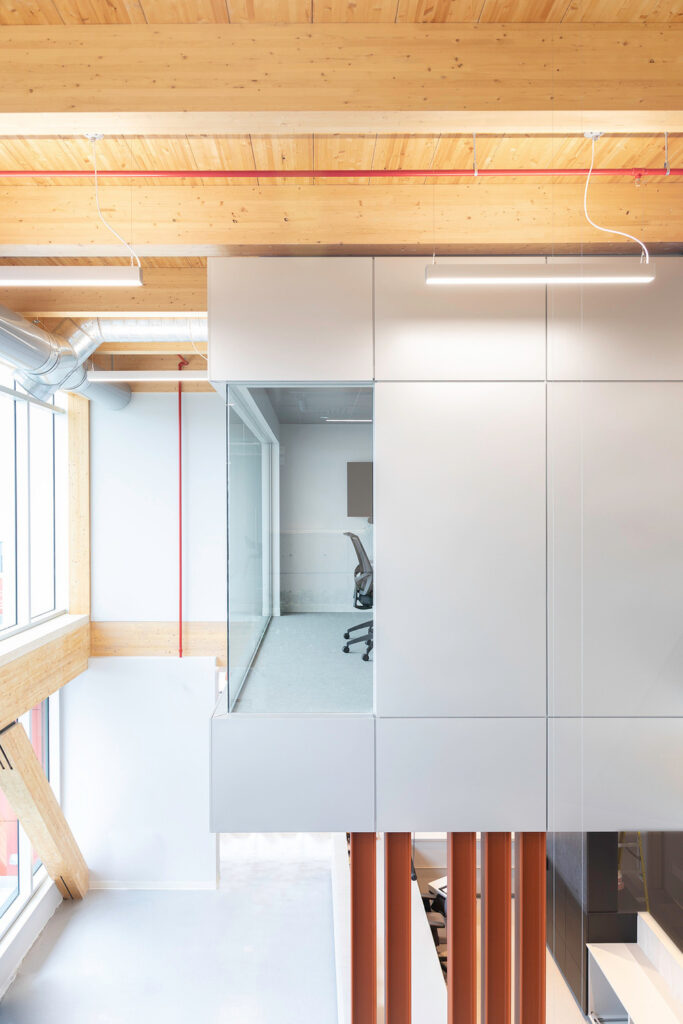 Combining their shared values of passion, rigor, and proximity, Garoy and Perron have collaborated once again to create bright, welcoming, and vibrant offices that inspire creativity and foster a sense of community.