Header: Joshua Steen
This October, NYCxDESIGN has presented the Design Pavilion, New York's premier public design exhibition, for another year of experiential installations that engage, inform and inspire. Taking place during Archtober, New York's month-long celebration of architecture, this year's edition of Design Pavilion will feature three activations by creative visionaries from multiple disciplines that evoke motifs of materiality, sustainability, social justice, and more.
Two built installations, 'Bamboo Cloud' and 'Public Display' both on display in the Meatpacking District's Gansevoort Plaza, will act as 'urban oases' for passersby as well as temporary forums designed to inspire community gathering, productive conversation, and personal reflection. The third exhibition, 'I Was Here', will be a digital art projection on the World Trade Center Podium, a bold statement reflecting on our country's legacy of enslavement and the wish to heal wounded sites.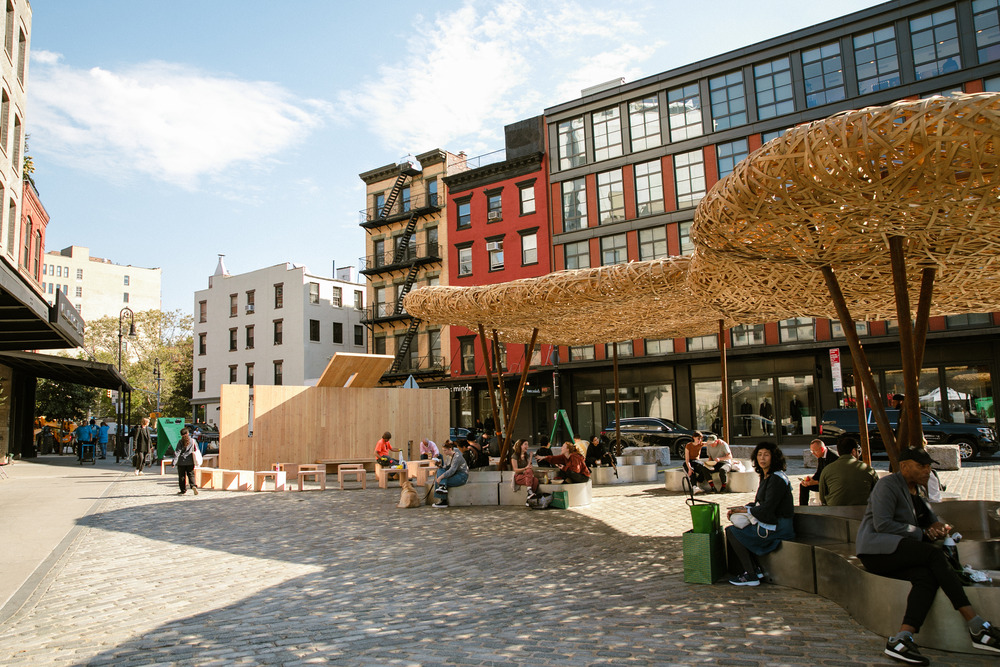 The organization's Design Talks series will also continue, this year held at the Gansevoort Plaza installation with a particular focus on conversations around sustainability, repurposing, and elimination of the world's waste.
"As we kickstart the months of preparation that lead up to the NYCxDESIGN Festival in May 2024, we're excited to partner with AIA New York and The Center for Architecture in celebration of Archtober, by offering the public a vision of stellar sustainable and ethical practices through the lens of design," said Ilene Shaw, NYCxDESIGN's Executive Director and Design Pavilion Founder.
"Each year, the Design Pavilion showcases provocative architecture in some of the city's finest public spaces, and the works curated for this year's celebration of Archtober on display in Gansevoort Plaza are no exception with the Meatpacking District as its backdrop," said Jeffrey LeFrancois, Executive Director of the Meatpacking District Management Association.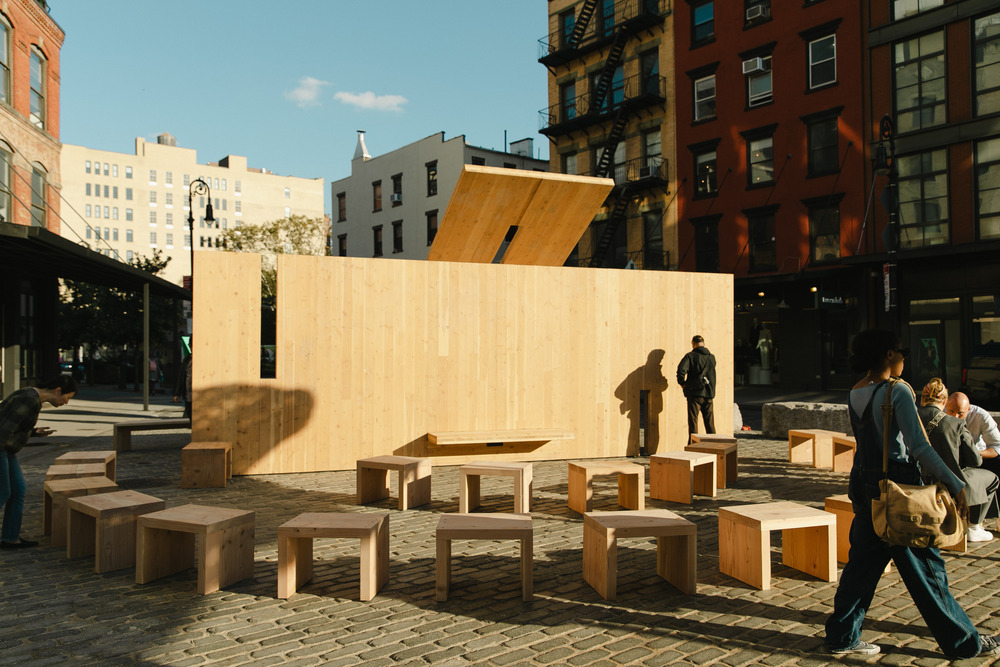 Bamboo Cloud
Hovering over Gansevoort Plaza, 'Bamboo Cloud' by Shanghai-based architecture studio llLab. was designed to challenge the traditional applications of bamboo, exploring its potential as an organic, sustainable building construction material, following a similar installation in Guilin in 2020.
While still retaining the beauty of a handcrafted basket with its woven structure, the installation breaks the conventional boundaries of the material by boldly showcasing its strength. Composed of bamboo strips woven into a porous surface, the pavilion naturally uses its internal force for form finding and eventually stabilizes as a hollow space, which is structurally resilient with the potential to be used at building scale.
Working in collaboration with world-renowned architectural lighting design firm L'Observatoire International and high-efficiency lighting suppliers Nanometer Lighting Color Kinetics, 'Bamboo Cloud' will also be washed aglow with light from below, elevating it to another level of beauty.
"The Bamboo Cloud defines a temporary new space offering visitors a seat under its playful game of light and shadow, to contemplate community. Its materiality spreads a golden light that will mark this New York City street," said Hanxiao Liu, co-founding partner at llLab.
"The idea was to create a sense of floating space at night above the streets in a mysterious way, finding the balance between the bamboo's texture and the sensation of depth and immateriality," said Hervé Descottes, founding principal at L'Observatoire International.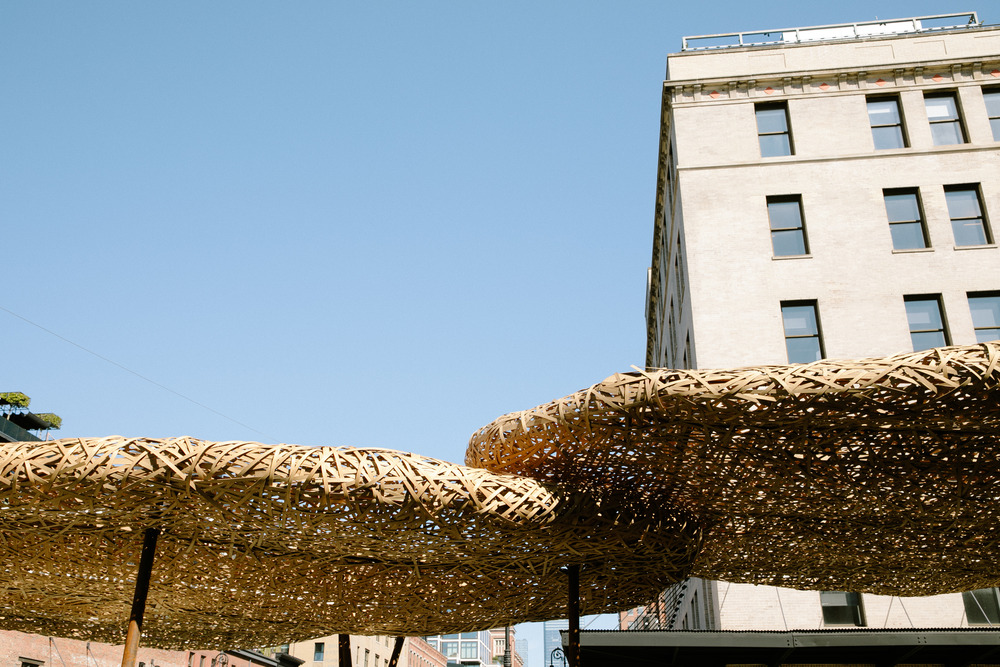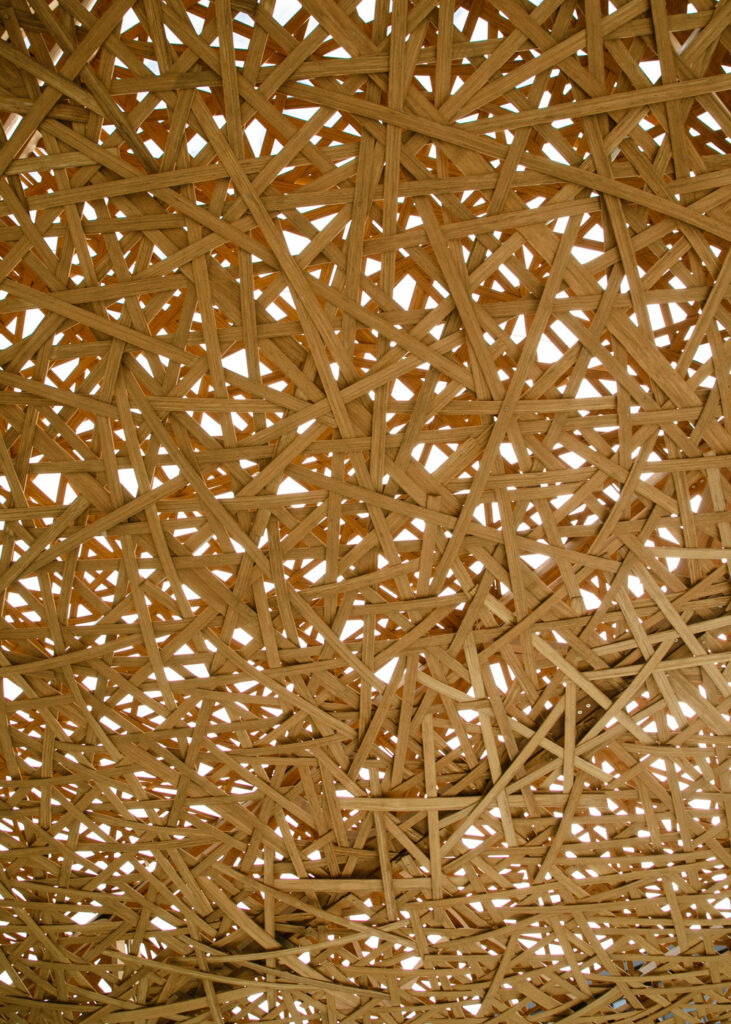 Public Display
Also at Gansevoort Plaza, 'Public Display' is a spatial composition crafted to facilitate public gathering for connection and communication. The installation is conceptualized by Michael Bennett, former Super Bowl Champion and NFL defensive end, who is now exploring architecture as the Founding Principal and Creative Director at Studio Kër.
Bennett found inspiration in the profound interplay of materials and space, becoming particularly fascinated by the properties of Cross-Laminated Timber (CLT). Balanced to perfection, 'Public Display' relies on the qualities of CLT, elevating the concept of "mass" to an art form that enhances the weight of mass, the lightness of space, and the poetry of connection. Tension arises when a weighty object occupies space, yet it instils a sense of peace and tranquillity.
The installation not only holds substance in form, but it also holds space for dialogue and revelation, making it the ideal conversation pit for this year's edition of Design Talks. With programming curated by Stockholm-based industrial design studio Form Us With Love, the talks will explore waste management, the circular economy, and other sustainability-related topics.
"'Public Display' is a tribute to our environment, with a commitment to sustainability and an artistic presentation. Plus, the space offers a series of community conversations. To listen is to love, so we create sacred space to listen," said Michael Bennett, Founding Principal and Creative Director at Studio-Kër.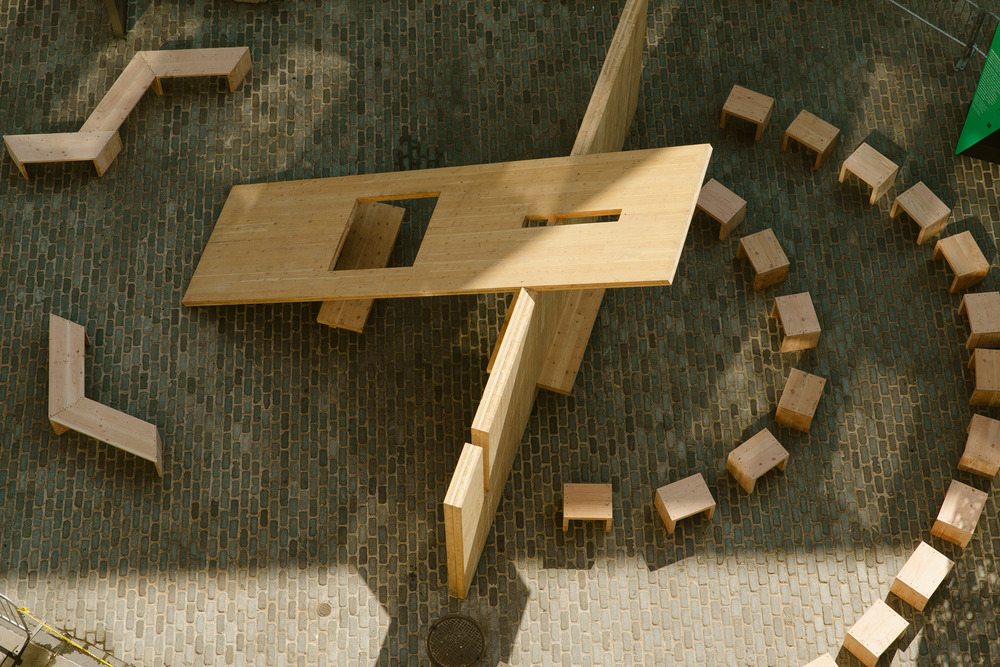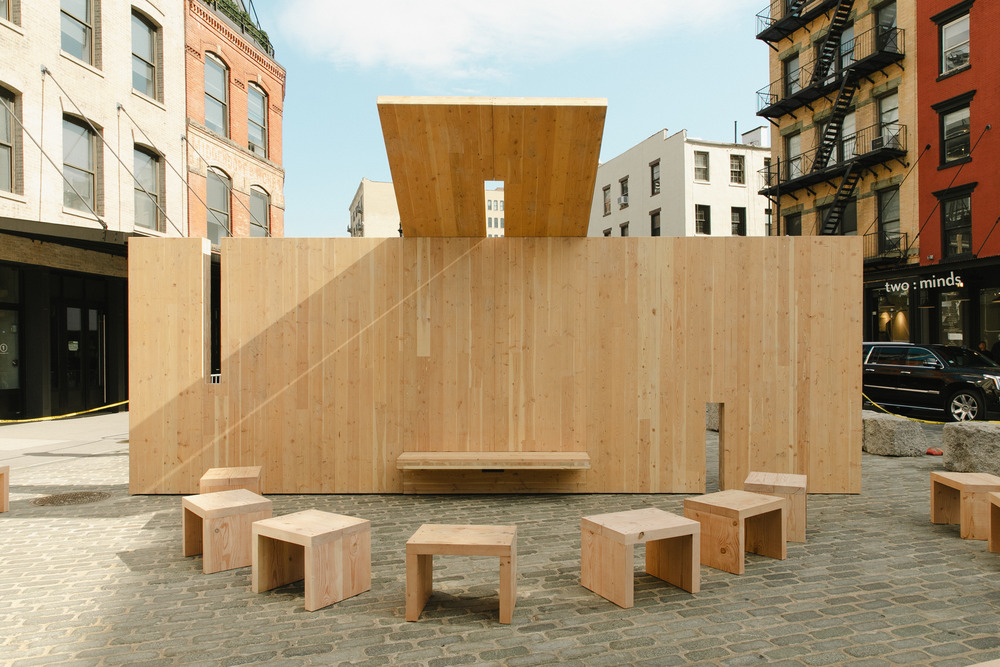 I Was Here
Making its NYC debut during Design Pavilion, the 'I Was Here' project is a series of public art installations that began in 2016 in Lexington, KY, to serve as a reverent acknowledgement of American history presented in a variety of mediums and methods. Hosted by Spireworks this October, animated Ancestor Spirit Portraits will be projected on all four sides of The World Trade Center Podium, 200 feet above the ground.
Conceptualized by Marjorie Guyon with video and animation co-created by Marc Aptakin, Roy Husdell, and Yoel Meneses of 'Yes We Are Mad', the presentation will commemorate those whose names we will never know and begin the process of healing wounded sites from the legacy of enslavement. This site, so deeply significant to our recent American experience, also neighbours the New York Harbor and the intersection of Wall Street and the East River, the second largest auction site for enslaved Africans in the country.
Following this activation in Lower Manhattan, NYCxDESIGN will continue support of 'I Was Here' over the next year around the city through projections, digital experiences, augmented reality, monumental Spirit Portraits, soundscapes, poetic narratives, and dance.
"When I was three, I took the ferry and climbed to the very top of Lady Liberty to see the land and sea through her eyes. Like the Statue of Liberty, the Ancestor Spirit Portraits of the 'I Was Here' project are iconic – their presence allowing our city, our country, and our world to see through their sacred, ancient eyes," said Marjorie Guyon, artist and founder of 'I Was Here'.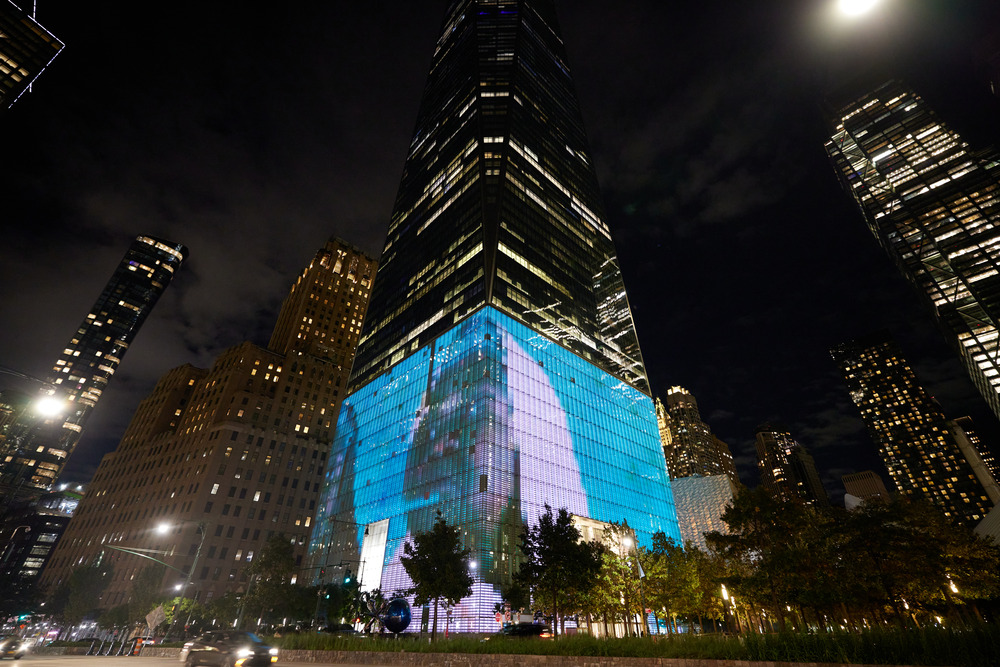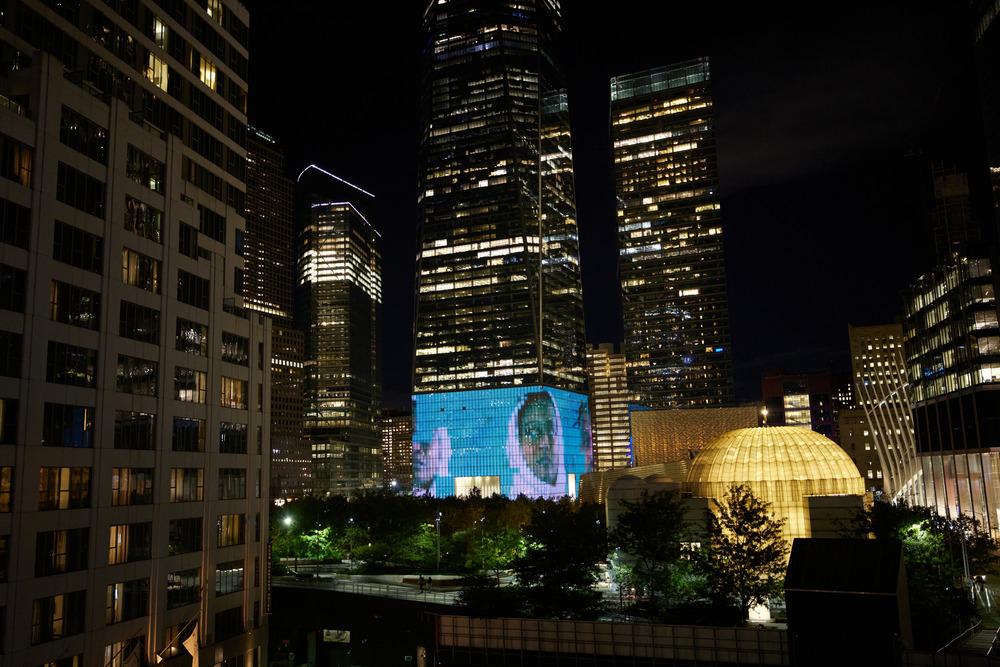 Source: NYCxDESIGN