Focusing on hospitality projects
Nicholas J Hickson is a British furniture, lighting, and interior designer for more than 34 years. He has worked with high-end interior residential and commercial projects for international clients and developers in exclusive areas of London and worldwide. In 2005, together with his wife Manuela Mannino, Nicholas opened the THDP Studio focusing on hospitality.
Could you tell us a little about yourself?
I am a designer, creator, and founder of Studio THDP a London & Milan based interior design studio founded with my partner, Italian Manuela Mannino, in 2005.
I have been a British furniture and interior designer for more than 34 years, working with high-end interior residential and commercial projects for international clients and developers in exclusive areas of London and worldwide.
Having studied design for three years I found myself at 20 working in a studio dealing in Italian furniture. The company was the first importer of B&B Italia, Cassina, and De Sede in the UK and had a real '60s vibe, loaning furniture for the Bond films. I learnt more about design there than I did in three years of studying – it's also where I became hooked on Italian design.
Detail is the design for me, so sometimes I start an interior design project with a small furniture detail and build upon that. I think having studied furniture design and construction can really help you understand the language inherent in the design, and with that language, you are more able to describe what you mean.
Where are you from?
I am from Kent, England, my family is from London and Oxford. I love history and can trace my family back through 11 generations to 1560 – so I'm really quite English…
Was it a childhood dream to become an Interior Designer?
Not so much a dream but something that my mind always did through conscious reasoning, what is called designing.  I knew from a very young age, perhaps 8, that I had the ability to find answers to questions and problems intuitively – often without understanding the reasoning but simply by thinking 'instinctively' – this process is still fundamental to how I approach design work now.  Trusting and relying on yourself and especially in your team's experience really does lead to better solutions and what I call happy accidents.
Hilton Frankfurt City Centre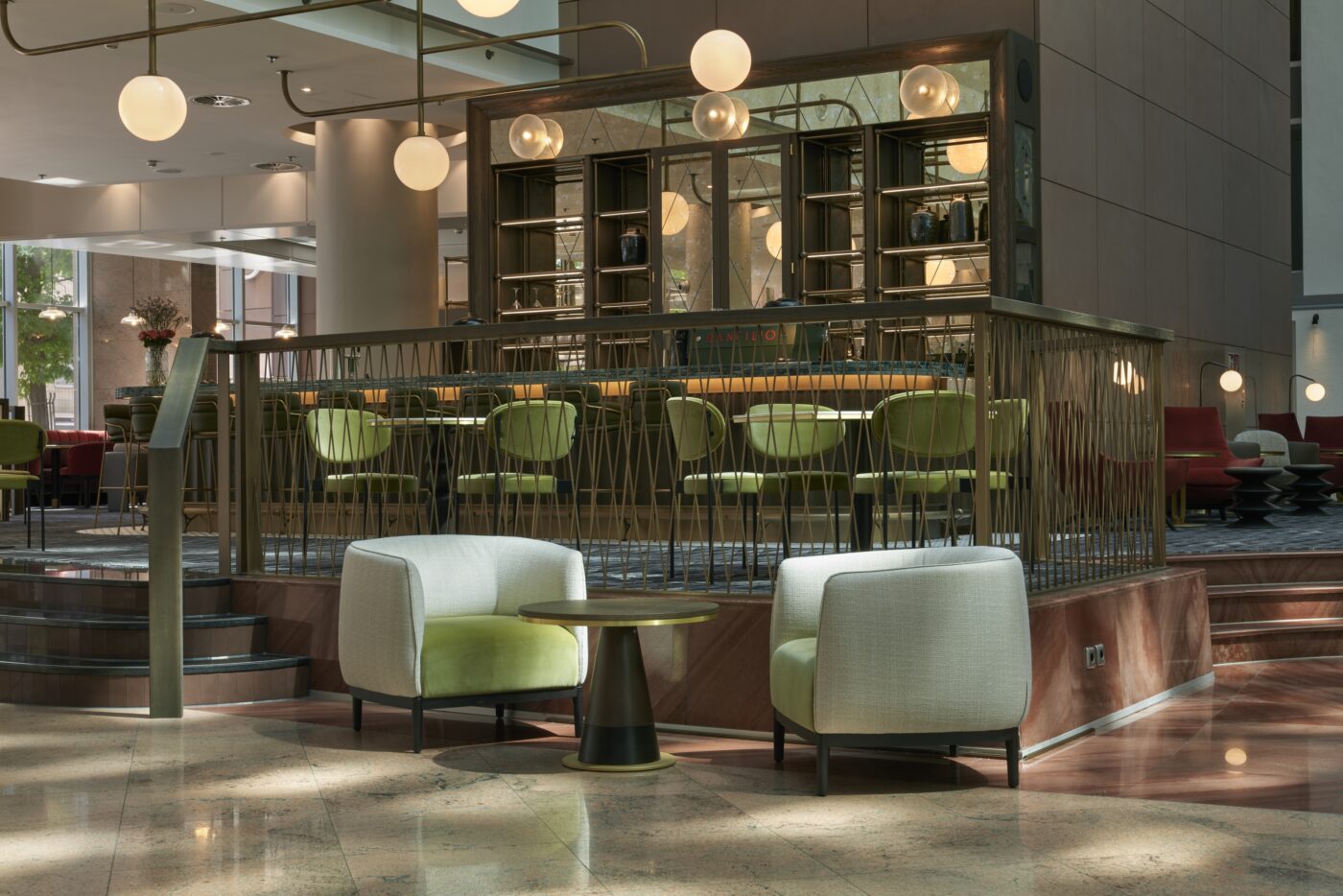 Why have you chosen to work in this field?
I knew at 13 years old that I wanted to be a furniture designer, so I really didn't have much choice in the matter as it was. Having studied for three years, I joined a company importing and selling some of Italy's finest modern furniture – there I learnt about all the classic Italian designers and suppliers.
In 2005, you founded "THDP" your Architecture & Interior Design practice, when did you decide it was time to start your own company?
It only took me another 25 years with the infinite support of my Italian wife and partner to take a leap and start our own studio focusing on hospitality. In some ways, it was a happy accident, and somewhat of a life change, moving to the Italian Alps for 18 months to start our first project together. Then we were hooked. Founding a studio with my wife creates a really interesting dynamic, being from two different cultures sometimes leads to odd misunderstandings, but more often than not gives us real advantages that can improve our approach and our work with our clients.
If you have to choose only one project you have been involved in, which one would it be and why?
Our first project is probably our most memorable, it was for the 2006 Olympics in Turin, so a long time ago – but it was really somewhere to design and learn so much.  The scale and speed of the project were really an opportunity for us to find new solutions, one was to work directly with suppliers and contractors relying on the infinite talents of Italian manufacturers was the key to getting the project finished on time – now this process is part of the 'lean' thinking process. Since then we have gone on to design over 30 hotels internationally but I still remember the lessons from our very first.
Terme di Saturnia Natural Destination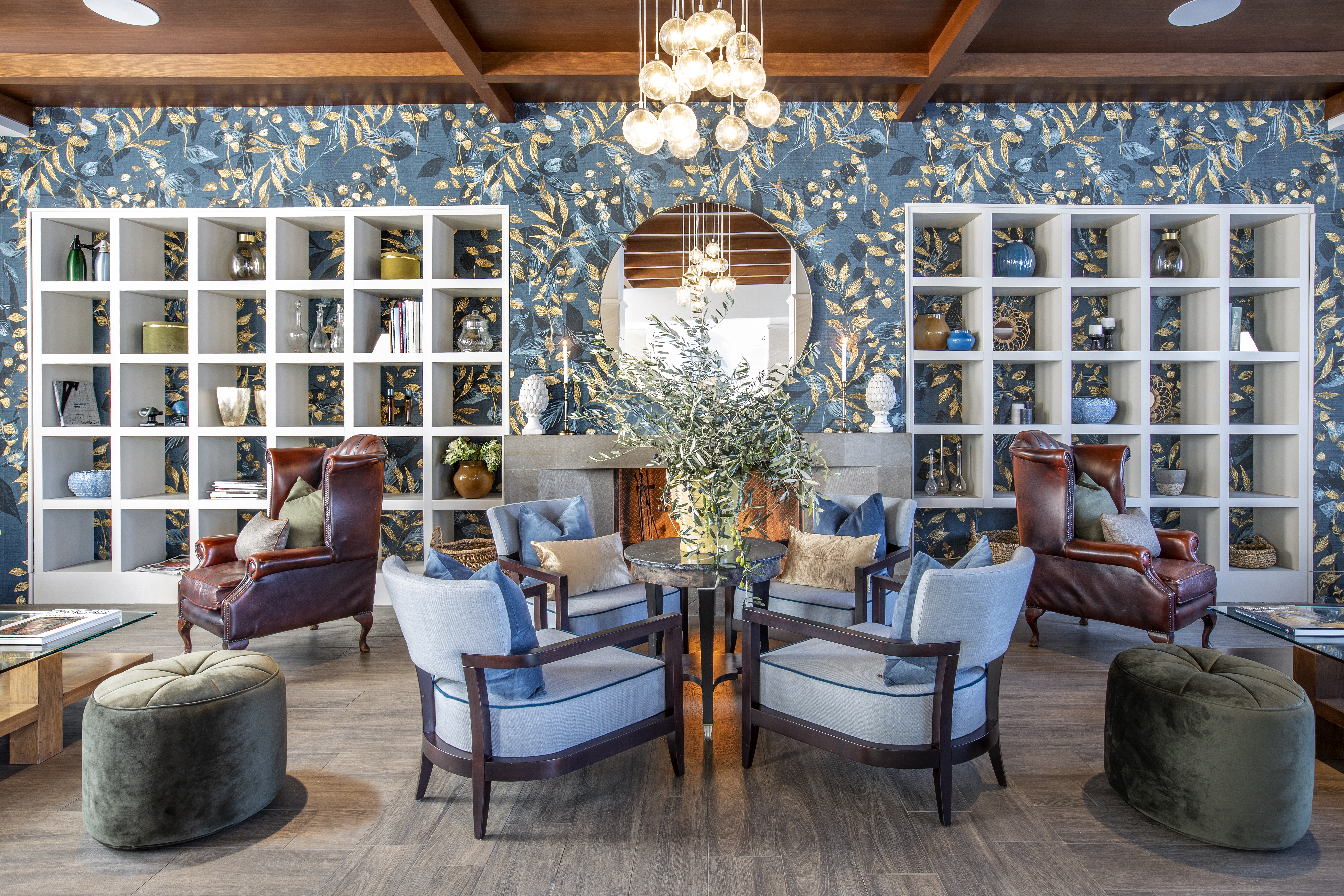 What can you tell us about your ongoing projects?
Despite the downturn in projects due to COVID over the last 18 months, we decided to invest in new talents, new team members and new processes. We now are a lean highly skilled and professional team ready to take on new luxury projects. We have focused too on our communication and regularly feature in International magazines and awards. Receiving this kind of recognition is not just good for us but also for our team, a true recognition of their talents.
We have just been appointed on a number of projects, in Venice, Milan, Barcelona, and London, both large and small.  From converting a small Masseria (a fortified farmhouse) in Puglia into a 5-star luxury hotel, to a large Spa project.
A recent re-opening is the Terme di Saturnia Natural Destination which is a world-class spa resort in Tuscany, here we designed the refurbishment of the guest rooms, suites and public areas.  Tuscany is probably one of my personal favourite locations so it was a simple joy driving through the Tuscan hills to the meetings in an Alfa Romeo Cabriolet, what could be better?
Which Interior Design most influences your work or your work habits?
Not just one but all designers and architects fascinate me. Since starting my career in the mid 80's I have seen a natural evolution not just of style but of approach. For me, the key is to be flexible and adaptable and to learn something new every day – not to lock yourself into one way of thinking or one particular style. I love very minimal interiors but also maximalist… very classic, very rustic and super modern alike. My personal style sits in the centre of it all – and I think pulling elements from each is what I would call the THDP way of thinking. For hotel interiors, very often it's a process of finding a narrative for the hotel and its location, expressing the local culture in an experiential way, and having fun. For that reason, I love working with people from diverse backgrounds and experiences and love working with them in beautiful locations.
I am so pleased this career chose me and to be enjoying this journey with my wife and partner.
RG Naxos, Sicily