Founders of Minarc, Erla Dögg Ingjaldsdottir and Tryggvi Thorsteinsson have settled in Santa Monica in California; far from their native Iceland. Top winners of the first edition of the LIV Hospitality Design Awards; Erla and Tryggvi shared with us their connection to nature and guiding design principles.
Could you tell us a little about your professional journey? Where are you from?
Prior to settling in Santa Monica, Southern California, we grew up surrounded by the striking beauty and distinct realities of the Icelandic countryside. This upbringing fostered within us a deep-seated love and profound respect for nature, coupled with a highly focused and beautifully pragmatic approach to our life's work: Always do better.
What was the project design brief for "Northern Lights Bar at ION Adventure Hotel"?
The most important focus of this project was to take full advantage of the connection to nature.
What was most important for you when planning this project?
Incorporating the atmosphere and creating a mood of integration, not of interruption, was most important. There may be no better way for the modern adventurer to relax and enjoy Iceland's natural beauty, while viewing the otherworldly phenomenon known as the aurora borealis, than from the bar and lounge named for nature's ethereal light show – the Northern Lights bar and lounge at the Ion Hotel.
Perched atop a series of high-seat pillars in the midst of a remote lava field where Mount Hengill and Thingvellir National Park converge, with its double-height floor-to-ceiling windows, it offers unobstructed views of the breathtaking Lake Thingvallavatn and, when conditions are just right, the intensely vivid dancing lights of the north.
The modest decor of the Northern Lights bar and lounge, with its use of natural light and panoramic views, creates a sense of harmony with the world outside. There are no boundaries between the modern adventurer and the many wonders of this mystical place we call Iceland.
Northern Lights Bar at ION Adventure Hotel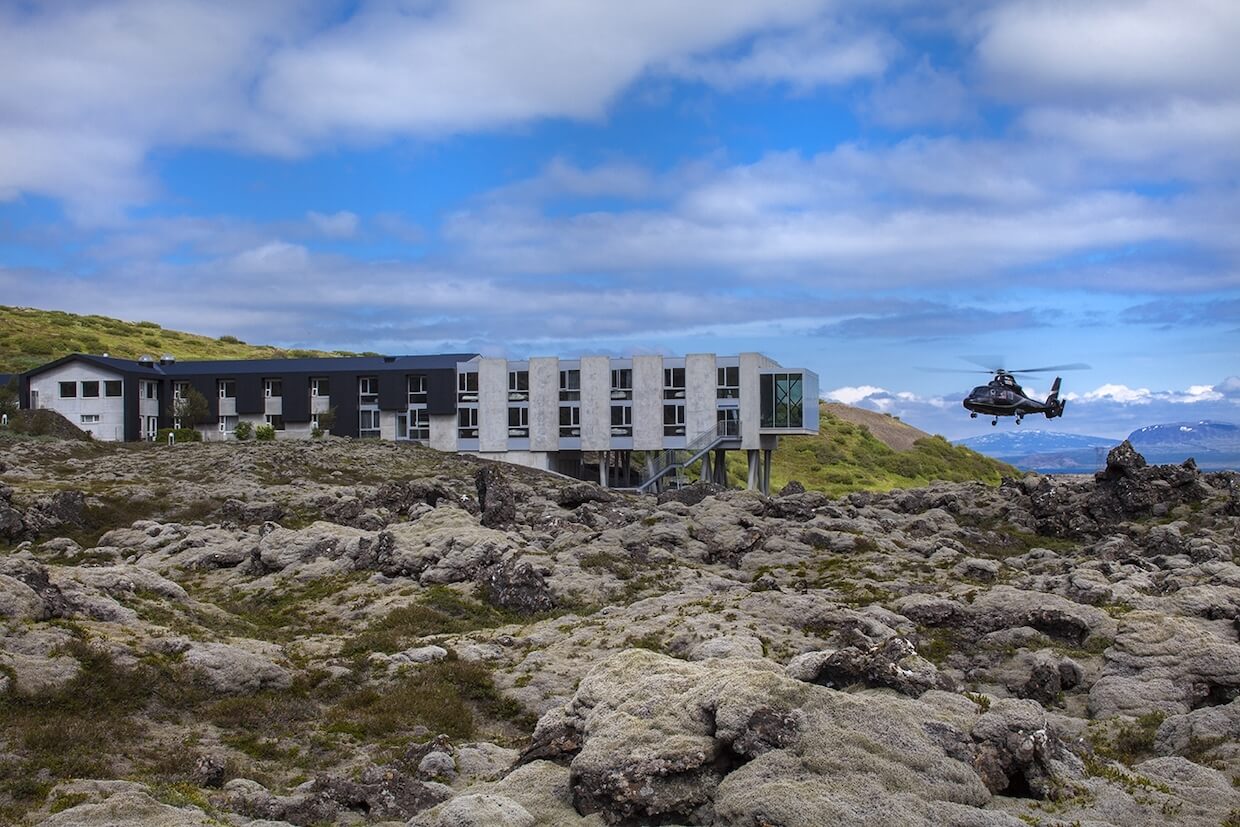 Northern Lights Bar at ION Adventure Hotel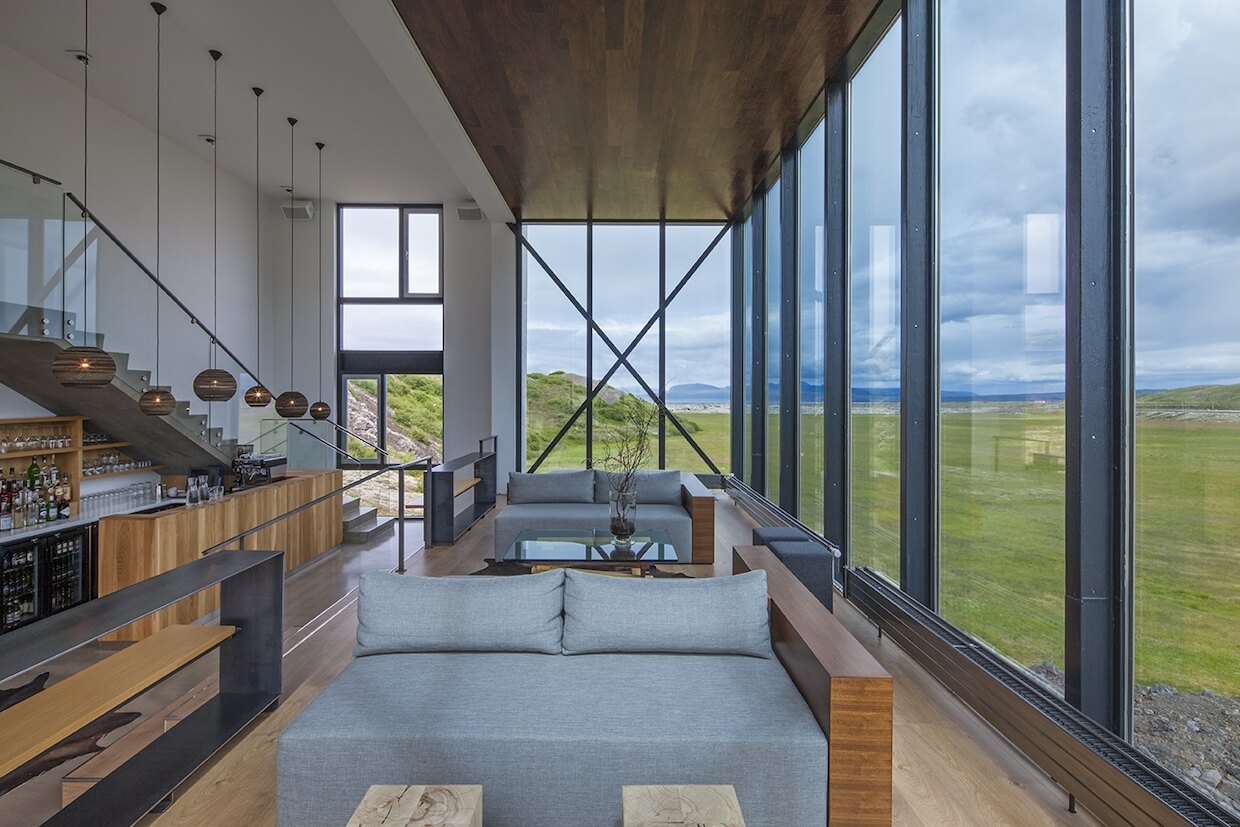 What were the biggest challenges you and your team faced? Can you tell us more about the logistics when building the property?
Designing and building on protected land presents its own challenges. Working on a remote property calls for innovative solutions for material deliveries and installation, without disturbing the natural graded land. Prefabricated panels were created off-site and delivered, having to keep in mind the size of the panels needed was limited by our delivery options.
Can you please share with us what winning the "Architectural Design of the Year" prize means to you?
We are truly honoured and humbled to be recognized for this award. We are proud of this project and thank you for your continued support.
In general, what is your guiding design principle?
We derive inspiration from the unassuming, austere beauty and otherworldly natural features of our native Iceland, the land of fire and ice. An appreciation for the absence of barriers and respect for open and integrated spaces are key elements of each project.
Throughout our careers, we strive to have a continuous dedication to improving the environment and our communities, by bringing innovative ideas forward with a clear connection to sustainability, through employing innovative materials and technologies, while adhering to sustainable practices and design standards. Through this approach we are able to provide a healthy environment, offering natural light and space that flows.
What are you working on now? What is in the pipeline for you?
We always focus on our companies and strive towards a better future of building. Minarc Group is a collective group of subsidiaries that bring thoughtful, modern design to an international landscape. We pride ourselves in being trailblazers in the creative minimalism movement, by continuing to craft spaces that not only bring the outdoors in but inspire intentional living and conscious lifestyles. Under the umbrella of Minarc Group, our studio comprises Minarc, mnmMOD  Plús Hús and ERLA Construction, which seamlessly translates into a holistic, environmentally aware approach, perfectly tailored to the needs of our clientele.
mnmMOD is our prefabricated panel system that provides the structure and insulation (replacing traditional wood framing), which you can clad with any exterior and interior finish you want. Using mnmMOD speeds up the building process and, in the long run, you'll save on energy bills and maintenance since mnmMOD panels don't mould, support fire, get termites, or warp. Utilizing prefabricated panels also allows for a minimization of waste on the construction site.
Plús Hús is an Accessory Dwelling Unit (ADU) design service that offers a simple, efficient, multi-purpose structure designed to let anyone add an environmentally responsible space to their property.
ERLA Construction is our full-service general contracting firm. Our values are founded on integrity, dedication to clientele, and an unconditional commitment to the highest quality in the implementation of projects. By forging relationships based on teamwork and smooth project execution, we hope to offer a unique hands-on approach resulting in the success of our projects and continuously strive to be a forerunner in the interest of sustainability.
What can we wish you for in the future?
Health, happiness, and a successful future continuing doing what we love.