Powerful tranquillity. This might sound like an oxymoron at first, but this contrast is exactly what Estonian designer Johanna Parv was thinking about when starting to design her Spring/Summer collection. Speed and power, underpinned by a sense of steadiness and inner calm.
Continuing to observe the women around her – cycling fanatics, office workers, city dwellers on the morning commute – Parv's Spring/Summer collection sees her take cues from the 1950s and 1960s dressmaking techniques. Studying the intricate construction and the way in which garments were tailored to the body, Parv has adapted these tactics to work with performance materials.
And so power dressing gets the Parv treatment, in a predominantly black, white, sky blue and deep purple colour palette. A suit dress comes served with a double puller and silicone panels that allow the skirt to be hitched up and tucked at the waist – ready to take you from the morning commute, to dinner, and back again. The classic white shirt is reimagined as a soft, lightweight, breathable silhouette with stretchy transparent panels. A cumber belt with mesh pockets provides a home for your phone, or whatever else you might need to carry that day. Parv's got hot and sweaty summer days in the city covered, too. A super sheer white dress is crafted from lightweight nylon, that can be scrunched, tucked and soaked, but it dries out crease-free.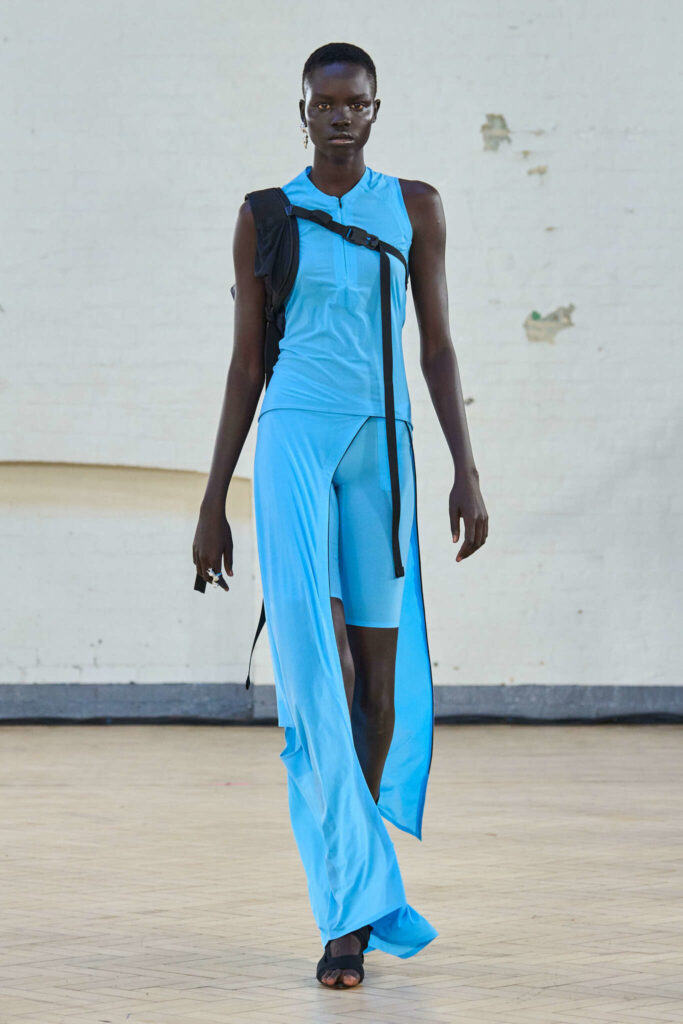 As ever, Parv's jackets come with built-in pockets allowing them to be packed away in a flash, and elastic cord strap panels so that they can be stretched over a backpack when on the move. This season's trousers have foldable waistbands with inner tunnels, to slot jacket sleeves into rather than just slinging it around your waist.
Parv is heavily influenced by the fabrics she finds. For Spring/Summer, a recycled nylon takes centre stage, slightly transparent meaning you can see the inner workings, or bone structure, of each technical garment, allowing the intricacy of Parv's work to shine through. Other subtle details that are not to be overlooked: silicone dotted shoulders to stop handbag straps from slipping, and reinforced sleeve and trouser cuffs to prevent wear and tear.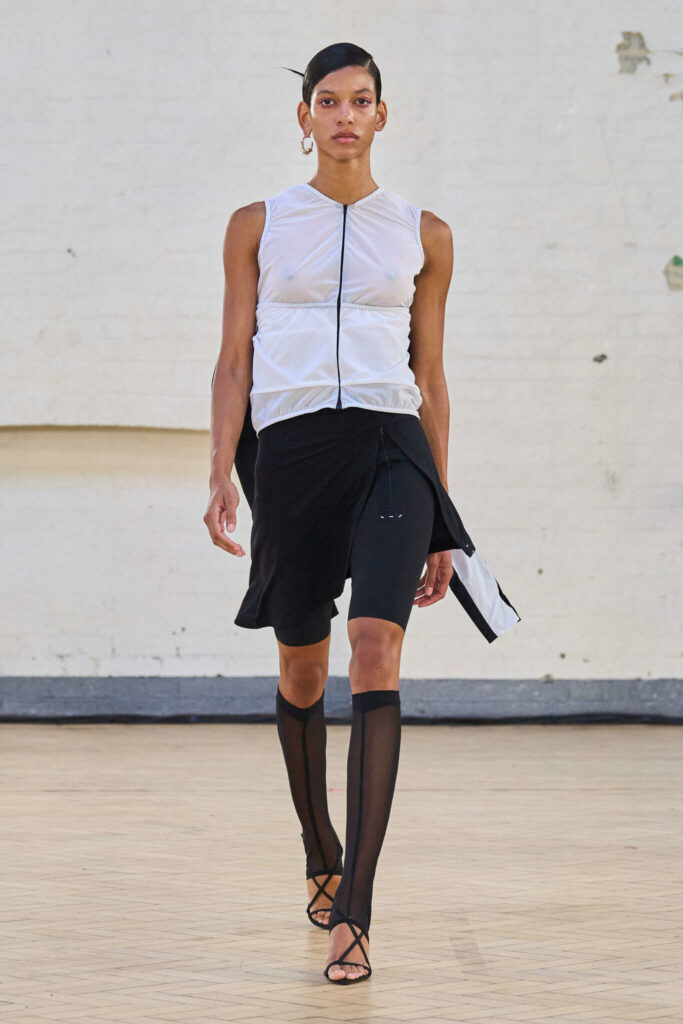 Accessories are equally as nifty. Parv's signature action bag comes in a soft eco-leather, with a utility strap, a vintage handbag is attached to a utility backpack framework, and a collaboration with London-based designer Freya Douglas Ferguson sees sculptural, robotic-style jewellery contrast with the softer materials in the collection.
Having reflected on and reinvented her core shapes, finessed her pattern cutting and introduced new fabrics into the fold, Parv's Spring/Summer collection is an evolution of her design aesthetic. With functionality and sustainability at its core, Parv isn't just thinking about how her work is presented this season, but also how it translates into the next. Pieces not just for the now, but for the future, too.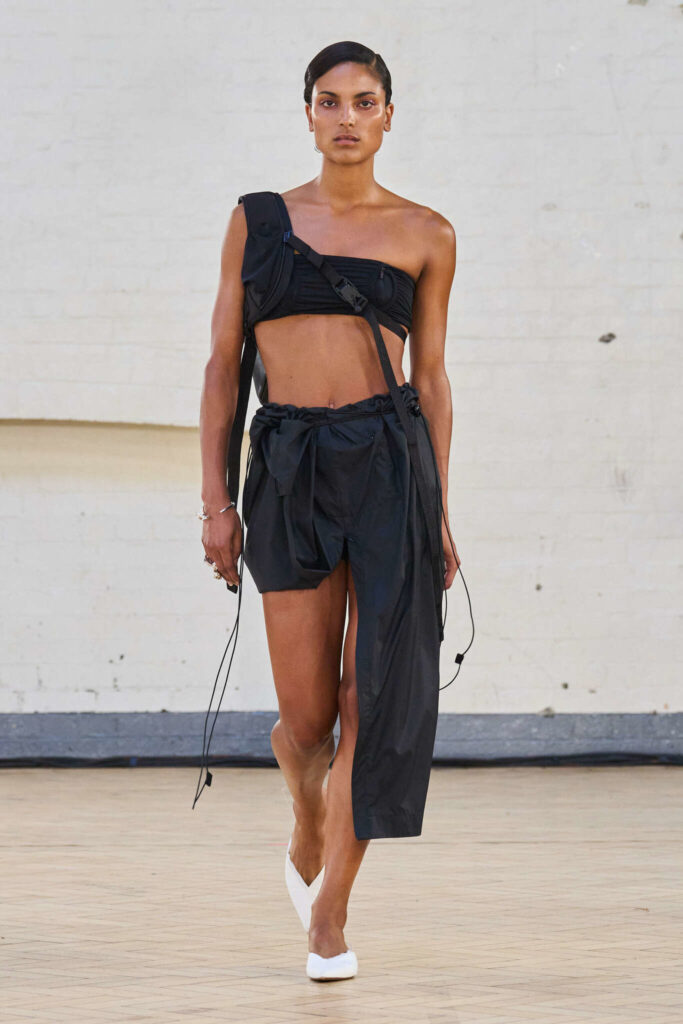 STYLING: Raphael Hirsch
CASTING: Molle Dendle
MAKE-UP: Terry Barber for MAC Cosmetics
HAIR: Mark Hampton using Curlsmith
Movement Direction: Kenichiro Nakajima
JEWELLERY: Freya Douglas Ferguson
MUSIC: Mimi Xu
PRODUCTION: Sophie Baillavoine CEBE
PRESS RELEASE: Brooke McCord