Lighting design is an immense part of any design installation or interior design concept. Any designer has to think about how light matches their work and in what ways it can contribute to the final product. A successful lighting scheme should be integrated into the design at an early stage. Light is also extremely important when it comes to visual environments. Work and movement in this sense are only possible when there is light to see. Architecture, objects, and people after all are only visible when there is light. In order to discover more about lighting design history and its importance and influence on current movements, we're going to dive into some of the most prominent lighting designers.
Ingo Maurer
First is Ingo Maurer (1932 – 2019). He was a German industrial designer who specialized in the design of lamps and light installations. He was nicknamed the "poet of light". His research is in the name of eclecticism, distant from fashion and trends, expressing his personal vision of design but at the same time always coherent and yet somehow surprising. Ingo Maurer lamps are objects bordering on the world of art accompanies by underground culture and made in a craft workshop in Munich.
For example, the Porca Miseria chandelier is a revolt against the craftiness of contemporary design Maurer's celebration of cinematic slow-motion explosions. The production of this piece is limited to just ten a year, as the construction of each lamp requires the effort of four people.
Ettore Sottsass
Ettore Sottsass, originally born in Austria has grown up in Turin and he is noted for designing furniture, jewelry, glass, lighting, home, and office wares. One of his most prominent projects is the floor lamp "Svincolo". Furthermore, Sottsass designed the Callimaco designer lamps and the famous ministerial table lamp Pausania for Artemide.
He was always motivated by the desire to reach deeper beneath the surface of the objects he designed and to bring out their poetry. Sottsass' focus was not just building a house or creating a new consumer object, but he wanted to achieve a better and deeper connection with the world that surrounds us.
Emil Stejnar
Emil Stejnar is a designer known for his Space Age-era lighting design. Despite his endeavors and success, for Stejnar his career in design was second to his passion and enthusiasm for the magical and the mystical. He has been particularly concerned with Freemasonry and Astrology. This is in fact the place where he found the interface linking the world of the spirit with the world of matter. An additional influence was his background as a gold and silversmith, which he developed as a jeweler.
During the 1950s and the early 1960s, Stejnar designed a few pendant lamps, sconces, and ceiling lights for the Viennese lighting manufacturer Rupert Nikoll. One of his most famous ceiling lights is the Sputnik Lamp. It is interesting to note that the Sputnik is often referred to as the Dandelion or as the Snowball. In fact, regardless of the name we all give to it, Sputnik is one of the most celebrated and replicated lamps of the 20th century. It is immediately recognizable because of its magical glass flowers that create dancing shadows when lit.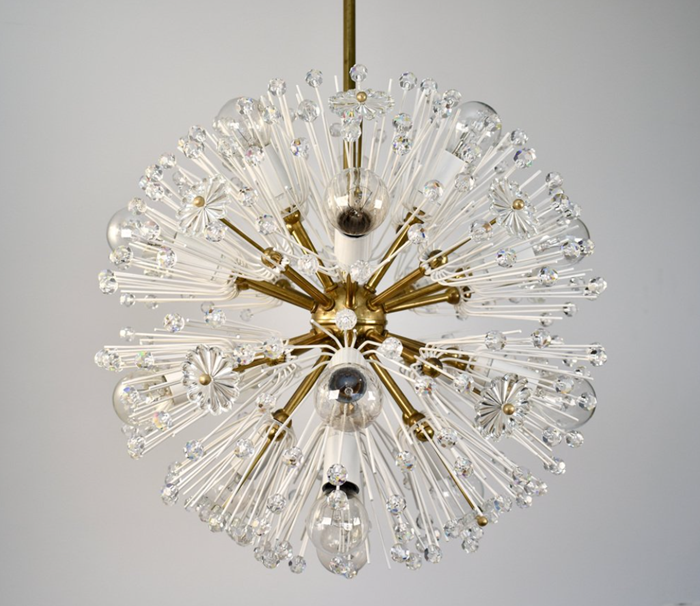 Arne Jacobsen
A world-known Danish modernistic architect Arne Jacobsen's signature style manifested as sweeping, angular forms. He later brought this distinctive look into his later creative endeavors, including furniture and lighting design. As an architect, Jacobsen had very strong decision-making skills, influencing designs not only of buildings but their details too. For six decades, Jacobsen worked as an architect, furniture designer, industrial designer, and landscape architect.
His most memorable fixtures are from his "AJ" series for Louise Poulsen, which included wall, floor, and desk lamps. The head of these lamps featured a cylindrical stem that flared out into a conical shade, perched on thin tubes for a spartan look. Jacobsen created the AJ series for Copenhagen's SAS Royal Hotel, where it remains an integral part of the building's striking decor.
Arne Jacobsen's earliest known lamp design is the Bellevue lamp from 1929. During the 1920s, public demands to design changed and lighting design also underwent transformation. Arne Jacobsen was one of the first Danish architects to pick up on this new style, which replaced ornamentation and expensive, hand-crafted details with a simple, honest expression.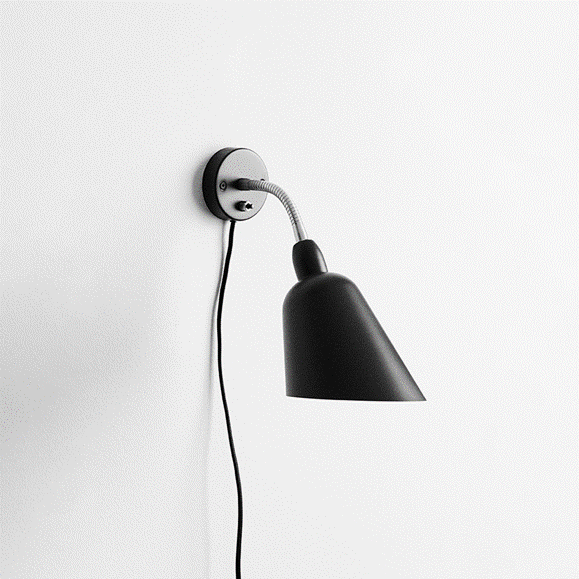 Poul Henningsen
Poul Henningsen once was a central figure in the development of Scandinavian design. His thoughts and ideas were focused on functionality. His goal was to create lighting and architecture that is easy to live with as well as useful. He designed the artichoke lamp in 1958 for the Langelinie Pavillon-restaurant in Copenhagen (where it still hangs today).
The artichoke lamp embodies Henningsen's practical approach. Multiple copper panels cascade around a circular center, gently diffusing light to be free of glare. It creates an intimate and relaxing atmosphere, flattering all who sit beneath it.
Henningsen has had a huge impact not only on Danish design but also thinking. His legacy is an important part of Louis Poulsen's attempts to shape light.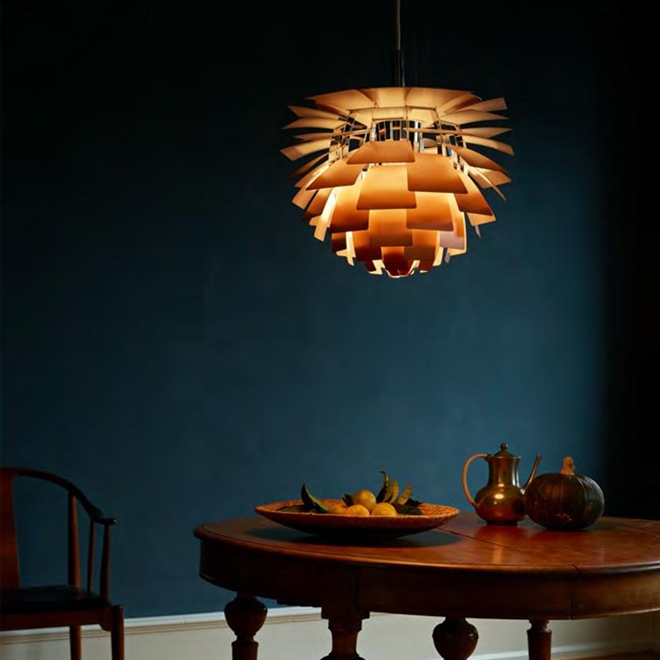 Serge Mouille
Serge Mouille was a French designer whose focus was directed toward the bold, crisp style inspired by the modern era. Mouille's designs were inspired by the delicate structures of insect exoskeletons and plants due to his fascination with the natural world. In addition to this, Mouille is best known for light fixture designs.
In 1953, Mouille created a series of lamps that resemble the way flowers are created. They are called the Appliqué Murale. Leaf-like shades hang at the end of spindly prongs reaching out in a number of directions, interrupted by swift, dynamic bends. The result is clean, intrepid forms that provoke thought in their simplicity. This series of lamps also marks his dedication to light fixtures.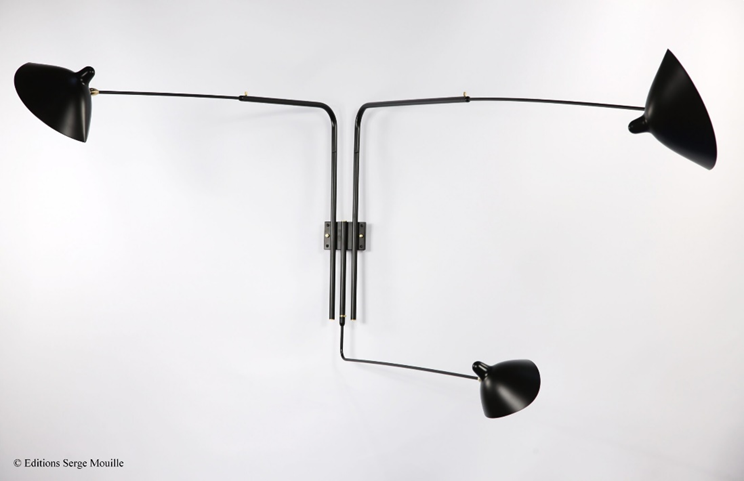 Concluding thoughts
Mid-century modern design has become a dominant way of creating aesthetics today. Despite its origin more than half a century ago, the style combines minimalistic vibes and retro spirit that feels progressive but also fresh and natural.
Lighting as established is more than important in any design not only because it allows us to see everything properly but also because it impacts the atmosphere and the whole vibe of the space.