Lilian González-González, an Industrial Design Coordinator at Universidad Anáhuac Mexico Norte, is a notable character in the Mexican design sector. The designer is part of the Board of Directors of the World Design Organization (WDO) for the 2022-2023 term, and her nomination statement highlighted the role of design in envisioning new futures, creating solutions beneficial to humanity, and promoting collaboration among academia, industry, and government, all aligned with the United Nations Sustainable Development Goals (SDGs)​​.
With a Ph.D. candidacy centered on Critical Theory exploring "Social design experience" and a specialization in Critical Theory focusing on Disability and inclusion, Lilian brings a profound understanding of the intersection between design and societal dynamics.
Her academic journey includes a Master's degree in Contemporary art and a specialized certificate earned in the artistic haven of Florence, Italy. Lilian's professional repertoire is equally impressive, having traversed both industry and academia. A five-year stint at General Electric Energy not only enriched her with diverse design experiences but also adorned her with certifications in quality and design.
As a testament to her commitment to the global design community, Lilian co-founded Pecha-Kucha Queretaro and has curated and organized numerous international conferences, talks, symposiums, and exhibitions in the realms of art and design. Her influence extends to the judging panels of various international design awards, where her discerning eye reflects her deep-seated expertise.
Lilian's passion for sharing knowledge transcends borders, as evidenced by her role as a sought-after speaker in universities and congresses, both nationally and internationally. Her research and development expertise encompass a broad spectrum, including social design, inclusion, disability, aesthetics, healthcare, arts & crafts, and sustainability.
In every facet of her career, Lilian González-González embodies the spirit of innovation, pushing the boundaries of design and championing its transformative power in shaping a more inclusive and aesthetically enriching world. In this interview, we explore her insights on the landscape of design, her experiences in academia and the professional sphere, and her perspective on the interplay between design, education, and global challenges.
---
You are currently the Industrial Design Academic Coordinator at Anahuac University and have been a professor at several Universities and cities around Mexico. What do you find the most fulfilling about working in universities?
Definitely the research and experimentation-creation. In universities, we have the capability to have time to think, reflect, research, and time to make more attempts. This is a "big power because" students and academics can experiment and develop innovation if they have the correct stakeholders and alliances.
When did you join the World Design Organization?
Anahuac University has been a member for 20 years, and I started being in charge of the membership and following the WDO events five years ago. It has been a very enriching experience on an academic and personal level.
Congratulations on your position as a board member. Can you share with us more about your role and responsibilities?
We are in charge of the strategies. We reflect on the current condition of design and its power to improve current situations around the world. Mostly, how can we, as a design community, advocate and promote design for the good of all and to improve the quality of life.
What do you think are the biggest challenges and opportunities in your industry now?
I grew up in an industrial city in Mexico that used to be a craftsman town for shoe manufacturing. I learned about the industry since I was a child, in my father's factory, and had the opportunity to see the industry's transformation. I lived through the devaluations of the Mexican peso, the Free Trade Agreement, and how this directly affected the industry and the quality of life of the people PLUS its environmental impact. Then I understood that nothing in this country was forever, neither the resources, nor the companies, nor the things, nor the people, etc. We live in an unstable world and we must learn to deal with it.
Our culture used to be reinvented very often and all around us. In my country, and as with other developed countries or marginalized areas, we used to live in a "sustainable way" (why I am saying this? Because it is the popular word around this issue). We, as Mexicans, used to reuse everything, to maximize resources, and to have less waste and fewer expenses, but since the ruthless capitalism and globalization, we started to learn the bad practices to be stronger, to support the industry's cannibalism. But, I have the idea that industry can unlearn and return to the good practices like how the natives made history or how they still keep their good practices even in this aggressive world.
Now it seems that again we have to learn from the developed countries as colonizers with their methodologies, like cradle-to-cradle, circular economy, etc., which have very nice intentions for a change in most cases, but most of the knowledge we already had, but we just wasted and underestimated it. It is not a romantic point of view to go back to the past; it is just to remember that we are wasting time searching and searching for new methodologies, certifications, and bureaucracy that could legitimate what we are saying or thinking to make a correct way. We don't have so much time. We just have to look around.
Finally, I believe that design has to learn from minorities, from underdeveloped countries, and from marginalized people, to learn about resilience and how to survive every day with almost any resource. A strategy must be developed together with developed and underdeveloped countries, with large and small industries, which means diversity, a hot topic as well.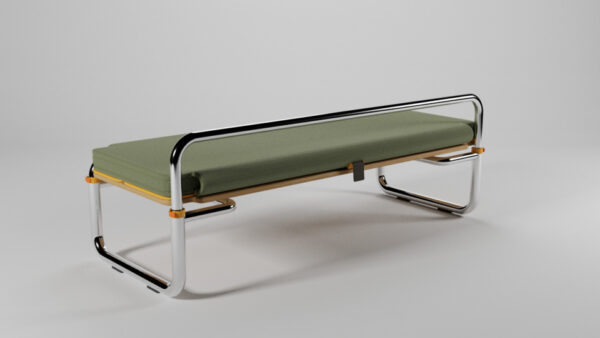 What are you working on at the moment? Do you have any upcoming projects or collaborations that can tell us about?
I am working on new research lines, and I would like this to be part of my postdoc. Currently, I am studying for a one-year certification in disability at a critical studies institute 17edu. So the lines of research that I am applying in the academy with the design students are related to healthcare, peace, disability, illness, migration, waste…
On the furniture topic, I am immersed in this business related to recliners and design engineering. Currently, in the company, we are working on a project of furniture for hemodialysis, and here I can show the project for public hospitals that have many furniture needs, which have increased in the pandemic.
Which advice do you give to your students, starting their career in Design?
Observe and learn about minorities, disabilities, little things, about details, and learn about, keep it in mind, and apply it in your life and creativity.