Puglia's influential design and captivating culture will take center stage in New York this November with the opening of "AUTENTICO. Design made in Puglia," an immersive exhibition that celebrates the creative excellence and innovation of Puglia, Italy. A satellite exhibition of BDNY, "AUTENTICO. Design made in Puglia" will be open to the public at 82 Gansevoort Street, New York City, from November 10-17 and will showcase a curated display of Pugliese products and photography in a striking space designed by Archiproducts. The Section for Trade, Handicrafts, and International Business Promotion of the Regione Puglia, together with Puglia Sviluppo, teamed up with media brand Archiproducts, the Italian Trade Agency (ITA), and the furniture brand Natuzzi to develop an exhibition that would vividly capture not only Puglia's rich history and emphasis on materiality and sustainability, but also the southern region's unwavering commitment to both traditional craftsmanship and an experimental, forward-thinking vision.
"AUTENTICO. Design made in Puglia encapsulates the manufacturing excellence and talent emanating from Puglia and brings together an authentic combination of innovation, history, and traditions – elements that make our region stand out on the global stage," comments Alessandro Delli Noci, Regional Minister for Economic Development Regione Puglia. "Through this inspiring exhibition in New York, we intend to shine a spotlight on the caliber of Puglia's brands and designers. As Pugliese products have experienced incredible growth in foreign markets over the last decade, this is an important moment for us to celebrate and continue to promote our 'Made in Puglia' furniture and design on an international level."
The exhibition will showcase products from 11 prominent Pugliese design brands, displayed within a series of custom sculptural installations and set against the backdrop of striking images by rising photographer Piero Percoco, which artfully highlight the mysterious, natural beauty and rich cultural tapestry of Puglia.
Participating furniture brands and their products include:
Affreschi & Affreschi, a wall-covering brand that specializes in handmade plaster cloth using 2​​7 precious raw materials—including historically Italian stones like Carrara marble and Roman travertine—will display its Innerline collection.
AMURA LAB, a young company with products inspired by the warm, vibrant beauty of southern Italy, will showcase one of its iconic, billowy, modular Lapis sofas.
BIANCO CAVE by FATO STONE has over 80 years of experience extracting Leccese limestone for its eclectic stonework collections, finishes, architectural projects, and sculptural pieces, including the three geometric vases that will be a part of the exhibition.
Centrino Style, known for using artisanal steelwork methods to create intricate, lace-like patterns on their products, will showcase the Donna Carmela and Donna Maria wall lights.
Dimarmo combines traditional stonework with an innovative lightened marble technique. The brand will exhibit its sculptural, but surprisingly light chaise lounge, Onda.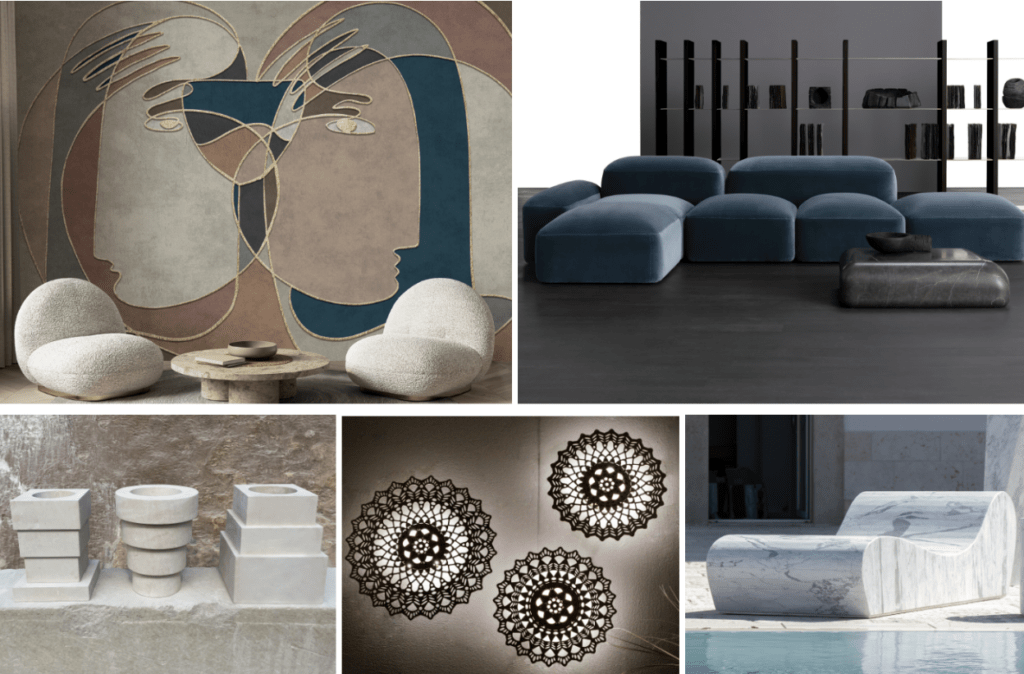 Marra Pavimenti's Cementine collection will be on display demonstrating the brands 70+ years in the industry making lasting, beautiful flooring including handmade cement tiles, fine grained grit slabs, and weather resistant outdoor products.
MITOHOME's attention to detail and commitment to honoring tradition while exploring new design techniques allowed for the creation of the customizable, modular Stone sofa, which will be on view at the exhibition.
With the form and function of 1950s design at the core of Officine Tamborrino's ethos, their products are durable, functional, and have iconic silhouettes, including their contribution to the exhibition, the Nuvola side tables, designed by Mario Cucinella Architects.
Pimar Italian Limestone Specialist will showcase Arco, a memorable coffee table, designed by Apospersano using traditional Pugliese limestone to shape a layered, architecturally inspired table.
R.D.D. Italia, which specializes in industrial design and high-tech prototyping, will exhibit the circular, modular Airu poufs.
With authentic texture and detail crucial design elements for natural stone and surfaces brand, Trame di Pietra, their Tapis collection which will be on display at the exhibition features intricate raised patterns and natural tones.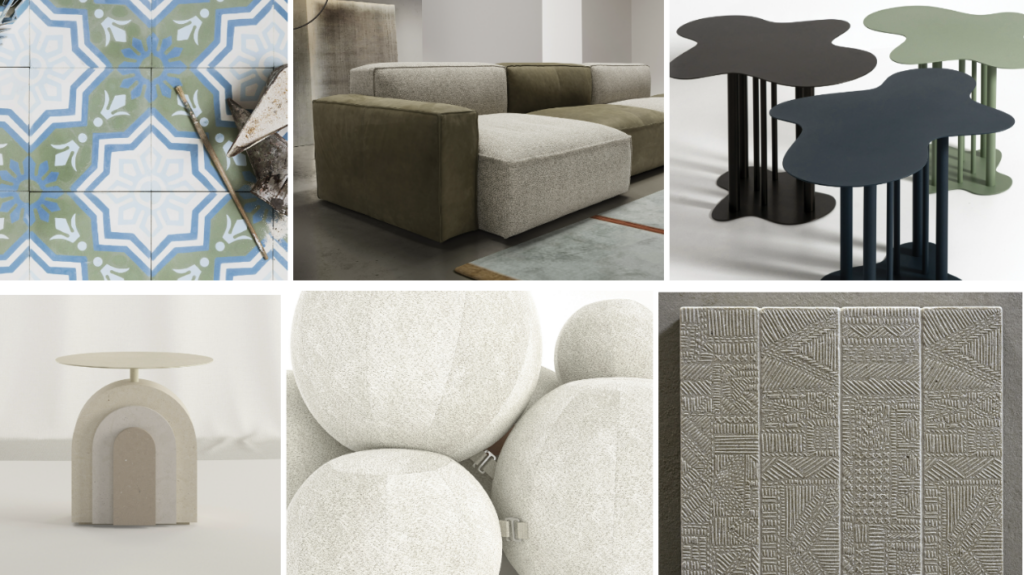 "This exhibition is an important step in our goal to expand the promotion of Pugliese 'Made in Italy' products on a more international level," comments Carlo Angelo Bocchi, Trade Commissioner (Director) Ice Miami. "This show offers a chance for the public to see first-hand the quality and care coming from this incredibly fruitful region and the result is an authentic, first of its kind experience that is not to be missed."
"Just as Archiproducts was born in this southern region of Puglia and has now grown to become a global benchmark for architecture and design, this exhibition showcases the impressive scale and international reach of these authentically Pugliese brands. This is a moment to celebrate Puglia's foray into the international scene, because while Puglia was our beginning, the world is our destination."

Vincenzo Mariorano Co-Founder & Creative Director of Archiproducts
"Many of Puglia's finest brands have come together in the heart of NYC as ambassadors from our region," adds Pasquale Jr Natuzzi, Chief Brand Officer of Natuzzi Italia and Chief Creative Officer of Natuzzi Group. "Our Mediterranean lifestyle and heritage, which is steeped in tradition and passion, offers an endless well of inspiration, where every story becomes a design, and every design tells a story. This exhibition celebrates not just the products, but the rich legacy of Puglia that has made a name for itself on the international stage."
The exhibition will be open to the public from Friday, November 10 – Sunday, November 12 – 11:00 AM to 3:00 PM. Monday, November 13 – Friday, November 17 – 11:00 AM – 7:00 PM. To register to attend and explore more details on the products within the exhibition, visit business.archiproducts.com/en/autentico.