Stone Anthology is the first digital wallpaper created by marbling artist Natascha Maksimovic. Celebrating the Earth's geological diversity, this series captures the breathtaking beauty found in the natural world. Beyond its aesthetic appeal, Stone Anthology offers a sustainable alternative to traditional stone, allowing us to revel in its beauty without leaving an environmental footprint.
Natascha Maksimovic, known as NAT MAKS, has preserved marbled pieces over the past five years, each a relic from earlier print runs. These pieces encapsulate memories of the projects and moments of creation, forming the foundation of Stone Anthology. Natascha's curation process involves a thoughtful selection and arrangement of these individual pieces, considering visual aesthetics, thematic color palettes, and the flow of narrative patterns.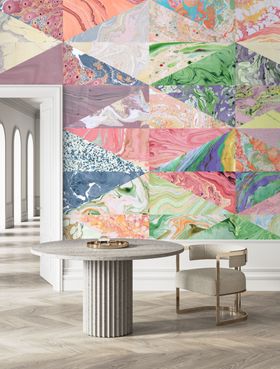 Stone Anthology comes in two captivating color-ways: Anthology I and Anthology II. Anthology I features a palette of blues, pinks, soft yellows, and lavender, complemented by textures of greens, orange, and sienna brown. Anthology II centers around greens, purples, lavender, pink, and yellows, with textures of blues, orange, and sienna brown. The interplay of familiar color and pattern textures allows for creative experimentation and customization, providing flexibility for large-scale projects.
The digital prints of Stone Anthology are created using water-based inks on ECO non-woven wallpaper, reflecting a commitment to sustainability. This conscious choice aligns with the ethos of enjoying artistic beauty without compromising the environment.
Natascha Maksimovic, the creative force behind Stone Anthology, is a marbling artist based in Margate, Kent. Working in the Japanese art form of 'Suminagashi' marbling, Natascha blends traditional craft with modern artistry. Her creations are a captivating fusion of heritage and modernity, drawing inspiration from the rich legacy of 'Suminagashi.'
By intertwining the beauty of the natural world with innovative design, Stone Anthology invites us to embrace the timeless allure of marbled art in a modern, eco-friendly way.