WAF China is the exclusive authorized brand of WAF in Mainland China and Hong Kong, Macao, and Taiwan regions, including WAF China and INSIDE China.
The first WAF China took place in 2020 with more than 300 projects and 100 design firms participating in the virtual design crits and the awards ceremony held in Chengdu.
WAF China 2021 will continue the previous year's pattern – online judging + onsite events, combining forums, exhibitions, awards ceremony, and more diversified activities.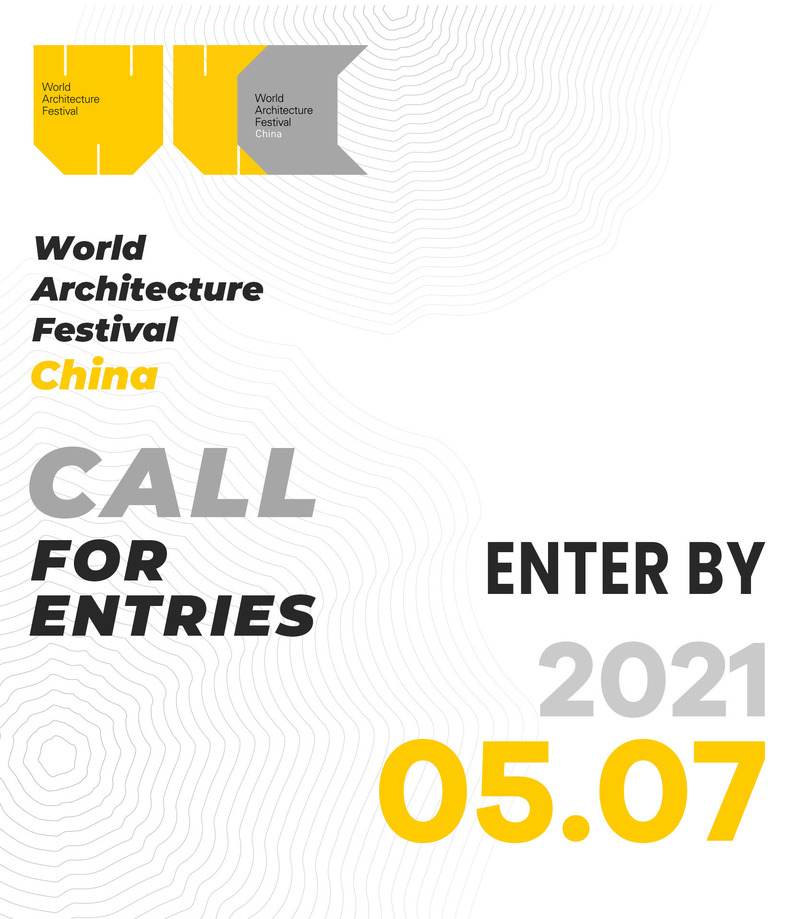 Schedule
Call For Entries: November 1st, 2020 to May 7th, 2021
Online Judging: July 13th to July 15th, 2021
Onsite Events: October 21st and 22nd, 2021 (Chengdu, China)
Why enter?
Showcase and celebrate your work on a global stage.
Receive unparalleled exposure in the global media. Winners are featured in 55,000+ articles.
Gain invaluable insight from our world-renowned judges.
For entries that have not entered the WAF Shortlist, if they won a WAF China Award, they would also have the opportunity to get additional places to enter the WAF Finals in Lisbon.
Winners will receive a v2com gift certificate for a press kit distribution worth $1525.
Enjoy food, music, and meet with your peers, your heroes, and the industry's power players. All live at the Festival in Chengdu.
What can be submitted?
All projects, located in Mainland China, Hong Kong, Macau, and Taiwan regions, include architecture, interior design, landscape design, and other relevant categories.
All completed projects have to be completed between January 1st, 2019 and May 7th, 2021.
All future projects do not have to have a completion date and do not need to be built in order to qualify.
All potential WAFCHINA entries need to first complete entering WAF/INSIDE between January 11th, 2020 and July 5th, 2021.
How to enter?
Step 1: Register and enter WAF/INSIDE. No need to re-enter. (www.worldarchitecturefestival.com/ENTER)
Step 2: Get your project Entry No.
Step 3: Register and enter the Online Judging through the WAFCHINA Website. (www.wafchina.net)
Step 4: Upload your project and finish the payment for the Online Judging
Step 5: Follow our website and WeChat for the latest news and notices.
PLEASE NOTE: You will not be able to submit, modify or pay for your Online Judging Entry through the WAF CHINA website after May 30th, 2021.
Online judging
Date: July 13th to July 15th, 2021
Software: ClassIn
10+ online judging rooms doing design critiques at the same time every day.
Each room consists of 10+ entries and 3 judges.
Winners will be announced at the 2021 WAF China Awards Ceremony.
Awards
Best Completed Building
Best Future Project
Best Interior Design
Best Landscape Design
Commended Project
Outstanding Design Award
Media's Choice
The Most Popular Project
Public Choice
*In addition to the above awards, we will also set more award categories and special prizes.
Prices for awards entry
1,200 RMB per Entry.
Enter 3 or more and receive a 15% discount.
Early bird rate – Finish your entry on the WAF China website by April 20 to receive a 10% discount.
Online Judging Entrants would receive discounted ticket prices for 2021 WAF China onsite events.
*Follow our Website and WeChat for the latest news and notices regarding the tickets for the onsite events.

Source: V2com Newswire