As autumn leaves begin to paint landscapes with shades of orange and brown, Neptune, the renowned British homeware and furniture brand, unveils its highly anticipated Autumn/Winter 2023 collection. This season, Neptune takes inspiration from the beauty of nature and the innovative spirit of British design, resulting in a collection that seamlessly marries timeless aesthetics with modern functionality.
Stratford Elliptical Dining Table and Kenilworth Dining Chairs
One of the standout pieces in Neptune's AW23 collection is the Stratford dining range. It features Neptune's very first elliptical table and two round oak dining tables, all boasting a uniquely engineered castellated pedestal base. This blend of classic and contemporary design elements captures the essence of Mid-Century design while staying true to Neptune's traditional style.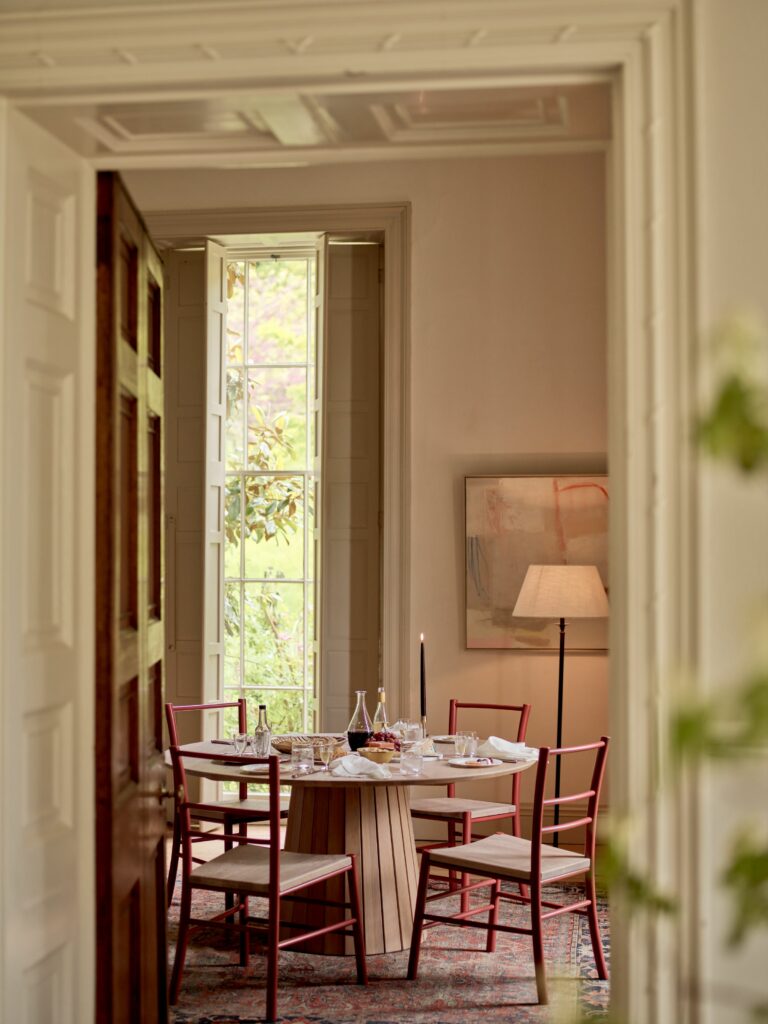 The Kenilworth dining chair, another addition to the collection, offers a contemporary yet understated design with graceful proportions. Crafted with birch wood for strength and durability, the Kenilworth chair pairs beautifully with the Stratford dining tables, showcasing Neptune's commitment to quality craftsmanship.
Potter's Pink: A New Seasonal Shade
Neptune introduces Potter's Pink, a softly pigmented paint shade inspired by raw clay and fresh plaster. This earthy hue joins Neptune's extensive palette of over 50 interior paint colors. Potter's Pink seamlessly complements both period properties and contemporary spaces, making it a versatile choice for interior decor. Its compatibility with rich colors like Walnut brown and softer tones like Sage green, as well as natural textures such as sheepskin and linen, ensures it will find its place in various design schemes.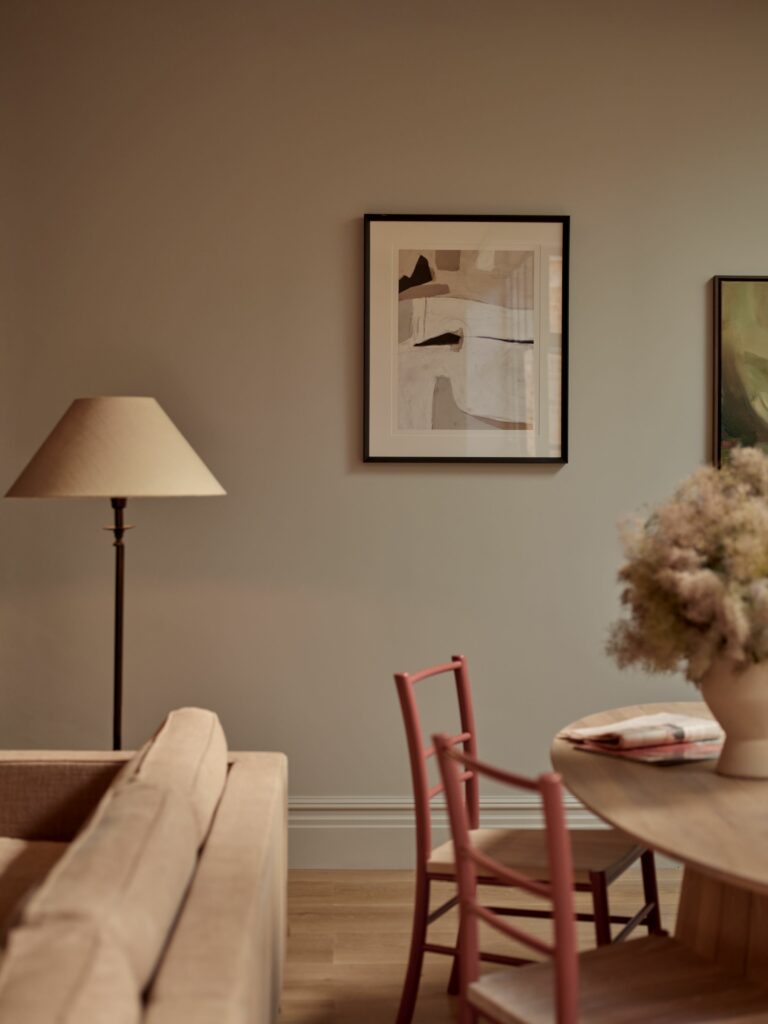 Ardingly Desk: Flexible and Functional
Designed for home working, the Ardingly desk features concealed storage for laptops and notepads, along with cable management cut-outs for a clutter-free workspace. Its compact size allows it to fit seamlessly into various settings, from home offices to hallways. With its sleek proportions and tapering legs, the Ardingly desk harmonizes beautifully with Neptune's Ardingly cabinet.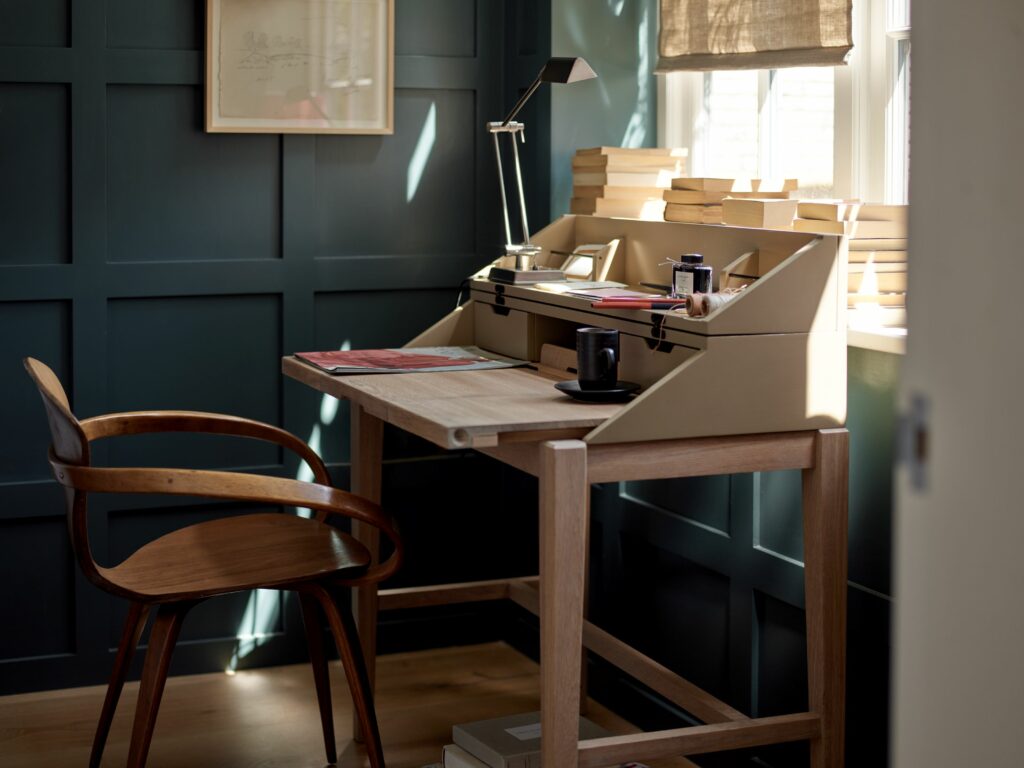 Wycombe Collection: Crafted for Cozy Winter Homes
The Wycombe collection, an extension of the existing range, embraces the warmth of winter with solid oak furniture and woven rush bases. Inspired by Arts & Crafts design, these pieces feature rounded and tapering profiles, making them ideal for social occasions. The extending Wycombe dining table adds flexibility to the range, comfortably seating up to 12 guests when fully extended.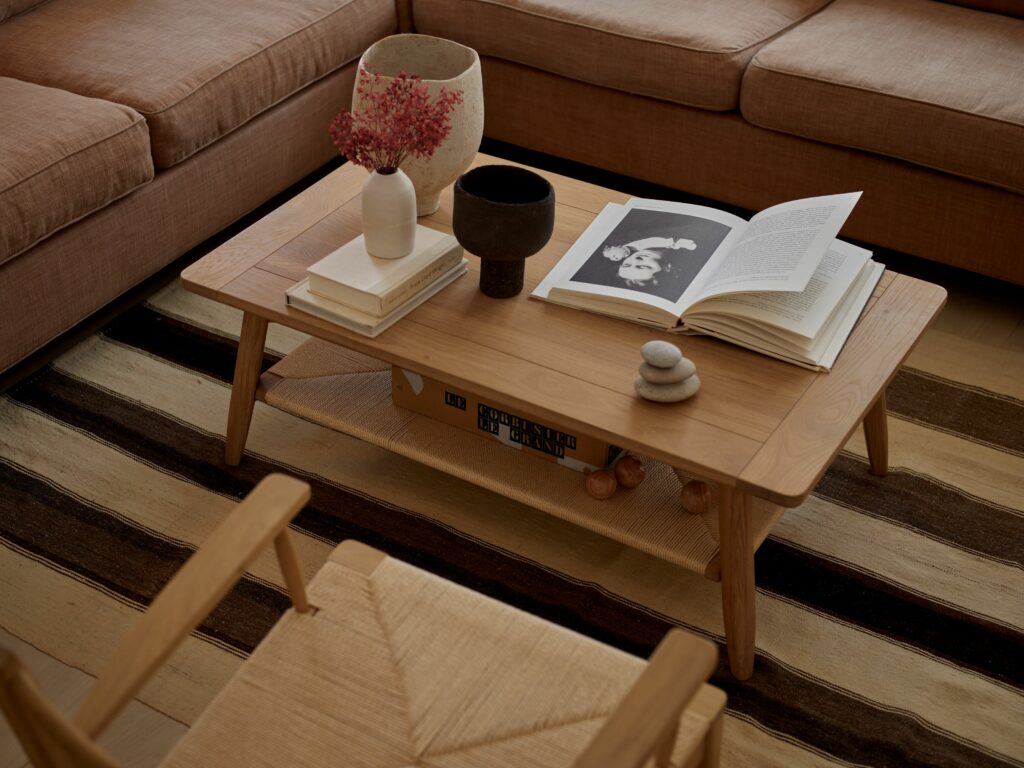 Moreton Round Dining Table: Versatile Elegance
The Moreton Round Dining Table, with its compact size, offers versatility for smaller spaces. Available in solid oak or customisable painted finishes, this table features a pedestal base with unique chamfered details, adding a touch of elegance to any dining area or hallway.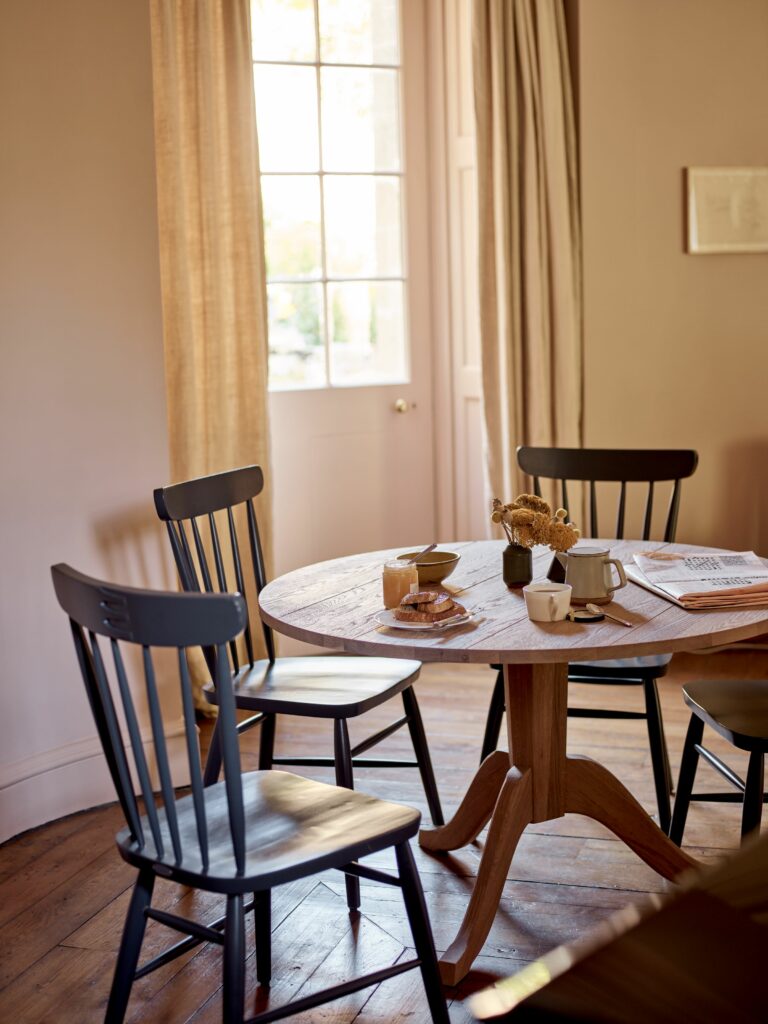 Mowbray Carver Chair: Classic Meets Modern
Traditionally associated with formal dining, the Mowbray Carver Chair finds its place in various settings, including kitchen dining and offices. Its ergonomic design prioritizes comfort and ease of movement, while customizable upholstery and leg finishes allow for personalization.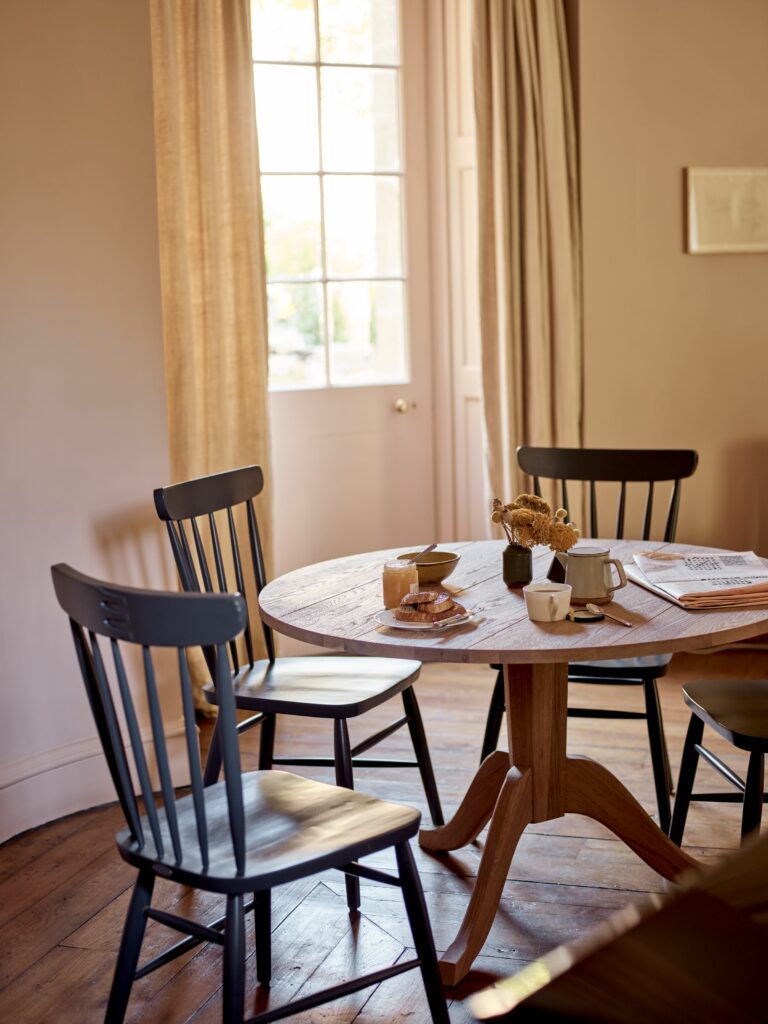 Kelso Kilim and Tussock Sheepskin Rugs: Cozy Comfort
Handwoven by skilled artisans, the Kelso kilim rug, crafted from 100% flat pile wool, adds warmth and texture to any space. Neptune's Tussock sheepskin rugs, now available in a rich Brown colorway, offer unparalleled softness underfoot and create a luxurious atmosphere.
Fabrics and Upholstery: A Collaboration with Fermoie
Neptune has partnered with Wiltshire-based fabric house Fermoie to create a capsule collection showcasing Fermoie's unique 100% linen fabrics on Neptune's timeless designs. The collection includes scatter cushions and limited-edition upholstery, adding a touch of luxury to Neptune's offerings.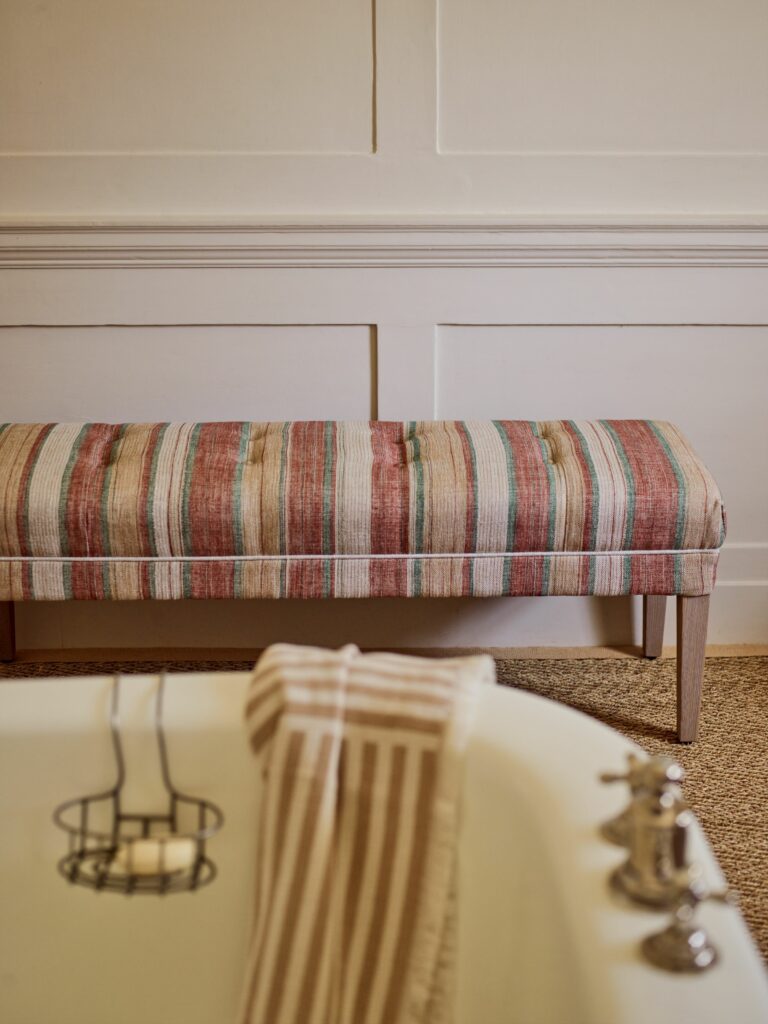 Accessories: Finishing Touches for a Cozy Home
Neptune's accessories for AW23 include scented candles, wall art, and Paloma Birds. The Eucalyptus & Sandalwood scent captures the essence of fresh forest air, while the Nightingale candles, available in various colors, add a touch of elegance to any space. Neptune's wall art collection includes abstract prints, Potter's Pink I and II, and Burnham Red I and II, offering options for both contemporary and traditional interiors. Finally, the Paloma Birds, made from ceramic with a hand-applied crackle glaze, bring a touch of whimsy and artistry to any living space.
We are focused on crafting modern British homeware and furniture that is thoughtful, beautifully designed and expertly engineered. Neptune's collections reference eras of design excellence and this collection with its refined silhouettes and slim profiles draws particularly on inspiration from Mid Century design.We are delighted with the use of materiality, texture and tone, which can be layered to create different moods in this beautiful, modern British collection.

Aalish Yorke-Long, CEO Neptune
With a focus on the quality of craftsmanship, timeless aesthetics, and thoughtful functionality, Neptune continues to create pieces that will stand the test of time and connect us with the nature.