Landscape Forms, known for its thoughtful outdoor design solutions, has once again made a significant contribution to the urban landscape. This time, the recognition comes in the form of the Furniture Design of the Year accolade, awarded at the SIT Furniture Design Awards 2023 for their Typology Ribbon Bench.
The bench, made from aluminium and ultra-high-performance concrete, is a demonstration of Landscape Forms' commitment to functional design. Its modular structure allows it to adapt to various urban landscapes, while the dual-profile design serves as mounting points for backrests, armrests, and extended surfaces.
An interesting feature of the Typology Ribbon Bench is its strategic use of lighting. As daylight fades, downward-facing lights give the bench the illusion of levitation, adding a touch of intrigue to its design. In the following interview, we explore the thought process behind this unique project and discuss the role such designs can play in enhancing urban spaces.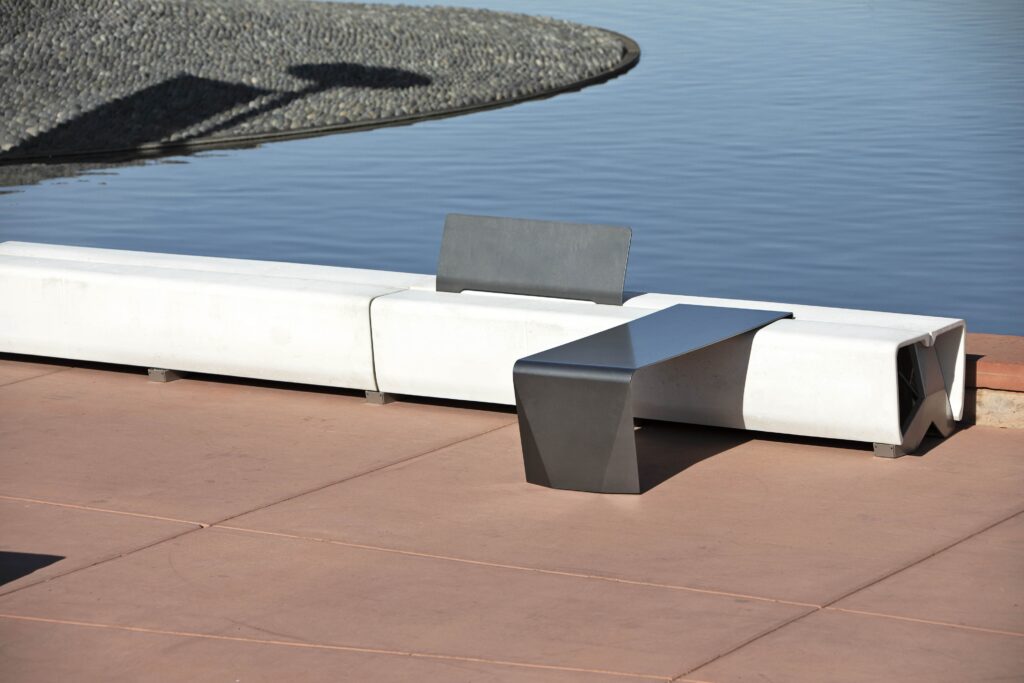 Could you tell us a bit about yourself and your professional journey? How did design come to have such an important role in your life?
Landscape Forms was founded on a profound passion for the natural landscape and a mission to enhance people's experience of outdoor space. We see great design as a means to achieve this mission—a means to cultivate a love for the outdoors, a means to connect people with nature and one another, and a means to bolster people's health and well-being on a daily basis. This was the case when our founder John Chipman Sr. and a small handful of seasonal employees were beginning the business in the family barn in 1969, and it continues to be the case across our three state-of-the-art Kalamazoo facilities, our sister brands, and our 400+ full-time employees today.
Is there a philosophy or a special process that influences how you approach design? Would you say that you apply it to your life as well?
Our philosophy can be summarized by the three pillars that help guide everything we do: Design, Culture and Craft. Design is our identity and first priority, fueled by the collaboration with world-renowned design leaders that enables us to be constantly innovating, evolving and offering solutions that capture the imagination. Culture is our drive to do good by our coworkers and our community, a promise to promote participation, inclusivity, responsibility and integrity both in our organization and in our daily lives. Craft is our merging of art and technology at the highest level, a celebration of the skill, precision and pride that we communicate in our products and the processes that bring them to life.
How did you come up with the vision for the Typology Ribbon Bench?
The centrepiece of the Typology Collection of site furnishings and lighting, the Typology Ribbon Bench was born out of a collaboration between our design team and Designworks, the design innovation studio for the BMW Group. The shared guiding vision for both teams was to bring functional art to the public square, creating sculptural and attention-grabbing forms that could also adapt and work intelligently with the nuances of the urban streetscape. Combining Designworks' expertise in mobility and systematic urban design with Landscape Forms' expertise in artful outdoor settings and meticulous craft manufacturing, the result is a modular bench system that interacts with architecture, guides pedestrians, and defines space while also challenging preconceptions about how site furnishings are "supposed" to appear.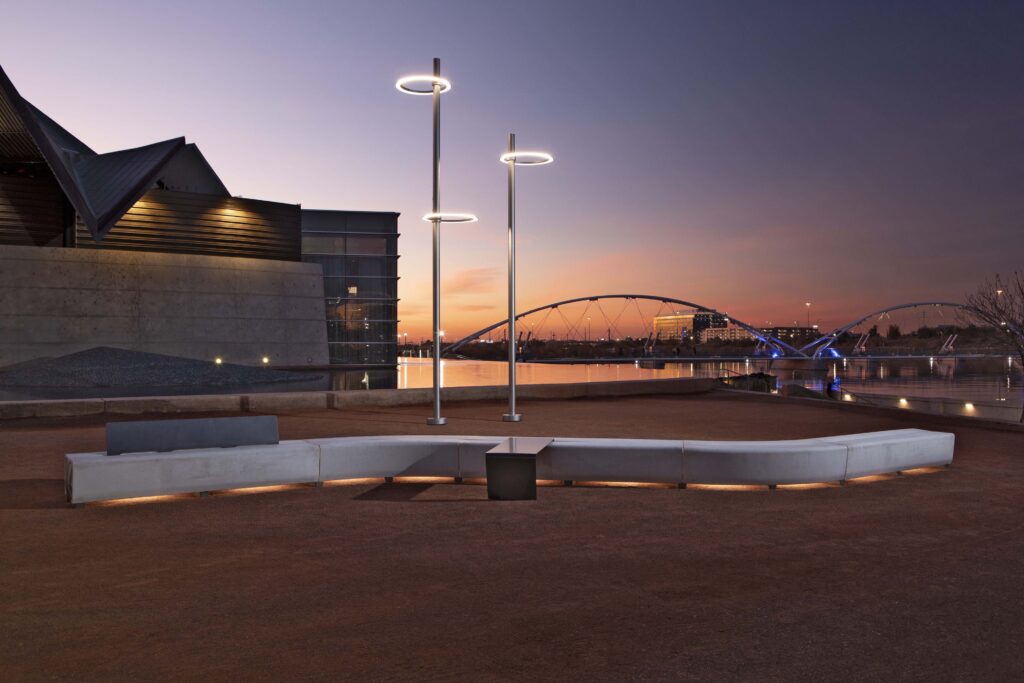 There is a certain dichotomy between the materials used and the effect of levitation created by the lights at the bottom of the structure, how did this choice come to be?
The exploration of different dichotomies was a key strategy in achieving the surprising, delightful and captivating effect we wanted the Typology Collection to have on its users. The juxtaposition of light and shadow, sky and earth, physical heft and visual lightness helps to draw people into a space and then envelop them in an immersive outdoor design experience. The seemingly impossible thinness, lightness and illusion of levitation of the Ribbon Bench's concrete mantle is an illustration of the amazing aesthetic potential of modern high-performance cast concrete manufacturing techniques. But it's also a way of piquing people's interest—an invitation to bend down and take a closer look, touch and feel the installation, and experience the streetscape in an intentional and thought-provoking way.
Your design helps with creating a sense of community among its users, can you tell us more about how you envisioned this piece being used and what role it plays in the urban landscape?
The design and engineering of the Typology Ribbon Bench focused significantly on the systematic connection of urban spaces and the people who frequent them. Modular segments with varying degrees of curvature enable the bench to navigate seamlessly throughout the streetscape—symmetric and sinusoidal or organically serpentine in contrast to the urban array. Then suddenly, the Ribbon Bench can transform into focal points of community interaction. Concentric circular or arced configurations like amphitheatres invite people to rest, repose and connect with others sharing the space, offering a counterpoint to the anonymity of a bustling urban environment.
What did you find most challenging while working on the project and what did you enjoy the most?
One of the more challenging design and engineering aspects of the Typology Ribbon Bench was to develop a way for the concrete profiles of the seat to seamlessly and securely join its cast metal supports without visible fasteners. Through many iterations, we designed a system of protrusions on the underside of the concrete mantles that nestle like puzzle pieces into notches on the support structure, joining the two components without the use of fasteners at all.
The most enjoyable aspect of the project was absolutely the opportunity to build on our collaborative relationship with Designworks. As longtime creative partners, we're united around a passion for envelope-pushing design that enhances the human experience, but we also occupy different and complementary areas of expertise. The result of this relationship is a very dynamic creative back-and-forth, grounded in mutual admiration for each other's abilities and giving rise to really exciting moments of spontaneous innovation.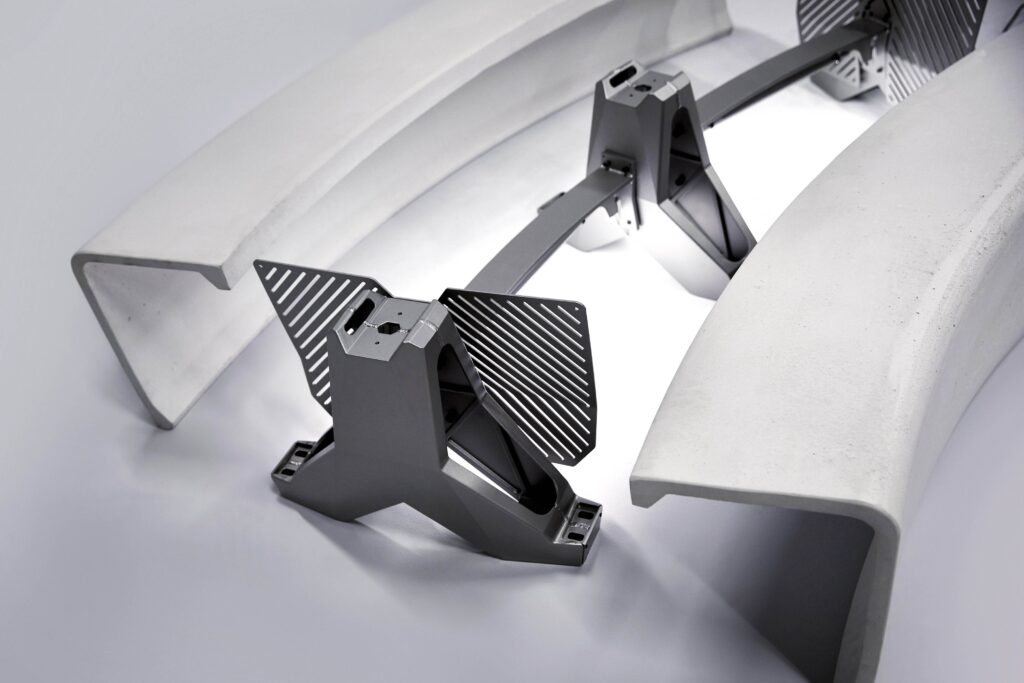 What does winning the SIT Award mean to you in terms of validation and recognition of your work in the furniture design industry?
Receiving recognitions like the SIT Award is very significant to us on multiple levels. On level one, recognition from a prestigious international jury and a well-respected third party like the SIT Furniture Design Award is an important validation of all our team members' hard work, determination and expertise. On level two, we think it represents a growing appreciation of outdoor space in the collective consciousness and the potential it holds to enhance lives in really meaningful ways. And on level three, awards for specific solutions like the Typology Ribbon Bench—which looks and feels quite different than solutions that have previously defined outdoor design—are important indicators of the appetite for innovation and the desire for new ways of conceptualizing space in our industry.
Are you currently working on something new that you can tell us about?
We're guided by an ethos of continuous improvement, which means at any given time we have quite a few irons in the fire. In future solutions from Landscape Forms, you can expect innovation on all fronts — design, material, form, scale, sustainability and positive social impact. But never innovation solely for innovation's sake. As we continue to evolve our offering of site furnishings, lighting and adaptive structure, connecting people to nature and enabling people to experience the outdoors as an uplifting ritual in their daily lives remains paramount.
Which designers do you admire the most? Do you take inspiration from their work when diving into a new project?
We are extremely privileged to work with a wide range of world-class designers, each of whom finds unique inspiration in the natural world, translates this inspiration to the built environment, and contributes something special to our portfolio. By building a collaborative community of diverse perspectives and complementary competencies, we're able to bring more depth to our design, create more insightful products, and develop innovative solutions to previously unsolved problems.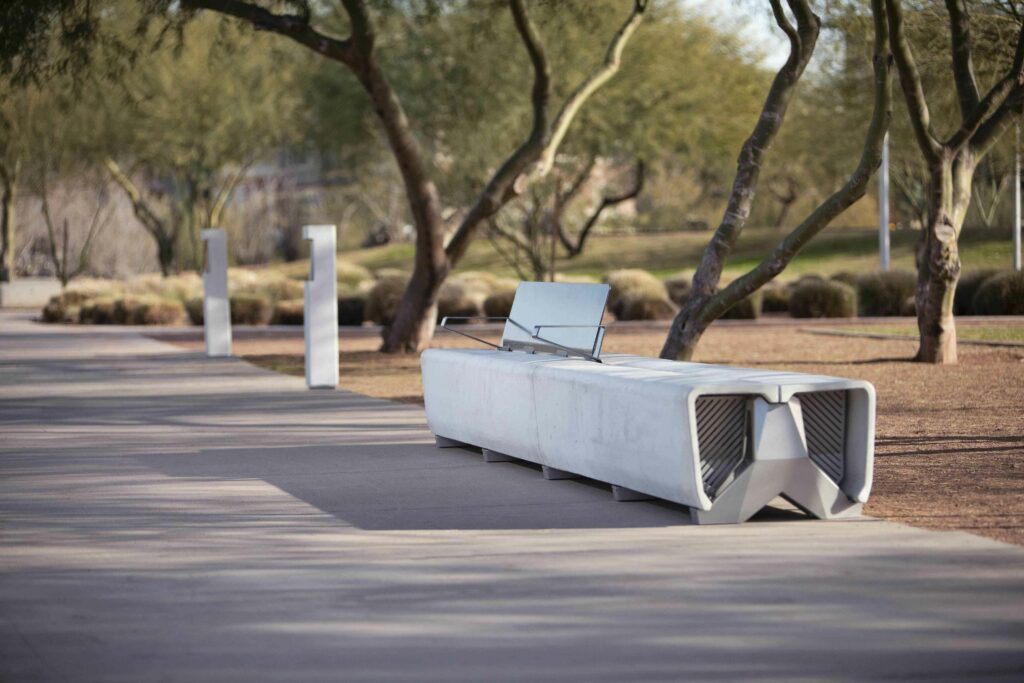 The discussion with Landscape Forms presents a fascinating look at their creative process and philosophy. The Typology Ribbon Bench is a clear manifestation of their approach to design — practical, engaging, and thought-provoking.
Winning the SIT Award is a testament to Landscape Forms' ability to innovate and challenge conventional ideas about outdoor furniture. Their emphasis on design, culture, and craft is evident in their work, with the Typology Ribbon Bench being a case in point. Its functionality, adaptability, and unique aesthetic qualities have not only earned it accolades but have also contributed positively to urban spaces.
As Landscape Forms continues to develop new projects, their focus remains on the principles that have guided their journey so far — innovative design, sustainable practices, and social impact. The Typology Ribbon Bench is one step in this journey, marking a meaningful contribution to urban design. As we await their next creation, we can look forward to more solutions that challenge norms and transform our shared outdoor spaces.