Winner of the LIT Awards "Lighting Product Design of the Year" 2021, we meet with Charlie Prograce, a structural engineer with a design journey that started with Architecture before becoming a lighting designer. Charlie shared with us his creative process behind the "Opteris" Chandelier – a homage to the Tomopteris, a deep-sea creature.
Could you tell us a little about yourself?
My name is Charlie Prograce. I am a structural engineer with a love for architecture and design. I enjoy the interplay between the technical and the whimsical sides of design. Design for me starts with the visualization of an idea followed by a deep exploration into the details of integration and fabrication of the components.
How did you discover your passion for Lighting Product Design?
My passion for Lighting Product Design started with Architectural design. Early on, I was inspired by the works of Morphosis founded by Thom Mayne and Michael Rotondi. Then I got turned on by Frank Gehry, Antoni Gaudi, and Zaha Hadid. I found the free-form rule-breaking asymmetry qualities of their designs totally inspiring. I've had many building designs never see the light of day because of insurmountable construction costs and rigid building code requirements. Recently the epiphany struck me. Design occurs at all scales. Lighting fixtures are at a perfect scale for my workshop, the cost of construction is a rounding error for a similarly designed building, and the code requirements are comparably negligible. Finally, after a 30-year career in the design of buildings, I've found my voice and I'm ready to say something.
Your winning project is the Opteris Chandelier, can you please explain to us, what was your creative journey? What is the significance behind the Opteris Chandelier?
Any design can be expressed with a plan and section. The most basic of shapes would have the same section in three orthogonal planes. Additionally, there are basic forms of geometry like triangles, circles, or squares. These are ideal shapes that really don't occur in nature and for me feel static and less inspiring. I use NURBS modelling in my designs because they more accurately depict forms found in nature. The Opteris is an exploration of these principles. It contains 104 unique NURBS-based sections. The geometry is so powerful that it appears to be in motion.
In general, where is your inspiration from?
The Opteris chandelier pays homage to the Tomopteris. A deep-sea creature whose name is derived from the Greek meaning "a cut" + "wing" but taken to mean "fin".
What does it personally mean to win the LIT 2021 Lighting Product Design of the Year prize?
It means the world to me. It gives me a sense of legitimacy in my design. There were so many amazing submissions from all over the world and to have the panel of esteemed jurors choose this fixture is truly humbling. It's one thing to say something and it means so much more to be heard.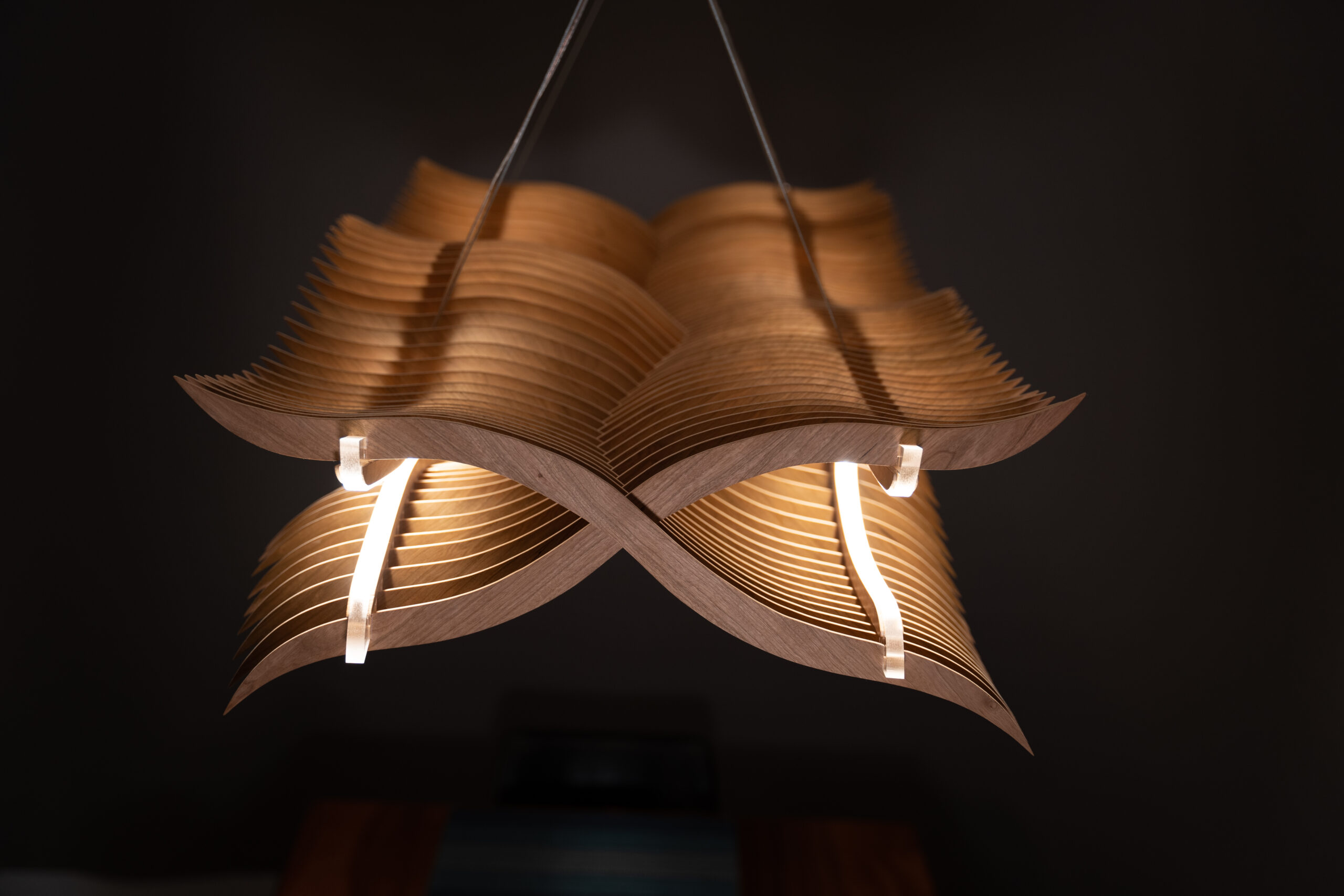 What are you working on at the moment, and do you have any upcoming projects or collaborations that you're able to tell us about?
There are new designs in the works but first and foremost we are actively pursuing forming a relationship with a manufacturer to bring this and other works to the world market. We are welcoming inquiries.
What would be your best advice to Emerging Lighting Product Designers?
Go into this knowing that design is only a fraction of what will be required of you. And say something in your designs that is thoughtful and meaningful to you.
Last, what makes light magical to you?
Light exists in a vacuum but is imperceivable to the human eye. It is not until it collides with matter that we can then see it. It's nothing short of magical.