At its most basic, interior lighting enhances spaces to create the desired function and ambience, evoking emotions and responses unmatched by any other element of design. When you play a video of a lighted candle in a dark room, you are just looking at a candle, but if you are in a similar dark room and you light one candle, you create a mood.
When it comes to live musical performances, light is designed to a whole new level where stage lighting is not so much about the story but instead focuses on the emotional responses of audiences. In collaboration with the performing artists and elements of sound, choreography, timing, and stage design, lighting in musical concerts are mesmerizing, spectacular, and visually entrancing.
Design production companies know too well this formidable task, and the audible reaction from the audience is a rewarding experience. The LIT Lighting Design Awards recognizes how these various artists and designers come together to create creative minds to create these magnificent lighting spectacles.
Categories: Winner in Stage Lighting
Winner: Silent House Productions
Lead Designer: Baz Halpin & Alex Reardon
Location: United States Leg/Europe Leg, United States
A team of creatives, Silent House Productions has an impressive list of projects with collaborations from famous musical artists such as Jeniffer Lopez, Kelly Clarkson, Katy Perry, Taylor Swift, and more.
For the Khalid Free Spirit Tour 2019, the bi-parting curtain was incepted by Alex Reardon and inspired Khalid's white wig as it swayed and went around as he danced. Tamlyn Wright was credited with the string material used that was scaled into a large curtain of strings enabling it to be used as a surface to project the lighting needed. LED tiles were also used in stage lighting.
Category: Live Design Lighting / Music Event Lighting (DJ/Video)
Winner: Design One Lighting Design
Lead Designer: Christien Methot
Location: New York, New York, United States
Kicked off with a stellar performance by Clarkson, the U.S. Open was an unforgettable event where Kelly Clarkson was positioned right at the centre of Arthur Ashe Stadium. Stacks of cubes with LED lights surrounded the performers which effectively filled out the massive court space. Enhancing the lit cubes are projected beams of light which created an amazing visual spectacle that matched the strong live performances.
Category: Winner in Stage Lighting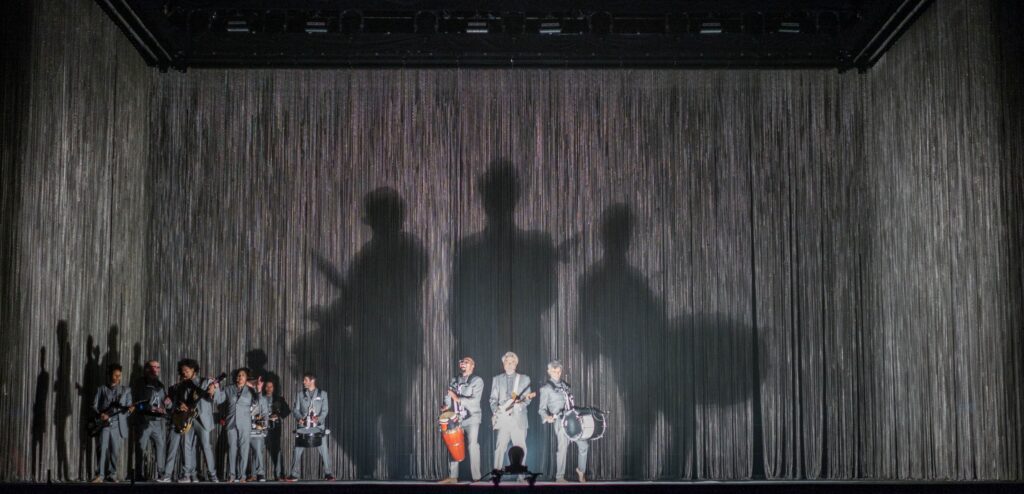 Winner: Sinclair / Wilkinson
Lead Designer: Rob Sinclair
Location: World tour, Broadway, United Kingdom
The simple yet effective illumination was quite unusual for the typical rock genre performances that were used to. No dance cues or architecture, just a 3d space that allowed lighting designers the liberty to light performers where ever they are on stage. The cosmic lighting matches Byrne's philosophy perfectly when creating a modern rock concert that's formal, more conversational, and heartfelt.
Category: Music Event Lighting (DJ/Video) / Stage Lighting
Winner: Design One Lighting Design
Lead Designer: Weston Wetzel
Location: New York, New York, United States
New York celebrated its 50th Anniversary of Stonewall where the colourful lighting design was able to capture the electric vibe of excitement and groove. Spectators enjoyed performances of famous artists with the likes of Mel C, Jake Shears, and Deborah Cox.
The lighting design includes large-faced lighting fixtures and is surrounded by pixel-controlled structures vertically in place. The illuminated backdrop effectively draws the eyes to the tight stage and further highlights the performers. Moving spotlights and washes were also added to create a movement that effectively energized both the talents and spectators. The result was a bright, colourful, psychedelic, and joyous celebration at the heart of Times Square.
Category: Winner in Stage Lighting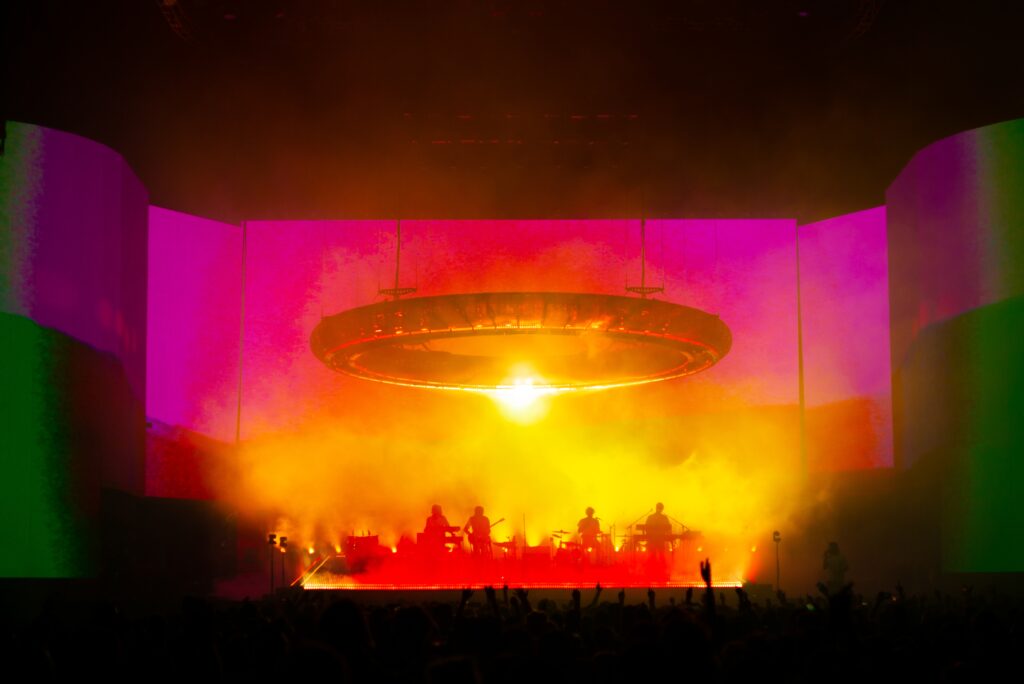 Winner: Sinclair / Wilkinson
Lead Designer Rob Sinclair
Location Coachella Festival, United Kingdom
The 1960s liquid light shows' psychedelic, electronic and avant-garde theatre was a rave in rock and disco shows and now is relived on stage.
The modern take on psychedelic lighting utilizes sophisticated lighting consoles where stored sequences are on cue to each beat of the music. An array of neon and colourful lights swirls through the three-dimensional surround lighting while beams of light and blinding strobes further add to the dancing lights. Right at the centre of the backdrop is an iconic 40' wide ring of light which was descended down creating a dramatic effect as it hovers down onto the performing band.