Airstream, renowned for the world's most iconic travel trailers, recently presented the 2024 Trade Wind™, a groundbreaking addition to their esteemed towable lineup. The Trade Wind represents Airstream's most self-sufficient travel trailer to date, tailored for adventurers seeking an immersive connection with nature without compromising on home-like comforts.
Positioned between the esteemed International and Globetrotter models, the Trade Wind offers an opulent and spacious interior complete with all the amenities needed for a luxurious and enjoyable journey. Starting at an MSRP of $129,400, the Trade Wind is available for purchase at authorized Airstream dealers starting September 12, 2023.
Inspired by the cutting-edge battery technology and enhanced solar power generation found in Airstream's one-of-a-kind eStream Concept Travel Trailer, the Trade Wind boasts the largest battery bank, solar array, and power monitoring system ever featured in Airstream's 92-year history. Combined with a 3-inch suspension lift for increased ground clearance, the Trade Wind's robust electrical system provides unparalleled flexibility in choosing campgrounds – from traditional sites with full hookups to remote, off-grid locations. Trade Wind travelers can enjoy the convenience of an onboard bathroom, shower, kitchen, and bedroom, even when not connected to campsite electricity. After over nine decades of pioneering innovation in outdoor recreation, the Trade Wind ushers in a new era where flexibility, freedom, and versatility take center stage.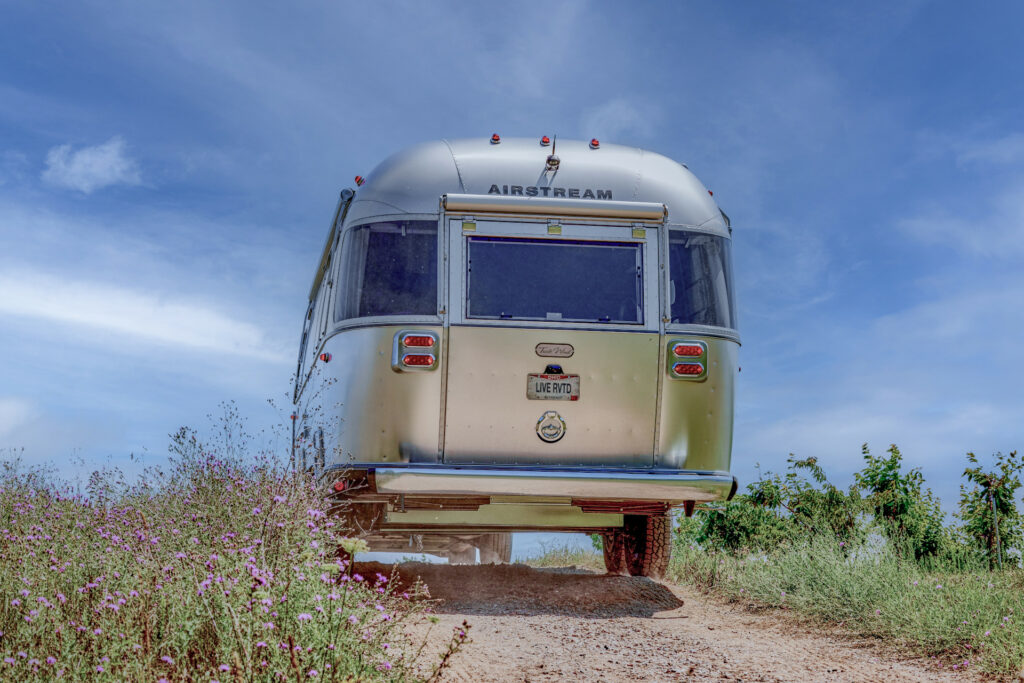 "Trade Wind is a testament to our goal of innovating with intent, and sets a new benchmark for power capabilities in our travel trailer line," said Bob Wheeler, President and CEO of Airstream. "In 1958, our founder, Wally Byam, introduced what we believe is the first travel trailer that didn't require campsite hookups, and over the decades we've pushed the limits of travel through quality design and technological innovation. We're thrilled to introduce a new model that builds upon that legacy for a new generation of customers who want the freedom to choose where and how they're going to experience the outdoors."
The Trade Wind boasts an upgraded power suite that offers unmatched travel freedom, along with several standard features designed to enhance exploration beyond the beaten path.
Key Power Features:
Three integrated 270Ah heated Lithium Battle Born batteries, forming an 810Ah battery bank for four times greater capacity compared to most other Airstream travel trailer models.
A 3000w inverter/charger combination with an additional 1,000 watts compared to current Airstream models, enabling simultaneous use of a microwave and 15,000 BTU air conditioner.
A 600w solar input, doubling energy harvesting capacity over most other Airstream models, with an interior monitor that is Victron powered and app-compatible for enhanced power management.
A SmartPlug® 30 Amp Shore Power Inlet for shore power connection and battery bank recharging.
Several of the Trade Wind's features are tailored to support longer or more remote adventures. A standard three-inch lift kit provides increased off-road clearance, a first-of-its-kind factory-installed feature in Airstream's traditional travel trailer lineup. Other off-grid-ready features include a recirculating water heater for water conservation, a SmartPlug® TV and Internet Inlet for convenient exterior cable and ethernet connectivity, and fully-inverted electrical outlets for device charging and powering high-demand appliances when not connected to shore power. The built-in lift kit pairs with 29.3-inch Goodyear® Wrangler Workhorse® 225/75R16 tires to further facilitate off-road access. Additionally, traditional kitchen amenities are reinforced to withstand rough terrain, including enhanced features for securing cabinetry doors during transit.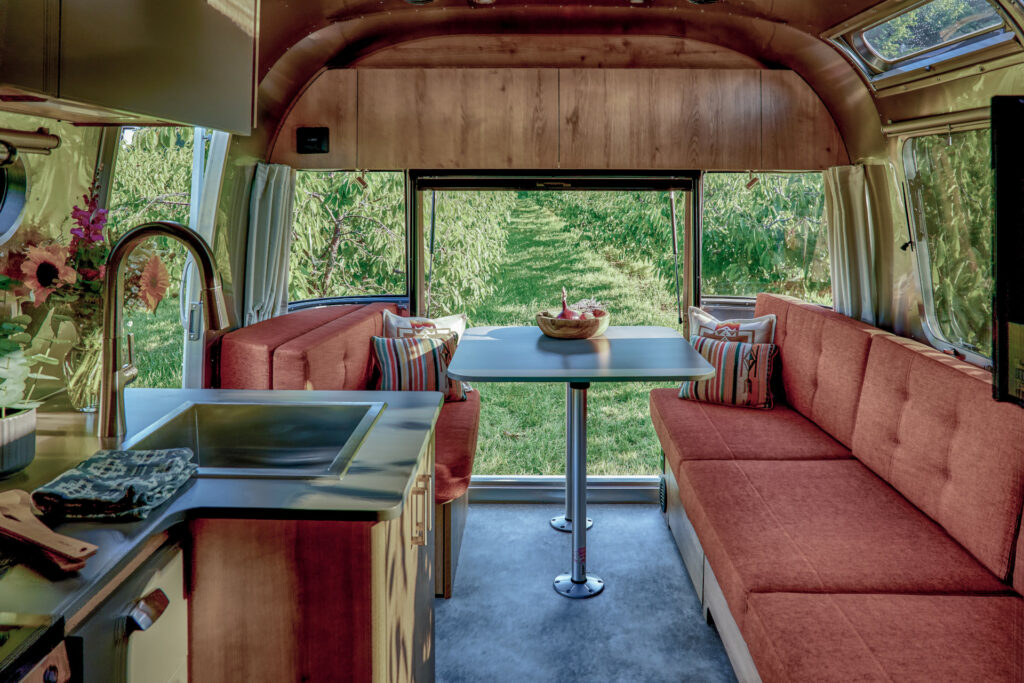 The 25-foot Trade Wind is available in a single floor plan, the 25FB configuration, known as one of Airstream's most popular layouts. Two interior décor packages, Terracotta and Fieldstone, offer highly textured woven fabrics on the seating with subtle multicolor effects that add depth and dimension to the pattern. The Terracotta decor package draws inspiration from the earth's warm hues, featuring bold red clay tones and a concrete-patterned floor for a sense of warmth and vitality. Meanwhile, the Fieldstone decor package takes inspiration from the natural beauty of the outdoors, with oak laminate and gray cushions creating a sense of calm and sophistication.
The primary sleeping area boasts a queen bed (with optional twin beds available in early 2024), accommodating up to five travelers when combined with the convertible dinette. When not configured for sleeping, the dinette serves as lounge seating or a personal workspace. The Trade Wind also offers optional features such as a water-saving composting toilet, a convection microwave with air fryer, a rear and roadside window awning package, and a rear hatch door with a sliding screen.