Mykola Kabluka and his team at Expolight have crafted a chandelier in Unit City, Kyiv, that captures the essence of their innovative spirit. Located in the Unit City's B14 campus, a hub known for merging sustainability and advanced technology, this distinctive lighting installation represents a well-conceived synthesis of artistic and technical skills. Kabluka, the 2022 recipient of the LIT Awards Lighting Product Design of the Year prize winner, lends a unique perspective to his work, courtesy of his dual background in mathematical modelling and lighting design. His interest in light and its transformative effects is encapsulated in this design, a culmination of a comprehensive study of natural light phenomena and the interaction of light with various materials, particularly glass.
The chandelier, created in collaboration with Victoria Yakusha and her Yakusha Design team, demonstrates an understanding of both form and function. It draws from the principles of Japanese minimalism and the larger sustainability ethos of the B14 campus. However, it's not merely an aesthetic fixture; it's a thoughtful exploration of light, space, and our emotional connection to these elements.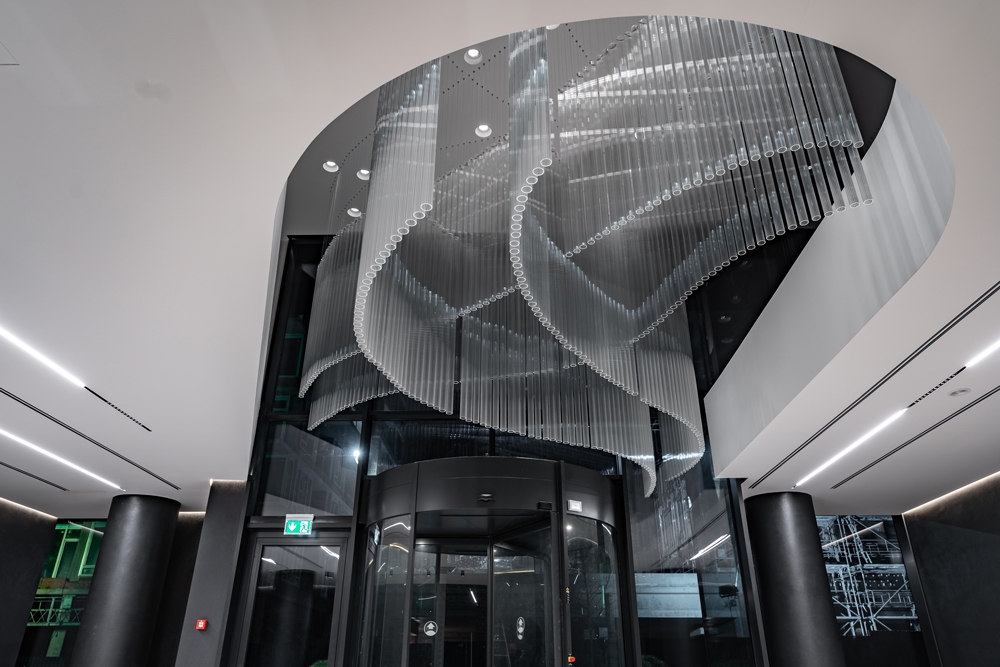 Could you tell us a little about yourself?
Light is almost my whole life. A hobby in the form of light was born during my studies, although my major was not related to light. Immediately after graduating from university, I started Expolight, which this month turns 22. We are based in Dnipro, Ukraine.
How did you discover your passion for Lighting Product Design?
It all started with my fascination with light: how it radically transforms our perception of the world, our emotional state, our perception of ourselves in space, and our relationship with it. That's why I became interested in lighting design. We have a sustained balance between both technical and artistic points of view because, in the design of our elements, we treat light as an excellent tool – like an artist. To make a good painting, you need brushes of different widths, thicknesses, and types. In a similar way, we gradually came to the point where we designed our lamps. And through our research of the nature of light and our thirst for the study of light, we were inspired by its effects in the atmosphere and in different conditions, such as varying sun positions, different states of air humidity, clouds, and shadows.
An exciting material for researching light is glass, which is solid but, at the same time, it is one of the few materials that are translucent and can transform light in different ways: re-reflecting, scattering, and refracting it. And that's what we dedicated the Optical Metaphor brand to. We equate the metaphor to natural phenomena, such as natural lighting, by designing unique light sources and using customized glass from our production as a light-transforming object.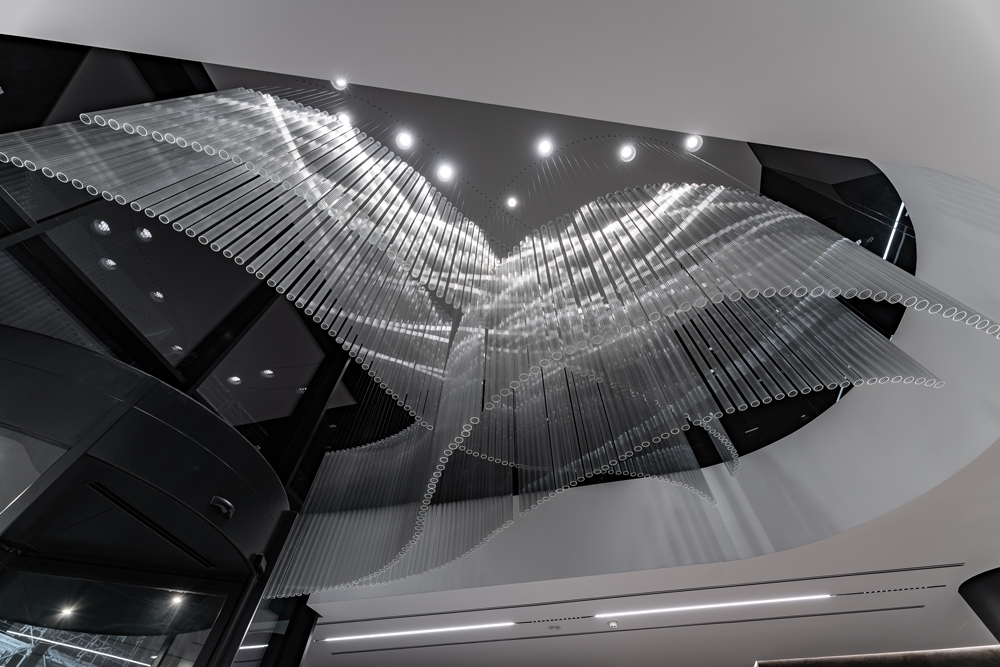 Can you please share with us the creative journey behind designing the chandelier? How would you describe your role and responsibilities when working on this design? Also, what was the most challenging part of the project and how did you overcome it?
My approach to light is unusual. More often than not, a person is more inclined to either the technical part of the job, an engineering view of the world, or is more creative. And it happened that, to an equal degree, both spheres are close to me. My first education was in mathematical modelling, and my second was in lighting design. This combination expresses my approach to light. When we have an artistic image to create, we immediately see it and, from a technical angle, think about how it can be realized. This project is one of many planned for the huge Unit City Innovation Center complex. There, we have illuminated many buildings, public spaces, and interior spaces. Hence, its philosophy is profoundly at the centre of a modern view of the future of humanity, where technology is combined with the philosophy of care and sustainable interaction with nature. This philosophy is reflected in all the elements we work on.
We developed this project together with architect Victoria Yakusha and her Yakusha Design team. We wanted to make something that was both plastic and natural, but also technological. Because of this, we spent a long time selecting and designing these prismatic glass tubes and chose the illumination method to show the complexity of natural perception – there are these complex, intersecting shapes that intertwine. They transform the light into an intricate image, which we accomplished through our designed lenses made of three types of beam widths at different angles. These lenses and the multi-layered screens of these extremely long glass tubes covered with prisms create modern natural light, which at the same time is very technological.
One of the most challenging parts of the job was to design and achieve the production of such an incredibly long glass lens. We spent a long time adjusting our standard approaches to pouring a glass for such a long tube, 1600 mm long. That length is complicated to achieve, so we had to work on it, and it was also challenging, with such long and closely spaced rods, to keep them from bumping against each other through the air from the vent. We figured out how to lock the tubes in place: we designed custom transparent and barely noticeable spacers made of optical plastic that replicated the grooved shape of the tube. They fix the chandelier so that it does not move and does not knock in its lower part, while not destroying the overall clean and light appearance of the simple shape of the chandelier.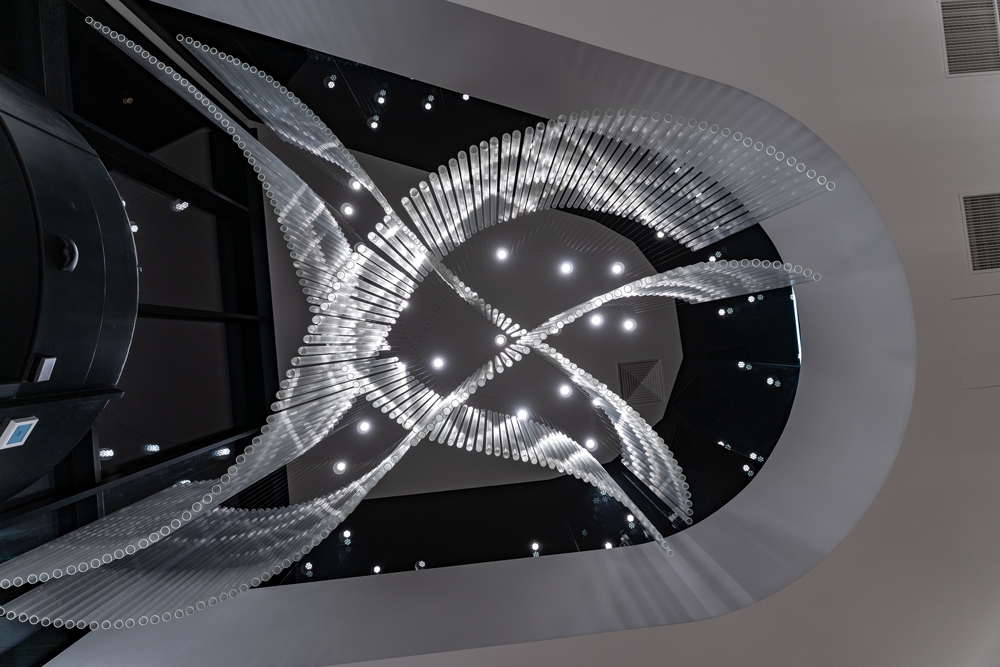 What does it personally mean to win the Lighting Product Design of the Year 2022 prize?
This is very valuable and gratifying for our brand because it is such a young studio that grew out of our passion for researching the natural phenomena of light and optical effects. But this award is also precious because it is a motivating ray for Ukraine and Ukrainians. As you know, the situation in our country is now challenging because of Russia's unjust aggression. Russia is plunging our entire country into darkness to destroy our energy system and leave us without electricity, heat, and water. Most of Ukraine now lives without stable electricity, heat, or communications. We never thought that one day we could do without what have always been such simple everyday things: charging gadgets, warm homes, and all that kind of stuff.
Therefore, we must be stable and work further, and this victory is very motivating for our company and the whole country because we live and move on. And it is symbolic to receive such bright news at the darkest moment. An interesting fact: We learned about this news literally at the darkest time: on November 15, immediately after the entire country was plunged into darkness during the first blackout due to the severe destruction of the Ukrainian energy system. My whole team and I were in the office and continued to work (our office has all the conditions for this thanks to generators, Starlink, and an ample water supply, our well). This is how we continue to be in contact with the whole world and work in different corners of the world. No matter how much Russia tries to plunge Ukraine into darkness, we want to show with our activities and victories that the light is still stronger and wins.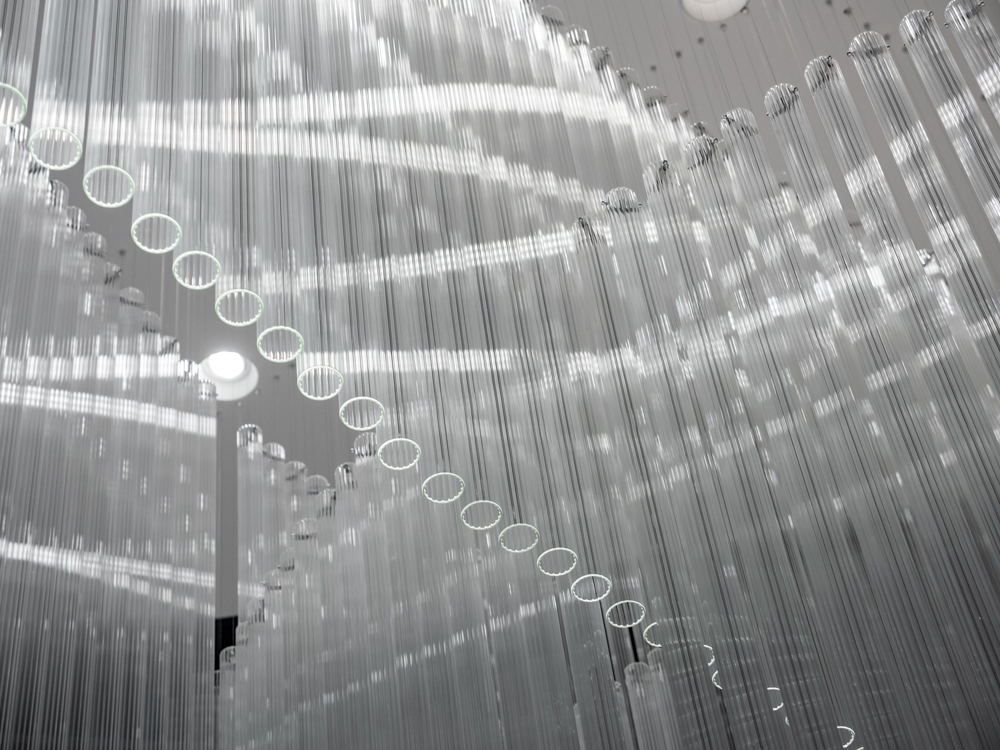 What are you working on at the moment, and do you have any upcoming projects or collaborations that you're able to tell us about?
Now we have even more work to do around the world on different continents: in the USA, EU, Great Britain, UAE, Armenia, Georgia, Bali… There are many different countries; the geography is very wide. The situation in the country gave us an impetus to focus more on the international field. One of the most interesting projects we are working on now, where we also use our optical filter lenses, is one of the iconic properties in Dubai, in partnership with Zaha Hadid Architects. The task was to create unique lighting effects in the common space in the atrium of this impressive building. It is a great honour to work in facilities where such famous architects work. We created a custom floor lamp with our philosophy and are now in the final testing stage. It can be adjusted to create special caustic water effects and it has the appearance of the sun's rays passing through the water and creating dynamic reflections. We love this effect.
What would be your best advice to Emerging Lighting Product Designers?
Be fascinated by light. Light can be studied endlessly and is very interesting, as long as you look at it not as a practical entity that illuminates a dark space but rather as the inspirational-sacred function of light, which creates a mood, formulates our perception of the world, and inspires us. It is exciting to progress from the practical part to a higher level and study light as a metaphor for the natural phenomena in the modern world, combining it with modern technologies, while also studying basic light phenomena and reproducing them in your work.
Last, what can we wish you for 2023?
Please wish that democracy defeats totalitarianism and that Ukraine endures and wins in the fight against the totalitarian aggression of the Russian Federation. We are sure of this because light always wins over darkness.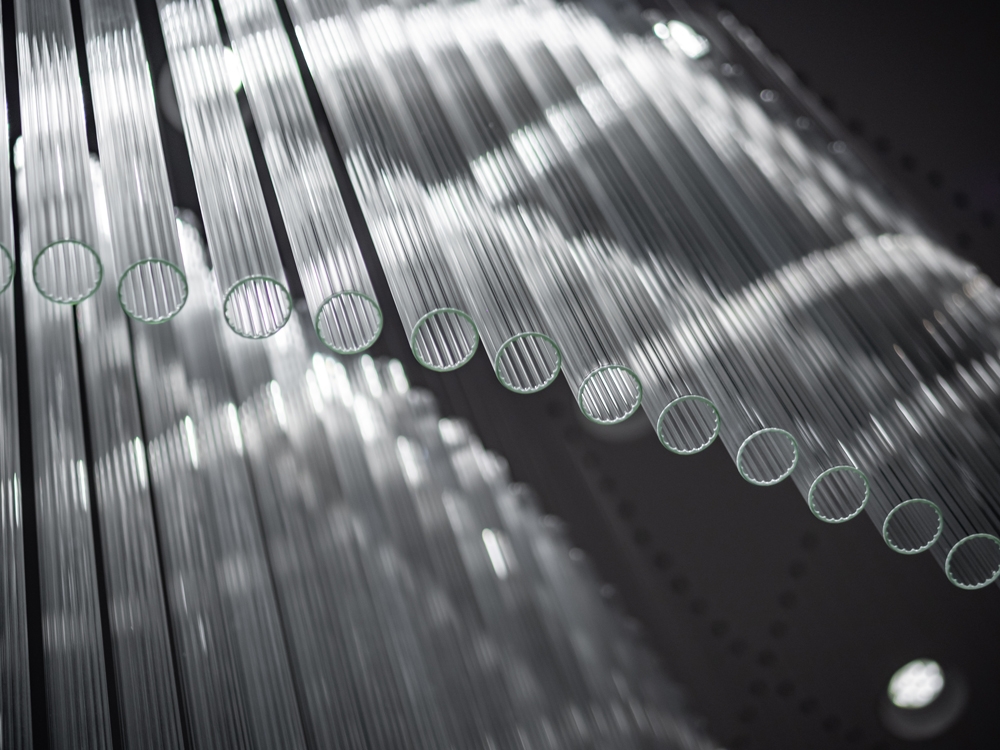 Kabluka's chandelier at Unit City's B14 campus embodies a forward-thinking approach to lighting design, one that leverages the technical foundations of the craft to render an emotive, immersive experience. This impressive project serves as a testament to Kabluka's dedication and resilience, especially in light of the broader social and political challenges Ukraine is currently facing. His work is not just a lighting fixture, it is a beacon of hope and a symbol of the light that cannot be dimmed, despite adversity.
As Kabluka and the team at Expolight look to the future, they continue to embrace their passion for light and design, with an impressive range of international projects already in the pipeline. From Unit City in Kyiv to iconic properties in Dubai, the Expolight team remains committed to their mission of studying and recreating natural light phenomena in a modern world. Their work underscores the transformative power of light, serving as a luminous reminder that even amidst the darkest times, the light always finds a way to shine through.