Photo credit: Maxime Brouillet
Design lovers now have the chance to experience the best products that Quebec has to offer at La Maison Noire. A unique living experience blurring the lines between art and architecture has now become partly a home, partly a showroom.
Undertaken by Index-Design, in collaboration with Bolitomino Studio and La Firme, this project showcases today's and tomorrow's trends in commercial and residential design.
Furniture, objects, artworks, and lighting revolve around the color of black. The choice of this color amplified the effect of theatricality, by bringing together vital pieces of design from yesterday and today, in a soothing, rich visual signature that is still little used in residential interiors.
The partners
Lamber & Fils: An Ode to Light
The essence of the brand's identity lies in its tailor-made creations. Lambert & Fils extends its team's wealth of expertise to cater to each client's individual needs. A collaborative effort between designers, artisans, experts, and technicians culminates in the crafting of distinctive projects. The company's studio witnesses the birth of hundreds of bespoke lighting fixtures each month, from conceptualization to installation. In this creative environment, Lambert & Fils' custom projects team conceived the Parc collection to create an exceptional hanging illumination experience.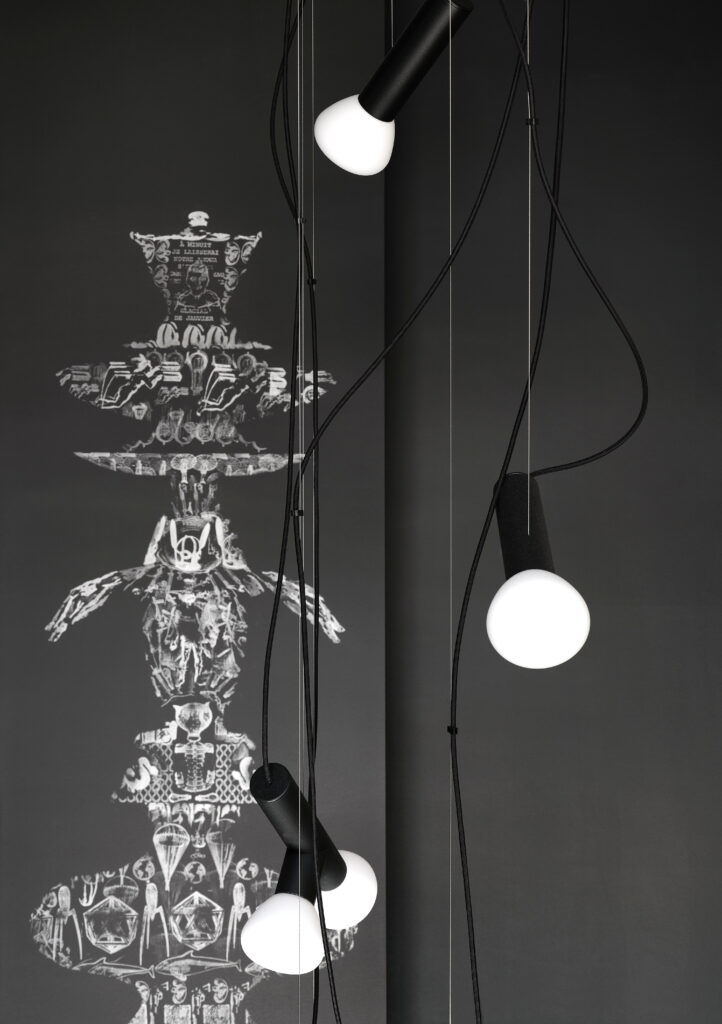 François Morelli: The Art of Home Wall Drawing
Not only is François Morelli a significant figure of visual art in Quebec, but also he is considered to be one of the pioneers of relational art. He is interested in the ideas of passing, circulation, and transformation. His work is usually multidisciplinary which means that he uses techniques including printing, drawing, installation, and painting influenced by a constant reflection of the status of an object within the creating process and the perception of the work.
In the case of La Maison Noire, the fireplace is the canvas for a piece created by Morelli. He used the technique that made his name in the business, namely stamping. Morelli started to work with stamping in the 1970s before adding the use of stencils. This allows a superposition of images to create a larger image. Following his first residency at the Chambre Blanche gallery in Quebec City, where he used approximately 10 stamps, he began working in houses in 1995, exchanging a meal for a wall drawing connecting architecture, living spaces, and artistic creation.
For La Maison Noire, called a nuit, tous les chats sont gris, five images were produced and translated using stamps to complete images already existing in Morelli's work. The mural for La Maison Noire the first to be printed on black support, inspired a series on canvas called Les grandes eaux nocturnes, which is available at the Chiguer Art Contemporain gallery.
Simon Johns: A Bar Imagined as Jewellery
Simon Johns is a designer from the Southern part of Quebec. His artistic process is centered around unique and sculptural furniture and lighting made in limited series. The Ledge Dry Bar, specifically created for this project, is a floating wall bar. Its sculpted solid ash surface represents the textures of cliffs collapsing around the studio. The interior has two surfaces in solid wood to house a bottle collection and an adjustable shelf in smoked glass for glassware.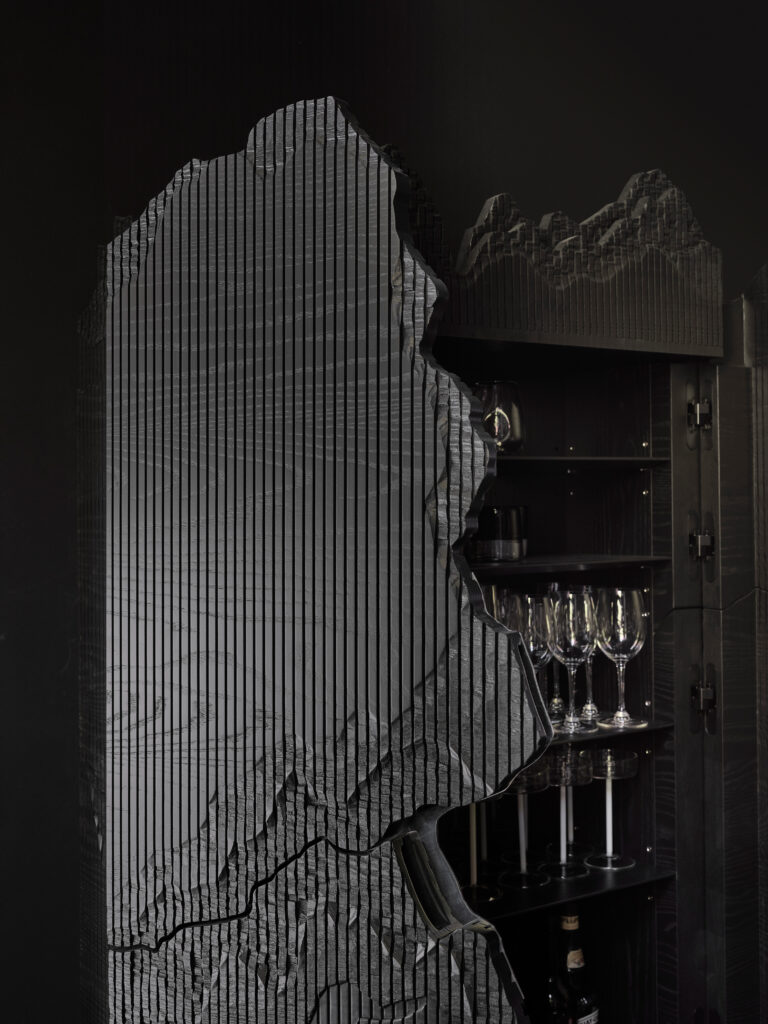 Will Choui: A Carpet Between Shadow and Light
A graduate of the Rhode Island School of Design, Will Choui surprised and charms with his creativity of shelves, beds, and lighting. For this project, Choui designed a rug that is made of natural wool and recycled cotton. With its gridded central portion, it creates visual continuity with the wall extrusion of the fireplace, reinforcing the unity of the space. The nesting of the rug section into the fireplace stone on the floor adds a touch of finesse to the overall composition, demonstrating the attention to detail in the design of this space.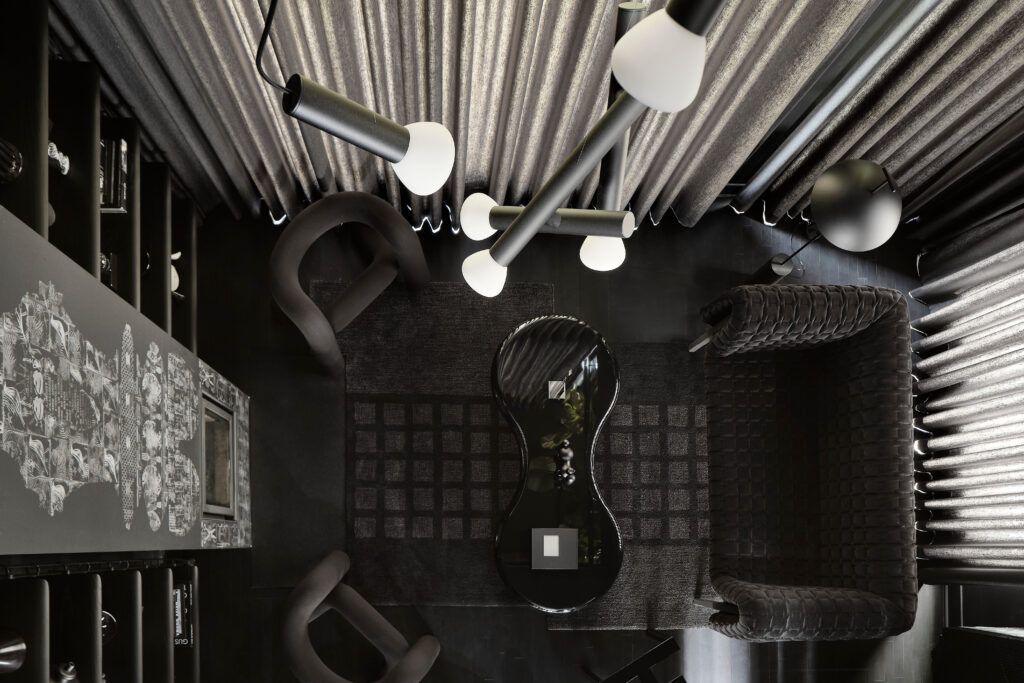 Avant-Scène furniture: Timeless Icons
Mobilier Avant-Scène is the go-to place for high-end and modern furniture in Montreal. The Knoll table designed by Eero Saarinen is a design icon created in 1958. Above the table is the 2097-30 light by Gino Sarfatti from Flos, created in 1958, and, in the kitchen, a Skybell light by Bover can be seen.
Prune less Fleurs: More than Just Flowers
Prune les Fleurs is well-known for its elegant and deconstructed bouquets as well as a space where one can find high-quality flowers and a selection of unusual plants. It is a place that inspires architects and interior designers. Here is the Editions Milano vase by Kelli and a bouquet of tulips from Prune les jardins.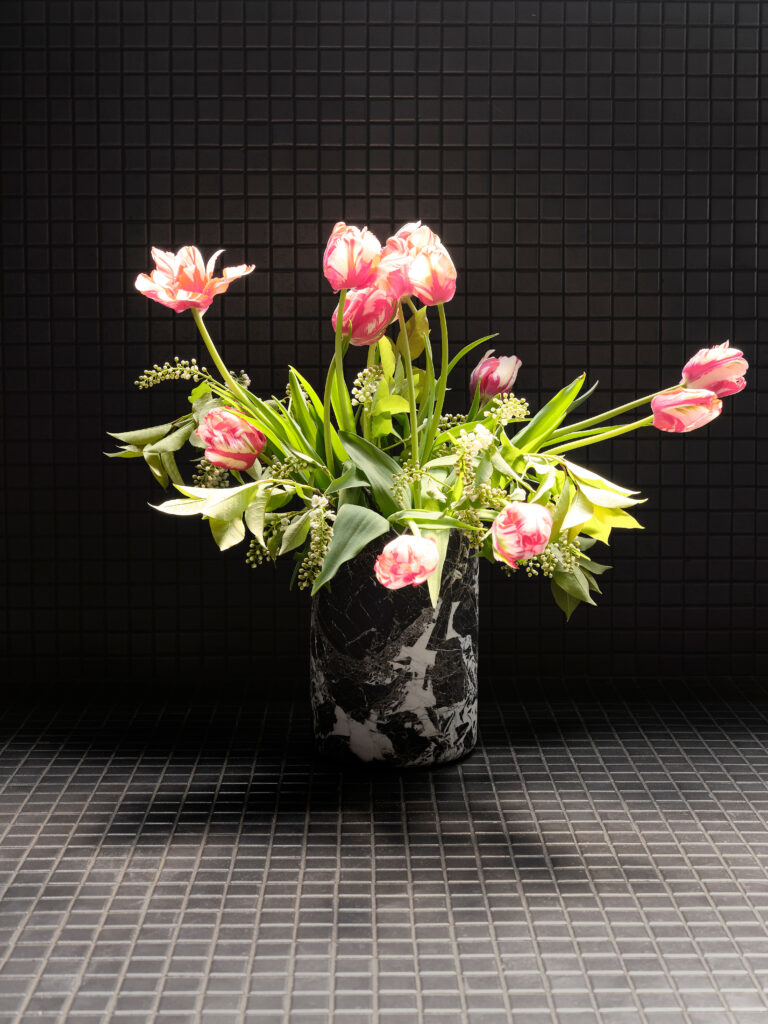 Kartell (at Skedio): Star Designers
Founded in Italy more than 70 years ago, Kartell has become an emblematic brand that collaborates with distinguished designers to create iconic pieces. Skedio has decided to work together with Kartell to give the opportunity to everyone to enjoy the furniture and lamps they create. For this project, they have worked on the above table the 2097-30 light by Gino Sarfatti from Flos, created in 1958, and, in the kitchen, a Skybell light by Bover can be seen.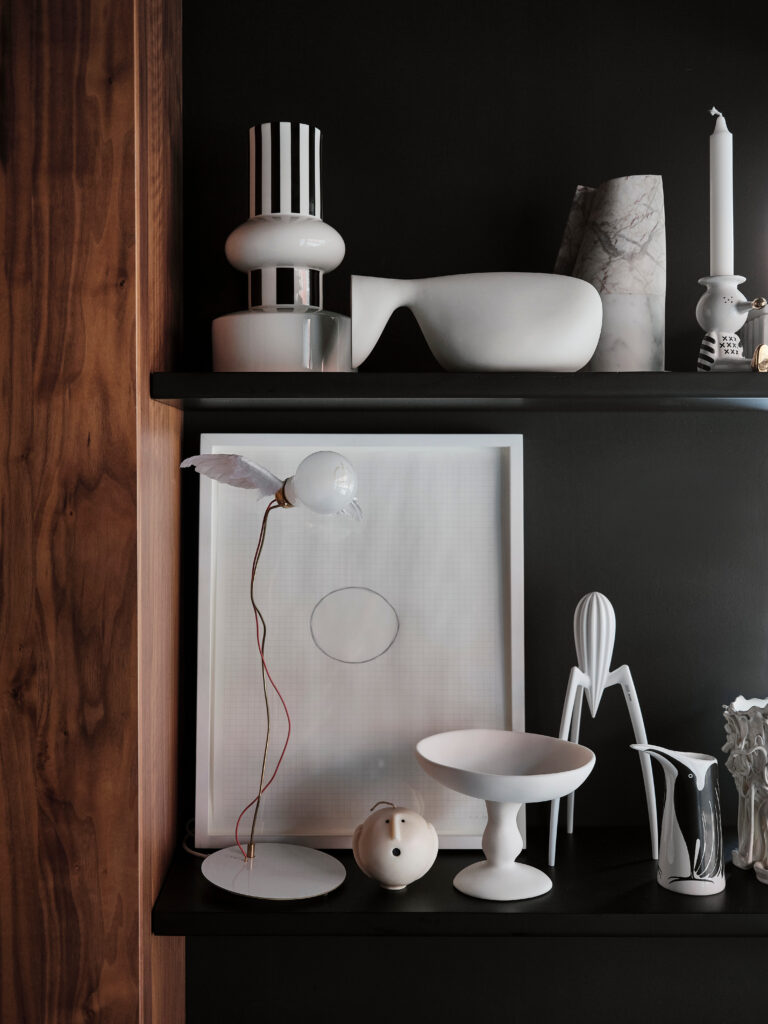 Nitsa Meletopoulos: Ceramics
Nitsa Meletopoulos blurs the boundaries of design, pottery, and sculpture in her creative endeavors. This collection of plates is crafted from molded porcelain using handmade molds. This resulted in a choreography of imprinted fingers and fingerprints that imbue the places with a sense of fluidity. Each enamel in this series is bestowed with evocative names, evoking poetic landscapes, from the gentle hues of Rosé Pink to the vibrant tones of Trashcan Green.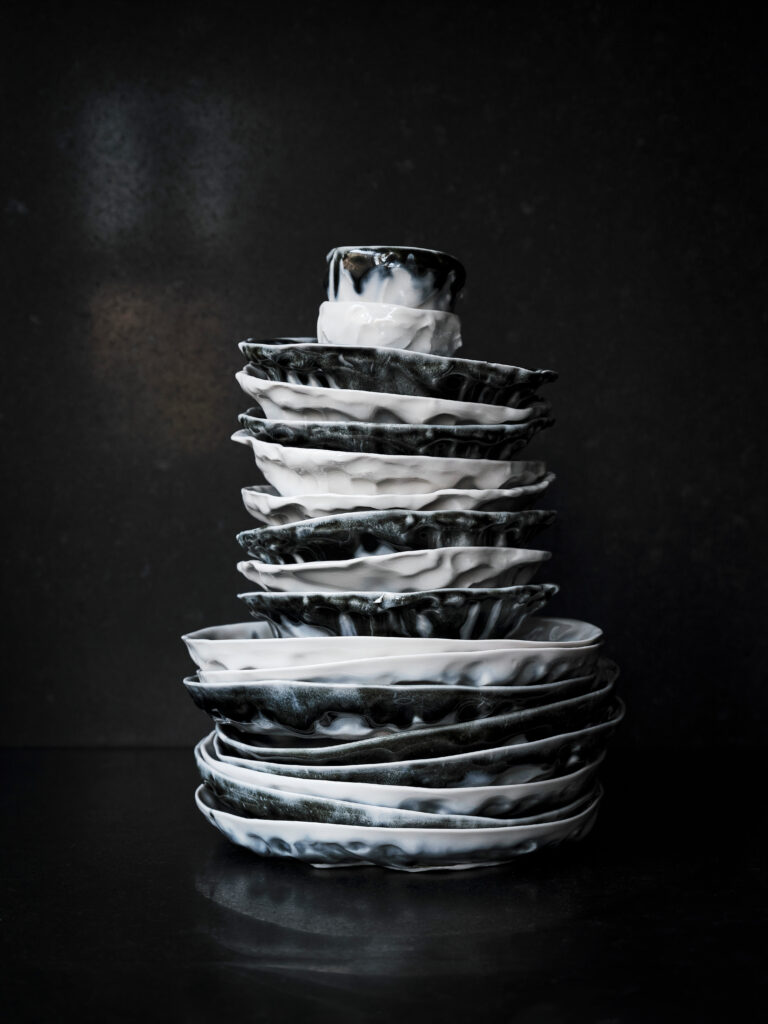 Moustache: The Poetry of Objects
Moustache is a French design house that publishes modern objects and furniture. For this project, they designed the TGV lamp. Under the direction of Stéphane Arriubergé and Massimiliano Iorio, Moustache weaves the close ties of a network made of complicity and expertise design.