Casa TO unfolds as a beacon of architectural and natural harmony in Punta Zicatela, where the horizon kisses the Pacific's waves. This hotel, envisioned by Mexico-based architect Ludwig Godefroy, isn't merely a structure—it's a tale of tradition and the bond between humanity and nature.
As the sun's embrace illuminates the residence, its conceptual elegance and simplicity are revealed. Commissioned by Ludwig Godefroy, this hotel is a harmonious blend of traditional echoes and modern whispers, all nestled within nature's hold. The very name, Casa TO, resonates with pacific contemplation, inviting visitors on a sensory odyssey.
Drawing from the records of history, Casa TO's design pays homage to hydraulic wonders like the Basilica Cistern of the 6th century in Istanbul and the 19th-century Hornsey Wood Reservoir in London. These inspirations take form in the reticular patterns that dance across the structure, bridging time and space.
Yet, beyond its architectural marvels, the hotel paints an intense picture of nature's palette. Covering a vast 600 square meters, the interiors celebrate the raw charm of materials like concrete, steel, clay, and wood. The colour scheme, inspired by the blue of a Madagascar palm found on the property, weaves a tapestry of earthy tones punctuated by vibrant splashes of turquoise and other bright tones.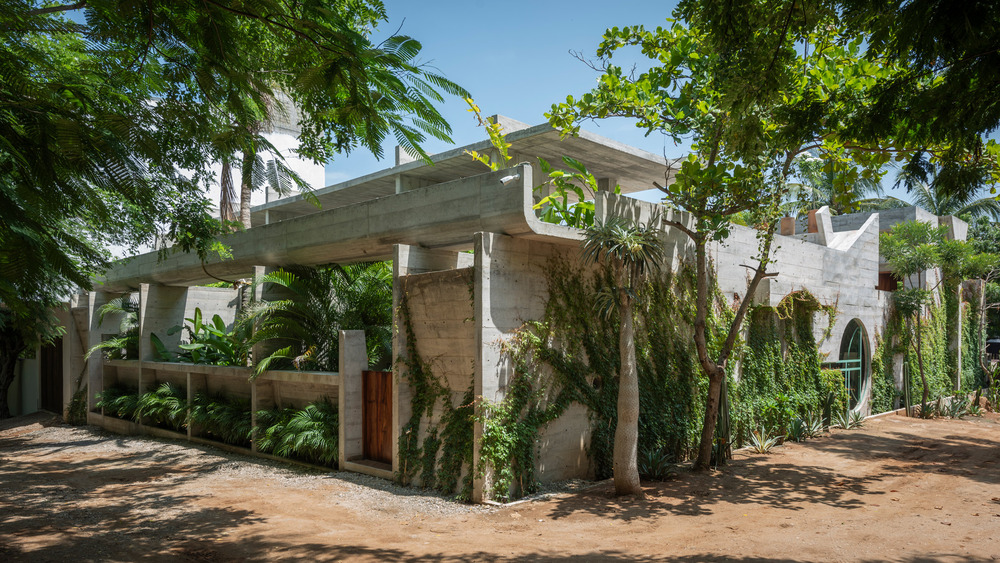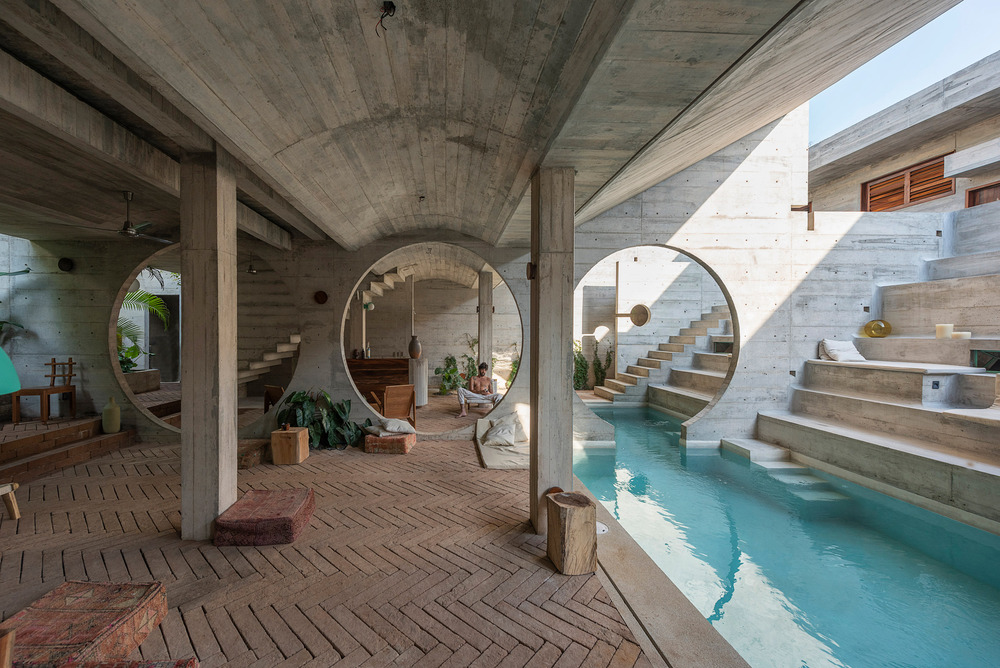 The Heart of Casa TO
Every angle of the hotel radiates craftsmanship. Handcrafted furniture, meticulously designed by artisans from Puebla, Guadalajara, and Oaxaca, adorns the rooms, portraying tradition and expertise. Bamboo pieces by Tiago Solís Van Beuren add depth, while spirited rugs and tapestries breathe life and warmth into the hotel.
But Casa TO's allure isn't limited to its visual richness. Positioned opposite the Zicatela Ecological Community, it stands as an example of redefined hospitality. With only nine suites, this hotel offers an intimate sanctuary, each room encompassing luxury and comfort. The design complexities, from the rectilinear central pool to the terraced solarium, promise both privacy and panoramic vistas.
Yet, what truly distinguishes Casa TO is its commitment to sustainability. In an age where opulence often stands in the way of nature, Casa TO is a symbol of eco-conscious luxury. Architectural choices like a water treatment plant, solar panels, and a vigorous zero-plastics policy highlight the establishment's dedication to environmental care.
The hotel, with its raw concrete aesthetics and central aquatic feature, showcases natural cooling techniques, paying homage to the region's temperate climate. Godefroy's design ethos is palpable throughout Casa TO. From the lush gardens to the breezy terraces and refreshing outdoor baths, every element has been curated to harness nature's gifts, resulting in a structure that echoes its surroundings.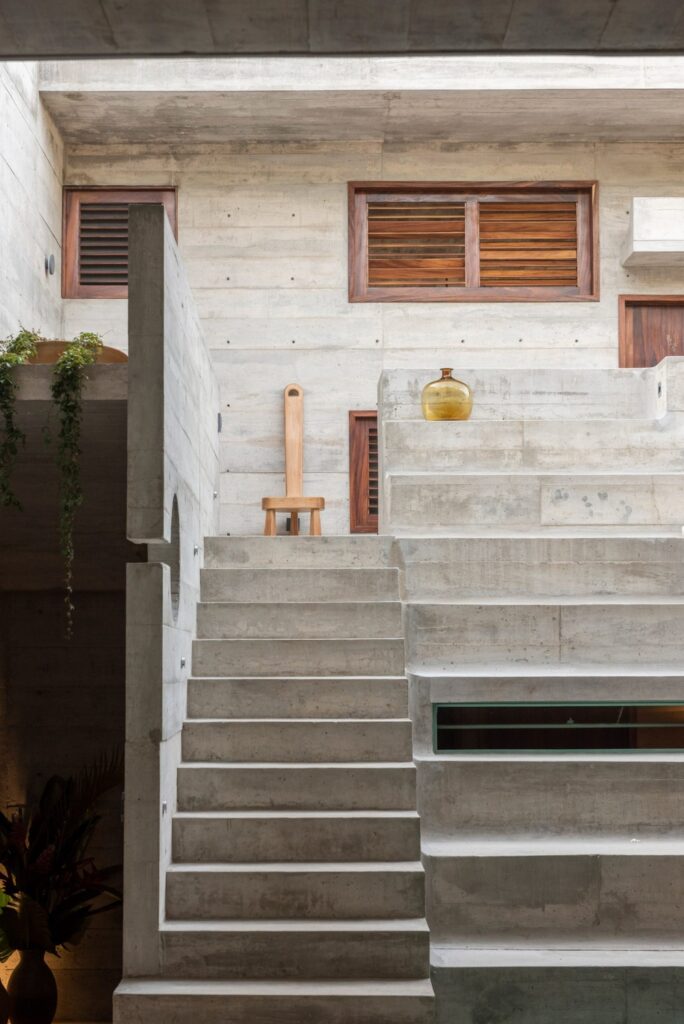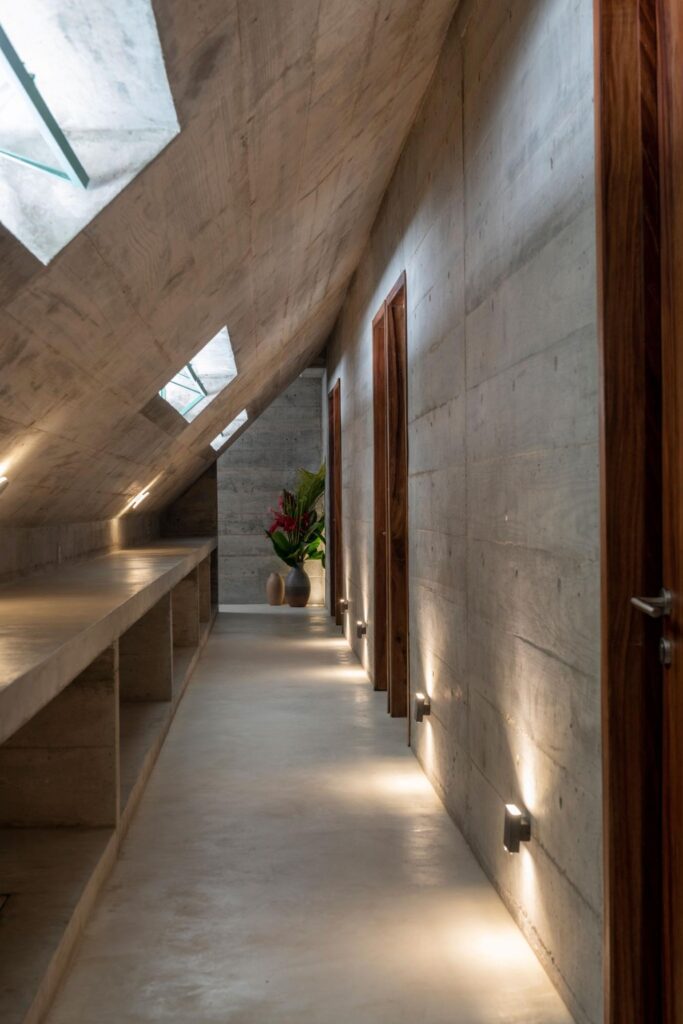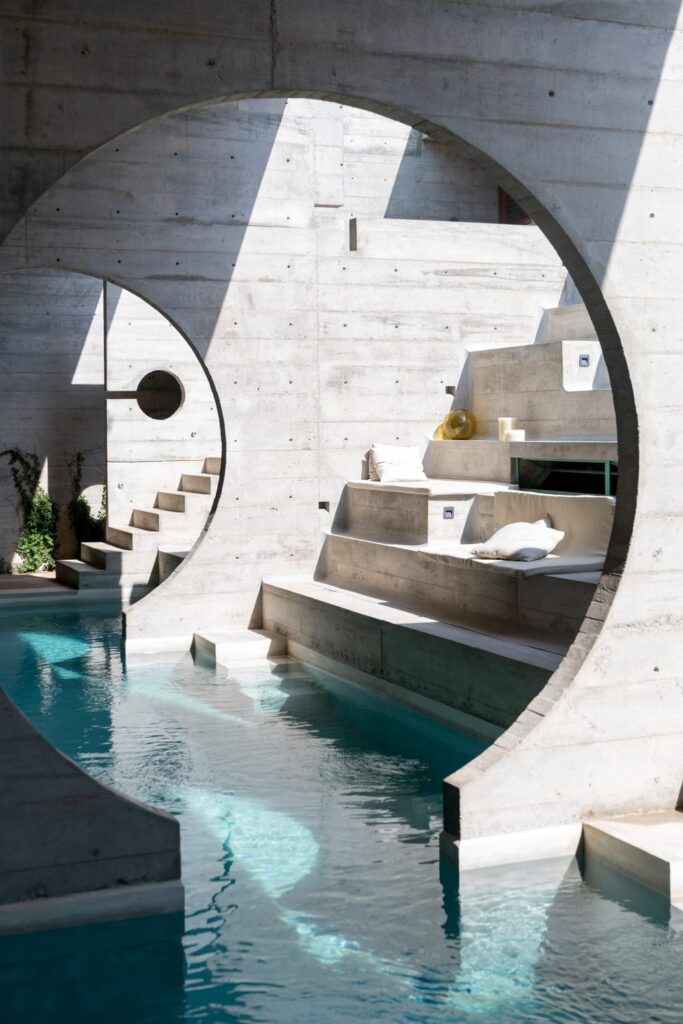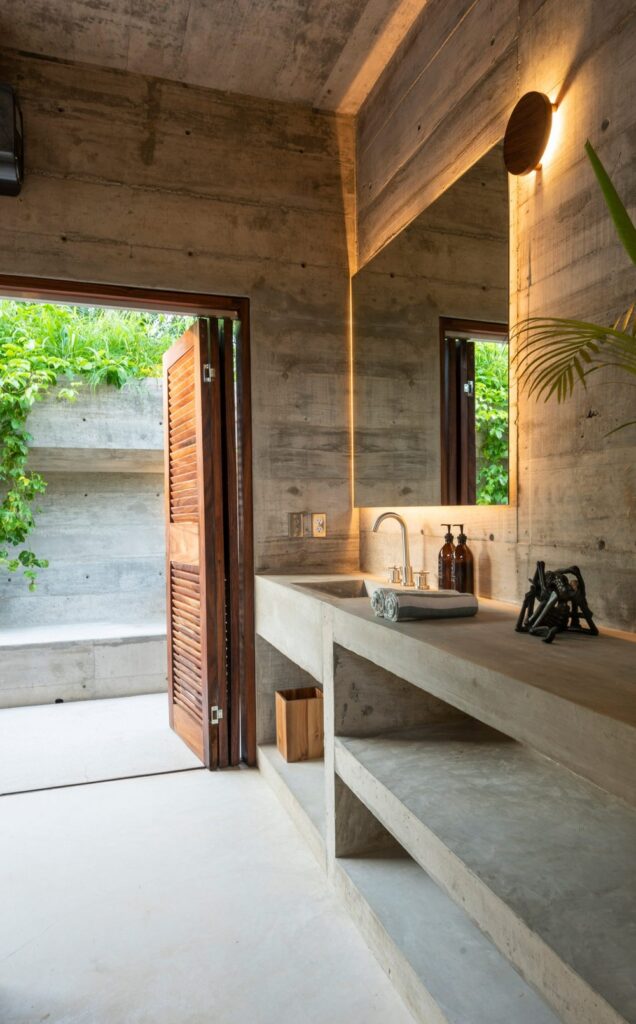 Inside Casa TO
The extensive use of raw concrete, completely left exposed, adds a touch of rustic charm, while the built-in furniture pieces present the material's versatility. This rugged design is softened by custom creations from local craftspeople, colourful rugs, tapestries, and an abundance of potted plants, each contributing to the residence's unique character.
The central pool, running the length of the property, is more than just a water feature. Its surrounding concrete walls, floors, and ceilings create a unique ambience, remindful of a cavern. This design choice, while aesthetic, also aids in cooling. The pool area is divided by walls with large circular openings, ensuring that while the space is shared, guests can still find bits of privacy.
Godefroy's approach to natural cooling is evident in the hotel's layout. The ground floor rooms are complemented with gardens, providing shade and cooler temperatures. In contrast, the rooms on the upper level are equipped with terraces and outdoor baths, allowing for natural ventilation and cross-breezes. This design not only ensures comfort for the guests but also reduces the reliance on artificial cooling systems.
Material choices play a significant role in the residence's design. The predominance of raw concrete – especially in guest rooms and public areas – is not just for aesthetics; it's a practical choice for its durability and thermal properties.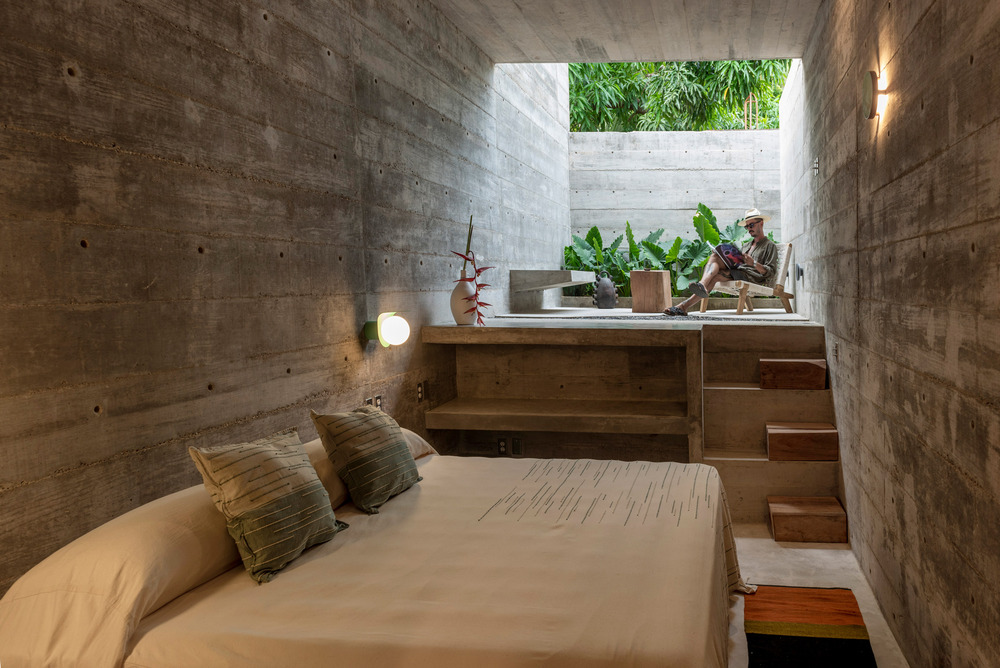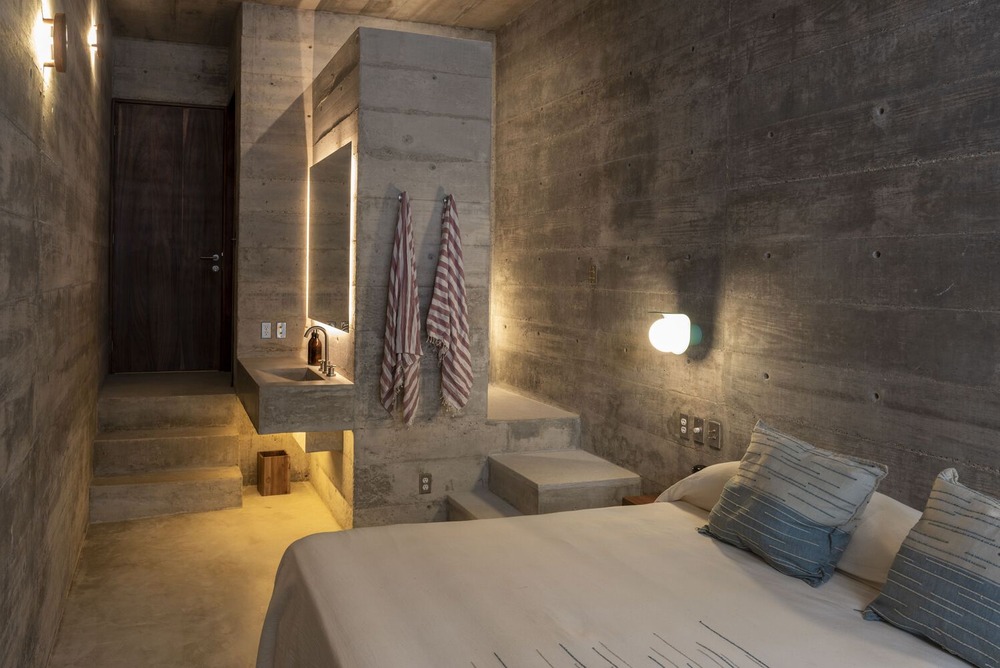 The Ethos of Casa TO
The resience's commitment extends beyond architectural singularity; it delves deep into sustainability. In a world where luxury often comes at the expense of Mother Nature, Casa TO challenges this norm. The hotel's dedication to reducing its environmental footprint is evident in its sustainable initiatives.
Moreover, the furniture pieces, a tribute to local craftsmanship, are available for guests to purchase under a fair-trade model. This initiative not only supports local artisans but also allows guests to take a piece of their Casa TO experience home.
Casa TO, under the guidance of Ludwig Godefroy, stands as more than just a hotel or residence. It's an architectural statement. Nestled in the heart of Punta Zicatela, Casa TO is an example of the magic that unfolds when design meets purpose, and luxury coexists harmoniously with nature.