Leica Camera, the renowned global titan of camera manufacturing, is once again pushing the boundaries of innovation by drawing upon its century-long legacy of engineering mastery. Introducing the Leica Q3, an extraordinarily compact, full-frame camera that seamlessly merges cutting-edge connectivity with superior imaging performance, all while exuding elegance and style.
The Leica Q3: A Symphony of Technology and Aesthetics
More than just a camera, the Leica Q3 is a compact, high-performance tool that represents the perfect union of timeless aesthetics and state-of-the-art technology, effortlessly blending into your everyday life. This camera is designed to capture the world as you see it, making it an ideal companion for unleashing your creativity. With its powerful photo and video capabilities, the Leica Q3 becomes your ally in producing top-notch content for social media, enabling you to share your unique perspective with the world. It is a manifestation of style, advanced technology, and a passion for capturing life's moments as they unfold, resulting in a device as distinctive as its users. The Leica Q3 is now available globally at all Leica Stores, the Leica Online Store, and authorized dealers for $5,995.
Unrivalled Technology for Unparalleled Performance
At the heart of the Leica Q3 lies a revolutionary BSI-CMOS sensor equipped with Triple-Resolution Technology, capable of delivering stunning image resolution of up to 60 MP. Complementing this sensor is the exceptional Leica Summilux 28mm f/1.7 ASPH lens, a true marvel of optical engineering. This lens enables detailed close-up shots from a minimum focusing distance of just 6.69 inches, opening up new creative possibilities for photographers. Moreover, the Leica Q3 features a tiltable 3-inch high-resolution touchscreen, offering unique viewing angles and enhanced creative opportunities. Despite its flexible display, the camera maintains robust protection against dust and splash water with its IP52 certification.
For content creators, the Leica Q3 is a dream come true, as it boasts 8K video recording capabilities and efficient codecs such as H.265 and Apple's ProRes. The camera also provides direct connectivity to external devices like gimbals, power banks, and display recorders through its USB-C and HDMI ports. Embracing the digital age, the Leica Q3 is "Made for iPhone® and iPad®" certified, seamlessly integrating with the Apple ecosystem. Charging has also been revolutionized with the introduction of the Leica Charging Pad and a separate camera handgrip, enabling entirely wireless charging.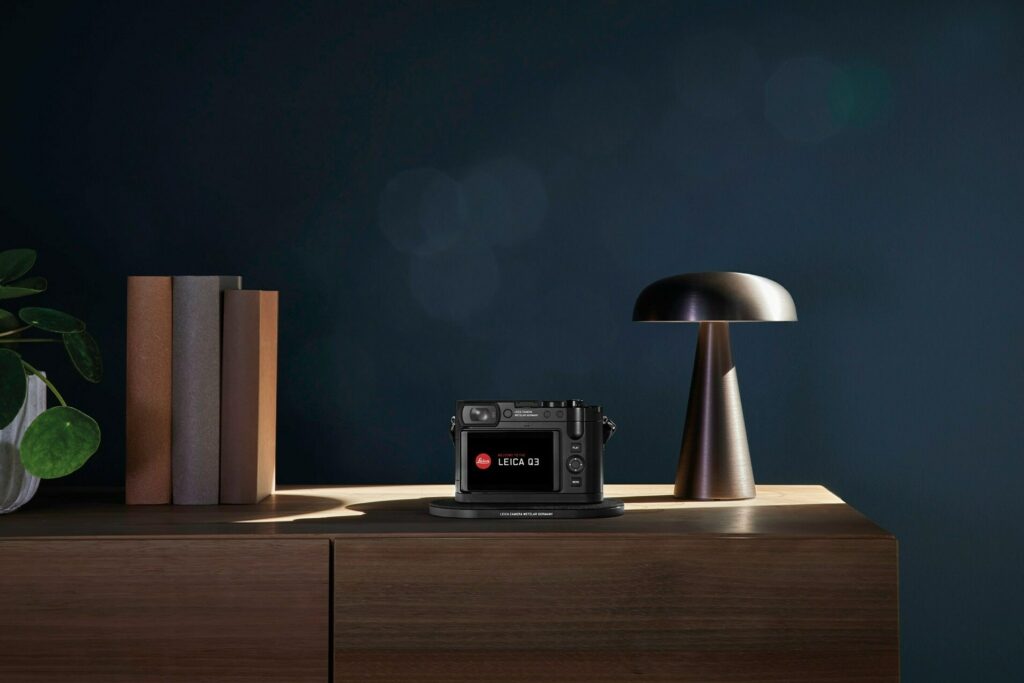 Leica Camera AG: A Legacy of Excellence
Leica Camera AG, an international, high-end manufacturer of cameras and sports optics, has built its legendary reputation on a long tradition of superb quality, German craftsmanship, and industrial design. The company's culture encompasses a wide range of activities dedicated to the advancement of photography. From the globally distributed Leica Galleries and Leica Akademies to the esteemed Leica Hall of Fame Award and the renowned Leica Oskar Barnack Award (LOBA), which stands as one of today's most innovative sponsorship awards, Leica Camera AG consistently drives photography forward. With headquarters in Wetzlar, Hesse, and a second production site in Vila Nova de Famalicão, Portugal, the company maintains a worldwide network of national organizations and Leica Retail Stores.
In conclusion, Leica's unveiling of the Leica Q3 has once again positioned the company as a pioneer in the world of photography. By seamlessly merging technology and aesthetics, Leica has reimagined the possibilities of capturing life's moments, empowering photographers to express their creativity like never before. The Leica Q3 is undoubtedly a game-changer, promising to shape the future of photography for years to come.