Located in the heart of Sofia, Bulgaria, on a small quiet street but only steps away from a bustling pedestrian zone, landmarked historic buildings, and many sights to see is the newly opened Junó Hotel Sofia. Conscious of its surroundings, the hotel blends into its urban setting and offers a gathering place for locals just as much as it creates a welcoming, homey atmosphere for guests. Large sliding glass panels allow the ground floor and restaurant to meld seamlessly with the city, while its upper floors feature a striking stone façade dominated by shutters over floor-to-ceiling windows, affording guests both privacy and views of the happenings below.
"As we embark on the journey of turning our dreams into reality, we are eager to create a unique and unforgettable experience for our guests at Junó," Original George Chopev says. "Our focus is on providing exceptional, personalized service in a stylish and artful atmosphere that reflects our passion for history and culture."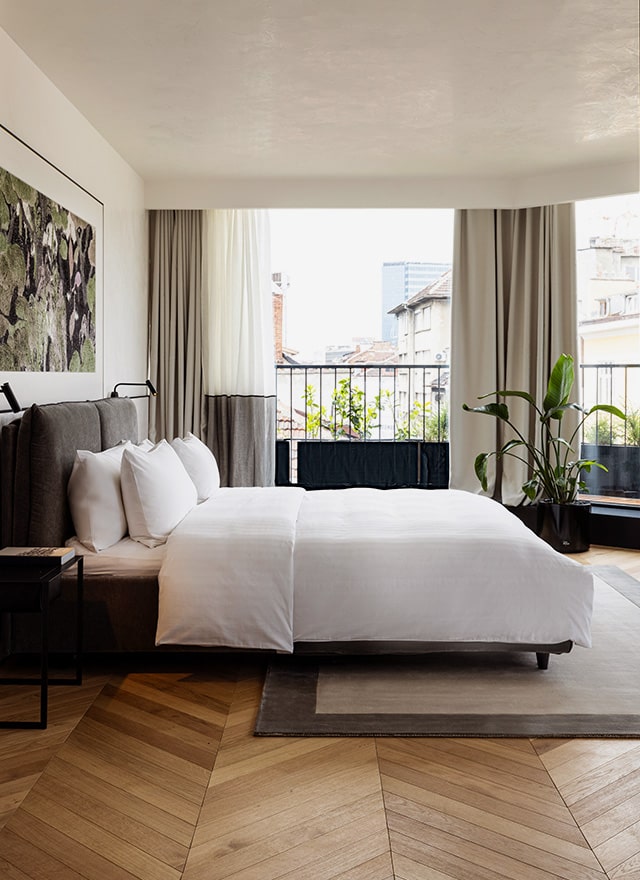 With Georgi Katov of I/O Architects helming both the architectural and interior design concepts, clean, contemporary lines define the property. Minimal architectural forms are paired with natural fabrics and earth tones, accented by black stainless steel and brass fixtures, oak and teak flooring, and high-quality black leather pieces. A variety of bespoke and handmade furnishings by distinguished international studios include nightstands and desks by Zanotta, chairs by Stellar Works in collaboration with Space Copenhagen and Tom Fereday, stools by Yabu Pushelberg, and lighting by Prandina. Beyond such design pieces, the hotel also displays unique artworks created by Bulgarian sculptor Pavel Koychev, who is known for his modernist approach to figuration. Two life-size onyx stone sculptures of male figures are found in the foyer, while a sculptural female torso made in white cement and marble felt is placed in an open-air lounge area, also replete with small trees, colorful bushes, and teak flooring—the perfect place to enjoy a morning coffee or evening cocktail.
Custom pieces by Zanotta, Prandina, and Space Copenhagen are also found in guest accommodations, which include 34 rooms and one suite. Every room features expansive floor-to-ceiling windows with a small balcony as well as textured wallcoverings by the Belgian brand Omexo in lieu of headboards. Rooms on the upper floors also have small gardens, and The Penthouse suite features an expansive terrace, alongside its two bedrooms, two bathrooms, and living room, accommodating up to five adults. Fragrant Culti Milano products stock the marble bathrooms, which, in most rooms, have sleek soaking tubs. Guests are also provided with access to convenient in-room technologies, including smart TVs equipped with Google Chromecasts and iPhones outfitted to not just make calls but to also act as controllers for in-room settings.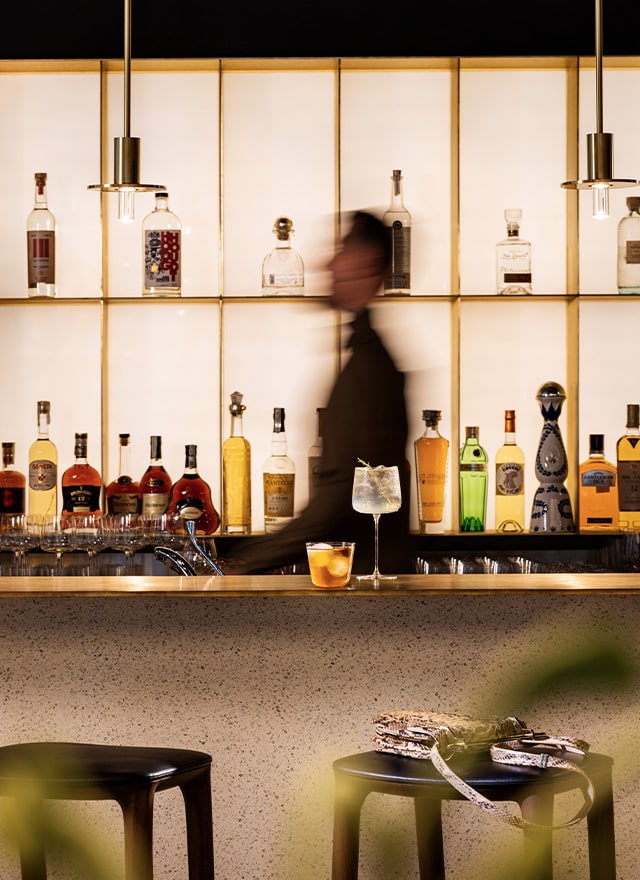 On the ground floor, the in-house restaurant and bar Cookó Kitchen:Drinks is an extension of the lobby, separated only by a large sofa. Here, chef Valeri Rusanov focuses on organic and seasonal farm-to-table fare inspired by the best of Mediterranean and Bulgarian cuisine. Standout dishes—which can be paired with offerings from an extensive wine list and sophisticated cocktail menu—include kačamak, a warm appetizer made with hominy cream, smoked butter with fenugreek, sauteed mushrooms, and cheese, and Bulgarian sarmi, rolled chard stuffed with bulgur, nuts, mushrooms, and herbs. Elsewhere, the hotel also offers an intimate but well-equipped wellness area, featuring a gym with the latest PENT and Nohrd equipment, an infrared sauna, and a treatment room for rejuvenating massages and body therapies.