Elevator design is often neglected. Yet this was not the case for Don Parker, Michel Arcand, and Gillian Gregory of the IN8 Design team. They have proven that it can be a canvas for creativity and innovation. Recently, the Toronto-based interior design firm was awarded an ARIDO (Association of Registered Interior Designers of Ontario) Award in the DISTINCT category for their innovative approach in creatively transforming a confined, small space into an imaginative journey for passengers in an elevator renovation project for Cadillac Fairview.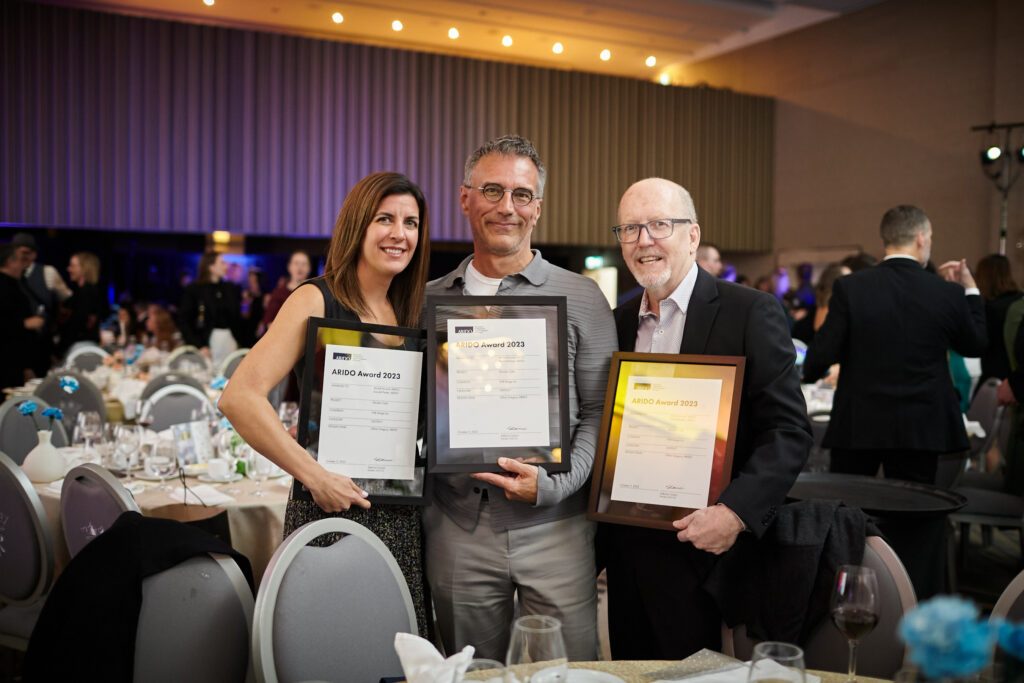 IN8 Design is a Toronto-based interior firm. They took on the task of renovating 17 passenger elevator cabs and 2 parking elevator cabs serving the entire office tower. This intricate project was phased to minimize disruption to the occupied building, emphasizing the occupants' comfort and convenience. The project's focus was twofold: to enhance technology and transform the aesthetics of the elevator spaces.
The renovations aim to reduce travel time for passengers by incorporating cutting-edge elevator technology. Meeting or exceeding all TSSA's (Technical Standards and Safety Authority) performance criteria was crucial to the safety of the public. A nail-biting requirement was the overall cabs' weight, which needed to be equal to or less than the original weight to pass a rigorous drop test. The results confirmed that passengers would benefit from reduced travel time, aligning with the specifications provided by the Vertical Transportation consultant.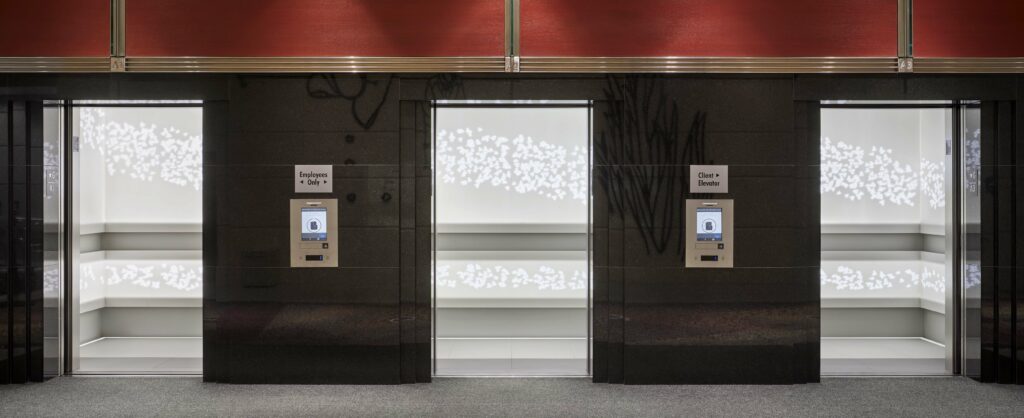 The original elevator cabs had been in service for over three decades, necessitating a modern aesthetic upgrade. The design concept draws inspiration from the ground floor lobby's existing artwork, created by artist duos Dianne Bos & Ian Paterson and Colette Whiten & Paul Kipps. With a neutral palette in mind, and remaining true to their brand's eye for whimsy, IN8 Design developed a playful concept rooted in levity.
Each elevator now showcases a stunning tapestry of 869 birds, routed on the back surface of Corian panels. This motif creates an illusion of "flight" for elevator passengers as they move vertically through the air, like flocks of birds. The rear panel's etching serves a dual purpose, allowing the edges to "capture" the light emitted from the LEDs while maintaining a smooth and effortlessly cleanable front panel surface.
Don Parker, Partner at IN8 Design, expressed the project's significance, saying, "When our client entrusted us with the responsibility of revitalizing downtown elevator cabs, we recognized the need to harmonize technology, lighting, mood, and the passenger's experience. This project, though small in space, was monumental in its significance. It challenged us to push the boundaries of creativity and functionality."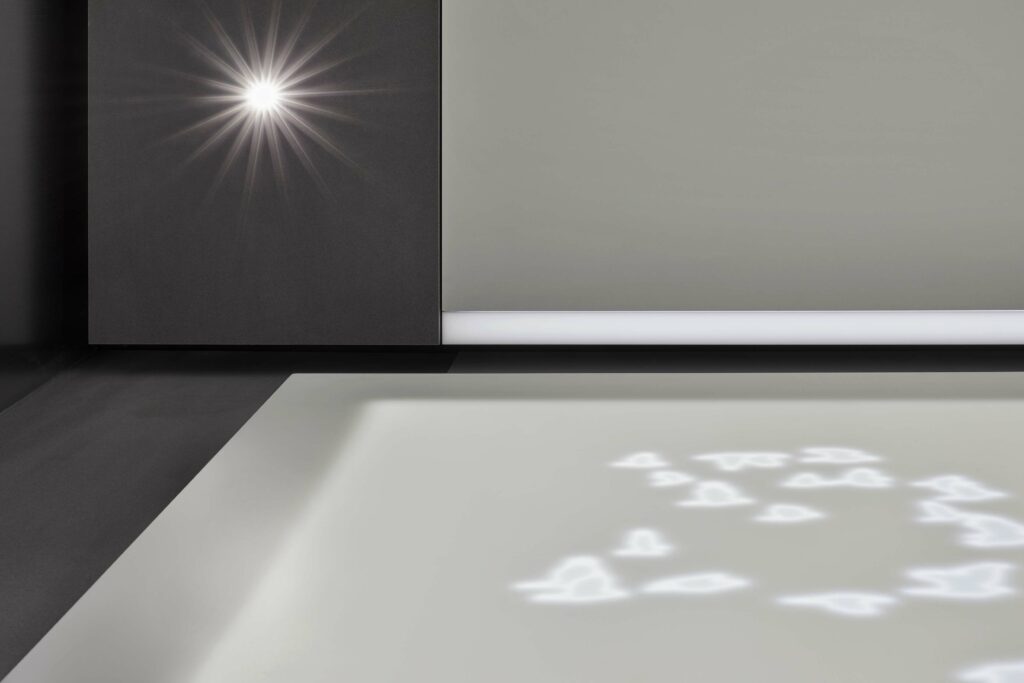 Selecting materials was a critical aspect of meeting the project's demands, prioritizing durability and ease of maintenance. Each cab now bears stainless steel doors and panels, backlit Corian panels made from a hygienic, anti-microbial material, and lightweight porcelain slabs applied to all other wall surfaces, ceilings, and floors.
To complete the sensory experience, each elevator cab is bathed in a soft, warm light setting, cultivating an ambiance of comfort. The complexity of LED panels, each with its unique color temperature, and brightness characteristics, necessitated individual adjustments to ensure uniform lighting throughout each cab. This became pivotal when considering side-by-side cabs with their doors wide open, maintaining visual continuity.
The IN8 Design team dedicated six years to this project from its initial concept to the final steps of implementation. Their work in elevator design showcases their ability to transform everyday spaces into extraordinary experiences for the public.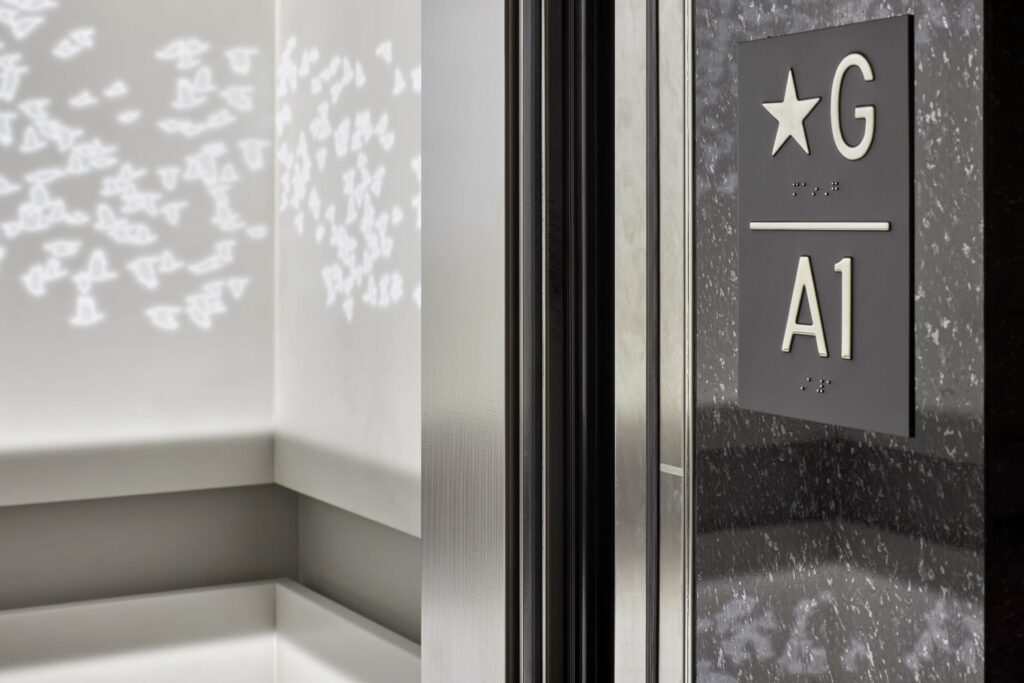 Header photo: Tom Arban Photography