Sharing her vision on Hospitality Design
At 16 years old, Helene Huang realized the magic of design and started to see it as a new language. Since she decided to study Architecture at the ArtCenter College of Design in California interested in the Environmental Design Department. Helene won the Emerging Interior Designer of the Year in Eating Space prize at the First Edition of the LIV Hospitality Design Awards.
Could you tell us a little about yourself? Where are you from?
Hi, I am Helene Huang, a human-centred spatial experience designer. I am from Foshan, Canton, China. I have interned in Penda Architecture and HBAarchitecture. Recently, I just gained my Bachelor's Degree in Environmental Design with distinction from ArtCenter College of Design.
I have studied abroad in France, the United States, and Japan. Growing up in a multicultural environment, I see design as a language to create meaningful connections. So, if design is a language, empathy would be the grammar — to create a bridge of understanding, honesty, and empowerment.
How did you discover your passion for Design and decided to study at Artcenter College of Design?
I started to realize the magic of design at the age of 16 when I exchanged to France. However, of all the cultural and language barriers, I felt disconnected. What grounded me back is going to the theatres. Actors perform and sing with no language, but everyone understands totally.
Therefore, I see design as a new language – a visual language that breaks physical and social boundaries and creates meaningful connections for people with different cultures, generations, and points of view. This is how I discovered my passion for design.
I decided to study at ArtCenter College of Design because of their high reputation of "professionalism" and the spatial approach of their Environmental Design Department – to fuse elements of architecture, interior design and furniture design to focus on the total spatial experience.
What kind of questions do you ask before beginning to design the Dim. Boutique Restaurant for Dim-sum? What piece of information is of utmost value?
I started to choose the food served in the restaurant – that is, dim-sum. I asked myself: How might we bring the essence of authentic dim sum experience from Cantonese culture?
The answer for me is the freshness of the rainy atmosphere from Canton, various delicious dim-sum windows as a feast for the eyes, and the unexpected dim-sum cart coming to your table.
Since my goal is to create new social connections during the pandemic, I also asked: how might we elevate the intimacy for a group of customers while maintaining social distance for different groups of people?
Then, I asked: How might we introduce and explain various dim-sums in an elegant way to Los Angeles foodies who have little knowledge of dim-sum? How might we reinvent the experience of a dim-sum cart?
My approach is to create a hologram dim-sum hallway as an exhibition and a menu wall. I also recreated the floor pattern as clouds and fogs in traditional Chinese ink painting and use the copper inlay pattern as the trail for floating dim-sum boats.
I value the unique experience and sequence the most. I aim to provide a staged dining experience that can be revealed layer by layer. Foodies will be welcomed by the rainy facade, which introduced them to the humid Cantonese atmosphere. While foodies can learn about various dim-sum on the dim-sum wall, projected bamboo grows as they order. When the day is finished, a bamboo forest will be created by all the customers of the day.
Dim. Boutique Restaurant for Dim-sum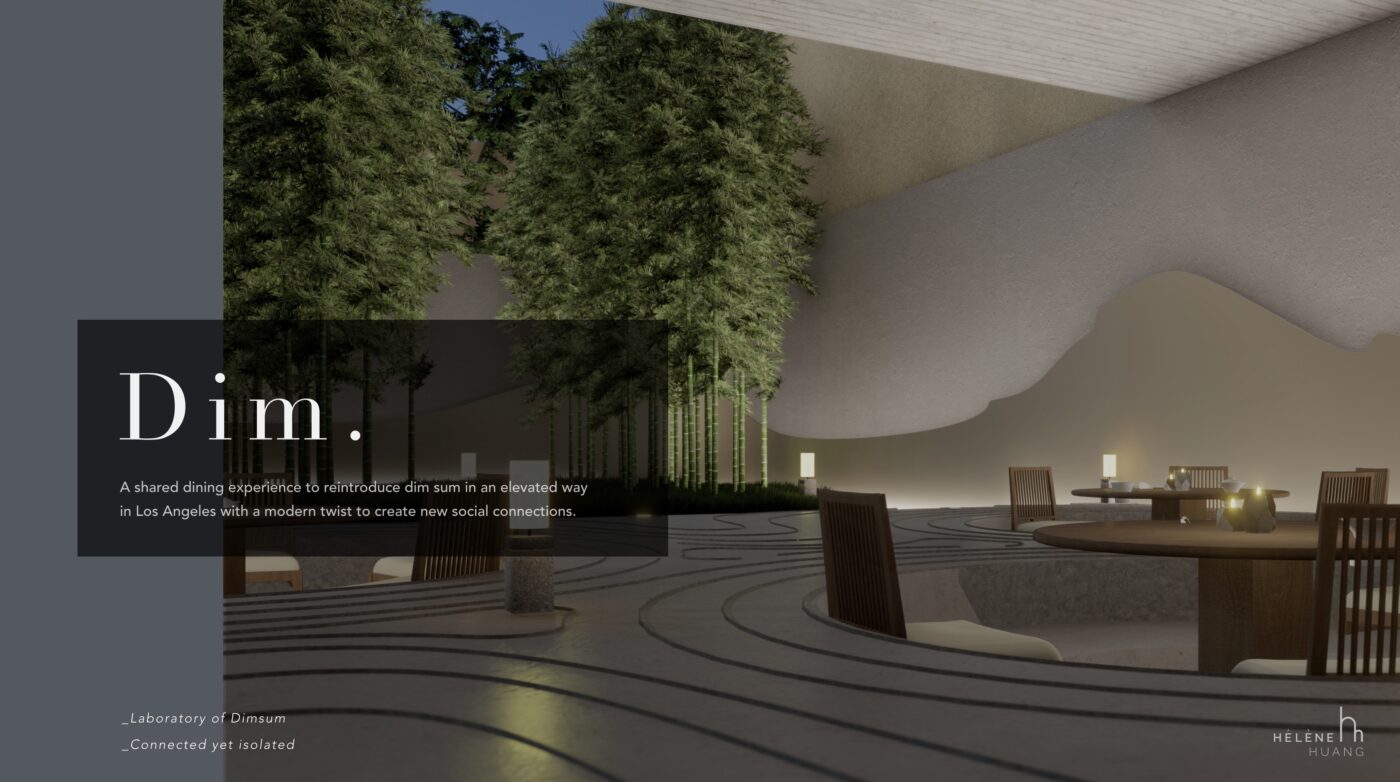 What do you see as the strengths of your winning project and what does this award mean to you personally?
I think my strengths would be creating an innovative immersive sitting experience and renovating a cultural dining experience in a poetic way. When foodies sit down at the sunken booths, they are surrounded by copper inlay patterns of the floor, as if surrounded by clouds. Lowering their eye levels and using low floor lights and candles on the tables creates a new dining experience and brings intimacy to a group of customers.
This award means a lot to me because I have a dream of hospitality design. I use design as a tool to create honest connections to my audience and I have spent days and nights creating the innovated, elevated and poetic dim-sum experience with Dim. Boutique Restaurant. LIV Design Award gives me strong confidence to further chase my dream in hospitality design and create new experiences!
Dim. Boutique Restaurant for Dim-sum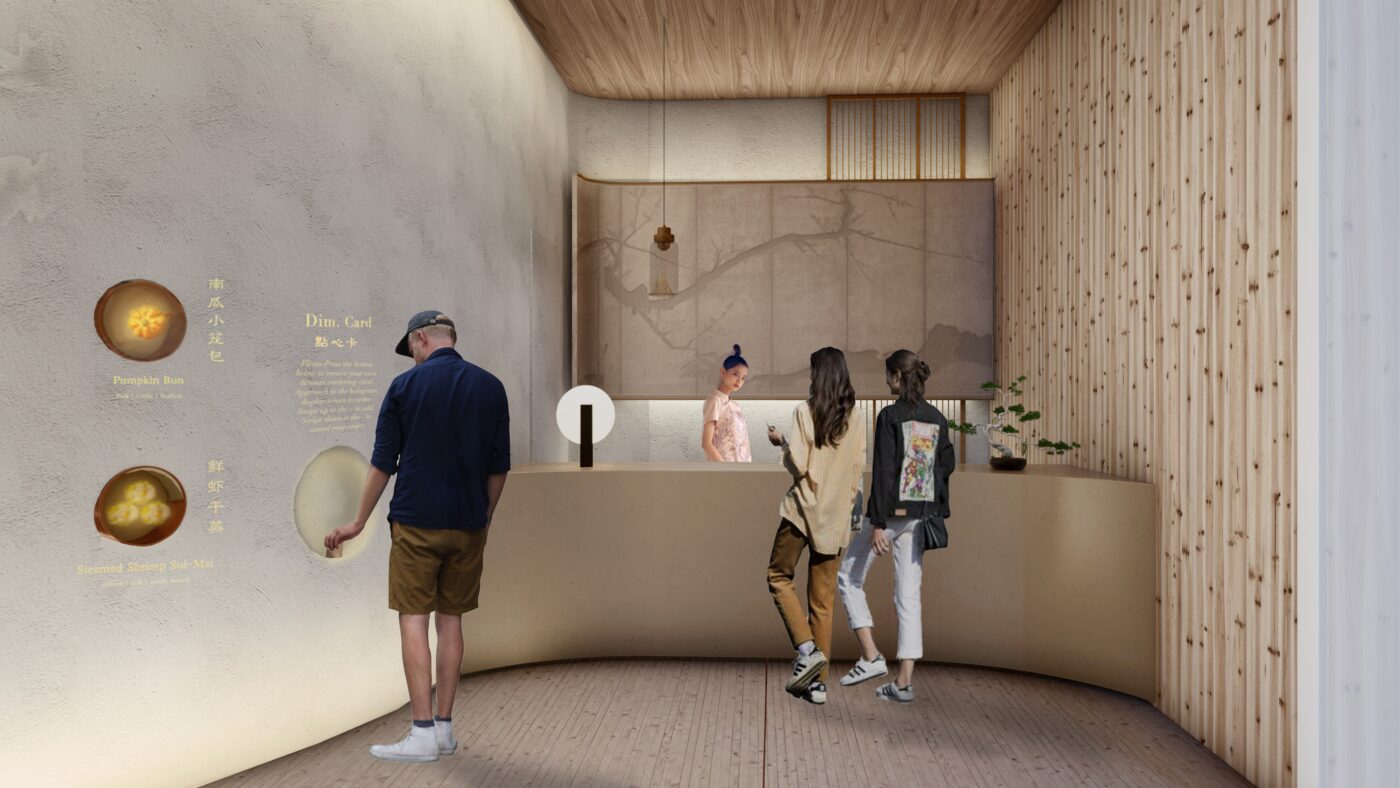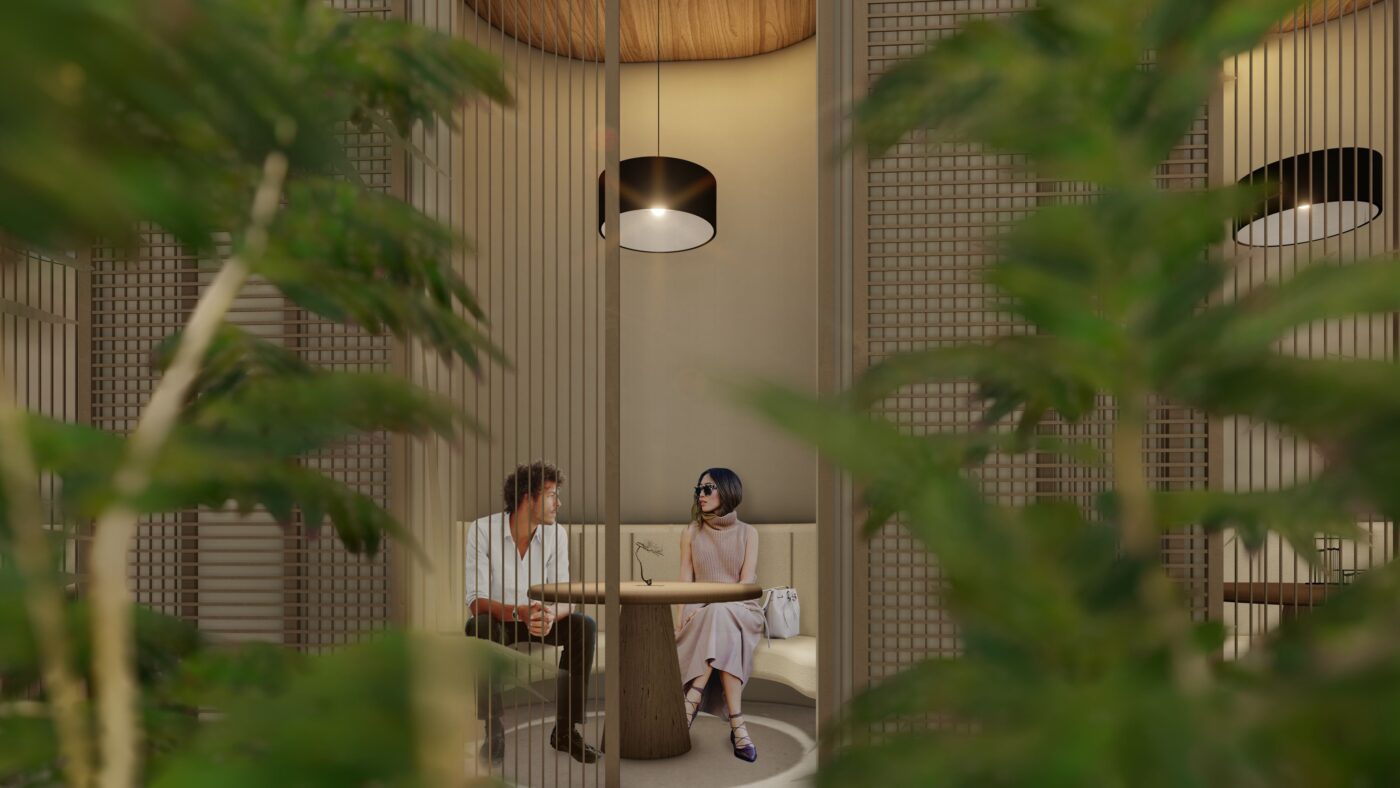 How do you think your own culture and environment have shaped your personal and professional creative vision?
I think my own culture, Cantonese culture is the ultimate reason to inspire me to create a boutique restaurant for dim-dum. Waiting for a dim-sum cart with hundreds of bamboo steamers to come to the table is one of my best childhood memory!
The pragmatic and down-to-earth quality of Cantonese culture has deeply inspired me to be an honest and non-pretentious designer. Growing up with two mother languages, both Cantonese and Mandarin shaped my interest in languages and inspired me to study new languages like English, French, and Japanese. Also, overcoming all the cultural and language barriers taught me the power of empathy — it will always be my lens to approach a new challenge and my ultimate design goal.