Soon to graduate in June 2022 from the Ecole Nationale Supérieure d'Architecture de Grenoble, France
Architecture is a second life for Jodel Bismarc Mekemta. Currently working on his graduation project on "how to create links and encounters between people living in a hyper-rural town that is known for its tradition of welcoming refugees.", we seat with Jodel to discuss his awarded design "YOYO Ecoresort". 
Could you tell us a little about yourself? Where are you from?
I am originally from Cameroon and graduated in architecture from a regional school called Ecole Africaine des Métiers de l'Architecture et de l'Urbanisme (EAMAU) based in Lomé (Togo). After that, I came to France to enrich my knowledge in the field of design, which deals with the question of the habitability of places in this period of transition.
I am passionate about concepts related to nature and, more precisely, bio-inspiration. This love for nature has allowed me to be the winner of several international competitions on skyscrapers, refugee shelters, sea-level projects, health care projects, and many others, all published in many international magazines. I have also collaborated with different architects on many projects. Thus, I can easily combine professional work and studies.
How did you discover your passion for architecture and decide to study at the Ecole Nationale Supérieure d'Architecture de Grenoble in France?
Architecture is a field that I must have been involved with unknowingly in my childhood. Indeed, my dear father is a handyman who introduced me to most of the construction work in our house. Over time, I developed a penchant for art and creative thinking. Then, my arrival at EAMAU in Togo marked the beginning of the affirmation of my passion for architecture. Its multicultural environment allowed me to develop my knowledge of architecture. After EAMAU, I went to the Ecole Nationale Supérieure d'Architecture de Grenoble to continue to mature this passion and consolidate it.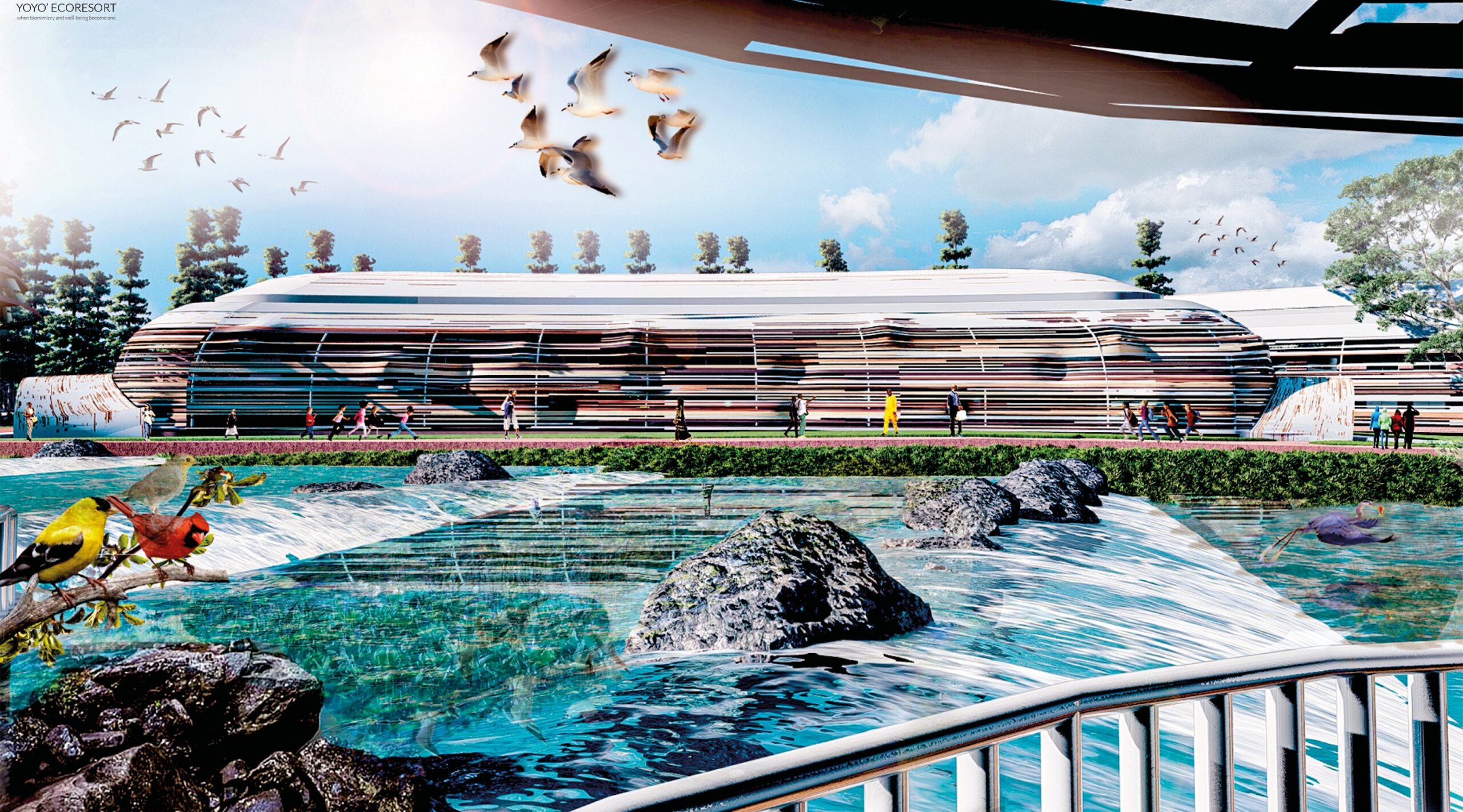 What was your design process when working on "YOYO' ECORESORT"? What did you want to achieve?
My golden rule of design is to connect deeply with nature and the local context. So, as the design was intended to be fluid and symbolic, I was inspired by marine biomimicry to have a harmonious, ordered, and zoned design. Then I defined the zones to be preserved, and to be enhanced; I defined the types of circulation and the walking paths. Note that the design of the buildings was inspired by the local oysters which give a form of movement to the project.
The objective was to have a design that blends into its natural context and pays homage to the fishing people of the village of Yoyo. The creation of waterfalls at the center of the project is intended to call forth biodiversity and engage the senses of visitors. The use of natural and local materials, good wind orientation and clean forms make the design more economical and sustainable.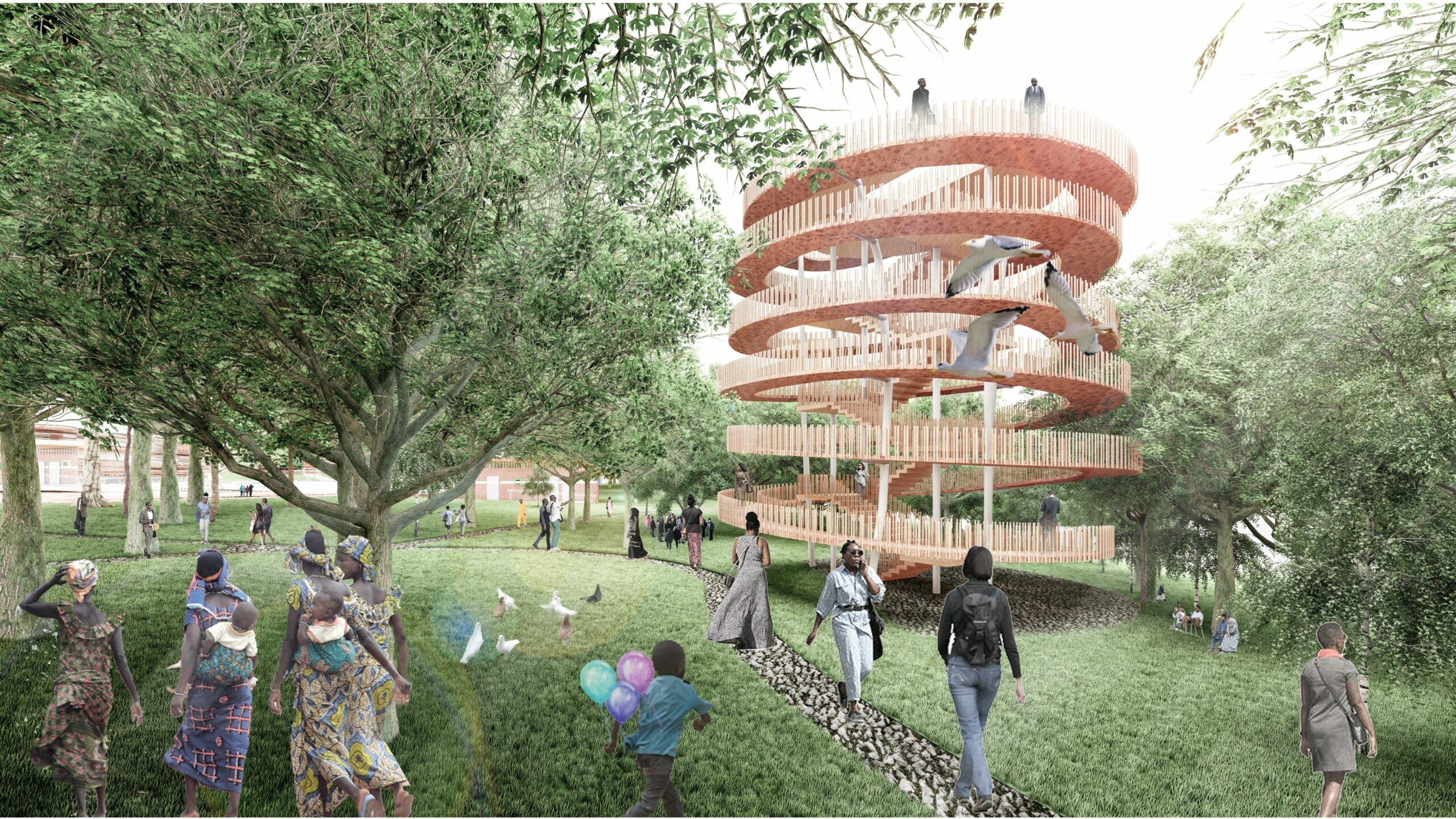 Can you please share with us, what becoming the winner of the "Emerging Architect of the Year" prize means to you?
Being the Emerging Architect of the year is a great honor for me. It is a way to signify that our work contributes to the community, inspires new users, and usable architectural concepts. It is also a satisfaction for me to see that projects that are deeply associated with nature have a word to share in the architectural ideation process. And , above all, it is an opportunity to be recognized and encouraged to work more towards building our society. Because for me architecture is a second life.
What are you working on now? When will you finish your studies?
I am in my last year of study. I am preparing for my master's degree in Design, Resilience, and Living. My work is about how to create links and encounters between people living in a hyper-rural town that is known for its tradition of welcoming refugees. My idea is to use the marketplace as a means of creating a link and sharing for this hybrid population. I will finish my studies in June 2022 and get my master's degree in design.
What can we wish for in the future?
I would like to keep the same love for architectural practice and innovative design, as I am convinced that good architecture is the right detail for our society. I would like to collaborate with starchitects and then become an experimental designer architect able to realize projects that educate and bring people together. Thus, I will be able to contribute to redesigning the urban landscape in my country, Africa, and the world.