Header: Yuki Ikeguchi, Jagoda K., Yasemin S. from Kengo Kuma and Associates, Truffer AG team.
In the heart of Vals, Switzerland, Truffer AG, a pioneer in the stone industry since 1983, celebrates their recent accolade—the Architectural Design of the Year Award at the BLT Built Design Awards for Haus Balma. Employing over fifty individuals year-round, the Truffer legacy, founded by Pia and Pius Truffer, integrates tradition with visionary design.
Situated near Zervreila, their quarry, "Jossagada," produces Vals quartzite, transformed into an array of end products. The family's philosophy, rooted in a passion for architecture and design, has led to steady growth and global recognition as leaders in the natural stone industry. This commitment to innovation is exemplified in their latest building, a collaborative venture with renowned architecture firm Kengo Kuma & Associates.
In an exclusive interview, we explore the story behind Haus Balma's triumph, the challenges faced, and the profound impact of their architectural passion on the global stage.
---
Can you tell us a bit about your company background? How did Truffer AG envision a building that harmoniously marries modernity and tradition?
Our company philosophy is characterized by a keen interest in architecture and design, a commitment to developing new processes and products, and a general openness to new and unknown possibilities. This mindset may have unconsciously led us to the right architect for our new business and residential building. In Kengo Kuma, we have found a master who allows materials to speak. He utilizes our stone in Haus Balma in an entirely innovative manner. Nevertheless, the building harmoniously blends with its surroundings, despite its distinctive shape and unique facade.
What was the inspiration and initial vision for Haus Balma? How did it evolve during your collaboration with Kengo Kuma & Associates?
Since the construction of the Thermal Spa by Peter Zumthor in 1996, the mountain village of Vals has become synonymous with excellent architecture. In addition to the Felsen Therme, other architecturally outstanding buildings have emerged, such as the 'Dorfbrücke' by engineers Conzett, Bronzini & Gartmann or the Hotel Alpina by architect Gion A. Caminada. With our construction, we aimed to continue this legacy. We wanted a house that showcases the stone in its most beautiful form.
Why choose Kengo Kuma & Associates as the main architect? Are there any memorable moments or insights you want to share?
The choice of the architect happened rather coincidentally: Pia and Sokrates Truffer visited a stone fair in Beijing, China, in 2011 and stayed at the Opposite House, a hotel designed by Kengo Kuma. Both were enthralled by the architecture and fascinated by the use of natural materials. Shortly after their return from Beijing, we reached out to Kengo Kuma and fortunately, we received positive news from Japan.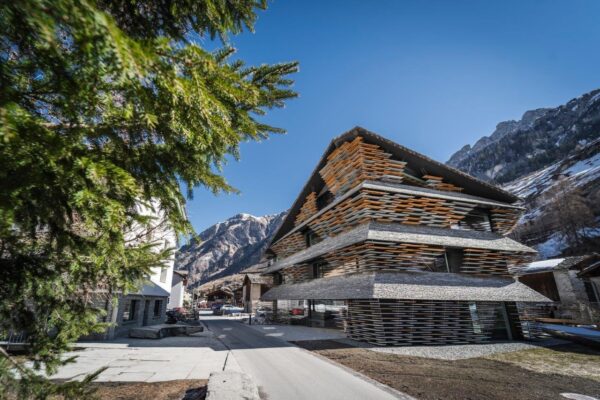 Haus Balma's design is all about harmony with nature. Was this a central detail for you? Do you feel like the final design has exceeded your expectations?
As the client, we wanted to grant the architect as much freedom as possible. We knew that Kengo Kuma & Associates would take the nature and the surroundings of Vals into account. One of KKAA's principles is to create harmony between architecture, nature, and the surroundings. That's why, at the beginning of a project, KKAA thoroughly engages with the local conditions and the unique history and traditions of a place. To arrive at architectural design and form, they looked for an element that connects all of these aspects, and then strive to balance them correctly.
Stone is a pivotal connector between wood, metal, and glass. What is the significance behind this choice of materials, especially stone?
As previously mentioned, we provided minimal specifications. However, there was one essential requirement for us: Vals Stone had to have a prominent place in our new headquarters. The architect was granted creative freedom to determine how to integrate it. We are captivated and absolutely delighted with how our stone has been integrated into the building. Our expectations have been exceeded.
Which challenges did your company face during the construction phase, especially given some of the unique design elements of the project such as the floating stones?
The construction of the building presented significant challenges to the executing companies. As the stone producer, we were also challenged with translating KKAA's drawings and renderings into reality. The delicate curtain wall façade, comprising approximately 900 stone panels and 500 wood panels, posed substantial challenges, and multiple mock-ups were required before achieving the concept of 'floating stones.' The initial samples were not very promising: the holders and fasteners for attaching the panels were too bulky, and the steel cables were too thick. Efforts to achieve a sense of lightness and translucency were in vain. However, working together, we successfully addressed the structural challenges, employed the attachment elements as discreetly as possible, and achieved the effect of the stones appearing to float.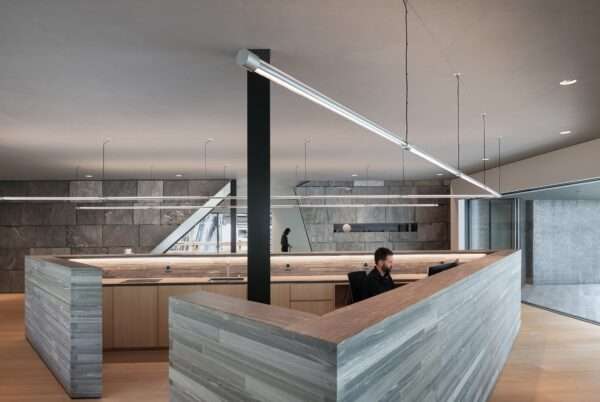 How was the collaborative process with Kengo Kuma & Associates? Are there any memorable moments or insights you gained?
Our collaboration with Kengo Kuma & Associates extended over a 10-year period, primarily due to the lengthy planning and construction phases. Throughout this entire duration, the collaboration was exceptionally pleasant. We can imagine that KKAA greatly appreciated the 'artistic freedom' granted to them in this project. In return, we made every effort to accommodate their design preferences whenever feasible (provided that the building material, natural stone, allowed for it). We genuinely valued and admired KKAA's unwavering commitment from the project's inception to its completion. Kuma's office scrutinized nearly every design detail. A meeting with Yuki Ikeguchi and the local project engineer is unforgettable to us, as there was an intense debate about the number and dimensions of supports required in construction. Ms. Ikeguchi's persistence and perseverance continue to stand out in our memory.
Notably, Spreiter AG played a crucial role in the success of this project. Serving as the execution planner and on-site manager, they often acted as the link between the client and the architect.
Can you please share with us what winning the Architectural Design of the Year at the BLT Built Design Awards 2023 prize means to you? What's next for Truffer AG?
We feel truly honored to have received this award, and we will proudly display the trophy at Haus Balma. Our house is meant to be a place of encounters, a house that is open to all. It's a place where customers, tourists, culture enthusiasts, residents, and many more come together under one roof.
Photo Credits: Naaro, Sebastian Stumpf, Paul Clemens, Daniela Derungs