Header: Mario Schmolka
Karim Rashid is a renowned designer whose work is adored globally and featured in over 20 permanent collections in galleries worldwide. His design projects address various scales and sectors, from industrial design to branding.
Born in Cairo and raised in Canada, after graduating from Carleton University in Ottawa, in 1984 Karim collaborated with KAN Industrial Designers in Canada for seven years, creating a wide range of products from x-ray equipment to everyday objects. Between 1985 and 1991, he co-founded and designed the Babel Fashion Collection and North​2​. Later, while working for Ettore Sottsass, Rashid became dedicated to infusing his pieces with a welcoming "human" quality, finding the majority of industrial designs to be too imposing.
Karim Rashid's work as a designer is out of this world, with over 3,000 designs to his name: luxury goods for Christofle, Alessi, Veuve Clicquot, and Riva 1920; democratic products for Umbra, Paul Mitchell, and 3M; timeless furniture for Bonaldo, Tonelli, BoConcept, and Vondom; exquisite lighting for Artemide and Fontana Arte; high-tech products for Asus and SirinLabs; surface design for Marburg and Abet Laminati; iconic branding for Hugo Boss and Citibank; and award-winning packaging for Method, Paris Baguette, Kenzo, and Eos.
As his versatile persona and portfolio have had such a profound impact on the design sphere, we are proud to share the exclusive interview where we talked about Karim's beginnings, winning the SIT Furniture Design Awards, and the impact of sustainable practices on his design philosophy.
---
Was there a specific moment or experience that sparked your interest in industrial design, and what made you decide to pursue it as a career?
I realized my life's mission at the age of 5 in London. I went sketching with my father drawing churches on Sundays. He taught me to see – he taught me perspective at that age – he taught me that I could design anything and touch all aspects of our physical landscape. I remember drawing a cathedral facade and deciding I did not like the shape of the Gothic windows (the pointed tops seemed dangerous) so I redesigned them. I drew them as ovals. I also remember winning a drawing competition for children on the Queen Elizabeth when we sailed from London to Montreal in 1966 – I drew luggage since I was really perplexed at how we packed up our entire belongings into some suitcases to go to the new world.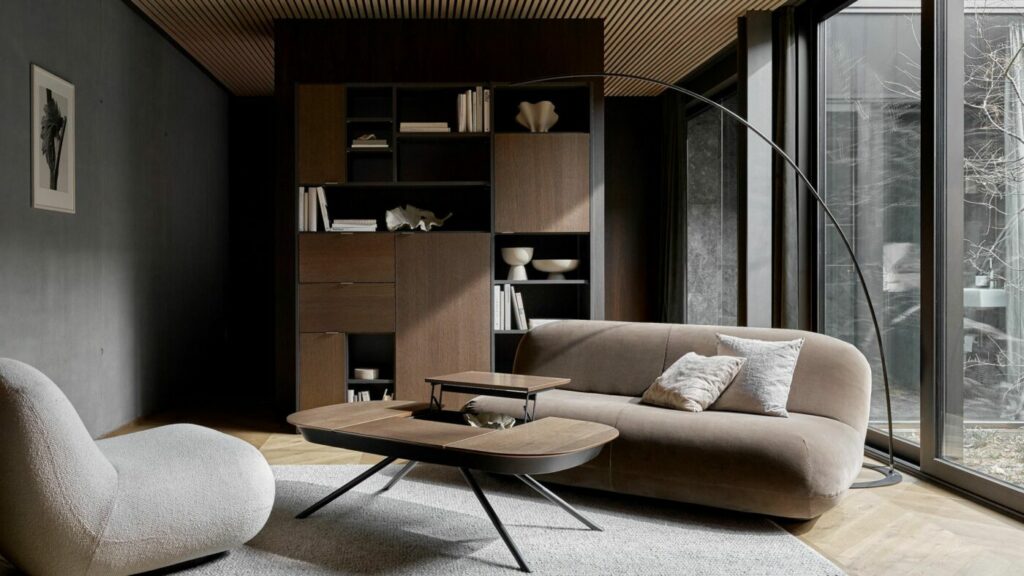 You received your Bachelor of Industrial Design from Carleton University in Ottawa, Canada, and pursued graduate design studies in Naples, Italy. How did your education shape your design philosophy?
I was confused as a teenager about what profession I would go into. I had accelerated high school, so I was 16 when I applied to university and was torn between architecture, fine art, and fashion. I originally applied to study architecture at Carleton in August so I was much too late and the program was full. They told me they could accept me in the 'architectural stream' of Industrial Design. So, I went to Carleton University expecting to study architecture, but fate had it, that the second I took some industrial design courses, I knew that it was what I wanted to do.
I assumed that one had to be an architect to design a chair, a coffee machine or a product. I loved the Italian product design landscape and all those products that I admired for years that were in our house were designed by architects. In fact, Italy did not have an industrial design school until 1984. The Carleton program was only in its second year so in turn, and not enough faculty or courses in industrial design, so the greatest experience I had was to study engineering, architecture, philosophy, and languages, and have such a broad diversity of courses. I have concluded teaching for so many years that a designer needs a broader experience, and in fact, I believe that design should really be only taught in graduate school.
After college, I went to a one-year graduate program in industrial design in Italy studying with Gaetano Pesce and Ettore Sottsass. Sottsass taught me that there are many beautiful design objects, but that you have to ask what they do for us. In the sense of human, inspiring objects, Memphis was a revelation and a turning point in design. There are many imposing design objects that need to stand by themselves to impress. I always ask myself, what is left, if you take the design away? If it's style, it is a thing of the past. I define design as embracing contemporary criteria to shape the future, not being derivative of the past
As someone who has lived and worked in cities around the world, including New York City, Belgrade, and Miami, how has your global perspective influenced your approach to design, and how do you think exposure to different cultures and environments can benefit designers?
I love to meet new people, engage in new cultures as I travel across the globe, try new foods, etc. I travel and get inspired by the unfamiliar, so even the lost local places of industrial parks, airport hotels, alleyways in big cities, taxis in London, a gym in Hong Kong, a bathroom in Paris, a prop plane in Sweden, a cinema in Milan, a Renault in Sweden, food in Qatar, shanty towns in South Africa, anything that is new to my senses, unusual, odd, inspires me. Beauty is in everything if we want to see it.
Globalization has opened up the diversity of the individual. As our world shrinks we become more aware of the world around us, we communicate globally, we mix and in turn, we will eventually have one global culture made up of objective minds that are not repressed by race, religion, or creed. This globalism and new social behaviours will shape the architecture and design of the future. I'd like to think we will break through the dated archetypes and have a new pluralism that will look like nothing we've seen before.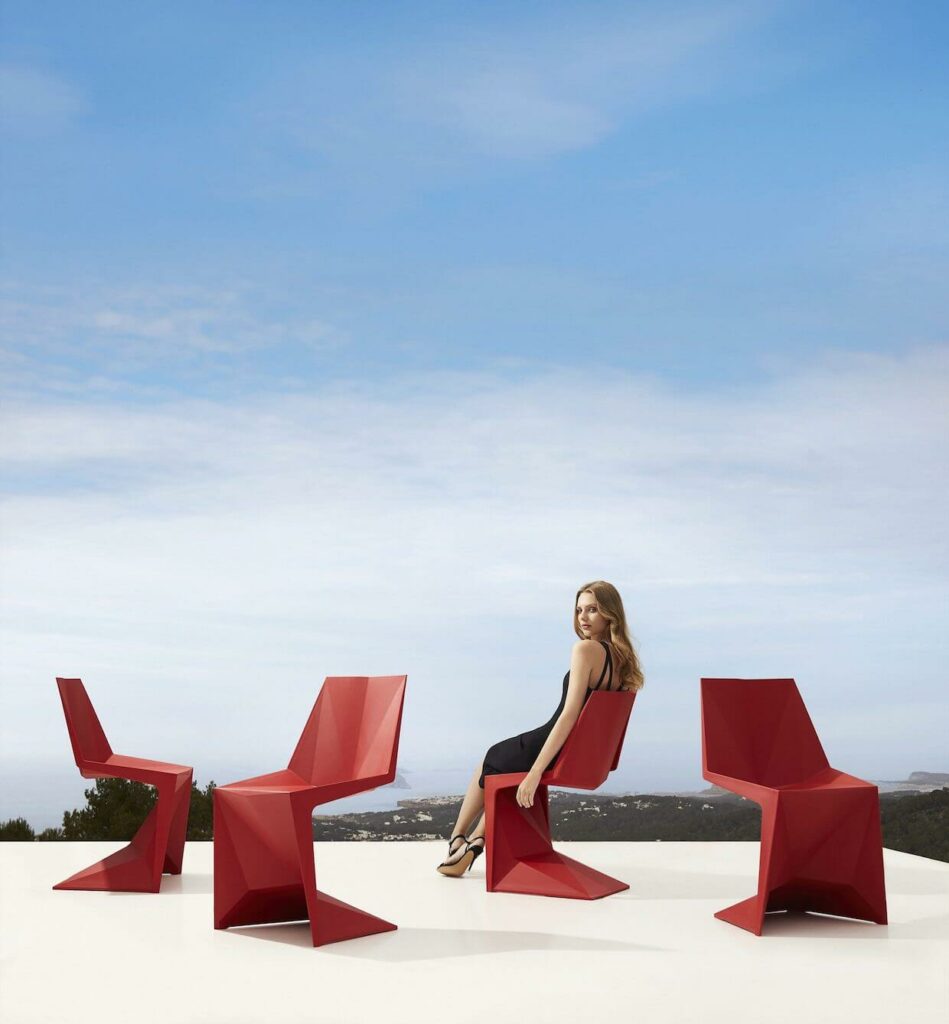 The Voxel Chair, which won the SIT Award in 2020, features a unique structural shape made possible through injection moulding. Can you discuss the challenges and opportunities that this production method presents for designers?
The new Voxel chair presents a unique structural shape, angular and faceted, made possible by injection moulding production. It is the next evolution of my decades-long experiments with faceted forms. The beauty of facets creates an extremely strong, yet lightweight structure that stacks and maneuvers easily. The faceted sides break up the planes and give texture to the surfaces.
In your recent Ego Collection, which won a SIT Award in 2023, you incorporated facial motifs 'into a variety of pieces, including a cabinet and a screen. What inspired this concept, and how did you develop the idea?
The Ego collection is a luxurious collection of chairs, a cabinet, and a screen/room divider in polished brass and resin to speak about human visage. The collection is an iteration of a motif I have been working on since I studied under Gaetano Pesce near Naples in 1984. Gaetano gave us an unusual assignment to design a drinking glass fashioned after a head or a person's face. I decided to spin my head 360 degrees. Since then, I have iterated my profile into glasses, vases, sculptures, and now a new collection with Scarlet Splendor.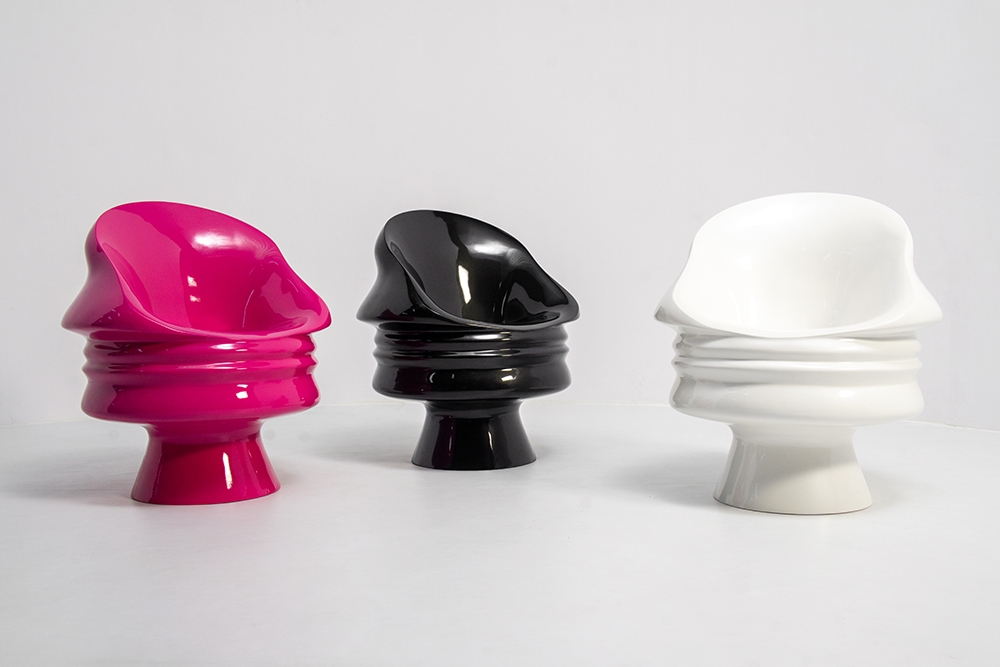 You've won multiple SIT Furniture Design Awards in different categories over the years. What does it mean to you to be recognized in this way, and how does this impact your work as a designer?
After 30 years in the business and winning over 400 awards in my career, I am always extremely honoured to win an award. It is one marker of success, but I feel the real accolade is seeing my objects in average people's homes or seeing a space realized, enjoyed, and experienced by people. But we need awards like the SIT Awards to highlight excellence and innovation!
How important is sustainability to your design practice? Are there particular strategies or materials that you use to create more eco-friendly products?
Recycling is in a really cyclic paradigm now in the United States and many other countries. Conserving resources means using less raw materials and energy throughout a product's entire life — from its development and manufacture to its use, reuse, recycling, and disposal. I am interested in biodegradable materials. I am trying to use bioplastics; the Garbo can is made of corn and the Snap chair by Feek is made of 100% recycled polystyrene and is 97% air. A while ago I designed packaging for a fast-food restaurant using starch and potatoes that are injection molded and have the exact appearance of plastic. These innovations are finally becoming part of the consumer zeitgeist.
Your work spans a wide range of product categories, from furniture to fashion to electronics. Is there a particular category that you enjoy working in the most, or do you find inspiration in all of them?
I always saw myself as a pluralist, even when I was a student. I do not like the idea of specialization and admire creative people who touched many different aspects of visual culture. I like the whole idea of the Warholian factory, where you could move around in all the disciplines of the applied major arts. So I promised myself that if I ever had my own practice I would keep it broad and touch all aspects of our physical landscape, including interiors and buildings, as well as lecture about the world at large. I have about 40 projects going at a time and each project perpetually inspires the next. It is my diversity that affords me the ability to cross-pollinate ideas, materials, behaviours, aesthetics and language from one typology to the other.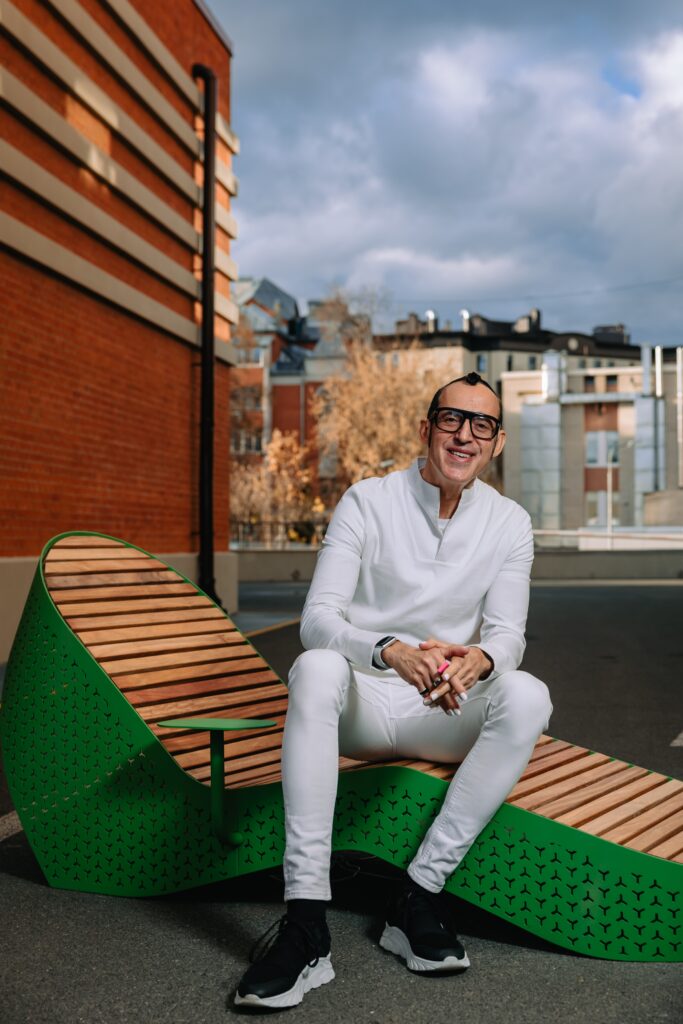 What advice would you give to young designers who are just starting out in the industry?
For young designers, I always give the advice: Be smart, be patient, learn to learn, learn to be really practical but imbue poetics, aesthetics, and new paradigms of our changing product landscape. You must find new languages, new semantics, new aesthetics, and experiment with new material, and behavioural approaches. Also, always remember obvious HUMAN issues in the product like emotion, ease of use, technological advances, product methods, humour, and meaning and a positive energetic and proud spirit in the product.
What do you see as the biggest challenges facing the design world today, and how do you see designers addressing these challenges in the coming years?
A very big challenge of design is to create something that, although accessible to all consumers, touches people's lives, gives them some sense of elevated experience and pleasure, and is original. But for me, the biggest challenge is getting the world (consumers, clients, manufacturers, retailers) to accept the time in which we live! Human nature tends to look at the past and feel more comfortable with the past and what is familiar.
My real desire is to see people live in the modus of our time, participate in the contemporary world, and release themselves from nostalgia, antiquated traditions, old rituals, and kitsch meaningless paradigms. New culture demands new forms, concepts, materials, and styles. As we shift into the post-industrial age products are becoming more personalized as varied expressions of specific cultures, corporate identities, and tribes. Currently, industrial design has a responsibility to redefine these objects in society as a celebration of value and meaning, not as a celebration of surface.