Rik Olthuis is a designer from New Zealand who has turned some heads due to his environmentally conscious approach to footwear design. A graduate of Massey University, Olthuis has a deep desire to bridge the gap between style, function, and ecological responsibility.
The Voronoi Runners, his award-winning creation, are 100% biodegradable sneakers that merge style with eco-friendliness as they are made entirely from biodegradable materials – all by using 3D printing tech!
In this exclusive interview with Olthuis, we delve into the inspirations, challenges, and aspirations that fueled the creation of these groundbreaking sneakers, and explore his vision for a future where ecological consciousness is a must when talking about fashion.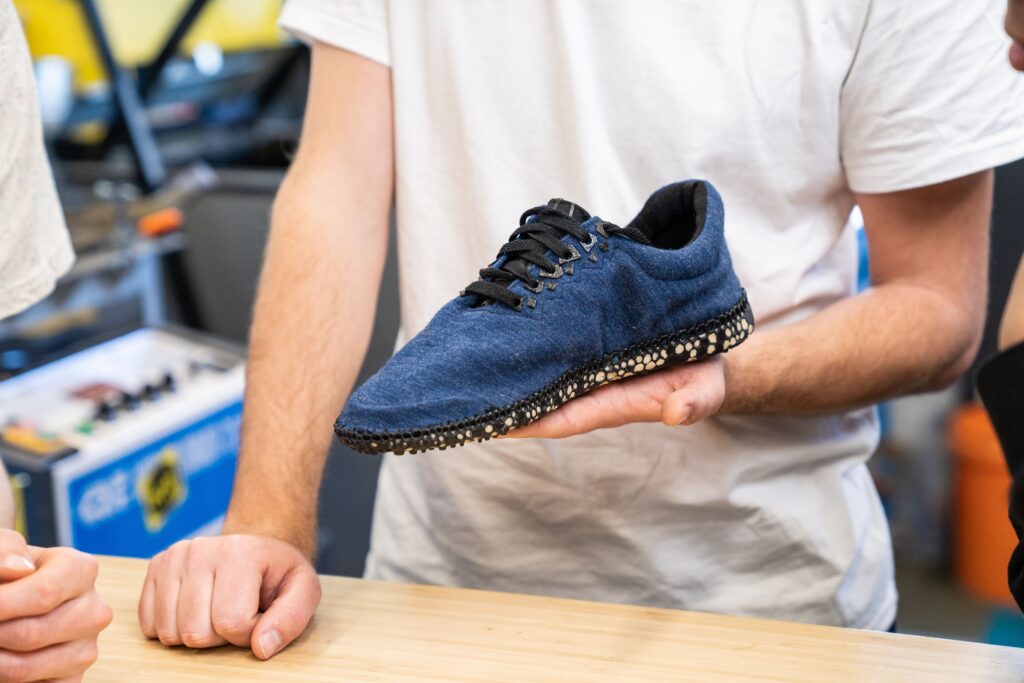 ---
Could you tell us a bit about yourself and your journey? How did you start designing sports apparel?
My name is Rik Olthuis, I'm an Industrial Designer raised in a small town in New Zealand. It's an amazing place to grow up outdoors with beautiful beaches and walking trails. Having spent so much of my childhood outdoors, this naturally developed into partaking in a wide range of sports including, trail running, cycling, football, ultimate frisbee, and adventure racing.
Industrial design gave me the perfect opportunity to combine my love for sports and the outdoors with my talent for design and creativity. I have delved into a wide range of product design but I am continuously drawn back to designs for outdoor activities. Ultimately this has led to steering my career into the footwear design space where I continue to explore performance, podiatry and sustainability ideas.
Can you walk us through the process of creating the Voronoi Runners, from concept to final product?
It began with identifying the issue. Through researching areas to improve within the footwear industry, I was continuously diverted back to the large issue of waste. I wanted to target the core of the issue and focus on proactive waste management as opposed to reactive. To do this I wanted to look at the materials and manufacturing methods used and offer an alternative design and construction.
I began making materials in my kitchen with guidance from the DIY biodegradable materials community to get a range of options. I explored the varying strength, compression, flexibility, and textures that could go into the design of a sneaker. With some experiments showing promise, I began working on a design that could accommodate these materials and allow simple yet strong joining methods that could also be taken apart at the end of the product's life.
Moving through the process, I created 3D models to help provide more detail that can be missed in imagery alone. I explored how algorithmic patterns such as the Voronoi pattern can encapsulate and add strength to the foam component. A lecturer of mine used to say a picture is worth a thousand words, and a model is worth a thousand pictures. These models were then used in visualization to access the different lattice patterns, as well as colours and finishes.
With the final design reached, I went through a few model iterations before arriving at the functioning prototype. With a set of plans, research, and testing behind me, I was able to craft and machine the final work that best represents the development process – this involved the final 3D prints, soft fabrics and biomaterials, and bringing them together for a strong proposed solution to the problem.
What inspired the vision for the design of the Voronoi Runners, and how did the idea of using the Voronoi pattern come about?
The most poignant principle I followed is the growing design principle of using nature as a coworker in the design process. This meant I wanted to get a visible presence of natural patterns and structures in the design. When looking microscopically closely at natural structures, they are all based on cells. Through the way cells attach and build up together to fit any size and shape space, I knew this would be a great basis for the sole of the shoe. I saw a resemblance in the Voronoi pattern and decided to use this to frame the design, tying together the natural structure with hints of the more industrial manufactured materials.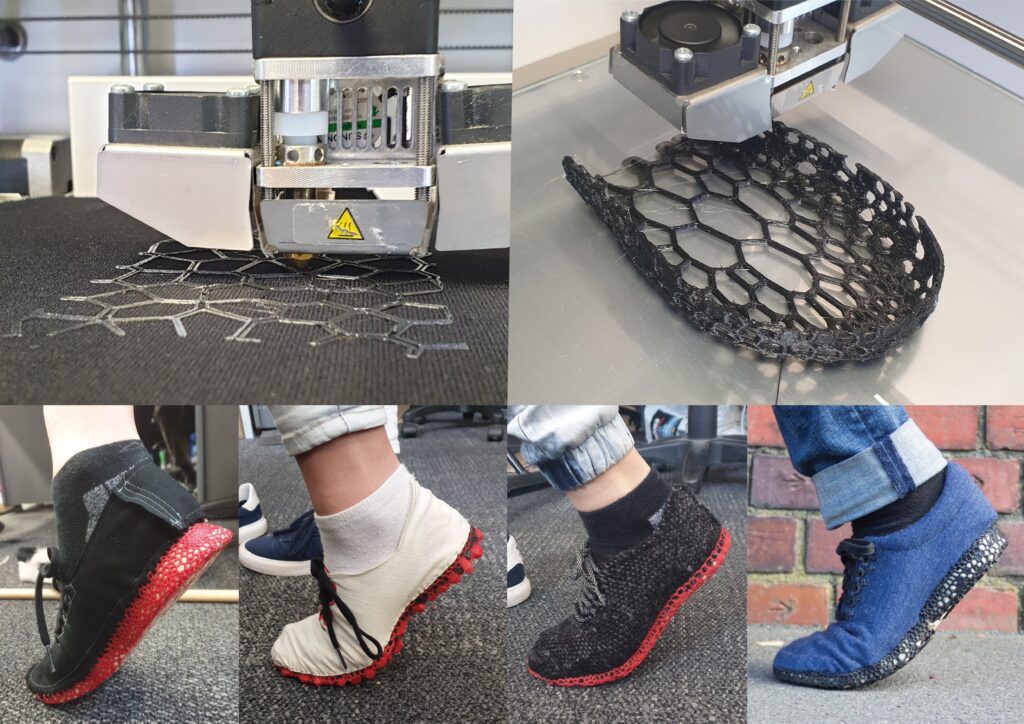 What motivates you to create designs with a focus on sustainability? You mentioned that the Voronoi " are fully compostable and break down within 1 year", did you try this? What were the results?
My motivation came from the facts. While researching, it's difficult not to find the startling effects of waste material from the footwear industry. I didn't feel like I had much of a choice but to try to work towards a solution to reducing these startling figures.
All the materials that went into the design are noted as being fully biodegradable so the only testing necessary was for my own creation of bio Foam. For this test, I did have samples submerged in soil for 4 weeks. The stage of decomposition after this short period of time showed great promise for having the material fully degraded before the 1-year mark.
How do you see the Voronoi Runners fitting into the larger conversation surrounding sustainable fashion?
The introduction of additive manufacturing within footwear provides amazing opportunities to create a new manufacturing method as well as new filaments for printing. The Voronoi runners are a mere example of how achievable this manufacturing method is while intertwined with sustainable considerations. I wanted to start more conversations around how these practices can be implemented at larger-scale manufacturers.
What did you find most challenging while working on the project and what did you enjoy the most?
The most important to me was ensuring that I had a high standard and was proud of the work I produced. I wanted to push and challenge myself when developing the project brief. I had been told developing a pair of shoes would be difficult and to make sure it's achievable by cutting back in areas that would be too difficult. This made me want to showcase my skills to have a resolved functional pair of shoes that will reflect my work and abilities. The biggest challenges came around learning completely new areas, as an industrial designer I had a lot to learn about soft fabrics and found these have a completely different form and movement.
What does winning the FIT Sport Design Award mean to you in terms of validation and recognition of your work in the sports apparel design industry?
To me, the FIT Awards provides great validation, not just as a designer but in footwear. Footwear is a huge market and it's difficult to know where you stand. The Global Footwear Awards have helped ground my work and see that this exploration is seen and valued.
What can we wish you for the future?
I hope to be able to continue my work in the footwear design industry and take my skills and ideas abroad.