The design world is abuzz with anticipation as the BLT Built Design Awards Gala, an esteemed event that celebrates exceptional architectural achievements, gears up to take place in the enchanting city of Luzern. As an official media partner of the Gala, D5 Magazine is proud to bring you this exclusive preview of the upcoming event, set to take place at the iconic KKL Luzern on Saturday, November 18, 2023.
Luzern, Switzerland, known for its rich architectural heritage and reputation as a vibrant hub of innovation and creativity, serves as the perfect location to honor groundbreaking design excellence. Nestled on the picturesque shores of Lake Luzern, the city offers a seamless blend of historical charm and contemporary vision, making it an inspiring backdrop for celebrating the achievements of visionary architects and designers.
The BLT Built Design Awards Gala is not just an event; it's a platform to recognize outstanding achievements, pioneering concepts, and unparalleled architectural talent. This prestigious occasion will see award-winning architects and designers take center stage, showcasing their remarkable projects in front of a distinguished audience of design professionals, thought leaders, and visionary creatives from around the world.
At the heart of this architectural celebration lies the iconic KKL Luzern, an architectural masterpiece designed by the visionary architect Jean Nouvel. This renowned venue symbolizes Luzern's unwavering commitment to architectural excellence and sets the stage for an unforgettable evening dedicated to celebrating design ingenuity.
Luzern's design culture thrives on principles of craftsmanship, innovation, and an unwavering appreciation for aesthetics. The city provides a nurturing environment for architects and designers to flourish, collaborate, and make significant contributions to the global architectural landscape. Additionally, Luzern is home to avant-garde galleries, design studios, and firms that consistently challenge conventional norms and pioneer new design concepts. This commitment to design excellence is evident in the city's public spaces, urban planning initiatives, and sustainable architecture projects.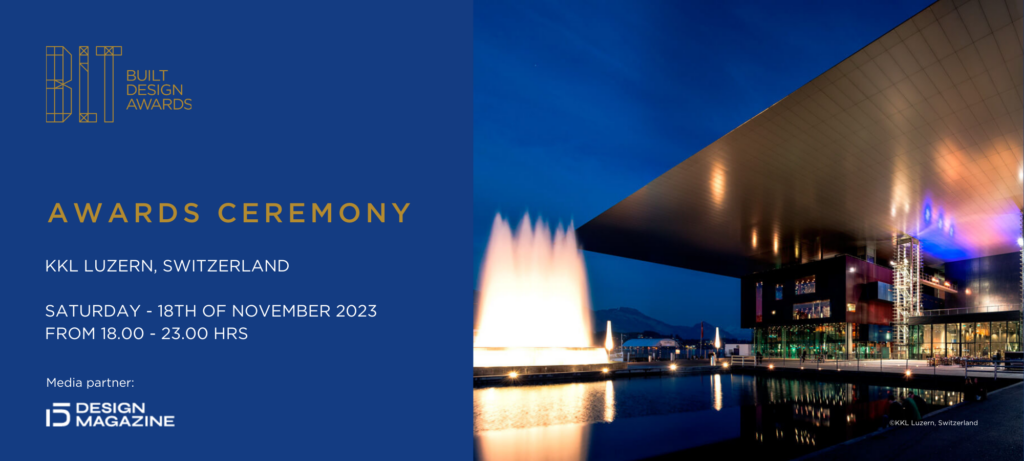 By hosting the BLT Built Design Awards Gala in Luzern, the event shines a spotlight on the city's integral role in shaping the design industry. The gathering of distinguished judges, influential figures, and visionary architects within the prestigious KKL Luzern further solidifies Luzern's status as a global design destination.
For architects and designers, the Gala presents a unique opportunity to gain recognition, exposure, and connect with industry leaders. Distinguished judges and influential figures from the design world will be in attendance, offering participants the chance to inspire and be inspired by the entire design community.
During the upcoming Awards ceremony, winners from previous years, such as Benthem Crouwel Architects, Foshan Topway Design, Monograph, Tubmarine/Kebony, Mariam Abbadi, and Lu Kuan-Ju, will be celebrated for their exceptional work. The eagerly awaited 2023 winners will also be revealed at the end of September 2023.
Prepare to be captivated, inspired, and connected with like-minded professionals who share a passion for pushing the boundaries of design and shaping the future of architecture. D5 Magazine, in partnership with the BLT Built Design Awards Gala, is dedicated to bringing you the latest updates and insights from this exceptional event that honors architectural brilliance. Stay tuned for more details and join us in celebrating the world's most innovative and visionary architects and designers at the iconic KKL Luzern.