For a new Georgian-style home in a quiet Toronto neighbourhood, known for its tree-lined streets, Diego Burdi of the Canadian design studio BURDIFILEK has crafted an interior of exceptional warmth and restraint. Designed for a client who is a textile designer by trade, it is a welcome respite from the bold colours and patterns that fill their day at the office. The family residence offers a harmonious interior enveloped in neutral tones and natural finishes.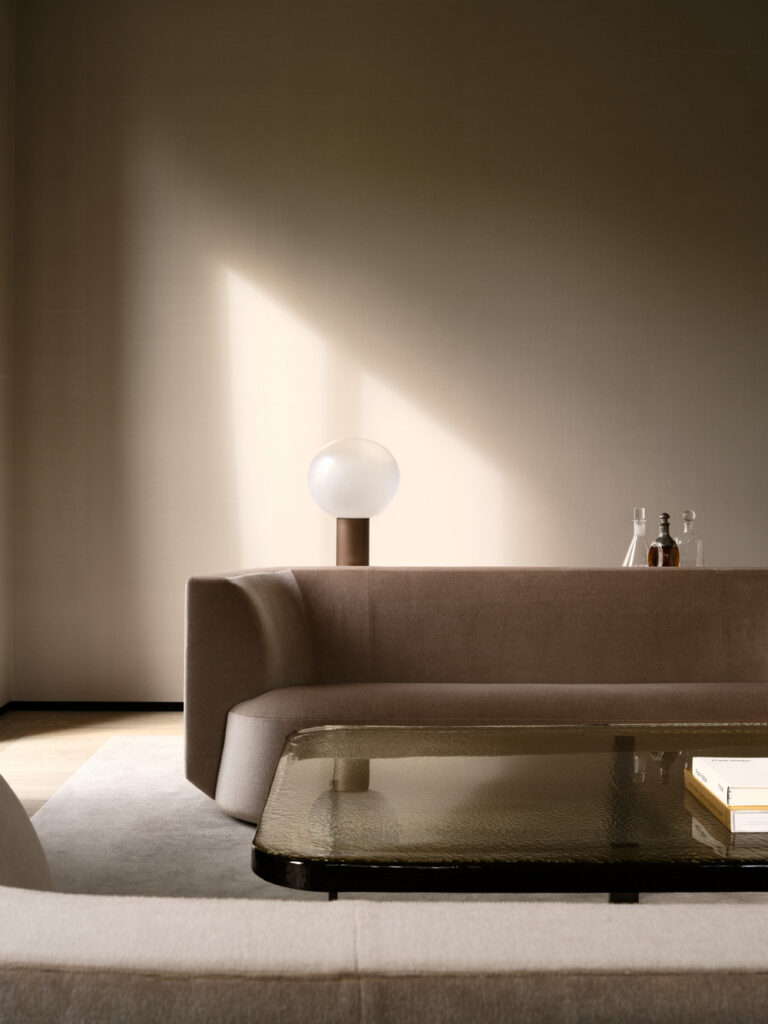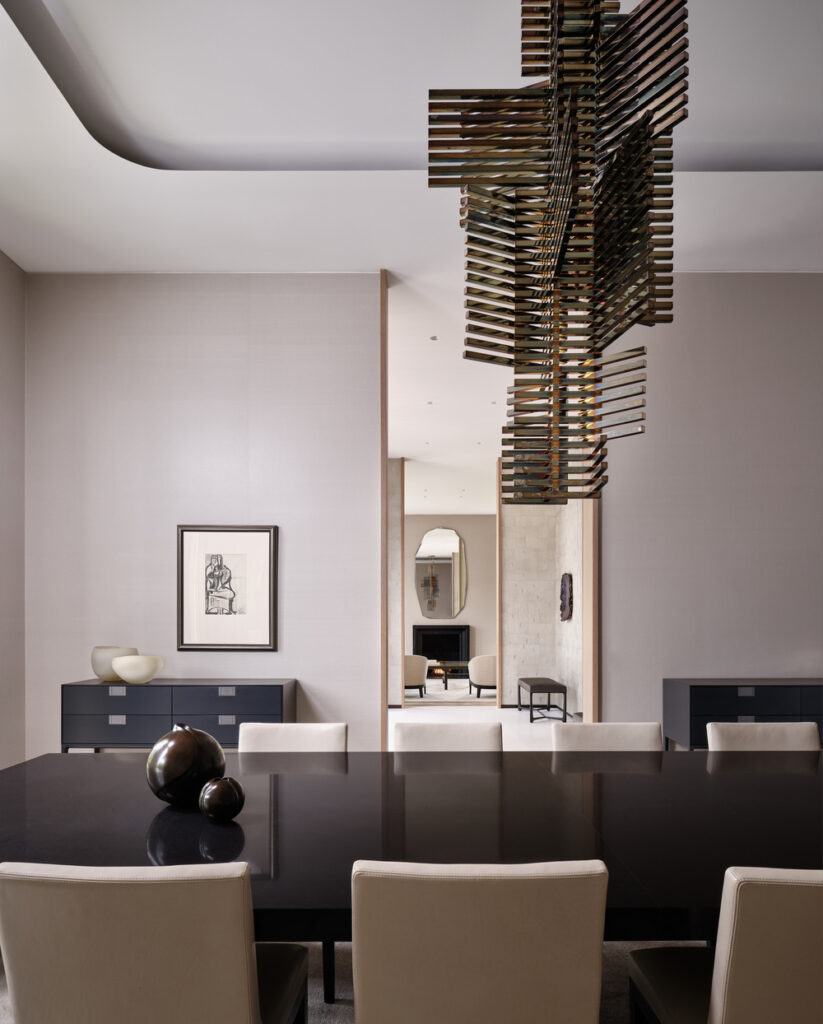 BURDIFILEK has been well-established in the global luxury retail market for over 30 years and has never stopped pushing boundaries or taking on new ventures outside its area of speciality. The firm is attracted to residential projects that are highly tuned to balance, proportion, and stringent architectural geometries. Years of experience and experimentation have enabled the studio to choose clients who are already attuned to the rigors of custom design, and who share a willingness to take risks.
The risk on this occasion was to allow Burdi to be as reductive as possible by removing such standard fixed elements as baseboards, mouldings, wall scones, and door handles. Various living spaces throughout the main level are divided, not by doors, but by ample thresholds that reach the ceiling twelve feet above. Clean, seemingly naked walls read more as stretched canvases designed to catch changes in light throughout the day and into the evening. Curtain rods have been tucked into wall pockets to keep the mechanical aspect of hanging sheers hidden from view.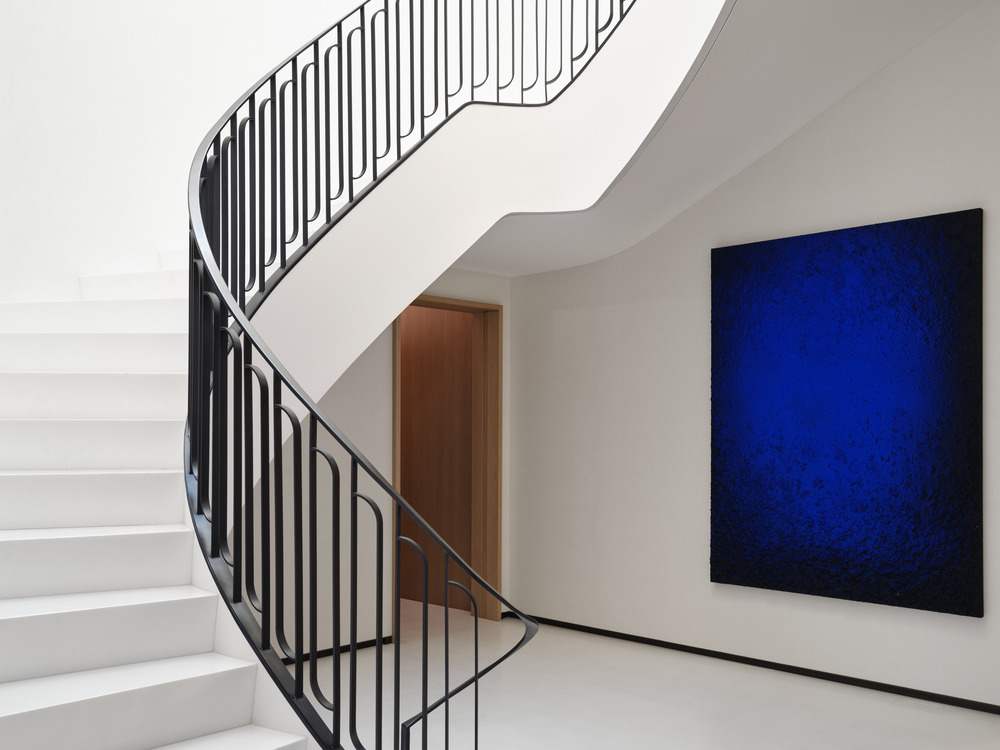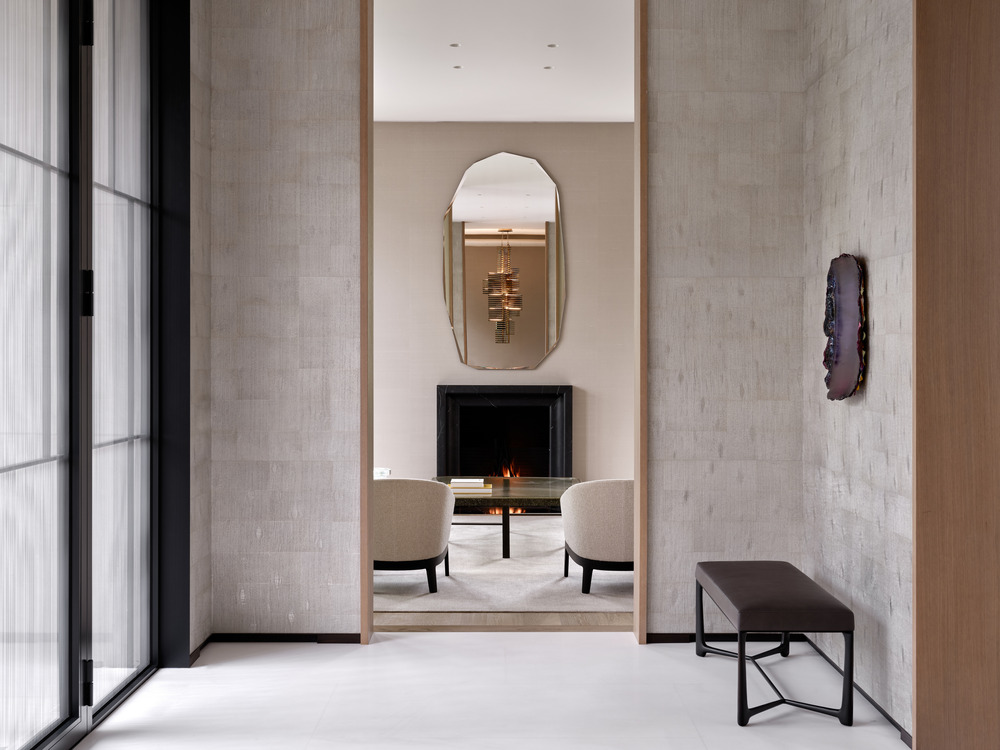 Burdi describes his pared-back approach as creating an "interior skin" for each room. When surface changes do occur, they are expressed in a new way. As just one example, for the wall footers, the two-inch gap at the base of the wall is treated as a piece of built-in furniture by cladding it in bronze for a tailored look.
The interior's overall palette combines crisp white marble and textured neutral wallcoverings. These tone-on-tone ensembles are paired with hard surfaces in leathered Canadian black granite and vast amounts of European white oak. Nine custom-milled oak cupboards, each reaching floor to ceiling, occupy one wall in the great room.
The largest and most used space in the home comprised the main kitchen, a dining table that seats eight, and a living area surrounding a blackened steel hearth. Integrated handles along the cabinetry's bevelled edges disguise the millwork as being operable, hiding from view a host of kitchen appliances, a pantry, and multiple generations of dishware sets. A hidden bar creates a notably theatrical moment when two full-height doors open to reveal its dark Macassar ebony finishes, bronze fixtures, and mohair velvet walls.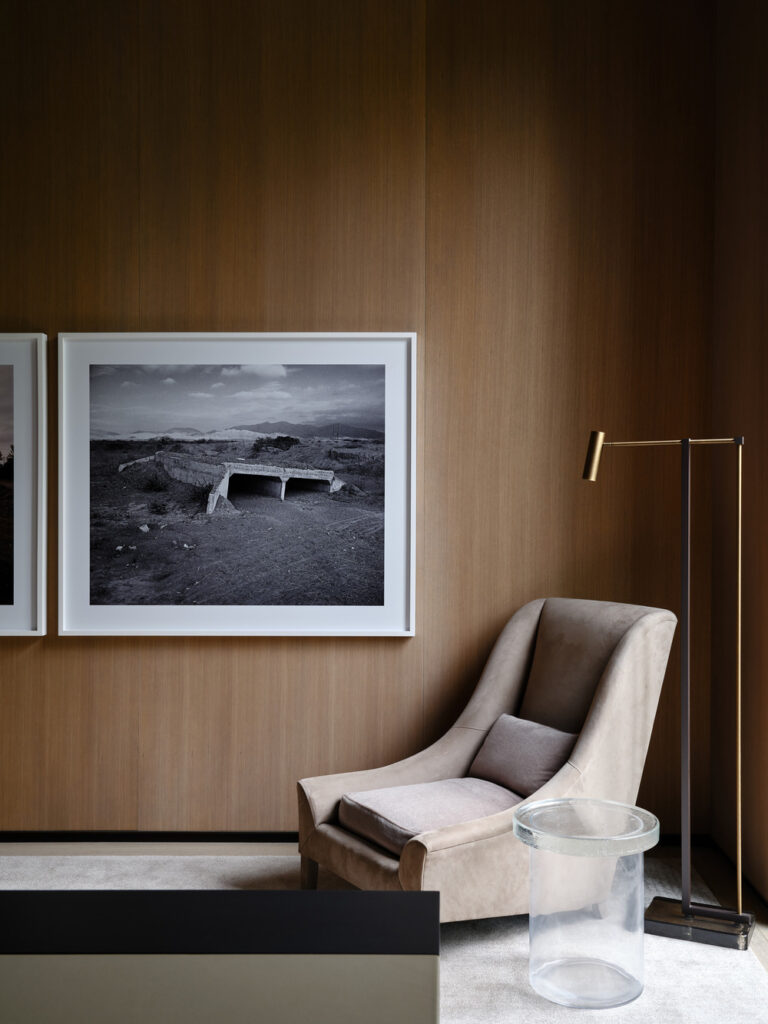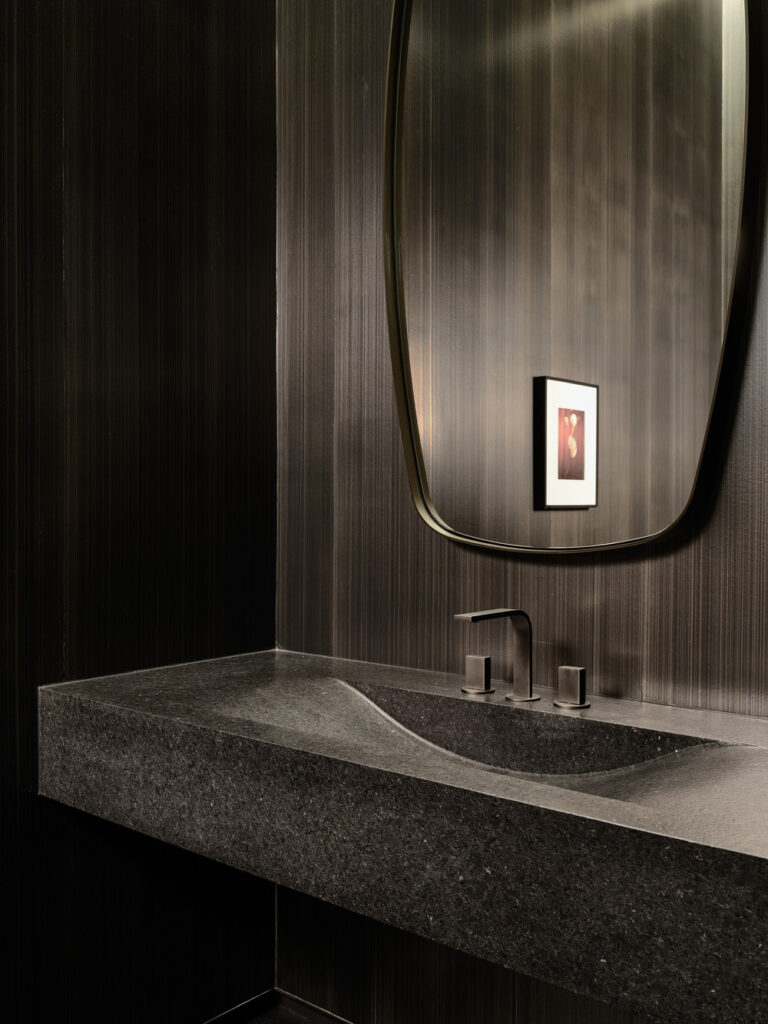 Other flourishes and furnishings are carefully curated to create unencumbered focal points. In the formal dining room, a custom table in polished black stone is detailed with nickel edging along the legs. The tabletop's reflective surface plays off a stunning silver chandelier designed by Milan architect Vincent De Cotiis.
The home's Georgian exterior belies the interior's otherwise subdued modernism. Walk through the entryway's fritted glass doors and the quiet residential street outside falls away, transitioning into an unimpeded view from the foyer to a glimpse of the backyard terrace with a dining area and living space.
At the house's core is a Thassos marble spiral staircase, bathed in natural light from a pitched skylight and featuring a BURDIFILEK-designed blackened steel railing, which draws the eye to the second-floor landing and a three-dimensional artwork by Dennis Lin.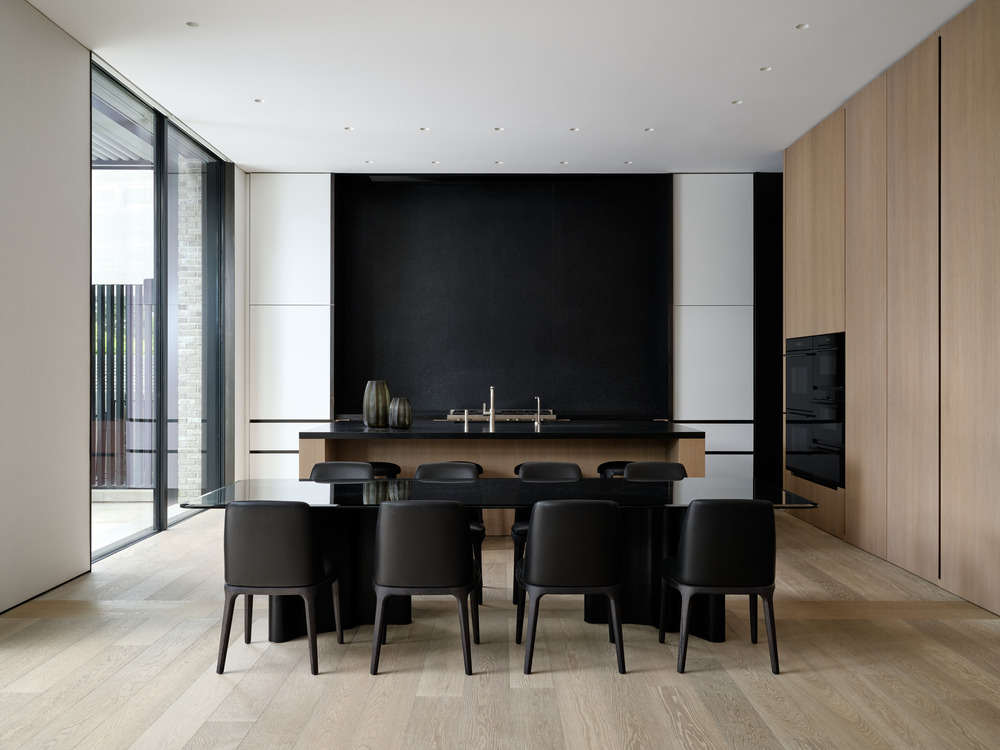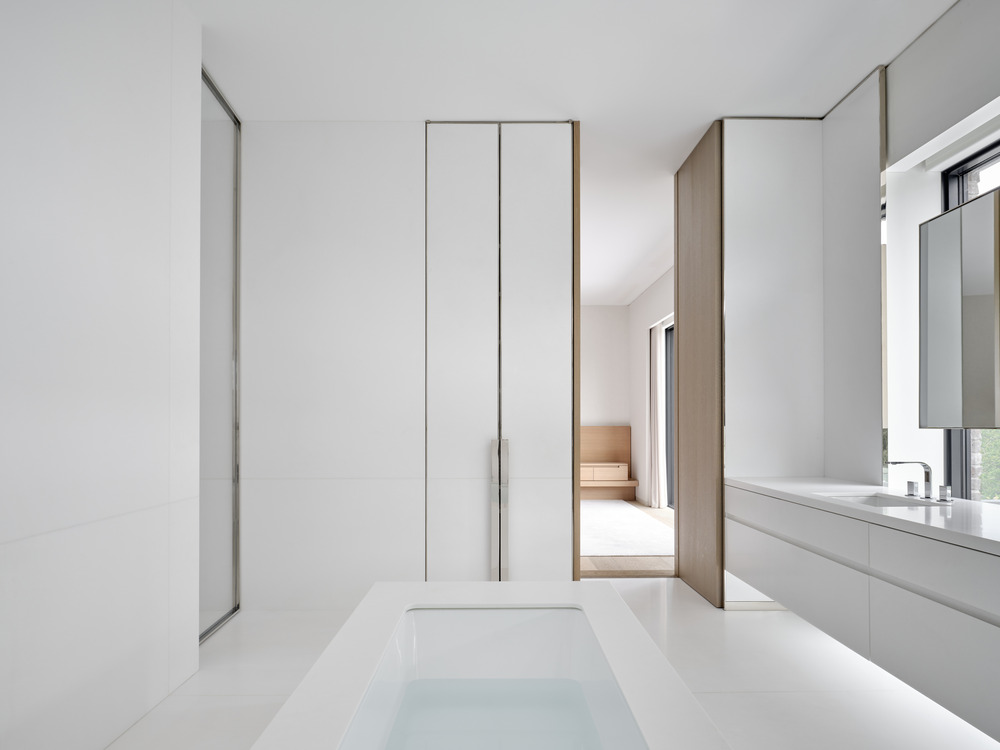 On the upper level, two bedrooms with ensuite bathrooms occupy one side, while the principal bedroom is located on the other and is closed from view by double pocket doors. Beyond is a series of adjacent rooms that work in harmony with one another, from the study's whitened oak built-ins and matching desk, which together express a sense of calm repose, to the cleanliness felt in the all-white marble bathroom. The sink vanity is positioned in front of two windows providing glimpses of the backyard trees. A few steps beyond is a his-and-her walk-in closet consisting of four consecutive rooms.
Furnishings throughout the house, a mix of curated pieces, and custom designs add a final layer of atmospheric continuity and comfort, with most of the soft upholstery kept to monotones in brushed fabrics. Burdi describes the overall effect as dry, with only a few reflective additions, including a custom coffee table made of a poured glass slab in an intimately scaled living room located near the foyer. The overall effect of the entire house is a luxurious and embracing sense of warmth and calm serenity.
Source: v2com newswire