Welcome to an exclusive interview with Apu Jan, the visionary designer behind the London-based womenswear label APUJAN. With a debut at the 2013 Autumn/Winter London Fashion Week, the brand has consistently pushed boundaries, seamlessly blending traditional and oriental elements with a contemporary twist. Renowned for its unique style and the integration of patterns and knitwear techniques, APUJAN has garnered international acclaim, featuring in major fashion and design publications and participating in prestigious events such as Paris Fashion Week.
This season, the designer has returned to London Fashion Week with a physical runway show after a three-year hiatus, presenting their latest 2024 Spring/Summer collection titled "The Casebook of Kaiju".
In the interview, Apu Jan shares insights into the production process, shedding light on the materials, techniques, and the brand's exploration of sustainability. The conversation extends to APUJAN's diverse collaborations, ranging from airline loungewear to dance theatre costumes, providing a glimpse into the brand's adaptability and creative prowess.
As we explore the opening of APUJAN's first physical store in Taipei, Apu Jan discusses how the in-store presentation differs from runway shows and its significant contribution to the brand's identity. The interview concludes with the designer sharing the narrative behind "The Casebook of Kaiju" collection, inviting the audience to discover and explore the unknown, symbolized by the enigmatic monster—a reflection of the uncertainties that we must learn to face and coexist with.
Join us on this journey into the creative mind of Apu Jan, where fashion meets fantasy and storytelling takes center stage.
---
"The Casebook of Kaiju" collection features a wide range of garments, including fine-knit garments, sportswear, and evening gowns. How do you balance aesthetics and functionality in these pieces?
I think even if they are different items, they all start from the same story, so they will find connections and echoes with each other. They all have common elements and common story details.
Collaborating with DJ so lonely and having Adidas sponsor the shoes for this season's show is intriguing. How did these collaborations come about, and how do they enhance the overall presentation of the collection?
I have watched his live performances before, from big venues to small ones. After being introduced by a friend, I collaborated with him on some other projects, including the combination of his theatre music and design. During the pandemic, he helped our brand create the music for the show video. This time, of course, my priority is to take him to London for a live performance. The music is all adapted and adjusted for the theme and story of the show.
I have always felt that our clothing can be mixed with formal and sportswear. In recent years, in addition to platform shoes, we have also tried to match dresses, shirts, and even evening dresses with sports shoes. We also have other cooperation with some well-known sports brands and maintain close alliance relationships.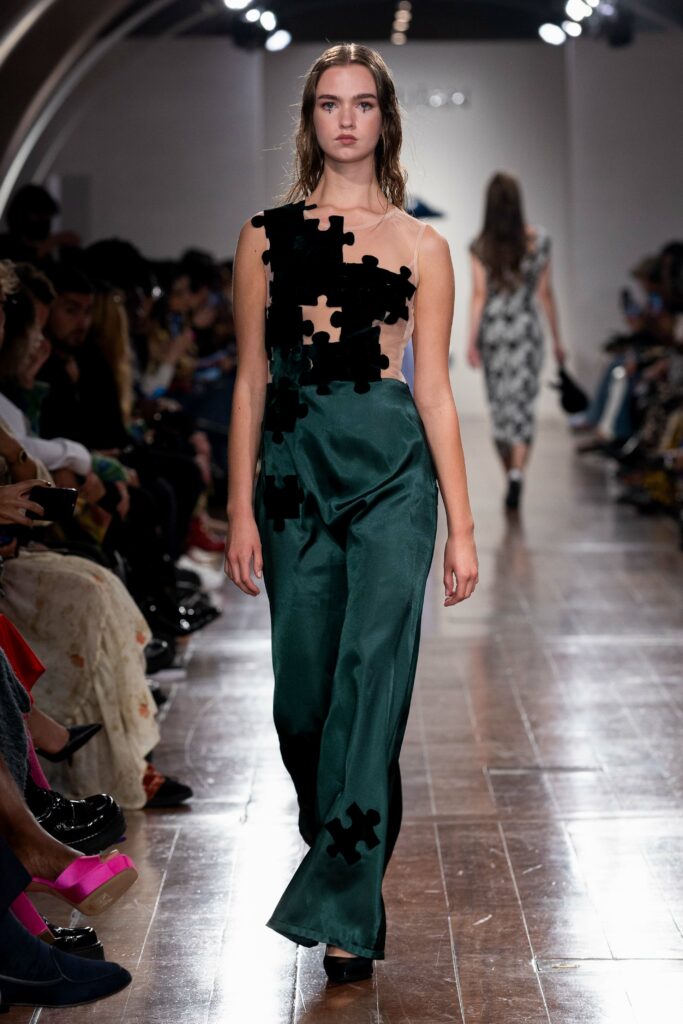 APUJAN has been a part of London Fashion Week for 21 seasons. How has your design philosophy evolved?
Our design concepts and elements have always been related to fantasy, literature, and time, but as we learn and grow, we have come into contact with more creative partners, and have more fabric resources and more textile experiments to help us to tell the story more completely.
Could you elaborate on the materials and techniques used in creating the accessories, hats, and tape measures featured in the collection? Are there any sustainable materials incorporated?
Some showpieces are floral arrangements, and some accessories ready for mass production are woven bags made of pure wool, pure cotton hats, or other metal accessories.
We use a lot of natural raw materials and are still looking for a connection between brand and sustainability. Sometimes it comes from the material, sometimes it comes from the production process, and sometimes it comes from consumption after thinking.
Can you share some insights into the production process of APUJAN's clothing, especially in terms of sustainable practices and ethical considerations?
Same as the above question, we must learn to start to understand this question in every detail. Whether it's clothing production, packaging, all exhibitions and performances, or even store displays. Whether it comes from materials, production processes, respect for human rights, or various thoughts related to consumption.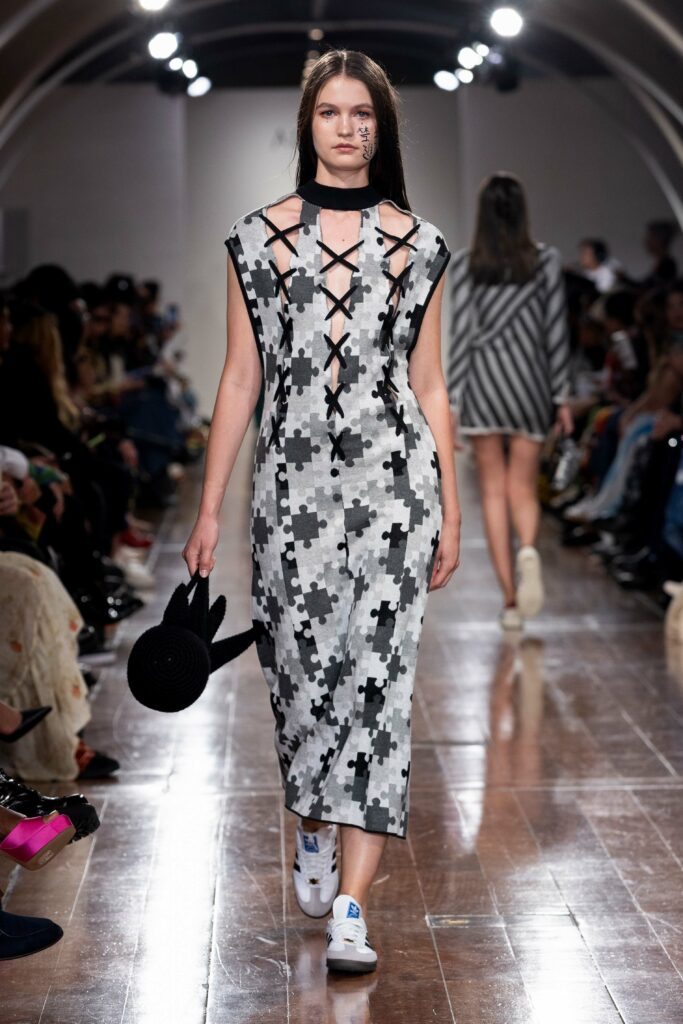 How has APUJAN's design philosophy and aesthetic evolved when working with diverse industries such as airline loungewear, pastry branding, dance theatre costumes, packaging for fast-food chains, and corporate uniforms?
Continue to incorporate the brand's elements of fantasy, time, and literary allusions, and use the brand's expertise to understand the stories of other brands. You must spend enough time reading the story and message of another brand and think about the work needs and performance methods of so that you can integrate everything together and make the work reasonable.
APUJAN's involvement in uniform design for SAMSUNG global is noteworthy. Could you elaborate on the design process and approach that APUJAN took when creating uniforms for a multinational corporation like Samsung, and how it aligned with the brand's vision?
We were noticed by Samsung's senior executives at the show, so there was a follow-up meeting, and we were immediately invited to South Korea for discussion. There were discussions to a certain extent both in the UK and South Korea. Samsung is an internationally renowned brand. They have complete materials and teams. We are honored to be able to efficiently focus on the elements delivered during the meeting, and we feel very trusted.
We need to simultaneously discuss the use of many body shapes and functions around the world. This should be one of our largest cooperation projects.
APUJAN recently opened its first physical store in Taipei. How does the in-store presentation differ from runway shows, and how does it contribute to the brand's identity?
With a complete store, we have more derivative products based on different themes. There are many items that have never been seen on the runway before, and also some special products that we have cooperated with other brands. We also used 3D printing and some special technologies to create a sci-fi space. This store is a place where we can directly communicate about our work, which is very meaningful to us.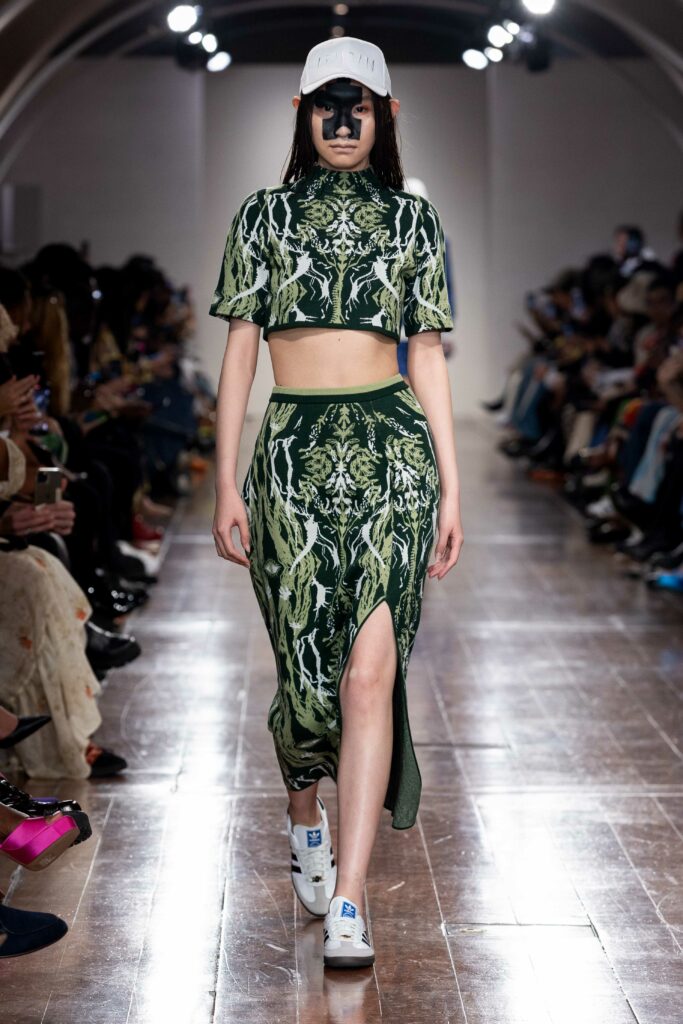 As APUJAN's collection tells a narrative of discovery and exploration, what do you hope the audience takes away from experiencing "The Casebook of Kaiju"?
The monster does not have a specific shape. It symbolizes something that is coming and will affect the world. We don't know yet whether it is good or bad, and we don't know what it will bring, but we must learn to face it and coexist with it at any time.