Located in Downtown Brooklyn, the Ace Hotel Brooklyn stands on the cusp of Boerum Hill, above the ever-evolving intersection of everything: a geographical Venn diagram of intersecting energies, from the tree-lined streets and brownstones of Cobble Hill and Carroll Gardens to the art and culture clusters of Fort Greene, and all the way down to the restless East River. The property offers 287 guest rooms, an expansive in-room art program, a public lobby with multiple bars, an art gallery, plus an all-day neighborhood restaurant, bar, and bakery called As You Are — inspired by Brooklyn's beautifully complex culinary history. Ace Hotel Brooklyn will also introduce Demo Kitchen by Ace Hotel: a new event space concept built to serve as a canvas for culinary and community engagement. Designed by Roman and Williams, Ace Brooklyn's unique facade welds seamlessly with interiors inspired by the raw artist studio spaces of the European modernists — with soothing and stylish custom furnishings outfitting every alcove.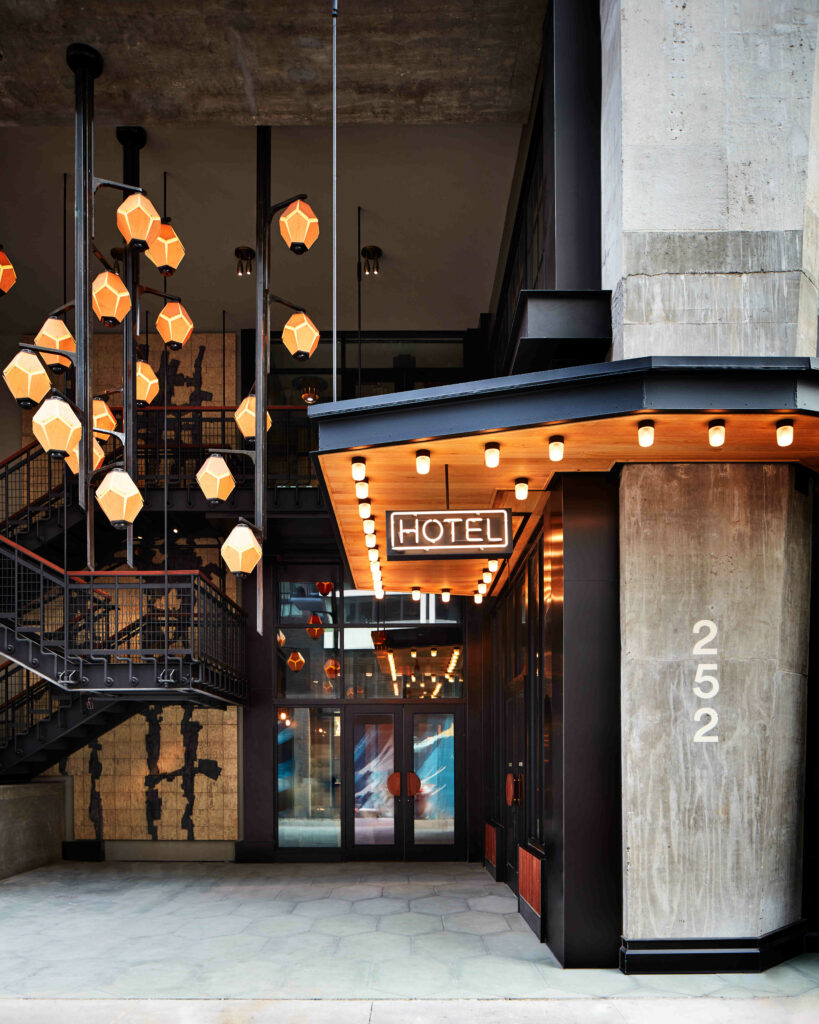 We see Brooklyn as its own city, filled with so much hope, possibility, and excitement for the future. Ace Brooklyn has been a labor of love — a gorgeous building in many ways a reunion and a reinvention, and one we're delighted to share with our guests and neighbors as the evolution of Ace Hotel. We're proud to have filled its spaces with the talents of many collaborators across art, design, and culture; it's a testament and tribute to the irrepressible creative energy of the borough, and a firm investment in its future.

Brad Wilson, President, Ace Hotel Group
A 13-story construction in raw concrete, Ace Brooklyn was designed from the ground up by longtime Ace collaborators Roman and Williams. Stonehill Taylor worked alongside as the architect for the project. Made up of metal, glass, and precast concrete elements, the building's rough-edged façade celebrates the natural beauty of its materials, along with the rugged handiwork of the builders who brought them together. The facade's dramatic centerpiece is a custom ceramic mural crafted by iconic modernist Stan Bitters, coupled with a sculptural light installation designed by Roman and Williams in homage to the Hotel Okura in Tokyo — a beacon of modernist hospitality designed by Yoshiro Taniguchi, which was sadly demolished in 2015. Inside, interiors blend exposed concrete with other naturally textural elements — surfaces of Douglas fir, oak, plywood, and leather — to form organic, open shapes throughout. The lobby features vintage and custom seating throughout, with half-moon windows illuminating the lobby bar in natural light. The bar is finished with an original wall sculpture from RW Guild artist Vedran Jakšić, and a discreet, large-scale drawing by Tara Geer.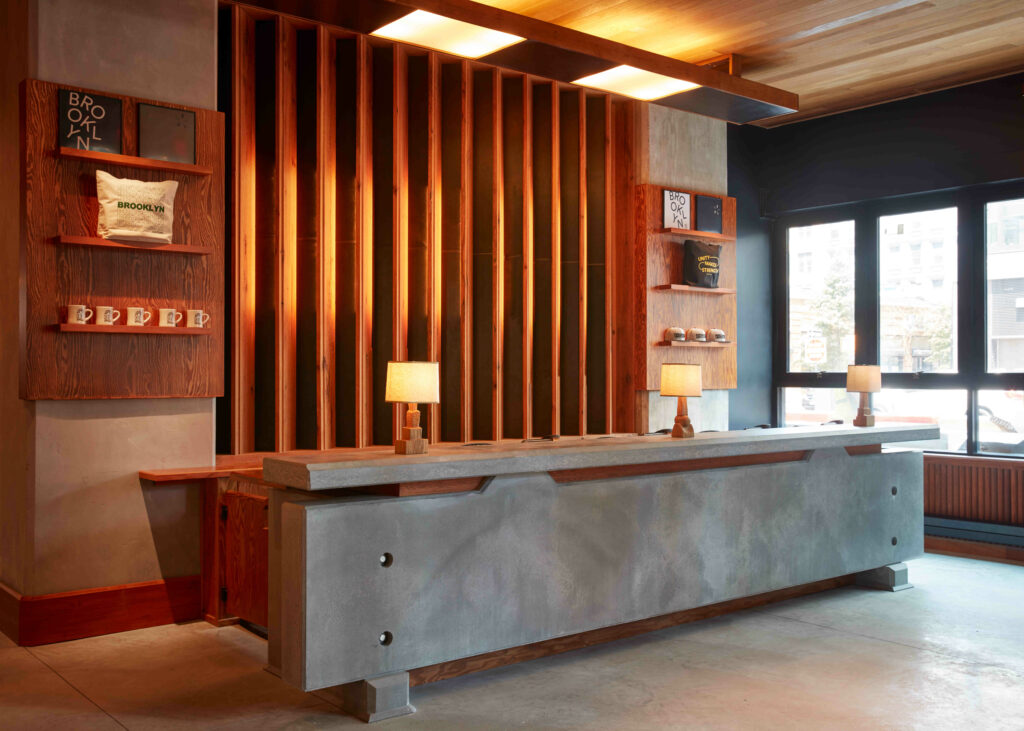 Drawing significant inspiration from Le Corbusier's beloved workspace retreat Le Cabanon, the guest rooms at Ace Hotel Brooklyn were imagined as cabins of creative refuge: elegant and efficient, with the kind of breathing room that stirs up all sorts of possibilities. The furnishings are handcrafted from raw, understated materials — including custom sofas and chairs, classically-loomed cotton bedding and purpose-built, minimalist fixtures. Custom bed covers were crafted by Maine Heritage Weavers; bath products are from uka; in select rooms, acoustic guitars are provided by D'Angelico Guitars; turntables are made by Music Hall, with vinyl record selections courtesy of Rough Trade. Ace Brooklyn's in-room art program was curated by artist Niki Tsukamoto, and brings together a dream-woven assortment of original textile and fiber pieces from roughly two dozen artists, many based in the borough.
As You Are is an all-new, all-day restaurant, bar, and bakery located off the lobby of Ace Hotel Brooklyn, imagined in partnership with Chef Camille Becerra and Pastry Chef Danny Alvarez. As You Are welcomes the community to a celebration of Brooklyn culture and cuisine — a neighborhood hub built for the multitude of culinary traditions that have come to call the borough home. As You Are offers breakfast, lunch, dinner, and weekend brunch service, along with freshly baked pastries and desserts from its bakery. Loaded with local flavors and regional, seasonal ingredients, the restaurant's menu honors and uplifts Brooklyn's multigenerational, multicultural culinary history in a kaleidoscopic mix of cuisines and people who have taken root in Brooklyn and have come to define a truly American way of eating. The Demo Kitchen is Ace Hotel Brooklyn's interactive culinary center dedicated to cooking, connection, and above all, community. A locus of epicurean culture, the Demo Kitchen will play host to culinary symposiums, restaurant pop-ups, mixology workshops, charitable events, and exclusive, chef-curated feasts. Programming partners for the space include ROAR (Restaurants Organizing, Advocating & Rebuilding), MOFAD (the Museum of Food and Drink), and Cherry Bombe, with more to be announced on an ongoing basis. The 96-person-capacity space is furnished with custom oak classroom and dining tables crafted by the team at Finnish furniture design collective Made By Choice, and features an induction cooking station from Kaliber Innovations, plus an array of other state-of-the-art equipment.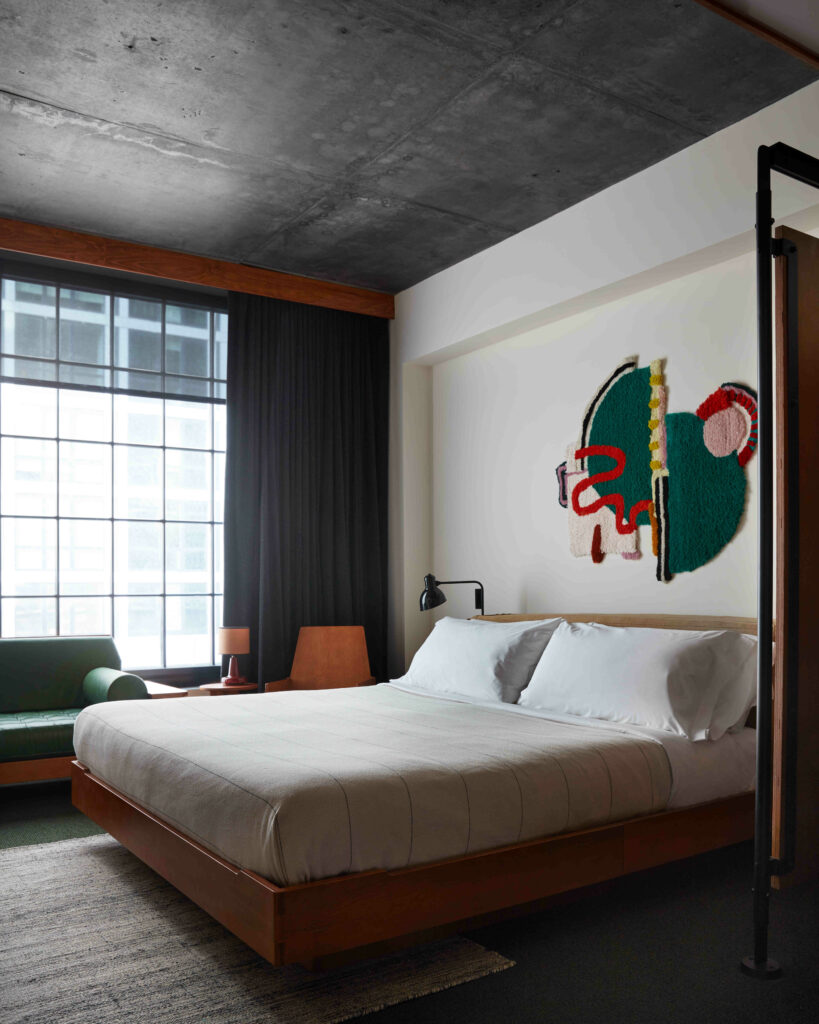 After 7 years we are proud to unveil one of our most comprehensive architectural and interior commissions to date for Ace Hotel Brooklyn, our third collaboration with Ace Hotel. We aimed to embrace a solid, muscular design vocabulary, employing confident, lasting construction methods and materials, ones with gravity and strength. A primitive modernist philosophy guided us; it is expressed in the tactile spirit of the design. From the building's strong and unadorned facade, to the celebration of raw old growth timber in the public screens, to the honest plywood furniture collection in the bedrooms, we aspire to be as energetic and untamed as Brooklyn itself.

Robin Standefer and Stephen Alesch, Founders and Principals, Roman and Williams
Ace Hotel Brooklyn is the newest member of the Ace family, joining Seattle, Portland, New York, Palm Springs, Downtown LA, Pittsburgh, New Orleans, Chicago, and Kyoto.