The endless blue sea and the gentle caress of warm sunlight inspired the Bolshakova Interiors team's design concept for a luxurious three-bedroom apartment situated in a prime location along the seafront promenade of Limassol, Cyprus. This exquisite residence finds its home within Europe's tallest seafront tower, known as 'The One.' This remarkable architectural masterpiece was designed by the renowned architect Hakim Khennouchi of WKK Architects and was completed in 2021 by the esteemed real estate developer Pafilia.
With its underlying effortless, minimalist-chic approach, the design style of the apartment can be described as modern Mediterranean, characterized by the dominance of beige shades — pearl, creamy, cotton, and seashell.
This concept originates in the aesthetics of Cyprus's distinct culture and design traditions, as well as the island's natural beauty, featuring rocky cliffs, tree-covered mountains, and pebble beaches.

Nataly Bolshakova.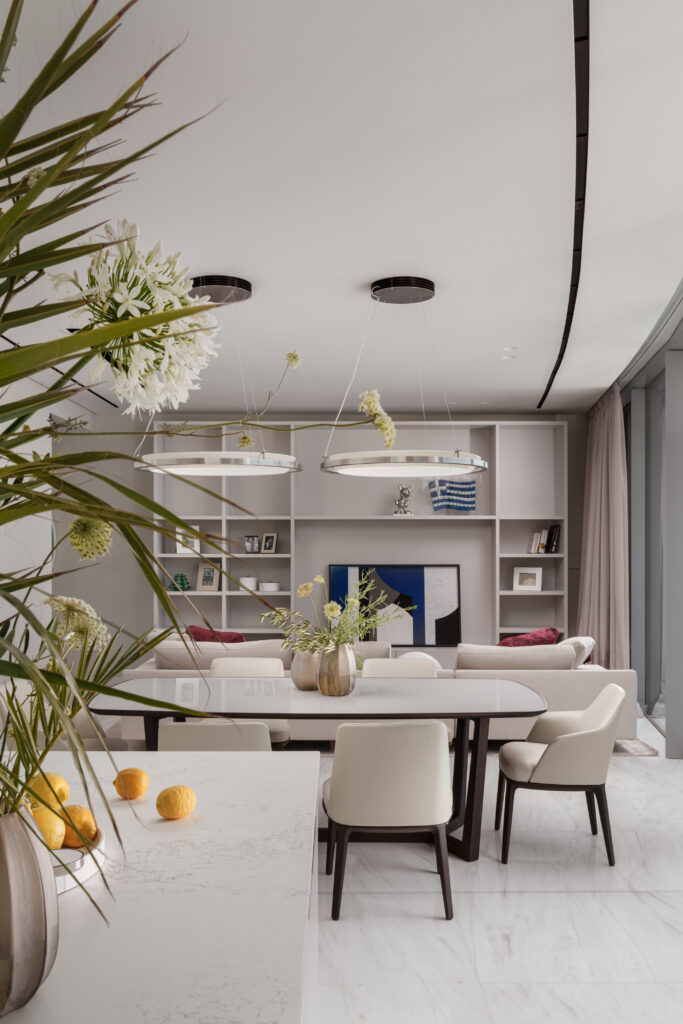 The most extensive challenge the design team faced while working on this project was altering the space's layout. Therefore, Nataly Bolshakova suggested creating a separate laundry room and wardrobe. Additionally, Bolshakova`s studio expanded the kitchen area by reconfiguring the layout and positioning a kitchen island closer to the spacious terrace. As a result, an apartment received a harmoniously organized space that combines functionality and aesthetics seamlessly. 
The 127 sq.m apartment comprises a master bedroom, a son's room, a guest room, an open space kitchen and living room, and a spacious terrace. The living room features a spacious dining area, an open-space kitchen, and a social zone with a comfortable milky-shade sofa and library. The combination of marble and glossy surfaces reflects the natural surroundings of Limassol.
Designers

Flooring: Pentelicon marble

Curtains: Dedar

Rug: Bougainville

Sofa: Poliform

Coffee table: Poliform

Dining table Poliform

Chair: Poliform

Architectural lighting: Flos, viabizzuno

Decorative Lighting: Santa & Flos

Art: painting by MARIANNA LOURBA, Golden Gallery by Kapatays
The kitchen boasts a moderate minimalistic design, featuring clean white surfaces and ample concealed storage. As an additional challenge, the studio was involved in redesigning some of the furniture elements since the apartment had previously been furnished with standard pieces. Bolshakova Interiors opted to replace them with customized furniture in a selected color theme.
Kitchen Design

Kitchen Cabinets: Arclinea

Vitrines: Arclinea

Decorative lighting: Santa & Cole
The stylistics and the choice of colors and materials for this interior were guided by the intention to simplify the spatial geometry as much as possible. In the master bedroom, we introduced textile panels in a soothing caramel brown shade and warm walnut parquet to infuse softness and intimacy. These panels were meticulously customized and handcrafted in Italy, offering not only a decorative design solution but also practicality, as they can be easily replaced or washed.
Bedroom Design

Curtains: Dedar

Walls: Soft interior

Bed: Poliform

Bedside table: Meridiani

Wall lamps: Contardi
Designers maintained the same color theme and material choice in the guest bedroom, where an elegant dressing table by Poliform and floral motifs on Glamora wallpaper complemented the room's gentle and sophisticated style. In the kid's bedroom, the design studio chose an expressive design approach: dark wood furniture pieces and white bookshelves were placed against beige fabric wall panels, complemented by burgundy armchairs.
Bedroom Design

Wall lamps: Anastassiades Michael

Table lamp: Flos

Curtains: Dedar

Table: Mathieu by Poliform

Armchair: Poliform

Shelves and side table: Poliform
Both the master and guest bathrooms are adorned with marble tiles, showcasing some of the finest restroom design elements in sandy and dark chocolate color themes.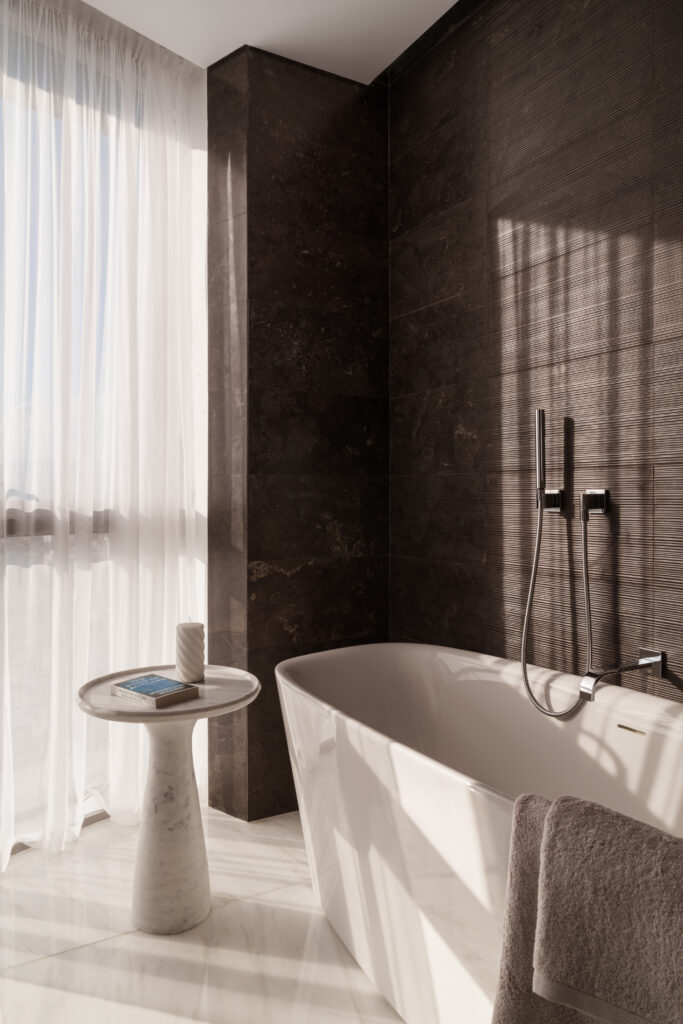 Bathroom Design

Bathtub: Villeroy&Boch

Toilet: Villeroy&Boch

Shower: Dornbracht

Sinks: Villeroy&Boch

Lighting: Vitra

Сoffee table: Eichholtz

Floor tile: Pentelicon marble

Wall tile: Pietra D`avola (black)
One of the anchor elements of the interior is a sophisticated custom wall lamp by the French design brand Art et Floritude. Its vegetal leaf-like shape creates a welcoming ambiance in the entrance hall.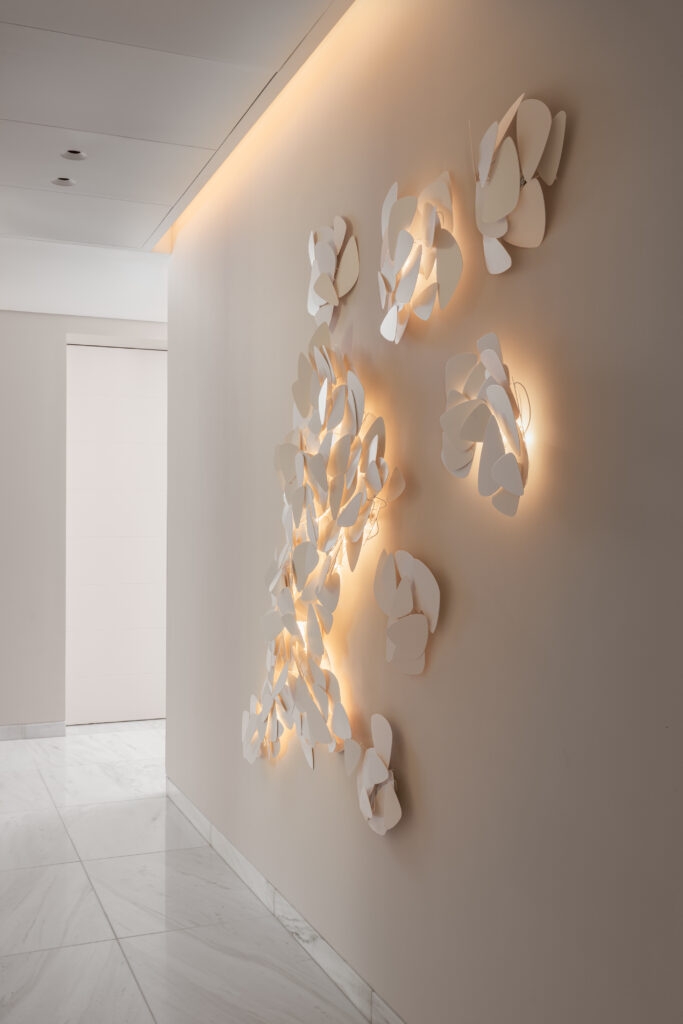 Wall Art

Decorative Wall lnstalation / Art et Floritude

Pouf / Poliform

Mirror / Meridiani
An undisputed favorite part of the apartment is the spacious terrace with its endless sea view. It's furnished with elegant outdoor seating by Kettal and a cozy hanging armchair by Dedon. This is undoubtedly the perfect spot to contemplate such a picturesque horizon in peace and comfort.
Photographer: Vigo Jansons