In the verdant landscape of Samut Prakarn, Thailand, emerges a residence that harmonizes nature, family, and architectural innovation. "Baan Sai Khoo," a haven nestled within 1.38 acres of ancestral land, unfolds as a testament to the vision of the two owners and the ingenious design prowess of Phongphat Ueasangkhomset and Parnduangjai Roojnawate, the principal architects of Anonym.
The genesis of this remarkable project was rooted in the decision to craft a new home for a growing family on land that had been in their possession for half a century. The forgotten terrain, embraced by trees, plants, and wetlands, revealed its hidden gems during the architects' initial survey. Majestic banyan trees, standing tall and intertwined, became the focal point and inspiration for what would become the "Baan Sai Khoo" or "twin banyan house."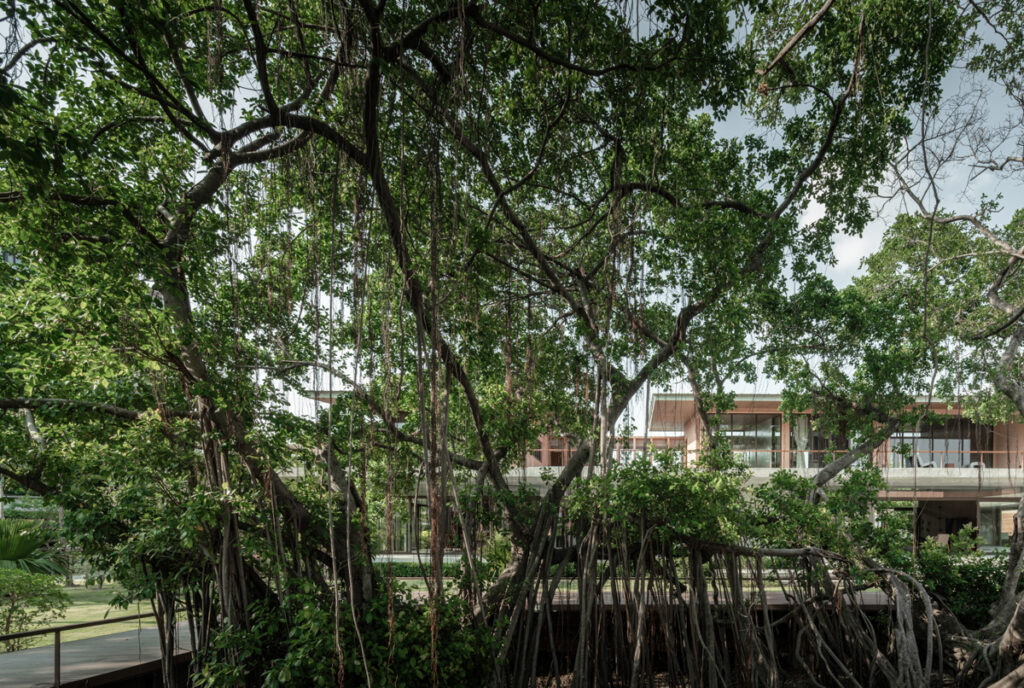 Former residents of a downtown Bangkok townhome, the couple sought to create a larger home that embodied the natural essence of their childhoods, offering ample space for their children to play and grow. The design also included a separate house for their aging parents, fostering a sense of togetherness without the need for weekend commutes between two homes.
The architects approached the project with a commitment to practical functionality and a desire for spaces filled with natural light and fresh air. The result is a residence that seamlessly integrates with the landscape, creating an L-shaped wooden deck around the towering banyan trees. The shorter section of the layout houses the male owner's private quarters, including an office, workshop, and a semi-outdoor space for private diving classes. The elongated side features the main living area with a double-volume ceiling, connecting visually to an upper-floor office.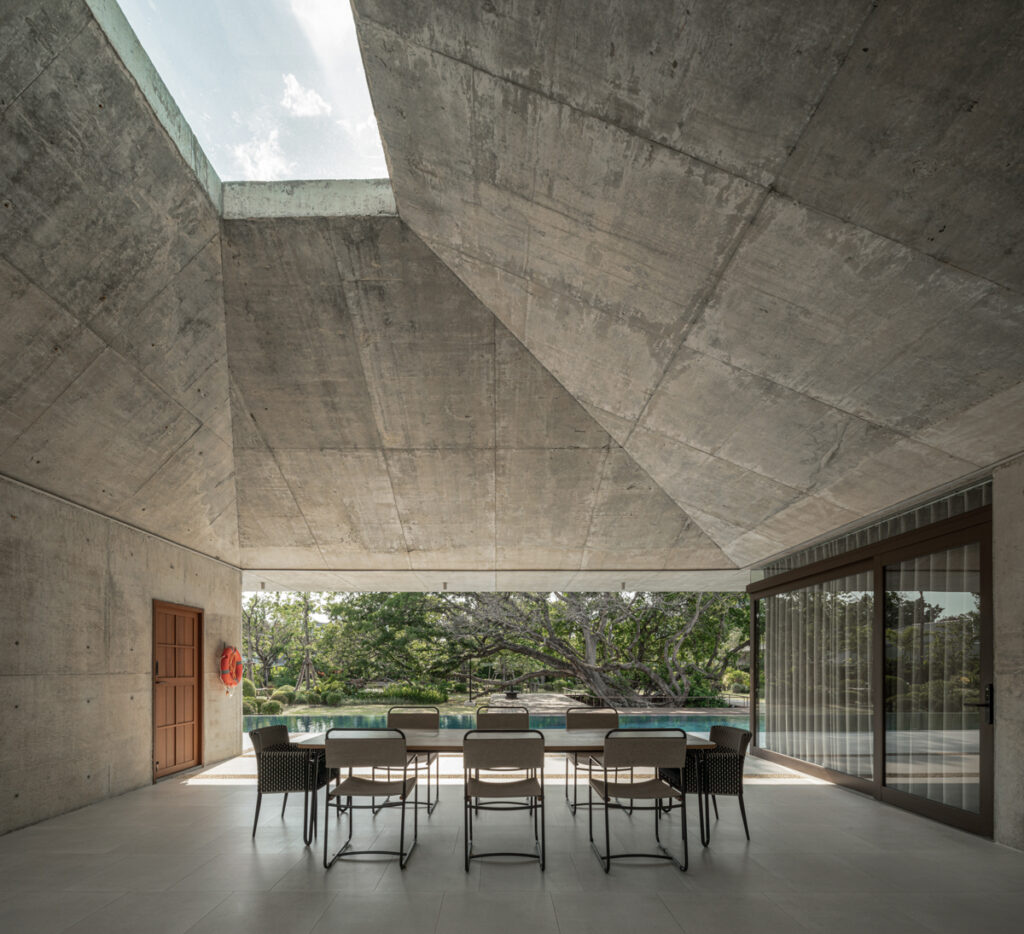 Rather than merging all functional spaces into a single structure, the architects introduced a small courtyard, acting as a vent for natural ventilation, an outdoor lounging area, and a connection between living and dining spaces. This deliberate separation and connection characterize the design philosophy of Anonym, aiming to balance spaces, people, and contexts. The main living space is designed with an open-air hot kitchen, a glass-ceilinged area reminiscent of a glass house for the female owner, and a whimsically painted accent wall by visual artist Pomme Chan. The courtyard at the back, featuring an olive tree, imparts a touch of minimalism to the landscape.
The layout extends into a U-shaped cluster of buildings discreetly housing the parents' residence, ensuring privacy and independence. Bedrooms, located on the upper floor, reflect the owners' preference for moderation and simplicity.
Anonym Studio, founded by Phongphat Ueasangkhomset and Parnduangjai Roojnawate, stands as a testament to their philosophy of "Architecture of Emotions." Balancing spaces, fostering creativity, and prioritizing environmental friendliness, Anonym specializes in architectural and interior design, seeking creative solutions that fulfill clients' dreams and contribute to their happiness. "Baan Sai Khoo" exemplifies this philosophy, a living testament to the harmonious relationship between architecture and emotions, nature and design.
Architectural Photography by DOF SKY|GROUND