Step into the Mirror Image, an exceptional duplex in Sydney, Australia, that has captivated hearts and earned its rightful place as the Winner in Interior Design – Residential at the prestigious 2022 BLT Built Design Awards. This masterpiece, brought to life by the talented team at Smac Studio under the lead of the visionary designer Shona McElroy, is a celebration of creative freedom and a testament to the seamless collaboration with architect Van Rooijen Meyers and construction company Airth Building. With stunning photography by Anson Smart, the project reflects elegance, charm, and a touch of old-world European allure.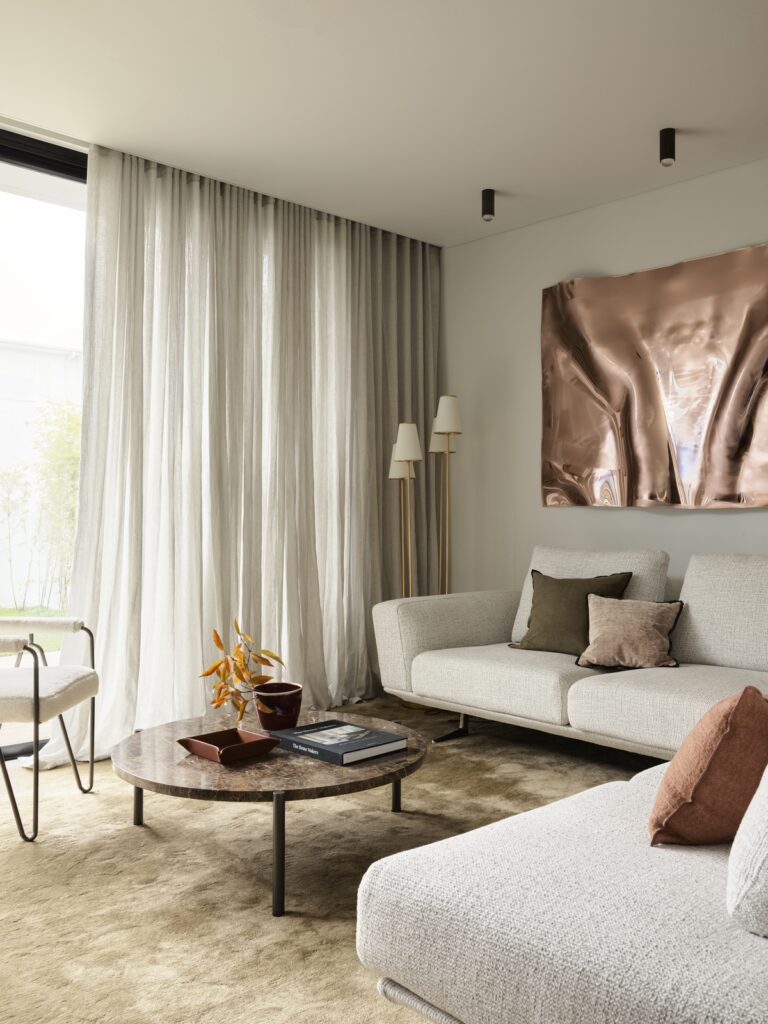 The owners, a young family, entrusted Smac Studio with extensive creative liberty, and the result is a captivating fusion of modern aesthetics with old-world European charm. The interior showcases exquisite Venetian plaster finishes, luxurious marble bathrooms, and timeless herringbone floors. Despite the narrow internal width of 4.8 meters and a shared wall without windows, the home radiates with abundant natural light and an abundance of sophisticated personality.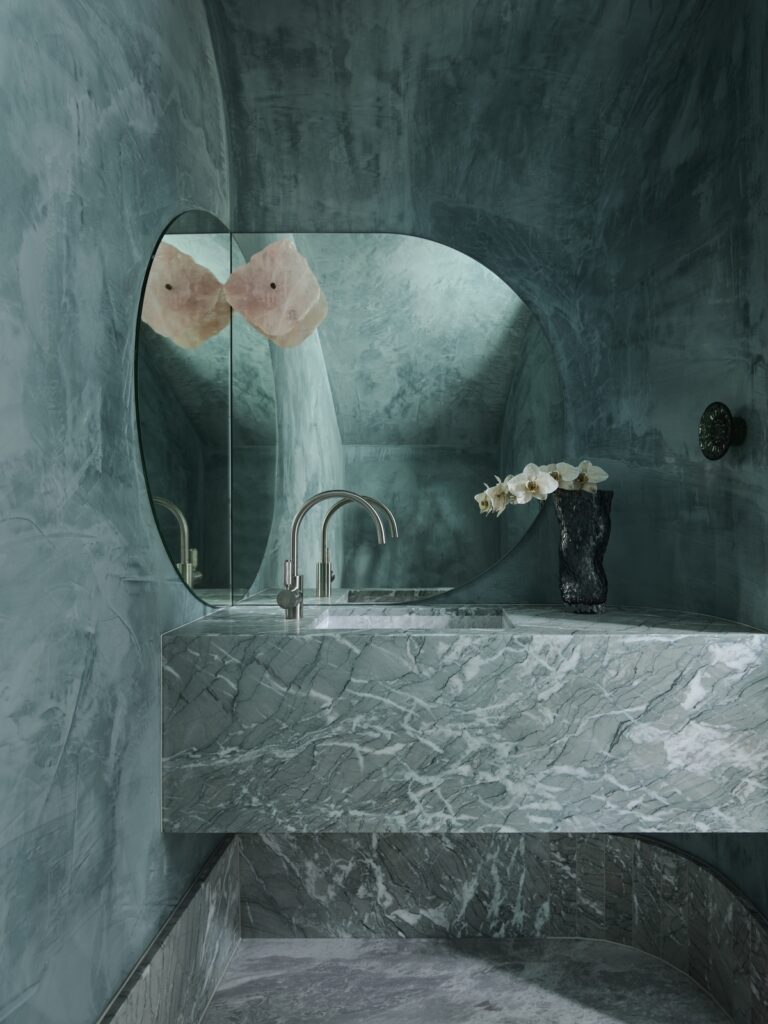 Duplex boasts an array of outstanding features that make it truly exceptional. The crowning jewel of the space is the emerald powder room, a captivating oasis designed to transport occupants to a magical cave of wonders. The ethereal aura is elevated by the enchanting Petra sconce, a creation by the renowned artist Christopher Boots, casting a mesmerizing rose-quartz glow.
To ingeniously maximize space and evoke a sense of seamless enchantment, flexible plywood was meticulously employed, embracing every curve and contour of the powder room. A creative adaptation led to the inclusion of two semicircular corner mirrors, delicately reflecting each other, magnifying the allure of the space and adding a dimension of depth and wonder.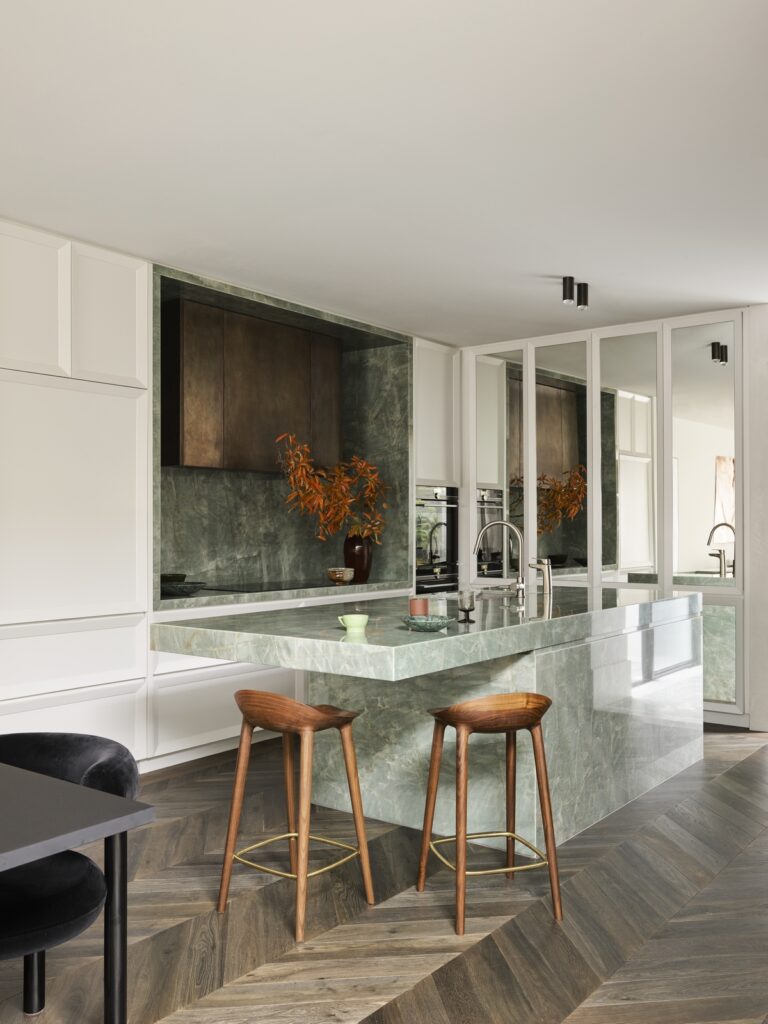 At the heart of the home lies the cantilevered kitchen island—a true symbol of design innovation and communal living. This carefully crafted piece not only serves as a functional and stylish centerpiece but also fosters connection and intimacy. Four individuals can comfortably sit face-to-face, sharing delightful conversations and culinary experiences. The kitchen embodies the essence of the modern family—a place where memories are created and shared over delicious meals and heartfelt laughter.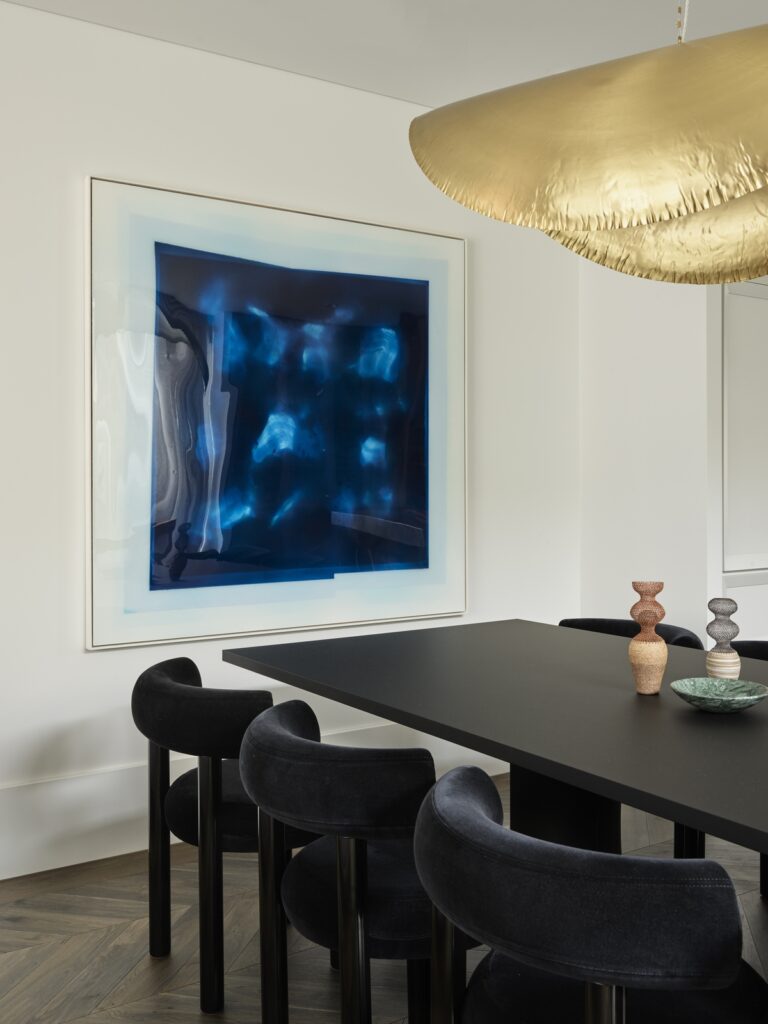 Mirror Image is more than just an interior design project; it is a captivating journey that showcases the harmonious blend of contemporary elegance and nostalgic European allure.