Massimiliano Moro grew up in Lugano, Switzerland, and studied in Barcelona where he began with a sculpture academy and then a bachelor's degree in art and design, followed by an intensive course in Light Design. He considers himself as a sculptor. His artistic focus is the act of viewing, all his sculptures, installations and designs circle around the same theme: reveal the action of seeing to enhance its beauty and fragility. Massimiliano Moro is the 2017 LIT Awards Emerging Lighting Design of the Year winner with his project Monstera Deliciosa.
Moro is always looking for new equilibriums between light and architecture through design and sculpture to research sight. He uses artificial light, the shadow as matter, the reflections, the movement, and their perception to generate new small and intimate worlds that open intangible spaces of reflection.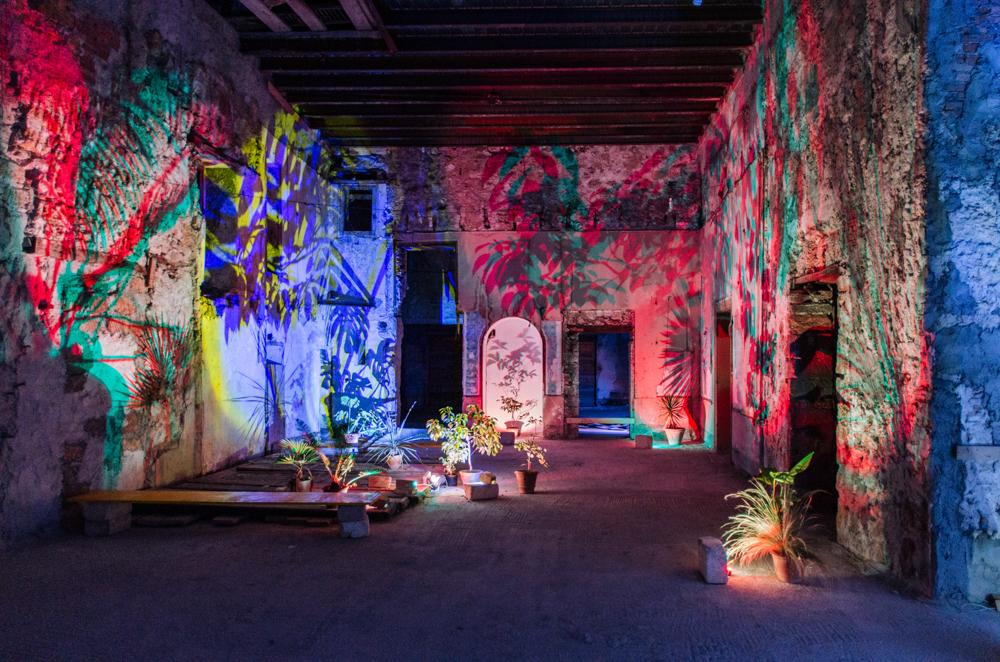 How did you first discover your passion for Lighting Design?
While exploring all the academic mediums to express myself in the art field, assignment after assignment I shifted more and more toward light and movement, realizing that it's something I can work on hours and hours and discover always new things without getting tired. From there I searched for a way to share it with others, so that's why I'm always shifting between art and light design.
Also, most of our culture is based on what we see, so working with light is working with our understanding of the world: using artificial shadows is creating a difference between what we know and what we see and by this breaking the structures that sustain our beliefs. This really fascinates me, this power to change things without physically intervening on them.
Your winning project, Monstera Deliciosa, is a site-specific project made for Palazzo di Napoli. Can you please explain to us what was your creative journey?
This exhibition took place in an abandoned palace in the centre of Palermo, and, in this case, I wanted to forget for a moment about the abandonment and focus on what was still there.
With light, I transformed the atmosphere making it alive again. With plants, I generated an immersive ambient where the human scale got mixed with the plants and their shadows, while other interventions accompanied you in discovering the beauty of the ancient architecture. It has been the start of a deep journey into the shape of shadows and how they can change the relationship we have with the space we move on.
What does this award mean to you and how has it helped your career?
It meant a lot, as it was my first big solo exhibition, and being recognized by the jury gave me a big impulse for the next projects, knowing I was on an interesting path. Also, it gave me the economic possibility to create a custom heatsink for my lights, giving me a unique way to develop aesthetically my sculptures and designs. I am still using it for the majority of my projects!
What do you think are the biggest challenges and opportunities in your career now?
Right now, I'm "recalculating" as the GPS navigator would say… For many years, I focused on portability and fast-moving exhibitions, but now something has changed, mostly in the way we travel, so I'm investigating which way could be a new interesting strategy to show my work.
I don't know where art is going, but I hope that the time we spent confined in our homes makes us more conscient about the little things that are around us, allowing us to appreciate details of what is directly in contact with our bodies and starting to work again in a way that soothes us instead of creating more contrast. To create art that fits more in a home and can be lived rather than stored in a collection. Or at least this is what I was doing, and I will continue even more convinced of it!
What are you working on now? What is in the pipeline for you?
I'm working with a colleague and friend to make an intervention in her exhibition in Barcelona, where our two artistic languages can dialogue (it involves plants again, after many years without using them as artistic material). I am also finishing up the launch of Palmyr.art, a website that sells my line of limited edition sculptures that blur the limit between lamp and sculpture.
Apart from those specific things, I'm investigating the control of caustic reflections and how to take them to a more controlled level.