A student of Savannah College of Art And Design, Crystal Martin won the "Emerging Interior Designer of the Year" title for her project "Le Fer Plat V" in the Hotel Interior Design category. Crystal shares with us the design process and her passion for Design, Luxury and Fashion.
Could you tell us a little about yourself? Where are you from?
My background is American and Korean. I was born in the South and grew up in New York City and lived abroad in cities such as Florence, Milan, and Seoul before settling in Atlanta. My projects reflect a mix of American, European, and Asian influences as well as a Southern charm, taking the most impactful moments of those experiences and expressing them through design.
How did you discover your passion for Design and decided to study at Savannah College of Art and Design?
Having studied fine art from a young age, I always knew I wanted to pursue an artistic career. When living in New York City, I wanted to be a fashion designer or artist, but my parents nudged me to study interior design which proved to be a good decision. Savannah College of Art and Design is special in that there is a myriad of different majors and diversity where you could truly explore your passions.
The ability to take electives in Architectural History, Historic Preservation, and Luxury and Fashion Management was beneficial as it then crystallized my thesis. It then gave me a better definition of my personal style and what I value as a designer. There are also so many talented professors who pushed and challenged me in a positive way to break boundaries and unleash potential.
What was your design process when working on "Le Fer Plat V"?
When working on Le Fer Plat V, it was crucial to understanding the concept of meta-luxury in an interior environment. I conducted local site visits to the Baccarat Hotel, Lotte Palace Hotel, Equinox Hotel, Edition, and the Jane Hotel in New York City to study the DNA, heritage, and identity behind brands that extended into hospitality, historic building sites as well as rehabilitations such as the Candler Hotel here in Atlanta. I then looked at meta-luxury crafts such as urushi and materials like shou sugi ban which was then applied to the interiors of the space.
The concept of Le Fer Plat V is "East Meets West," the merging and integration of Western and Eastern cultures, giving a nod to each other. Beauty is everywhere and you never know what can inspire you, such as the introduction of Japanese Art which lead to Japonismé for instance. Le Fer Plat V is a passion project that culminated all my experiences. The thesis is dedicated to my parents who met on opposite sides of the world.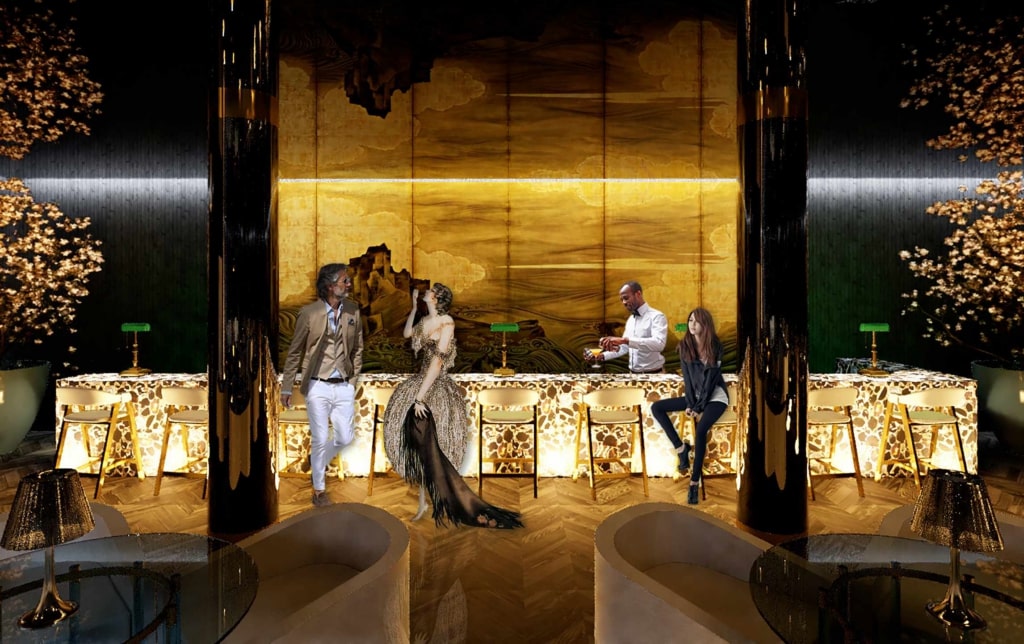 Can you please share with us, what becoming the winner of the "Emerging Interior Designers of the Year" means to you?
First and foremost, I am truly grateful to receive the SIT Furniture Design Award for Le Fer Plat V. Becoming the winner of the "Emerging Interior Designer of the Year" is amazing. It has been a reassurance of my artistic direction and a reward for being intuitive and following the universe's guidance. The recognition gives me the confidence to always pursue my desires because maybe, the world was waiting for it as well.
What are you working on now? When will you finish your study?
After taking electives in Luxury and Fashion Management, I resonated with course content in travel, hospitality, and luxury technology to name a few. As I graduated with my master's degree in Interior Design on Zoom at the height of the pandemic, many, if not all companies were in lockdown. It was at that point that I decided to move forward with a master's in LXFM. It was an opportunity to finally merge my two passions together. Quite frankly, business and marketing classes are quite useful as well. As a millennial, it is great to be studying with the next-generation Z.
What can we wish you for in the future?
Some exciting projects are in line for me. As for my academic career, my next thesis will focus on how luxury can revitalize cities touching on aspects of sustainability and technology with post-pandemic hospitality and retail needs in mind. I am hoping that it will shed light on new projects and ways to elevate local economies the quality of life. Studying Luxury and Fashion Management, in particular supply chain, has also rekindled my young love for fashion.
Lockdowns and the pandemic inspired a new way of living, and it is appreciating otium, the Latin word for enjoying leisure and academic endeavours. I am looking into creating apparel made from ethically and sustainably sourced fabrics, taking this opportunity to embrace all that is good.