WETSTYLE, a Canadian manufacturer of premium-quality bath fixtures and furnishings for the North American market, is proud to announce that it has been recognized with GOOD DESIGN awards for its Mood bathtub, Stellé Vanity collection, and Feel shower base collections.
"We are proud to be recognized by such a prestigious body for the innovation and quality of our product lines", says Mark Wolinsky, President of WETSTYLE. "It's a validation of the passion and tireless effort of our entire team, from conceptual design, to the handcraftsmanship behind every finished WETSTYLE product".
The GOOD DESIGN Awards, organized annually by The Chicago Athenaeum Museum of Architecture and Design, in cooperation with the European Centre for Architecture, Art, Design and Urban Studies, and Metropolitan Arts Press, Ltd., is the world's oldest and most prestigious design awards program recognizing the advanced innovation and design of consumer products.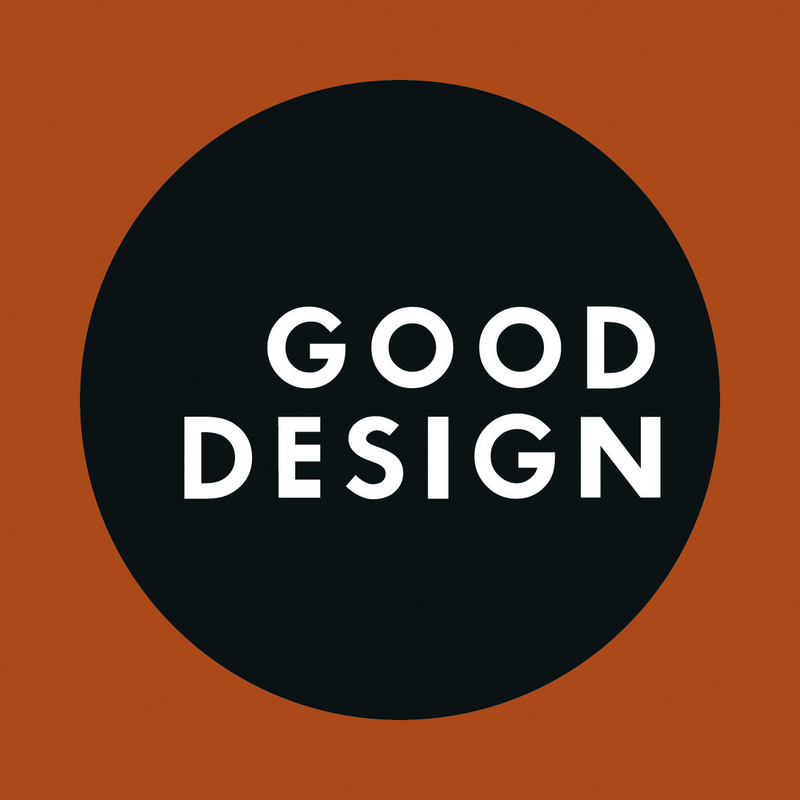 The winning collections
The winning collections feature refined design elements from Pierre Bélanger and the WETSTYLE Design Lab, embodying the essence of freshness and purity.
"WETSTYLE is focused on contemporary product design that favours simplicity of forms and relevance to trending fashions", explains Bélanger, Designer for WETSTYLE. "The result is the creation of timeless collections that adhere to our motto of durability, finesse, and quality".
MOOD – In the 'Mood'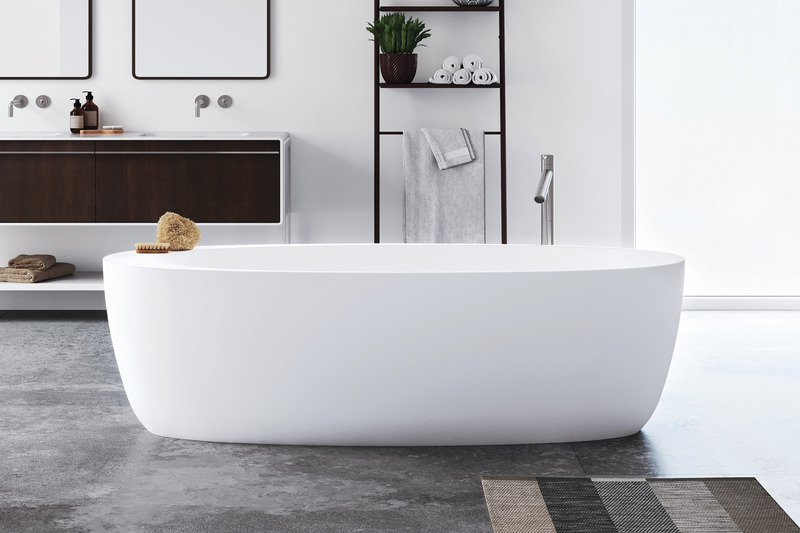 Winner of the Industrial Design – Bathroom Product Award at the 2020 Grands Prix du Design, MOOD's offsetting ellipses provides an infusion of aesthetic, functional, and structural elements to foster an ambience of comfort and relaxation. The soaking tub's fluid and elliptical design adds functional deck space to the inviting tub, with a side rim storage shelf that immaculately blends into the tub's refined appearance. Conceived in response to growing consumer demand for Zen-like relaxation, MOOD infuses a spa-like feel into home bathroom environments.
Beyond its functional design and soothing aesthetic qualities, MOOD's incorporation of dual backrests offers the best of both worlds. With two different inclinations, MOOD invites you to sit back and indulge in a good book and a glass of wine or to fully recline and disconnect in the name of pure relaxation.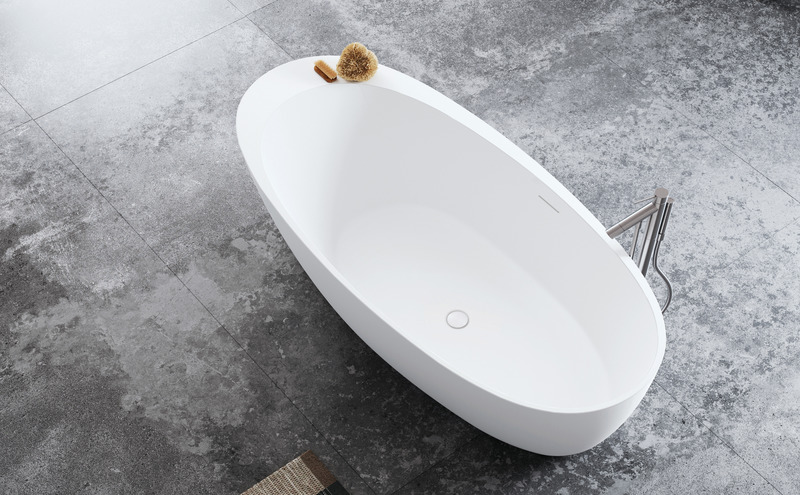 "The main concept behind the design is a marriage between the sensual curves of vertical walls and the rigidity of elliptical geometrics", explains Pierre Bélanger, a senior member of the WETSTYLE Design Lab. "Inverted, I see MOOD's design like a gown from a grand ball of the Renaissance era!"
With its balanced shapes and refined curves, the elegant simplicity of MOOD blends seamlessly with either contemporary or traditional interiors. The soaking tub is available in a choice of matte or glossy finishes, with overflow trim available in satin brass, matte black, brushed nickel, or polished chrome.
STELLÉ – Monolithic finishing touches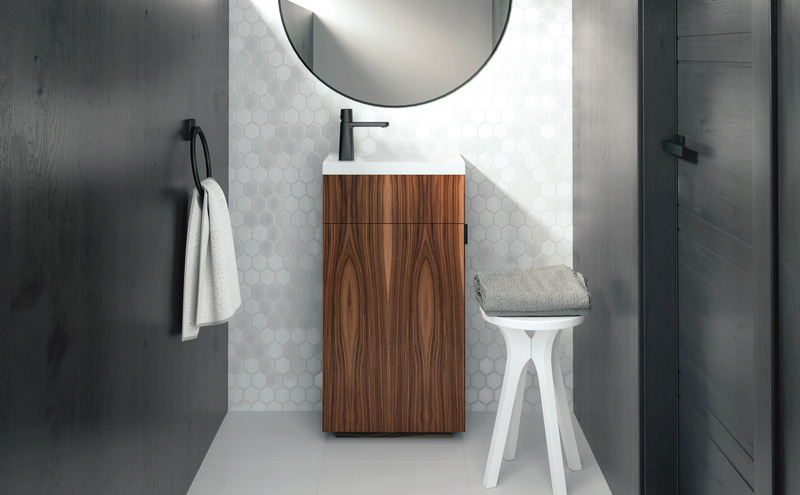 WETSTYLE's STELLÉ collection introduces classical beauty to the modern home, with floor-mount vanities designed to embrace the LAB collection's drop-in sinks. Inspired by historic monoliths, STELLÉ's minimalist design converts that inspiration into compact, urban elegance that fits easily into any size of powder room or bathroom.
Handcrafted from responsibly-sourced hardwoods including oak, walnut, Mozambique, torrified eucalyptus, and matte lacquer, STELLÉ's timeless offerings feature-rich and unique grain patterns, unparalleled by reconstituted woods or laminates. Further distinguishing the collection is its impeccable, industry-leading marine-grade finish, providing high-quality moisture resistance and durability.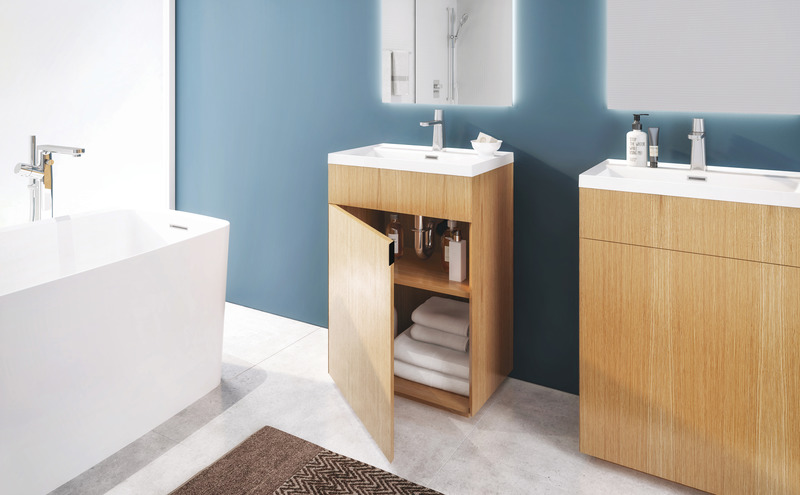 "The STELLÉ collection was designed for simplicity and finesse in conjunction with our LAB collection washbasins", adds Bélanger. "Whether selected for a powder room, or as a grander statement for larger bathrooms, STELLÉ exudes the richness of its woods in the form of a timeless monolith."
STELLÉ vanities are available in a variety of sizes and colours, and with or without doors. With-door models feature shelves and fully-finished interiors, as well as premium hardware including soft-closing Blum hinges and solid stainless-steel handles with a matte black powder-coated finish.
FEEL – Advancing the state-of-the-art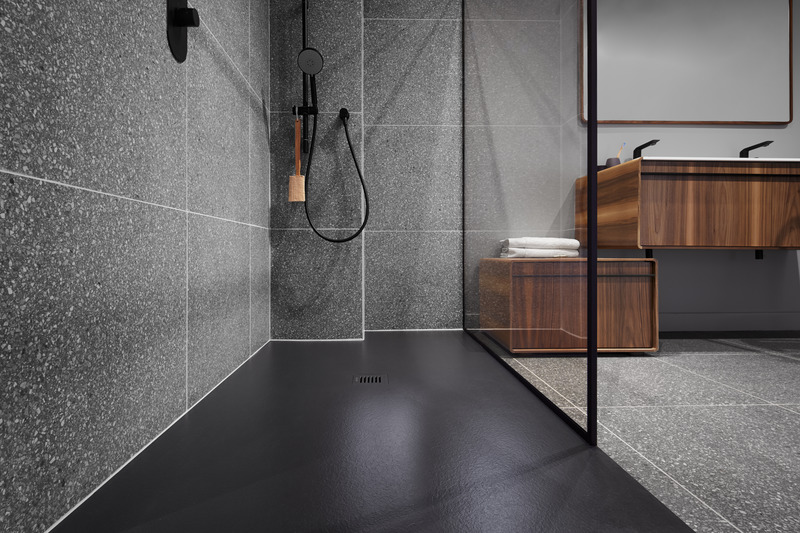 With its single slab construction and customizable availability, the FEEL collection of pre-cast shower bases embodies the leading edge of shower base design and installation by leveraging refined moulding techniques that enable textures to be replicated on shower base surfaces. The result is the clean, sleek, natural stone appearance of WETSTYLE's FEEL collection.
"Newly refined manufacturing techniques have filled in the gap between previously uninspiring shower bases and expensive, complicated tiled-in solutions," says Mark Wolinsky. "The ability to custom-cut the pre-cast bases also makes them compatible with odd-sized or unique spaces, where tiled-in shower bases were previously the only available option."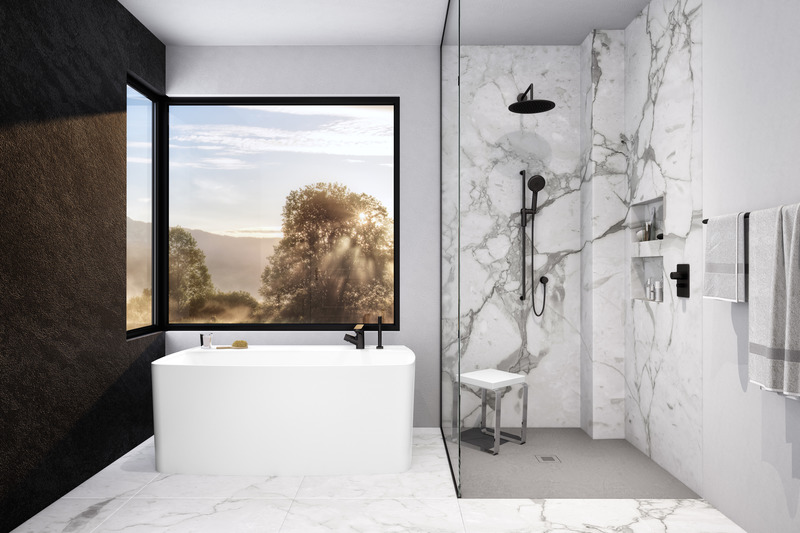 Developed from an innovative, high-density stone and resin composite, the FEEL collection replicates the textures and tactile sensation of concrete. Complementing this unique collection's look and feel, a single slab composition significantly reduces laborious installation time and costs associated with traditional acrylic or tile-based shower floors. FEEL shower bases are compliant with both North American plumbing codes and the American Disability Act (ADA). Ample surrounding flat edges allow for the installation of standard and rolling/sliding shower enclosures. FEEL's one-piece construction also reduces the risk of water leaks associated with multi-layered tiled-in solutions. With no seams, joints, or grout, FEEL's barrier-free construction eliminates the need for waterproof membranes, hot mopping, and slope construction.
"Tiled-in showers require several days of work by a variety of tradesmen, which can be an expensive proposition," notes Wolinsky. "Pre-cast FEEL shower bases can be installed within a day, by a single team, which dramatically reduces both time and cost."
The FEEL shower bases are available in neutral shades of white, grey, and black, with supplied drain covers matched in texture and colour that seamlessly blend for a unified look. For medium and large-scale projects, FEEL's dimensions, colours, drain grids, textures, and even logos can be fully customized. These shower trays are available in many standard sizes and can be ordered pre-cut at the WETSTYLE factory to accommodate non-standard dimensions, angled walls or obstructing columns.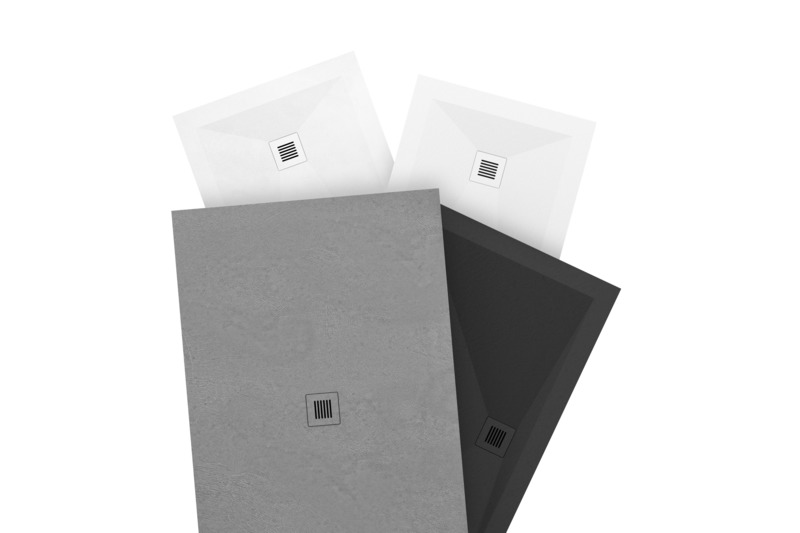 Complementing its alluring aesthetics and functional pragmatism, the ADA-compliant FEEL collection embraces safety and well-being and features anti-slip textures and ISO-NPG-certified antibacterial /anticorrosion treatment. Additionally, with no grout lines, the shower bases significantly reduce soap scum build-up and are easy to clean using a mild and neutral cleaning agent. FEEL's durability and uniformity of colour and composition also ensure easy repair of scratches or chips, without the lingering visual scars of traditional cracked tile repairs.
"Since introducing our CUBE collection in 2002, WETSTYLE products have been at the forefront of North American bathroom trends," says Wolinksy. "FEEL is a continuation of that positioning and introduces a collection reflective of European design, yet adapted to North American standards and tastes."
Source: V2com Newswire