Furniture is regarded as the focal point of any establishment, such as a home, office, or commercial space. Furniture, in a broad sense, refers to movable objects that support various human activities, such as holding objects at a convenient height and storing items. In a modern workplace setting, furniture plays an important role in the ambience of the workplace, providing a safe and relaxing atmosphere as well as a comfortable feeling to all office occupants.
The significance of office furniture extends beyond mere comfort. The role of furniture in worker productivity and workplace efficiency is more extensive than we might think. The following designers have designed the perfect home office furniture and bagged the SIT Furniture Awards for 2020.
The desire to have a home office integrated into the living room, avoiding the annoyance of an untidy desk and the constant reminder of work to be done, inspired this furniture. The design brief specifies a high-end home office that is both comfortable and functional while working and easily stored afterwards. The product can be produced in series and does not take up a lot of space.
Both working and living conditions are improved by the use of technology. It functions as a fully functional office desk in your living room during the day. When the workday is finished, the office can easily be converted into a nice sideboard, restoring the homey atmosphere.
To use, manually open the sideboard's middle door. After lifting the lower panel, the other plates fit into a small groove on each side of the door. When the door is open, it quickly locks. A magnet on the two front panels holds the small lid in place. By pressing the up/down button, two electrical actuators are activated either using the button or the application available. Adjust the height of the table to your preferred sitting and working position.

2. David Rockwell – Sage by David Rockwell for Benchmark
Resilience, privacy, and wellness are all important factors in achieving a sense of well-being in your personal space. Because of the collaboration with Benchmark and the use of sustainable, non-toxic materials and finishes, Rockwell Group's collection is optimized for the workplace but would also look great in a hospitality or residential setting. Using biophilic design as a starting point, the collection includes adaptable pieces, many of which transform to accommodate multiple functions with the touch of a button or the toss of a pillow.
These soft, supple, and supportive seating and tables have natural wood finishes and upholstery materials sourced from sustainable sources. The pieces are made of ash and sycamore wood, with blackened finished copper accent detailing and natural upholstery layers of coconut fibre, natural latex, recycled shredded denim, and lamb's wool.
Inspired by the classic drafting desk, the Sit-Stand Workbench and Desk offer a modern solution for flexible work surfaces.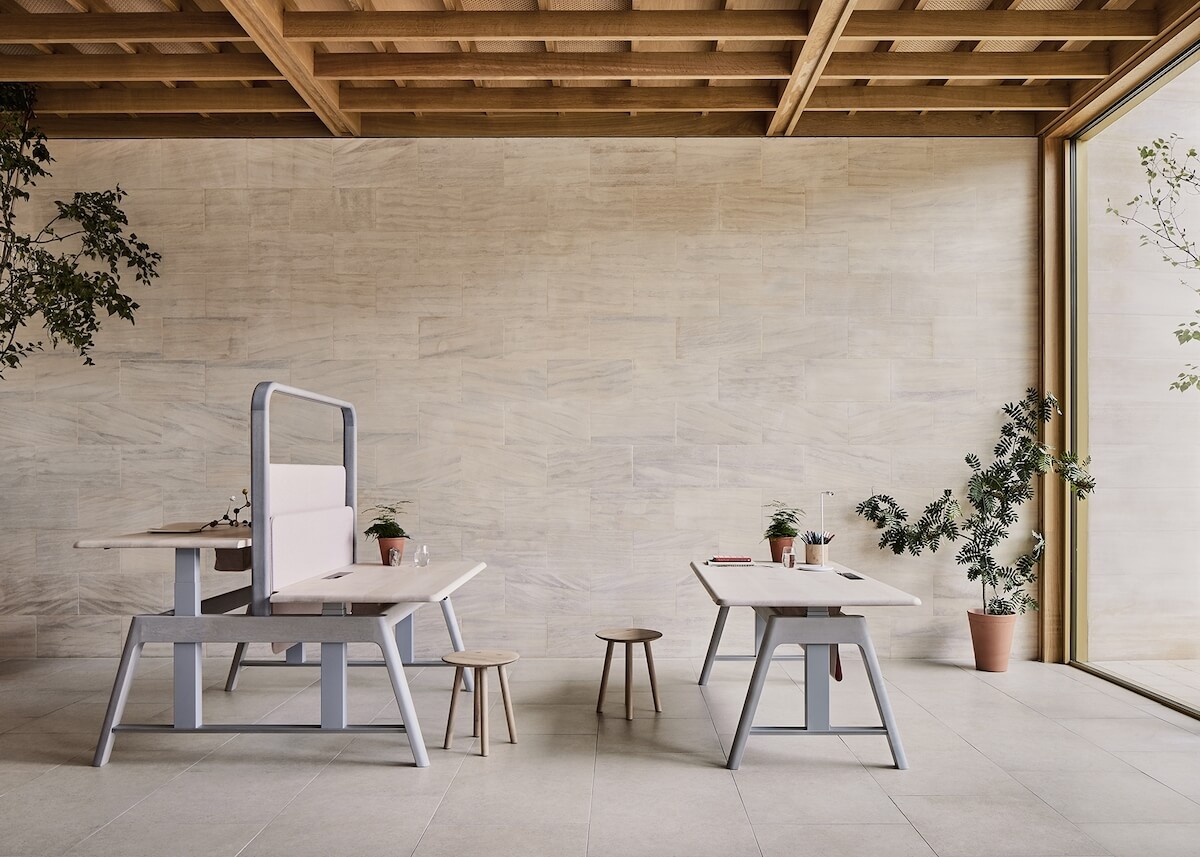 3. Albasa Design – Albasa, An Adaptable Desk
Albasa is a versatile desk and shelving system with unique features that allow users to work from home professionally and confidently.
A retractable backdrop blind and ring lamp ensure that users appear professional during video calls. The desk can be converted into space-saving shelving when not in use. The blind is held up by arms and fits snugly into the frame. To provide a clean backdrop for video calls, it can be rotated out and dragged down behind the user. To make the backdrop stand out, logos or graphics can be printed on it.
The built-in ring lamp gives the user's face a flattering glow, ensuring that they always look their best on camera. You can adjust the height of your screens and cameras with modular shelves. These features allow users to maintain a professional demeanour no matter what their surroundings are.
Albasa is capable of transforming into a set of shelves. With a single motion, the frame slides up on rails and locks into place. Albasa occupies one-third of the floor space in this position while remaining functional. While the shelves and mirror can be used as a vanity, and the screen can be pulled down to hide clutter, it can also be used as a projector screen or lamp.