The first winner of the "Innovation of the Year" prize, Wouter Myny has designed the SecretAir – The discrete home office sideboard to cope with the current need of "Home Office" as well as the general increase of having a working desk at home, without having a spare room.
This piece of furniture originates from the need to have a home office integrated into the living room. The annoyance of an untidy desk messing up a living room and the constant reminder of the work to be done started the process of finding a better solution.
The design brief was simple: High-end home office solution which is comfortable and practical during working hours, invisible after work. Should be able to produce in series and not take to much space.
The product is an innovative solution where known technology is integrated to make the best of both worlds: working and living. With "SecretAir" you can work efficiently at a fully equipped office desk in your living room during the day. When the working day is over and on weekends, the office is effortlessly transformed into a nice sideboard, bringing back the tranquil atmosphere of home.
Manually open the sideboard middle door. By levering the lower panel, the rest of the plates follow in a discrete groove on each side of the door. When completely open, the door locks safely in a snap position. The small lid is fixated with a magnet on both insides of the two front panels.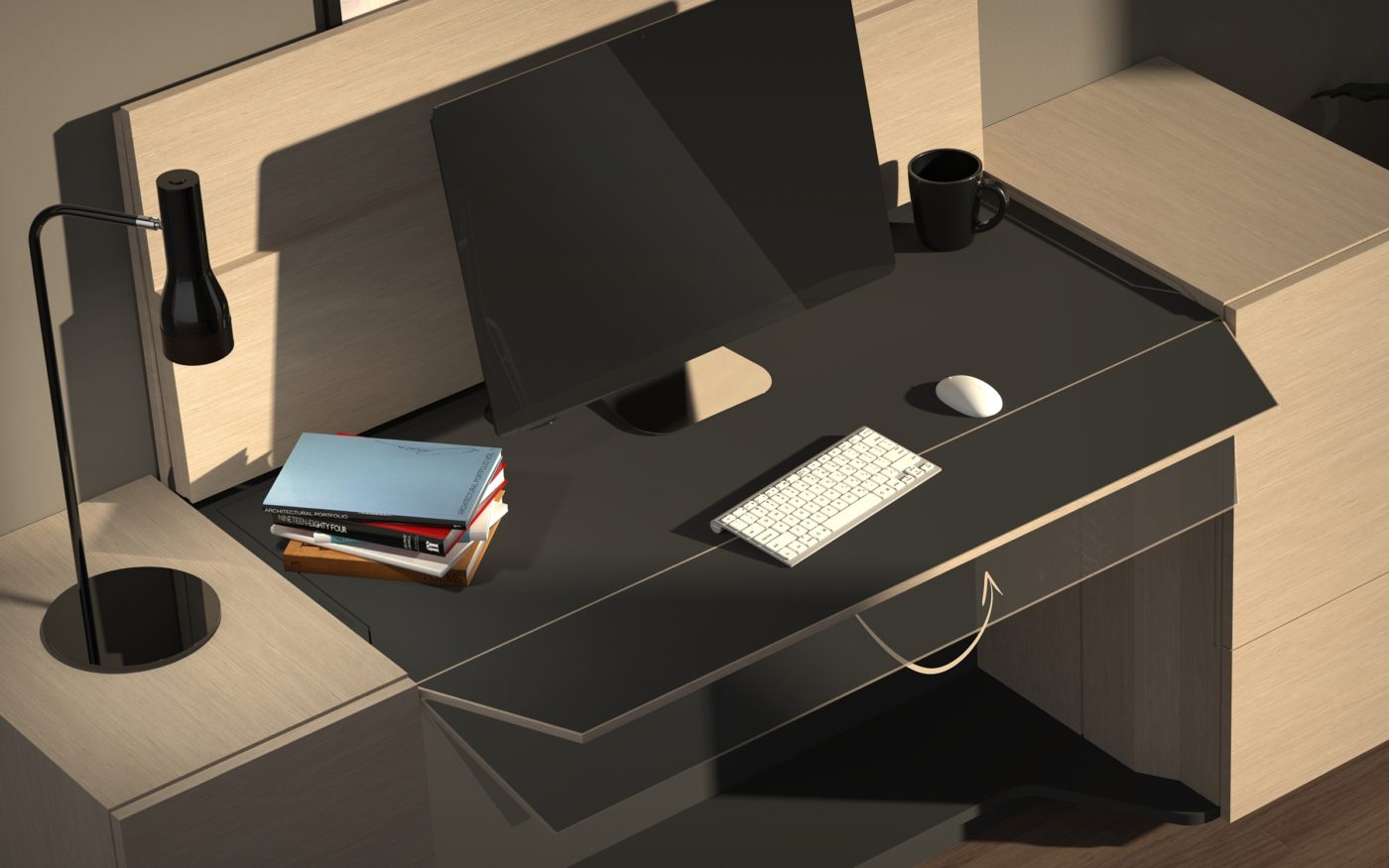 By pressing the up/down-button (physical button or in the app), two electrical, synchronized actuators are activated. Adjust the height of the table to your preferred sit position. Sketching needs a different height then PC work. Children can do homework on their preferred height. Just add a comfortable chair and enjoy your work, studies or hobby.
In the end of the working day, simply lower the desk and close the doors.
"SecretAir is a project developed besides daytime work. It has great potential. I would like to bring the product to the market in cooperation with a furniture company. Further development of an entire product family is also of interest" said Wouter Myny. More information available on his website.