Photo: Designer / Architect: Brian Messana and Toby O'Rorke. Studio: Messana O'Rorke. Design Team: Design Architecture: Messana O'Rorke, Executive Architect: Brian Messana Architect PLLC. Copyright: Stephen Kent Johnson
In today's ever-evolving world, where innovation and creativity are the driving forces behind design, the Architecture & Design Collection Awards (ADC Awards) have emerged as a celebrated epicentre for design excellence. Well-known globally, the ADC Awards 2023 invite visionaries worldwide to present the projects that shape the future.
A Platform for the World's Best
The ADC Awards 2023 are a celebration of diversity and talent, welcoming entries from seasoned professionals and budding creatives alike. This prestigious platform honors exceptional architects, designers, web pioneers, researchers, entrepreneurs, students, and other creative minds. Whether you're an established studio or just embarking on your creative journey, the ADC Awards provide an equitable and expansive stage for your innovative ideas.
The creative diversity represented at the ADC Awards is nothing short of astounding, and it's this very diversity that makes the event so compelling. Participants come from all corners of the globe, each with a unique perspective and creative approach. It's a testament to the power of design to transcend borders and inspire across cultures.
Previous Excellence Shines Bright
Looking back at the previous year's Professionals Category, we find a showcase of remarkable achievements. Some of the Platinum Winners from 2022 include:
"Kuulas" by Cameron Design House: A creation that goes beyond conventional aesthetics, leaving viewers in awe of its beauty.
"No Footprint House (NFH)" by A-01 (A Company / A Foundation): An architectural marvel that champions sustainability, pushing the boundaries of eco-conscious design.
"XP Zero" by Untitled Motorcycles: A blend of design and technology that redefines transportation, offering a glimpse into the future of mobility.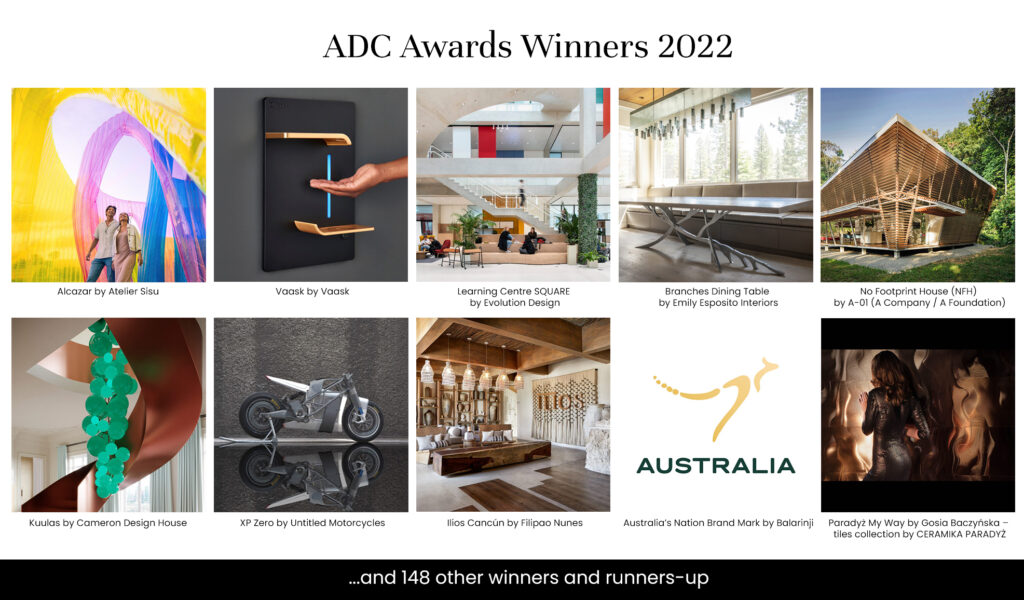 These are just a few examples of the caliber of work that the ADC Awards attract.
The Perks of Participation
Participating in the Architecture & Design Collection Awards 2023 offers more than just recognition; it opens doors to a world of benefits, including certificates of achievement, personalized award logos, and prestigious trophies. Winners and awardees also enjoy prominent placement on the ADC website, exclusive landing pages, and across social media channels, along with the possibility of gracing the covers of future ADC Awards publications and inclusion in ADC's newsletters.
A Diverse Array of Categories and Expert Judging
The ADC Awards 2023 feature an impressive 297 nominations spanning various categories, from Architecture, Interior, and Landscape to Conceptual Design, Fashion, Furniture, Lighting, Packaging, Product, Transportation, and Communication & Web Design. This diverse range ensures that all aspects of design are celebrated.
The judging panel, a stellar lineup of professionals from around the world, brings a wealth of experience and expertise to the evaluation process. Their discerning eyes ensure that only the best of the best rise to the top:
Gerrick Numan – Owner, Creative Director, Millé / New Zealand
Bret Recor – Founder & Creative Director, Box Clever / USA
Annabella Hervesi – Head of Design, I O Line and Round / Hungary
Katrina Yin – Design Manager, JDS Development Group / USA
Nuno Costa – Architect, ARCA EUAC, Doisarcuitectos / Portugal
Hannah Churchill – Founder, hcreates interior design / China
A Timeline for Success
To ensure you don't miss out on this incredible opportunity, mark these crucial dates in your calendar:
13th October 2023: Standard registration deadline
17th November 2023: Late registration deadline
18th November 2023: Deadline for submitting projects
20th November 2023: Evaluation period begins
22nd December 2023: Winners announced
More Than a Competition, It's a Movement
The ADC Awards 2023 transcend the confines of a typical competition; they embody a movement that inspires, a stage that encourages excellence, and a community that champions the relentless pursuit of design perfection. Join us in celebrating design excellence on a global scale.
Participate now in this extraordinary showcase of innovation, creativity, and excellence, and let your work shine on the world stage.